Ranking the Current NFL QBs Without Super Bowl Rings
Matt Ryan has the pieces around him to play in a Super Bowl.
Streeter Lecka/Getty Images
A quarterback's success is determined by the number of Super Bowl rings he has on his hand. But there are several quarterbacks in NFL history without a world championship on their resume.
Does that mean players of Dan Marino's caliber are not among the game's elite? No.
But if the discussion comes up of who is the better quarterback—Marino or Steve Young, the first question everyone will ask is which quarterback won more Super Bowls.
Today's game is no different. Quarterbacks are separated by their postseason accomplishments rather than their performances on the field.
So we eliminated the seven players who have won at least one Super Bowl and ranked the remainder of the field based on their play. That means Tom Brady, Peyton Manning, Aaron Rodgers, Drew Brees, Ben Roethlisberger, Eli Manning and Joe Flacco are not on the list.
Here we rank the best NFL quarterbacks without Super Bowl rings.
25. Mark Sanchez
Sanchez has the Jets in a downward spiral.
Jim Rogash/Getty Images
Mark Sanchez was the laughingstock of the NFL last season, especially after his infamous "butt fumble" against New England.
He threw for only 2,883 yards and 13 touchdowns and had 18 interceptions.
Sanchez must prove to the Jets he can still play or they will be forced to look elsewhere for a starting quarterback.
24. Kevin Kolb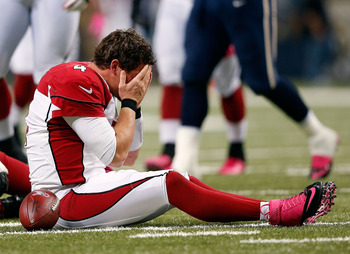 Kolb hopes to resurrect his career in Buffalo.
Jamie Squire/Getty Images
Kevin Kolb is now a member of the Buffalo Bills after a two-year stint with the Arizona Cardinals.
Kolb played in only six games for the Cardinals last season and never seemed to get the offense rolling as the starter.
As a member of the Bills, he will try and play to expectations that were set for him when he left Philadelphia.
23. Blaine Gabbert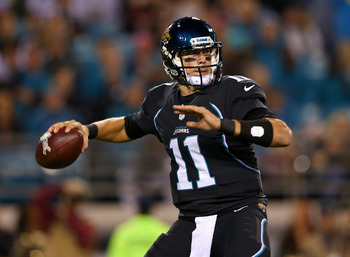 Gabbert is potentially facing his last chance at producing on the field in Jacksonville.
Mike Ehrmann/Getty Images
It is uncertain as to who will be the starter in Jacksonville for the 2013 season, as Blaine Gabbert was unable to complete his second NFL season after sustaining a shoulder injury in Week 11.
Chad Henne stepped in and did not perform much better than Gabbert, so it's likely the team will side with the player it spent a first-round pick on in 2011.
Regardless, the Jaguars do not possess a quarterback who is capable of leading them to a Super Bowl.
22. Jake Locker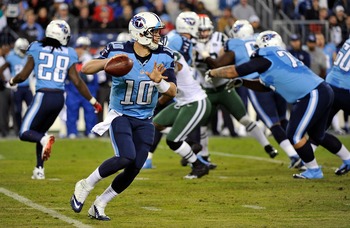 Locker is no longer hampered by Matt Hasselbeck's shadow
Frederick Breedon/Getty Images
Jake Locker battled through injuries during his first year as a starter and didn't seem to make much progress from his rookie campaign.
He threw for 2,176 yards and 10 touchdowns in his shortened second season.
With the skill players around him and his ability to move out of the pocket, Locker should put up big numbers on Sundays.
21. Brandon Weeden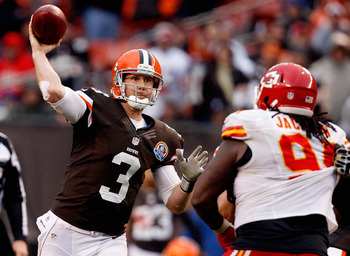 Weeden still has a lot to learn about the game, despite his age.
Matt Sullivan/Getty Images
Brandon Weeden, 29, did not see the same success as his fellow rookie quarterbacks saw in 2012. The No. 22 pick of the 2012 NFL draft threw 14 touchdowns and had 17 interceptions in his first season.
But Weeden is not surrounded by an abundance of talent. Aside from running back Trent Richardson, Weeden has no real offensive threats he can count on.
If Cleveland can bring in a few weapons for its quarterback, Weeden might move up a few spots on this list.
20. Ryan Tannehill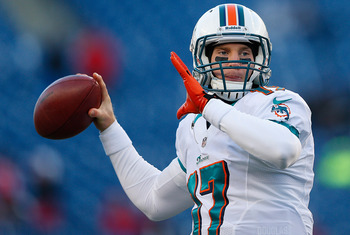 Tannehill will look to improve in his sophomore season.
Jim Rogash/Getty Images
Ryan Tannehill, another rookie, was not the x-factor the Miami Dolphins were hoping for when they drafted him with the No. 8 overall pick.
He threw for 3,294 yards last season, but just as Weeden did, Tannehill's interceptions outweighed his touchdown passes.
The Dolphins helped Tannehill by bringing in wide receiver Mike Wallace this offseason, but they also lost key pieces around him with left tackle Jake Long and running back Reggie Bush leaving via free agency.
He could be a mid-level starter in the NFL if he cuts down on his turnovers.
19. Christian Ponder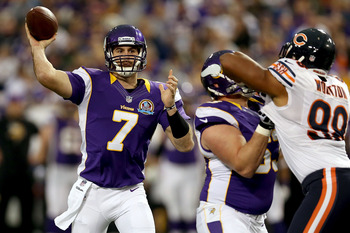 Ponder will face competition in offseason workouts.
Matthew Stockman/Getty Images
Christian Ponder's starting job is in jeopardy with Joe Webb and Matt Cassel looking to move up the depth chart.
Ponder threw for 2,935 yards and 18 scores in 2012 and led the Vikings to a first-round playoff loss. But he played second fiddle to Adrian Peterson's MVP season in the Vikings' offense.
He must do more to keep his job, but it's hard to remember how to throw a football when you are so used to handing it off to a running back.
18. Matt Flynn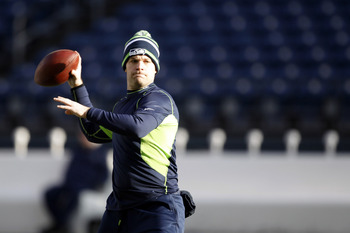 Flynn will battle for a starting job, much like he did in Seattle.
Joe Nicholson-USA TODAY Sports
Matt Flynn is now a member of the Oakland Raiders. He joined the Seattle Seahawks last season in hopes of being the starter after sitting behind Rodgers in Green Bay. But the emergence of rookie sensation Russell Wilson sent Flynn down the depth chart.
Now he holds the keys to the Raiders' offense unless Terrelle Pryor beats him out of another starting job.
It is difficult to rank Flynn because he has only started one game in the last two seasons. But his five-year career appears to be earning him much praise.
17. Carson Palmer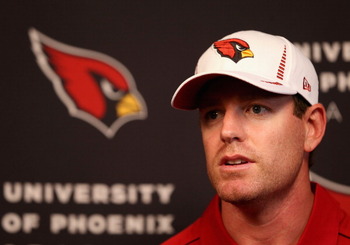 Palmer will have a new favorite target in Larry Fitzgerald.
Christian Petersen/Getty Images
Carson Palmer is now in Arizona and is an immense upgrade at the quarterback position for the Cardinals.
Last season, Palmer threw for 4,018 yards and 22 touchdowns, but he didn't have Larry Fitzgerald as a receiver. Now he does.
Palmer and the Cardinals will benefit from each other's company in 2013, and he could find himself moving up the rankings.
16. Sam Bradford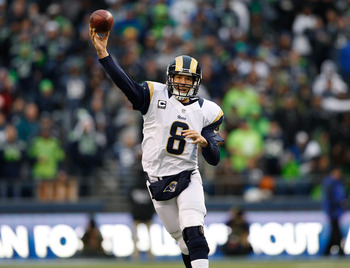 Bradford lost almost all of his targets in the offseason.
Kevin Casey/Getty Images
Sam Bradford is entering his fourth year in the NFL, but he has not quite lived up to the expectations the Rams had for him when they selected him with the No. 1 overall pick in 2010.
Last season, he threw for 3,702 yards and 21 touchdowns. But almost all of his options to throw the ball to have left St. Louis. Running back Steven Jackson and wide receivers Danny Amendola and Brandon Gibson all left via free agency, leaving Bradford with essentially no help on offense.
If Bradford wants to improve as a passer, he will need at least a little bit of help around him.
15. Michael Vick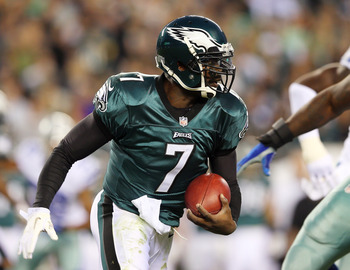 Vick seeks to stay healthy for the entirety of a season in order to keep his starting job.
Elsa/Getty Images
Michael Vick appeared in 10 games for the Philadelphia Eagles in 2012 before an injury forced him to give up the reigns to rookie Nick Foles.
Vick threw for 2,362 yards and 12 touchdowns. He also ran for 332 yards and one score, as he led the Eagles to three wins as the starting quarterback.
Under new head coach Chip Kelly, Vick could see his game reach the level it once was, but unless he can stay healthy for all 16 games, his numbers will remain the same.
14. Josh Freeman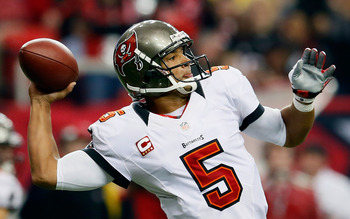 Freeman will look to bounce back in 2013.
Kevin C. Cox/Getty Images
Josh Freeman led the Tampa Bay Buccaneers to a 7-9 record last season despite starting the year out at 6-4.
Freeman threw for 4,065 yards and 27 touchdowns, but he seemed to lose momentum as the season progressed. He has the tools around him to be a successful quarterback, but he forces the ball too much, resulting in turnovers. He threw 17 picks in 2012.
If he can eliminate some of his mistakes, he could move toward the top 10 of this list.
13. Andy Dalton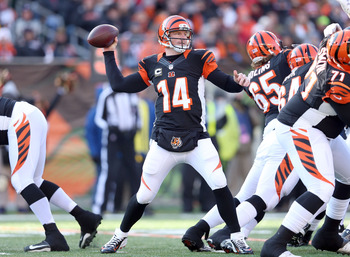 Dalton posted solid numbers in 2012.
Andy Lyons/Getty Images
Andy Dalton and receiver A.J. Green have become one of the best quarterback-receiver duos in the NFL, and that has helped Dalton and the Bengals in his two seasons in Cincinnati.
Last year, he threw for 3,669 yards and 27 touchdowns, but he had 16 interceptions.
Turnovers have kept Dalton from becoming one of the league's elite quarterbacks. He needs to eliminate his mistakes to gain the recognition he is beginning to deserve.
12. Jay Cutler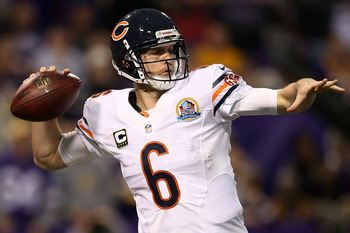 Cutler still has one of the strongest arms in the league.
Matthew Stockman/Getty Images
Jay Cutler loved having his old friend Brandon Marshall in Chicago last season, and their bond was reflected in the Bears' 10-6 record.
But Cutler did not produce the numbers that people expected, as he threw for only 3,033 yards and 19 touchdowns.
Despite his disappointing statistics, Cutler should have a big year in 2013. That is if the Bears add another wide receiver and offensive linemen.
11. Alex Smith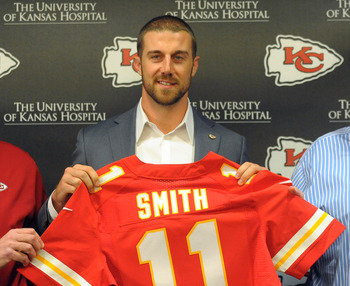 Smith will start anew in Kansas City.
Denny Medley-USA TODAY Sports
Remember him? Alex Smith was shoved to the side after suffering a concussion in Week 10 to make room in the starting lineup for dual-threat quarterback Colin Kaepernick.
Now he is a member of the Kansas City Chiefs and is hungry to get back on the field as a starter.
He threw for 1,737 yards, 13 touchdowns and only five interceptions before his benching last season.
He gives the Chiefs an experienced quarterback who has proved he can win. He could have a big season in 2013.
10. Philip Rivers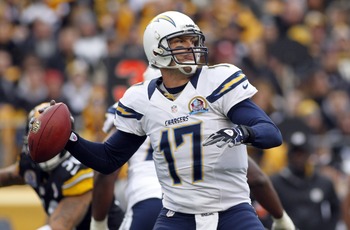 Rivers had a down season in 2012, but he will be back to his old ways in 2013.
Justin K. Aller/Getty Images
The San Diego Chargers and Philip Rivers were disappointing in 2012. San Diego finished with a 7-9 record and saw head coach Norv Turner get fired.
Rivers threw for 3,606 yards and 26 touchdowns last year, but he also turned the ball over a combined 30 times.
He still is capable of playing at an elite level, but he must take care of the football if he wants to return to the top.
9. Cam Newton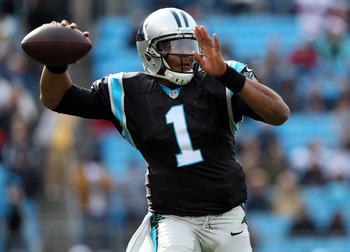 Newton looks to reach new heights in his third NFL season.
Streeter Lecka/Getty Images
Cam Newton saw a slight dip in statistics from his impressive rookie campaign, but he was still able to fill the stat sheet with his offensive production.
He threw for 3,869 yards and 19 touchdowns. In addition, he accumulated 741 rushing yards and had eight more scores.
The former Heisman Trophy winner hopes to take a step forward in his third year instead of taking a step back as he did in 2012.
8. Andrew Luck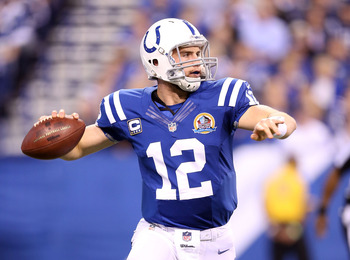 Luck brought poise back to the QB position in Indy last season.
Andy Lyons/Getty Images
Andrew Luck was everything Indianapolis Colts' fans had hoped for last season. He led the Colts back to the playoffs in his first year, and he threw for more than 4,000 yards.
But he committed more turnovers than he had touchdown passes.
If he can fix some of his mistakes, the Colts will continue to improve.
7. Tony Romo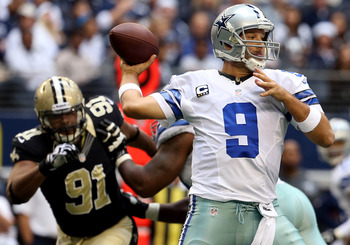 Romo is a Cowboy for the long haul, after a monumental contract extension.
Tom Pennington/Getty Images
Tony Romo cashed in big with a six-year contract extension with the Dallas Cowboys. The deal made him the highest-paid player in club history.
With Romo being the starter for several years, Dallas can worry about bringing in pieces to help its QB get to a Super Bowl.
Romo threw for 4,903 yards and 28 touchdowns last season and led Dallas to an 8-8 record. But Cowboys' owner Jerry Jones will expect better numbers and a better record in 2013.
6. Matthew Stafford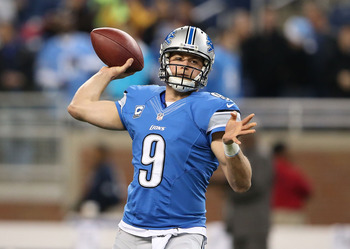 Stafford has a big arm and knows how to use it.
Leon Halip/Getty Images
Matthew Stafford's performance last year was a disappointment for many Detroit Lions' fans.
After throwing for more than 40 touchdowns in 2011, he threw for just 20 touchdowns last season.
With Reggie Bush now in the fold and Calvin Johnson, Stafford has no excuse for a decline in numbers next season. He should revert to his old ways and again be close to 5,000 yards passing.
5. Colin Kaepernick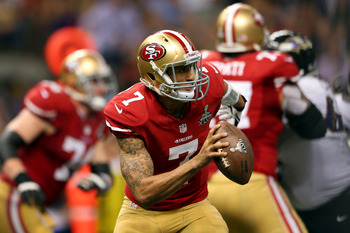 Kaepernick's ability to get outside of the pocket is almost as impressive as his cannon for an arm.
Mike Ehrmann/Getty Images
Colin Kaepernick was one win shy of being left off this list as the San Francisco 49ers fell to the Baltimore Ravens in Super Bowl XLVII.
He threw for 2,612 and 14 touchdowns after taking over for Smith and looked like a seasoned veteran instead of a dual-threat quarterback from Nevada.
Kaepernick will have a big target on his chest in 2013, but if he can stay healthy he could have another big year for the 49ers.
4. Matt Schaub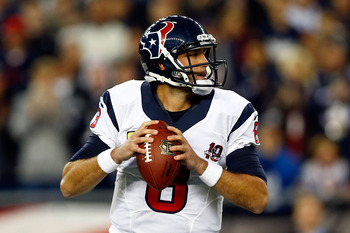 Schaub is often overlooked, and he makes defenses pay for it.
Jared Wickerham/Getty Images
Matt Schaub is entering his 10th NFL season but still has many years remaining. With the Houston Texans' balanced attack, Schaub isn't the only source of offense. But that doesn't diminish his value.
Last year, he threw for 4,008 yards and 22 touchdowns.
If he can maintain those numbers alongside Arian Foster's ability in the run game, the Texans will continue to be a force in the AFC.
3. Russell Wilson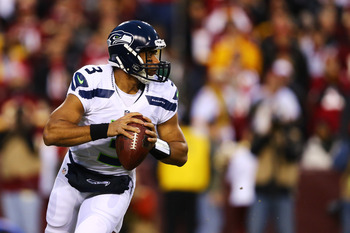 Wilson is an efficient, young passer on a talented, young team.
Al Bello/Getty Images
Russell Wilson shocked the world in his rookie season in Seattle. He was accurate and efficient for a rookie, as he had only 11 interceptions.
In 2012, he threw for 3,690 yards and 29 touchdowns and led the Seahawks to the playoffs in his first year.
Wilson returns to an even better offense with the addition of Percy Harvin, and Seattle looks to be ready to make a push toward a Super Bowl appearance.
2. Robert Griffin III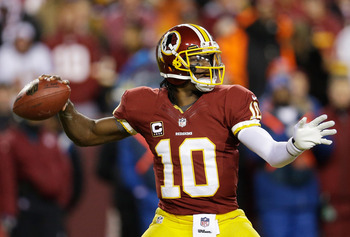 Griffin III is a dangerous, dual-threat QB.
Rob Carr/Getty Images
Robert Griffin III took the NFL by storm last season after the Washington Redskins selected him with the No. 2 overall pick.
He proved to be an extremely accurate passer as well as a dangerous runner once he got out of the pocket.
Griffin III threw for 3,284 yards, 22 touchdowns and had only six interceptions in his rookie year, earning him the league's Rookie of the Year award.
But a knee injury in the first round of the playoffs has made many people doubt if he can return to his sensational rookie year. If he recovers as the doctors say he can, then fans should expect another monster year from RG3.
1. Matt Ryan
Ryan has proven to be one of the elite passers in the NFL.
Mike Ehrmann/Getty Images
Matt Ryan had an outstanding 2012 season for the Atlanta Falcons, but with the receivers and tight end he had, it was hard for him not to excel.
He threw for 4,719 yards and 32 touchdowns, completing almost 70 percent of his passes.
It is no question that Ryan is on the verge of becoming an elite NFL quarterback. If he can limit his interceptions, he could lead the 2013 Falcons to a Super Bowl victory.
Keep Reading