9 Fighters with the Fastest Hands in the UFC Today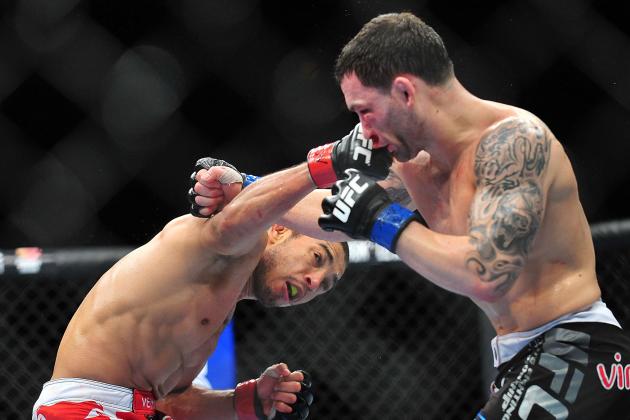 Gary A. Vasquez-USA TODAY Sports

Because hand speed translates to punching power—hand speed is a factor that dictates many stand-up exchanges in the UFC, always has and always will.
Some fighters come into this world with fists destined to become heat-seeking missiles, while others must constantly refine their speed with bag and focus pad work in the practice room.
The fighters on this list not only were born with undeniable pop in their fists, they also perfected the art of delivering a swift blow to an opponent's head or body through years of religiously partaking in arduous training rituals.
Here are the nine fighters with the fastest hands in the UFC.
Begin Slideshow

»


Joseph Benavidez
Rashad Evans
Ian McCall
Urijah Faber
Junior dos Santos
Anthony Pettis
Benson Henderson
Melvin Guillard
Vitor Belfort turned 36 this month, but the Brazilian slugger looked more like a 26 year old in his TKO win over Michael Bisping at UFC on FX 7.
The former light heavyweight champ has admitted to undergoing Testosterone Replacement Therapy, but that doesn't diminish the fact that Belfort used his lightning fast hands to KO 14 opponents before Bisping.
One of Belfort's best illustrations of hand velocity occurred early in his near 17-year-career at UFC Brazil. A charging Belfort landed countless one-two combinations on Wanderlei Silva and scored a highlight-reel TKO win just 44 seconds into the fight.
Johny Hendricks doesn't fire punches at high volumes like fellow welterweight contenders, such as, Nick Diaz or Carlos Condit.
Instead, Hendricks attempts to knock his foes out from start to finish, hurling the fastest punches he can conjure up until someone falls or the fight's final bell sounds.
The swiftness in Hendricks hands has also gotten him past perennial contenders Jon Fitch, Josh Koscheck and Martin Kampmann.
For Fitch and Kampmann, a few solid left hands from Hendricks put them each in different stratospheres.
But "Bigg Rigg" will face his stiffest test of speed—and everything in between—when he locks horns with welterweight kingpin Georges St-Pierre in his next bout.
Akin to Hendricks, Georges St-Pierre uses freakish strength to generate ungodly amounts of speed and power for a 170-pound fighter.
"GSP" put his speed on display when he visited ESPN's Sport Science before defending his belt against Jake Shields at UFC 129 in 2011.
St-Pierre produced astounding numbers, unleashing a superman punch that covered 15 feet per second and generated 2,859 pounds of force.
GSP also throws his jab and superman jab with tremendous speed and precision, sentiments his last four opponents, Josh Koscheck, Shields, Carlos Condit and Nick Diaz, can all attest to.
Jose Aldo often gets associated with stunning Muay Thai techniques like leaping knees, head kicks, spinning punches and elbows. That doesn't mean that the 26-year-old featherweight champ doesn't have devastatingly swift boxing and ground-and-pound chops to match.
Aldo proved this theory in the WEC by winning seven of eight fights, via knockout.
Of those seven wins, Aldo used his speed to win three by TKO with punches, one by KO with a punch, one by KO with a knee and a punch, and another by TKO with a double flying knee and punches.
The Nova Uniao product passed his stiffest test of speed and quickness in his last bout in a superfight against Frankie Edgar at UFC 156.
Aldo matched Edgar in both categories blow for blow, earning a unanimous decision win and defending his belt for the fourth straight time.
In a high-paced, back-and-forth scrap, Jose Aldo narrowly trumped Frankie Edgar at his own game at UFC 156 to once again defend his featherweight strap.
Edgar dropped his third straight fight in heartbreaking fashion to a speedy champion in Aldo.
Benson Henderson edged Edgar in back-to-back lightweight title fights in his two previous outings.
But before controversial losses to a pair of the company's fastest fighters, no opponent had managed to get the best of Edgar in the speed department.
A cunning and cerebral fighter with excellent footwork, "The Answer" has used his speed and elusiveness to outbox the likes of Gray Maynard, B.J. Penn (twice), Sean Sherk, Tyson Griffin and Jim Miller, among others.
The mass majority of MMA fans got their first glimpse of the big league speed possessed by interim bantamweight champ Renan Barao at UFC 149.
The 26-year-old Brazilian used a game plan predicated on swiftness and power to outshine a hungry and notoriously quick Urijah Faber.
Barao threw 110 more strikes than Faber and outstruck him 85-62.
In his next bout, Barao did much of the same to another challenger with fast-twitch muscle fibers, Michael McDonald.
Barao, who outlanded McDonald, 43-29, including 36-26 in the significant strikes category, slapped on a fight-ending arm-triangle choke in the fourth round.
UFC bantamweight champ Dominick Cruz had no choice but to sit and watch as Renan Barao outshined Urijah Faber for the interim 135-pound belt at UFC 149.
The seemingly unflappable Cruz suffered a pair of brutal ACL tears in 2012, an unfortunate set of circumstances that has led to an over year-long layoff.
But expect the 27-year-old Cruz, one of the hardest workers in the game, to make a Georges St-Pierre-like recovery and return just as fast and explosive.
Before his injuries, "The Dominator" kept pace with the swiftest fighters in the game, outstriking guys like Demetrious Johnson, Joseph Benavidez, Faber, Ian McCall and Scott Jorgensen, among others.
A lack of speed surely didn't cause John Dodson to get thoroughly outstruck by champ Demetrious Johnson in their flyweight title fight at UFC on FX 6.
Truth be told, Dodson threw furious combinations for five rounds and looked every bit as fast as "Mighty Mouse." Unfortunately for "The Magician," Johnson threw his punches at a much higher clip with much better refinement and accuracy.
What Dodson lacks in technique he makes up for in sheer speed and power.
The 28-year-old New Mexico native, who holds impressive TKO finishes over T.J. Dillashaw and Jussier Formiga, may not outpoint guys like Johnson just yet, but with help from striking coach Mike Winkeljohn, he easily could some day.
Just give his raw gifts a chance to evolve, and Dodson has the potential to become an even more exciting champ than Mighty Mouse.
UFC flyweight champ Demetrious Johnson has grown accustomed to making extremely explosive fighters look inferior in the speed department.
Johnson first trumped three notorious speedsters in the bantamweight division in Damacio Page, Norifumi "Kid" Yamamoto and Miguel Torres. "Mighty Mouse" then dropped a razor-thin decision to bantamweight champ Dominick Cruz at UFC on Versus 6.
Another fighter with mind-numbing speed, Cruz nipped Johnson by a whisker, outstriking the Washington native 146-145 to earn a unanimous decision win.
Johnson, however, managed to outland Cruz 63-60 in the power strikes category.
Since the Cruz fight, Johnson made the descent to flyweight, where he hasn't lost in four fights.
In that span, Johnson has used his blistering speed to impressively outstrike the likes of Ian McCall (twice), Joseph Benavidez and John Dodson.