Brandon Kaufman: Video Highlights for Former Eastern Washington WR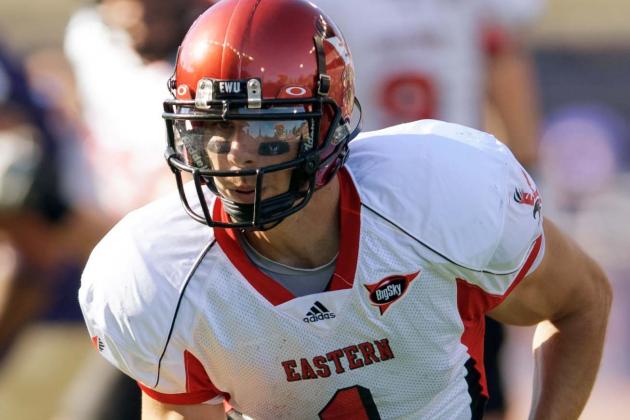 Steven Bisig-USA TODAY Sports

Brandon Kaufman is a late-round wide receiver prospect who was highly productive in four seasons at FCS power Eastern Washington.
Kaufman's best attributes are his NFL size (6'5", 216 lbs), his hands and his ability to make acrobatic catches in traffic.
Here are some Kaufman's highlights from his college career.
Begin Slideshow

»
Kaufman's athleticism is on full display in this highlight from his sophomore season as he gets behind the defense off of the play-fake and fully extends to make a diving grab in the end zone.
Notice how Kaufman maintains control of the ball all the way through the catch after he hits the turf.
In another highlight from his sophomore campaign, Kaufman demonstrates his toughness by sacrificing his body once again and setting his team up in the red zone.
You can see him grimacing as he gets up from making the catch because he had suffered a shoulder injury earlier in this game.
Kaufman's ability to track the ball in the air and his willingness to give his body up to make receptions should earn him some favor from coaches in the NFL.
Kaufman does a nice job of adjusting to a poorly thrown ball in this 2012 FCS playoff game against Wagner.
Even after making a difficult catch, Kaufman is still able to get his head around and turn upfield to pick up some YAC.
Kaufman is able to pick up more yards after contact because he keeps his legs moving, and the play ends up gaining about 24 yards.
This 2012 play against Wagner is a perfect example of Kaufman's deceptive speed and agility.
You wouldn't expect a receiver his size to be able to move like this in the open field, but Kaufman makes several nice cuts and turns this quick slant into a 46-yard gain.
This play is proof that Kaufman is more than just a deep threat or a possession receiver. He's a playmaker.
Kaufman makes a video game-like catch here by going up and plucking the ball out of the air over a helpless defender.
Kaufman may be expected to win his share of jump balls, but the impressive thing about this play is that he doesn't lose his stride after he makes the catch.
This play went for a 60-yard gain last fall.
Discipline and concentration are front and center here as Kaufman adjusts to an underthrown ball and makes this catch off of a deflection against Portland State last season.
Kaufman's ability to make catches when he doesn't get a perfect ball from his quarterback could help to set him apart at the next level.
Kaufman shows that he knows how use his body to box out defenders in the end zone when he shields off this Montana defensive back on this 30-yard touchdown reception.
The best thing about this reception is that Kaufman uses his body to shield the defender while still catching the ball with his hands up and away from his body.