Rodney Smith: Video Highlights for Former Florida State WR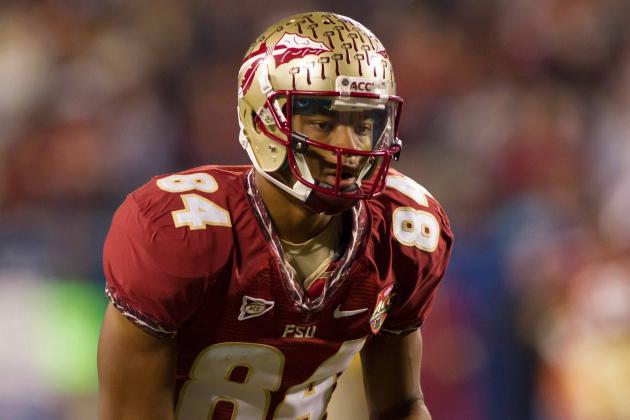 Jeremy Brevard-USA TODAY Sports

Rodney Smith didn't put up earth-shattering numbers at Florida State, but he is a solid NFL prospect because of his size and athleticism.
The 6'6", 225-pound Smith has experience lining up in the slot and on the outside. He's also a fluid route-runner and a willing blocker in spite of his lanky appearance.
Here are some of Smith's highlights from his time in Tallahassee.
Begin Slideshow

»
Smith surprises a few Boston College defenders with his ability to make them miss after making this catch against the Eagles in 2012.
Smith demonstrates outstanding awareness by squaring his shoulders and quickly getting upfield after making this reception.
The "stop and start" move that he uses looks like a move that you would see from a receiver who's six inches shorter than him.
Here Smith outruns his defender for a go-ahead touchdown in the third quarter of a huge ACC game last year against Clemson.
Smith does a nice job of tracking the ball and rewarding his quarterback for a nice throw on this play.
Smith has enough speed to be a legitimate deep threat, and he gets behind a Duke defender here on this post route from last season.
Notice how Smith runs through the catch and picks up five or six yards of YAC because he ran his route to where the ball was going to be as opposed to over- or under-running his route the way a lot of young receivers do.
Smith is lined up on the outside here and slips into a soft spot in Clemson's zone before turning a short hitch route into 19 yards.
Again, notice how he seamlessly makes the transition from pass-catcher to ball-carrier.
This is another good example of Smith turning a short reception into a nice chunk of yards.
Initially, he does a great job of getting his head around and making the first defender miss so that he can stretch this play into a first down.
Once again, Rodney Smith shows that he can make people miss in the open field.
Smith makes this reception in the middle of the field and immediately heads toward an open lane along the sideline. That kind of presence of mind will be a great benefit to him at the next level.
Smith is also surprisingly willing to block on the perimeter in the ground game.
In this clip from the Florida State-N.C. State game in 2011, we see Smith pancake N.C. State corner David Amerson in an effort to free up lanes for his running back.