5 Biggest Changes Edmonton Oilers GM Craig MacTavish Should Make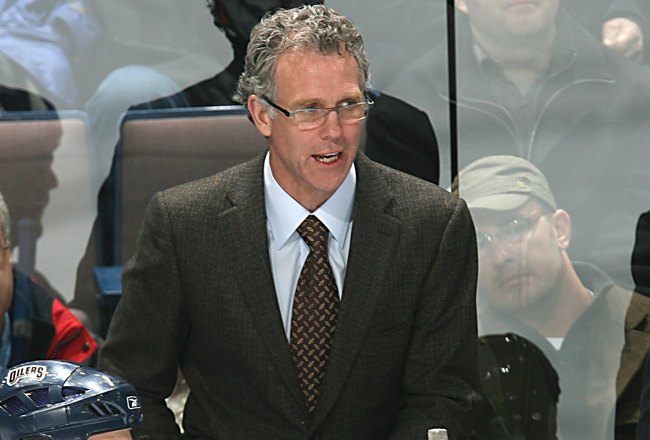 Oilers GM Craig MacTavish
Dale MacMillan/Getty Images
An ancient Chinese proverb often attributed to Confucius is: "May you live in interesting times."
Interesting is to be interpreted as turbulent and dangerous.
While Confucius could not have known what the Edmonton Oilers' organization would become in the 21st century, it seems clear that the Oilers need to find a way out of these interesting times.
Oilers' fans and NHL insiders have every right to question the latest move by Kevin Lowe to install Craig MacTavish and Scott Howson to prominence within the organization.
Regardless of the frustrations of many, MacTavish is here to stay for the foreseeable future.
Here are the five biggest changes that he needs to make.
5. Upgrade the Bottom 6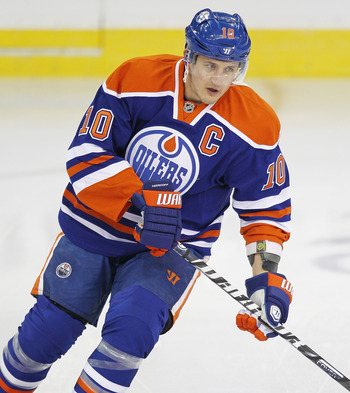 Shawn Horcoff
Perry Nelson/Getty Images
This is not real news to diehard Oilers' fans.
There are pieces that should stay in the bottom six: Shawn Horcoff, Mike Brown and Lennart Petrell.
After those three players, MacTavish needs to make decisions on Ryan Smyth, Ryan Jones and Jerred Smithson.
The Oilers need some bigger bodies across the board, but most importantly on their third and fourth lines.
4. Move Ales Hemskey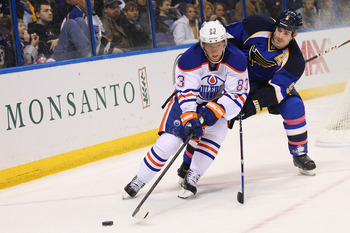 Ales Hemsky
Dilip Vishwanat/Getty Images
This will not be easy to do on a few levels, as Hemsky has given his best years to the organization.
He deserved better linemates when he was in his prime.
But Hemsky is not good enough to be on one of the current Oilers' scoring lines, and lacks the defensive commitment to play on the third line.
MacTavish will be hard-pressed to get full value for Hemsky, but in a package deal he may be able to limit the loss.
With the growing Czech contingent now in Boston, maybe those trade deadline rumors of Hemsky to Beantown can be realized.
3. Find a Veteran Backup Goaltender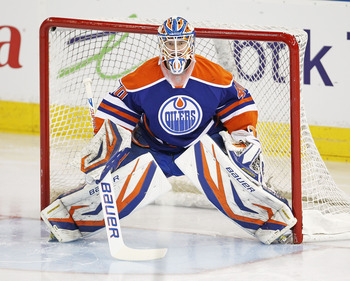 Oilers' goaltender, Devan Dubnyk
Perry Nelson/Getty Images
Devan Dubnyk is the established starter for the Edmonton Oilers, and discussion otherwise needs to cease.
The Oilers continue to be out-chanced on most nights by their opposition, yet Dubnyk's save percentage of .922 is 10th best in the league.
This is quite remarkable given the Oilers' shoddy defensive play.
What the Oilers need is a capable and reliable backup in his late 20s or early 30s that can support Dubnyk as he enters his prime.
The Oilers have some promising goaltending talent in the organization, but MacTavish needs to address this glaring need immediately.
2. Ice a Bigger and Stronger Lineup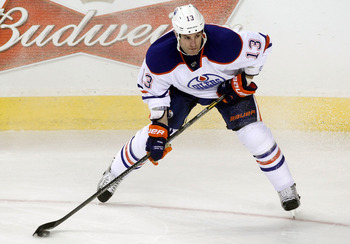 Mike Brown
Jordan Verlage/Getty Images
Again, this is news to absolutely no one who watches the Oilers regularly.
It was fascinating to listen to ex-GM Steve Tambellini talk about adding size and skill, but it proved elusive during his entire tenure.
The Oilers made mistakes with letting Curtis Glencross and Kyle Brodziak go in the past few seasons.
Teemu Hartikainen deserves a long look and should be considered as the Oilers move forward.
While size and skill in a single player are great qualities, the Oilers need at least two more big forwards that can skate, but not necessarily chip in with much scoring.
The Oilers' skilled, young forwards will only improve with age next season and will lead the team offensively.
Additionally, size on the back end, with at least average mobility, would also improve the team's defensive zone play.
1. Trade for a No. 1 Defenseman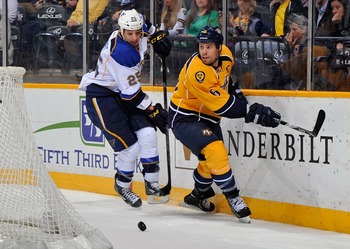 Nashville Predators' Shea Weber
Frederick Breedon/Getty Images
MacTavish needs to be at his boldest with this need.
While Justin Schultz may develop into one of the best defensemen in the NHL, this is no certainty.
Even if he does, having a No. 1 and No. 1A would be Ralph Krueger's dream come true.
The Oilers have only four or possibly five defensemen that can play in the NHL on a nightly basis.
Ryan Whitney is too much of a liability in his own end and Corey Potter does not seem to have gained the favour of the Oilers' coaches. Mark Fistric and Theo Peckham are not NHL regulars.
The Oilers have a lot of organizational talent on defence, but Oscar Klefbom is the only one on the cusp of playing in the NHL.
MacTavish has to consider overpaying for a top defenseman who can play at least 25 minutes a night and provide veteran leadership.
While very challenging to find, this might be the year for the Oilers to give up their first-round draft pick, Hemsky, and either Magnus Paajarvi or Sam Gagner in a blockbuster deal.
It would be difficult to lose either Paajarvi or Gagner; however, they have no hope of getting a defenseman in the Drew Doughty, Shea Weber and Zdeno Chara range otherwise.
Keep Reading

Edmonton Oilers: Like this team?