Robbie Rouse: Video Highlights for Former Fresno State RB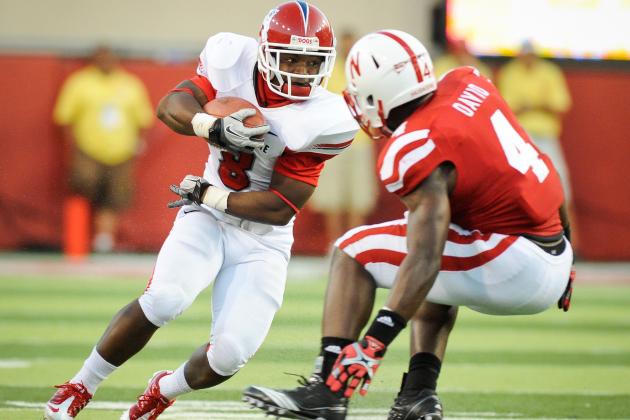 Eric Francis/Getty Images
At 5'7", former Fresno State running back Robbie Rouse is not exactly the biggest option in the 2013 NFL draft.
Robbie Rouse hardly epitomizes an NFL running back.
At 5'7" and 190 pounds, Rouse is not exactly the biggest back to enter the 2013 NFL draft. His size alone will certainly force him down on the prospect depth charts this draft.
Yet what Rouse lacks in size, he makes up for in agility and acceleration. While he probably will not bulk up much more at the NFL level, Rouse is able to use his size to his advantage, something he was able to do during a very successful tenure at Fresno State.
In four seasons, Rouse had 4,647 rushing yards on 898 attempts to go with 37 rushing touchdowns (sports-reference.com).
Projected to be drafted in the seventh round or even to be an undrafted free agent, Rouse may not be able to contribute much at the NFL level.
Yet it is not unreasonable to assume that some team may take a flier on the talented back. He was a big part of the Bulldogs' offense, especially during his junior and senior seasons, and he's known for being a leader in the clubhouse. His attitude and work ethic complement his abilities (cbssports.com).
Considering all that, Rouse may be wearing an NFL jersey next season.
Here are some highlights from Rouse's collegiate career.
Begin Slideshow

»
I mentioned previously that Rouse makes up for his lack of size with his agility and acceleration.
This clip, from a game against Boise State on October 7, 2011, showcases exactly what Rouse can do with the ball.
After the snap, Boise State's defense does not bite on the end-around motion and Rouse is given the handoff. Finding a gap through the middle of Boise State's defensive line, Rouse accelerates towards the gap and finds a hole in between his blockers.
Just before reaching the secondary, Rouse appears to be hemmed in by one of Boise State's defensive backs. But he jukes the defender. Rouse goes slightly to his left and past the defender, moving his way into the backfield.
He is able to elude a tackle and is finally forced out of bounds at the Boise State 25-yard line.
It is a classic Rouse rush and showcases both his acceleration and his agility.
In case you skipped the previous video, here is a better showcase of what Rouse can do when given some extra space to work with.
In a Bulldogs 48-24 win over Idaho on September 24, 2011, Rouse shows his moves.
Rouse receives the handoff and runs right up the gut through a gap created by his offensive line. Eluding the first line of defense, Rouse is able to reach the secondary. After evading a potential tackle from a Idaho linebacker, Rouse is faced down by a Idaho defensive back.
No problem.
He fakes to his right, which draws the defender to that side. Yet without hesitation, Rouse shifts back to his left and escapes the potential tackle, exploding into the backfield.
Rouse is then able to split two Idaho corners, utilizing Fresno State's downfield blockers, until finally being tackled by the safety.
It's a solid run for Rouse and further emphasizes his ability to make defenders miss and miss badly.
Rouse had two touchdown rushes in a September 17, 2011 game against North Dakota. Here are both of them back-to-back.
Both are similar in nature. Fresno State finds itself in goal-line formations against North Dakota and Rouse gets both handoffs.
In the first touchdown, Rouse executes a juke to his left which throws off the defensive line. He is then able to break past North Dakota's run-stoppers and makes a legitimate move towards the end zone. Rouse shows some strength and forces himself over the line, despite being pushed back by a North Dakota defender.
The result is simple: touchdown, Bulldogs. As the saying goes, "It's not the size of the dog in the fight, rather the size of the fight of the dog."
Maybe it should be "Bulldog."
On the second touchdown, Rouse executes a juke similar to his first touchdown. This time, after making the cut to his right, Rouse takes to the air, leaping over the pile at the goal line.
The result is the same: touchdown, Bulldogs.
On October 22, 2011, Rouse had another impressive game against Nevada. He rushed for 172 yards and two touchdowns, averaging 6.9 yards a carry.
In this highlight, Rouse showcases every aspect of his talent. Rouse is able to break off a huge gain from a handoff using his agility and acceleration. He finds a gap in the defense and makes moves that would impress Barry Sanders.
Making two Nevada defenders miss, Rouse is able to exploit the backfield. He is patient with his running and is able to use a screen provided by one of Fresno State's blockers. He then eludes another tackle and is off into Nevada's secondary.
The only thing preventing a Fresno State touchdown is a last-minute tackle within the five-yard line.
Rouse does not have the blazing speed or size that other backs in this draft class possess. Yet he does showcase his agility and acceleration here.
Any person who thinks Rouse would be easy to tackle should take a look at this highlight.
Rouse had himself another nice game against Mississippi on October 1, 2011.
This particular clip does not show a huge breakout run or touchdown, but it highlights Rouse's ability to utilize his strength and agility and proves that Rouse is tough to tackle in spite of his size.
On this play, Rouse rushes up the middle past his initial run block only to find his blocking has broken down behind Mississippi's linebackers. Most of Mississippi's backfield were guarding against the run and were in perfect position to limit Rouse's gain.
Instead of giving up on the play and accepting a decent gain, Rouse again shows off his moves. This time, he breaks two potential tackles by executing a spin move to his left, thus requiring additional defenders to bring him down.
That move would have been impressive enough. Yet he is able to gain a few more yards moving forward until finally being tackled and losing his helmet in the process.
Rouse could have easily gone down after being touched the first time. Yet he uses his agility and drive to make something out of relatively nothing in the backfield.
On a September 15, 2012 blowout against Colorado, Rouse had a huge day, rushing for 144 yards and two touchdowns, averaging 16 yards a carry (sports-reference.com).
His biggest run was a 94-yard rush for a touchdown.
Deep within Fresno State's territory, Rouse receives a handoff and moves to the left of his line. After realizing that the gap is closed, he shifts to his right and finds a hole in the Colorado defense. With the help of a blocker, Rouse is able to rush past Colorado's defense and get deep into their secondary.
At this point, he is off to the races, leaving Colorado's defense in the dust.
Upon entering Colorado's red zone, Rouse looks like he is about to be tracked down. Thanks to a big block from one of Fresno State's receivers, Rouse is able to reach the end zone for the touchdown.
It was a 94-yard score for the Bulldogs' running back and Rouse was able to showcase a little bit of his speed in addition to his acceleration and agility. If Rouse had to pick an electric highlight to showcase his college career, this one would be it.
While Rouse will probably not have the stuff to do much of this at the NFL level, his small stature and agility would at least make him a decent option at the next level. Who knows what he will bring to the NFL, but if these clips are any indication of his talent, fans could at least count on some excitement from the former Bulldog back.