Biggest Issues Phoenix Suns Must Address This Offseason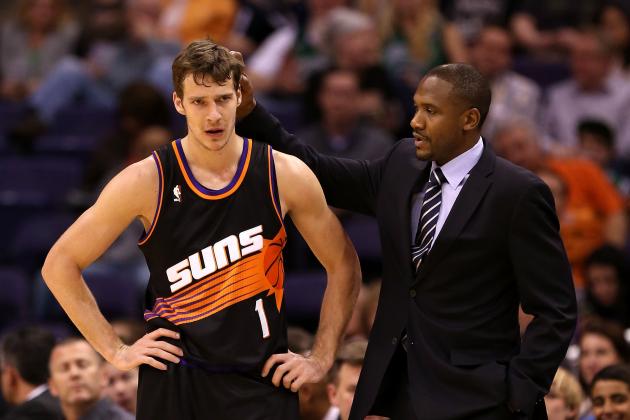 Christian Petersen/Getty Images

The Phoenix Suns will finish the 2012-2013 NBA regular season as one of the five worst teams in the league, and this has been the team's worst season since their inaugural year over 40 years ago.
After such a disastrous season, the Suns will clearly need to make some changes as they continue to rebuild. But with so many issues with this roster, it is hard to focus on fixing just one or two.
Phoenix certainly has a lot of questions to answer this summer. Goran Dragic has been a bright spot in an otherwise dismal season, but should your top scorer really only be scoring 14.7 points per game? Currently, the Suns have no superstars or even borderline All-Stars to showcase.
Additionally, Alvin Gentry was fired back in mid-January. Interim head coach Lindsey Hunter is filling that role in the meantime, but the Suns may wish to look for someone with more experience to lead this team next season.
Marcin Gortat, Luis Scola and Jared Dudley are just a few of the veterans on the Suns. They have had fairly successful seasons, but because none are vital to the team's rebuilding process, we may see trade rumors persist throughout the summer.
And of course, Shannon Brown and Michael Beasley were the two biggest flops of the season for Phoenix. The team has, more or less, given up on both players, but actually getting rid of them might be a much more difficult task.
The Suns will need to make decisions pertaining to all of these issues this summer, and the front office will likely be very busy.
Here is more analysis on each problem the Suns should address.
Begin Slideshow

»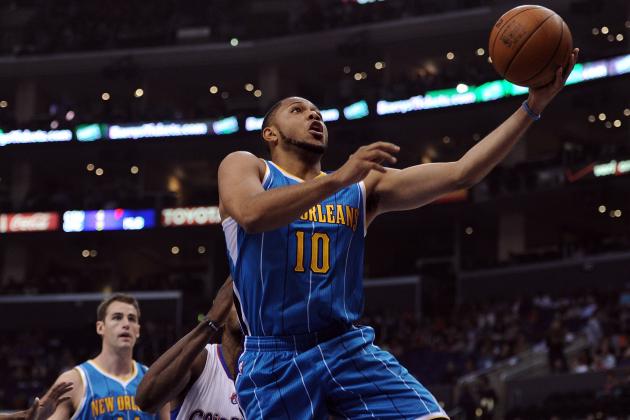 Harry How/Getty Images

Goran Dragic is currently the leading scorer for the Suns, but his 14.7 points per game is good for just 45th in the NBA.
To be fair, Dragic has been hot recently, and he is having a lot of great scoring nights. The Slovenian point guard averaged 16.1 points per game in March and is now averaging 17.4 points per game in April.
But even with those promising numbers, the Suns still need to find a legitimate primary scoring option who can score at least 20 points per game.
To clarify, there is a difference between a go-to scorer and a franchise player.
A primary scorer may be the one you want to give the ball to in the fourth quarter, but he does not necessarily have a purpose other than making baskets and being reliable in clutch situations.
While any secondary skills are obviously preferable and appreciated, pure scorers who look to shoot are not always the leaders in the locker room, nor are they always considered the face of the franchise.
This offseason, the Suns are not going to be able to find a franchise player, because there don't appear to be any available. However, there are a few great scoring options that Phoenix should look into, at least as a temporary fixture in the roster while the Suns continue to search for a true superstar.
One option here is to look at the draft as a resource. If the draft were today, the Suns would have the fourth overall pick, which could potentially put them in the position to draft a wing such as Ben McLemore, Otto Porter, Victor Oladipo or a combo guard such as Marcus Smart.
This is a fairly weak draft, and there will likely be no future superstars. However, if the Suns are just looking for someone who can score 20-plus points per game at the peak of his career, they may be able to find that guy in this draft with their top-10 pick.
All of the candidates are risky, but every draft selection is always a gamble. Oladipo looks great, but he is more of an athletic defensive specialist than a go-to scorer. Other options, such as McLemore, Porter or Shabazz Muhammad have struggled with inconsistency all season long.
Taking that into account, the Suns may be better suited acquiring a player who is already in the NBA. One option is Eric Gordon, who may be on the trading block (per John Reid of The Times-Picayune) this offseason after a couple of disappointing seasons in New Orleans.
Gordon has struggled with knee issues in the past couple seasons, but he did score 22.3 points per game for the Clippers at the age of 22, and if the great Phoenix medical staff can keep Gordon healthy, he might do wonders in the desert.
Another option is Monta Ellis, who recently stated that he would exercise his early termination option at the end of the season and become a free agent (per Gery Woelfel of The Journal Times.
If that is the case, the Suns could potentially chase after the 27-year-old who has scored over 20 points per game four times in his career.
With either Gordon or Ellis, the Suns would form an extremely explosive and dangerous backcourt pairing with Dragic that the team could attempt to build around.
They aren't the ideal "franchise players," but those don't come around so often, and the Suns will at least need somebody to fill that gap in the meantime.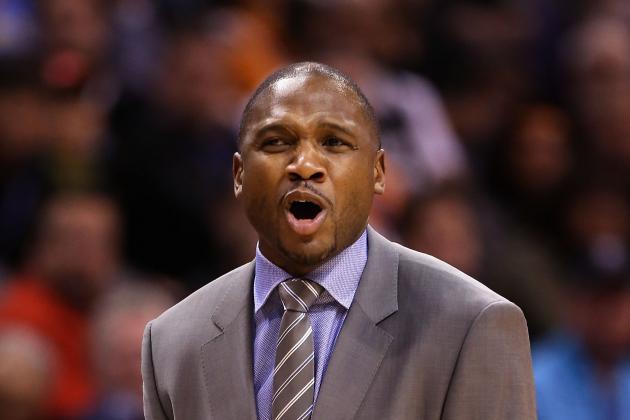 Christian Petersen/Getty Images

Lindsey Hunter has not done a bad job coaching the Phoenix Suns for the second half of the season. However, the Suns should be able to find someone better, and that's not just because of Hunter's lack of experience.
It's true, Hunter has never held an NBA coaching job before, and that is always concerning. Any success he finds with the Suns would be his first as an NBA head coach, and he is still learning about how to deal with the players, fans and the media.
However, some of Hunter's claims were not fulfilled in his first season as a coach, such as his promise to change the Suns into a defensive-minded team (per ESPN).
Since the beginning of March, Phoenix is 5-17 in 22 games. Opponents are scoring 104.3 points per game since the All-Star break, compared to just 99.9 points per game from before. Opponents are also shooting slightly better percentages from the field, behind the arc and from the free-throw line.
To be fair, Hunter has not had much to work with. P.J. Tucker is really the only Suns player known for his defense, and while there are some other decent defenders on the roster, there are still too many players who fail to bring the effort on both ends of the floor or who are just playing out of position and are being bullied by the opposition.
But it is very peculiar that the Suns have regressed defensively, despite Hunter's previous comments, and it is not a good sign of things to come if he is still coach.
On the bright side, Hunter has done a great job of developing young players such as Kendall Marshall, Wesley Johnson, Markieff Morris and even Goran Dragic. All of those players have shown a lot of progression since Gentry left, which is great to hear for a rebuilding team.
But there is no doubt in my mind that the Suns can find someone better to lead this team in the future. Lindsey Hunter has the tools to be a successful NBA head coach, but he just isn't a great fit for Phoenix.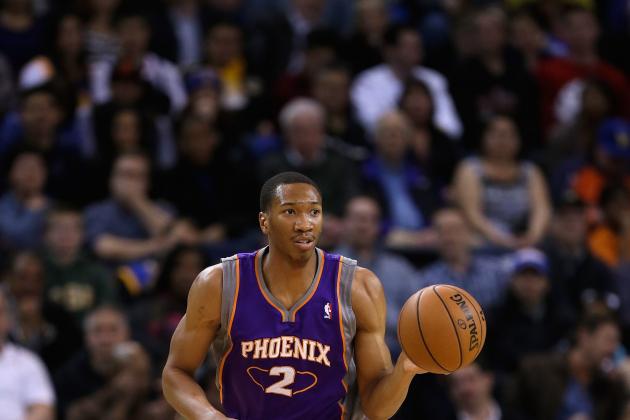 Ezra Shaw/Getty Images

When Wesley Johnson and Jermaine O'Neal arrived in Phoenix last offseason, they didn't exactly receive a warm welcome.
Most people didn't critique the Johnson trade or the O'Neal signing, but rather they just didn't think much of it. The idea that either of the two players could actually become significant contributors in the Suns rotation later in the season seemed very far-fetched.
But now, both Johnson and O'Neal have had great seasons for the Suns, and hopefully, both will be re-signed for next season.
Johnson's success began just after the Gentry firing. Wes was a benchwarmer under Gentry, but he finally started to receive playing time with Lindsey Hunter, and he has progressed to the point where he has now started 20 games for the Suns down the stretch.
He hasn't disappointed in those games either. As a starter, he is averaging 13.5 points and 3.2 rebounds per game while shooting 43 percent from the field and 32 percent from three-point range. He has also scored 20 points or more in three of those games.
Johnson was picked fourth overall in the 2010 draft, but up until quite recently, he looked like a bust. Now, although he may never fulfill his original expectations, Johnson could possibly be a future starter for the Suns, or at the very least, an important sixth man or role player.
In O'Neal's case, he was never a bust. However, the 34-year-old came into this season a washed up injury-prone veteran, and he had played just 49 games in two seasons with the Celtics.
But this year, the veteran has made a comeback. O'Neal is averaging 8.3 points, 5.3 rebounds and 1.4 blocks per game, and his per-36-minute stats are back to where they used to be five years ago.
O'Neal is also shooting a career-high 84 percent from the free-throw line, and while he may not be the future starting center of the Suns, they would surely benefit by keeping him around for another year or two to play the backup role.
There have been plenty of players on the Phoenix roster who have failed to live up to expectations. But O'Neal and Johnson have both been pleasant surprises. The Suns should definitely re-sign both players to new contracts over the summer.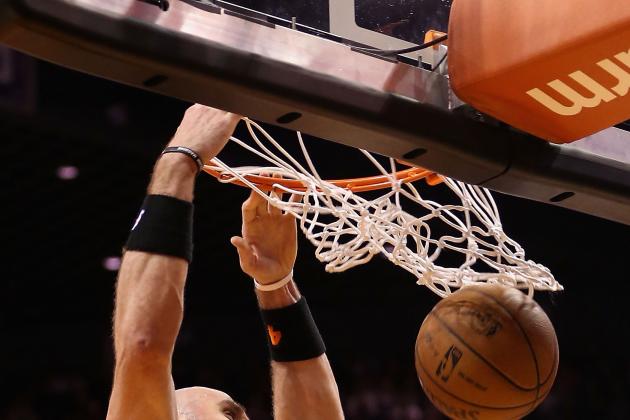 Christian Petersen/Getty Images

Back in February, there was a lot of talk about the Suns possibly trading one of their veterans, such as Marcin Gortat or Jared Dudley. Since the Suns are a rebuilding team and will probably not contend for at least a few more seasons, they do not need a lot of players at or above the age of 30 on the roster.
The Suns did not make any major moves, but that doesn't solve the problem. Now, over the summer, the Suns will be faced with the same question of deciding whether or not they should keep the veterans.
Marcin Gortat is definitely a prime candidate to be shipped to another team. Gortat averaged 11.1 points and 8.5 rebounds per game this season before going down with a sprained right foot, but his offensive production is way down ever since Steve Nash was traded to the Lakers.
Gortat only has one more year on his contract, and he didn't seem to be particularly happy about being on such a terrible team this year.
If Gortat starts dropping hints that he plans on leaving in free agency, the Suns should attempt to trade him immediately. Perhaps they could include him in a package for a star like Eric Gordon, or they could trade him for future draft picks and prospects.
Luis Scola is another asset whom the Suns could trade. Scola was ineligible to be traded at the deadline, as amnesty rules state that you cannot trade a player taken from the amnesty waiver wire until one year has passed.
But in July of this year, one year will have passed. And Scola has had a productive season, putting up 12.7 points and 6.5 rebounds in 26.6 minutes per game.
Scola is still only 32, but he is taking minutes away from prospects in Phoenix. The Suns want to be able to give minutes to the Morris twins, and Channing Frye will be coming back next season as well. Scola is still a perfectly capable NBA starter, but he has no role on the Suns. Perhaps, the front office can swap him for a future first-round pick or other assets.
The Suns do not necessarily have to trade their veterans, but it wouldn't be a bad idea to do so. If the Suns keep the current roster they have mostly intact, they will be doomed to another disastrous season.
Right now, the best idea would be to gut the roster of veterans and bring in fresh, young prospects to take the majority of the minutes. It doesn't sound too enticing right now, but it is probably the only way to move forward.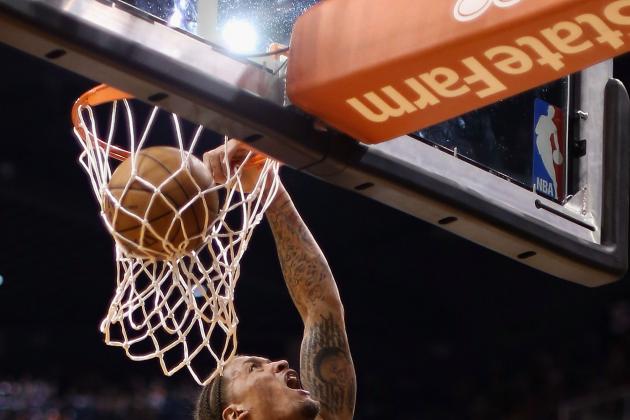 Christian Petersen/Getty Images

These two names may continue to haunt Suns fans long after the players are gone. However, actually getting them to leave will be the hard part.
Let's start with Shannon Brown, who has fallen out of the Suns rotation completely for the past couple months.
Right now, Brown averages 10.4 points per game. He is shooting 42 percent from the field along with a career-low 27 percent from three-point range.
Brown was mostly productive in his first season with the Suns, but he was always known to take ill-advised shots. Brown would lose just as many games with poor shot selection as he won with clutch shooting.
Head coach Lindsey Hunter has clearly taken notice, and he hasn't been impressed with Brown's play. In fact, Brown has appeared in just five games since the start of March.
The Suns have the opportunity to release Brown after the season and use the "stretch" provision, which would allow them to pay his $1.75 million guaranteed salary over three years instead of one.
Since only half of his salary next season is guaranteed, releasing Brown and using the stretch provision could save the team $3 million in cap space.
For a while, Brown seemed like a steal for the Suns, especially given his great hot streak at the end of last season. But now, it appears as if his time in Phoenix is coming to an end.
Brown seems like an easy mistake for the Suns to fix, but Michael Beasley will be much harder to get rid of.
Beasley is averaging 10.1 points and 3.8 rebounds a game this season, which are not the numbers you would expect from someone making $6 million each year. He is shooting just 41 percent from the field and is attempting way too many jump shots and three-pointers—he should be using his athleticism to get to the basket.
As a result, he has struggled to find consistent playing time.
He still plays, but not nearly as much as he was expected to when he was first signed. In fact, the only month in which Beasley played more than 21 minutes per game was November, the first month of the season.
Overall, signing Beasley still looks like a disaster.
He is an inefficient scorer, terrible defender, bad passer and there are simply no great aspects of his game to point to this season.
Hopefully, he can get his act together and blossom into the star player we all know he has the potential to be, but he hasn't shown any consistency yet, despite a great game every once in a while.
If this pattern continues, the Suns will probably try to get rid of him sometime before his contract is up. That is, if they can find a taker.
And there is the problem. The Suns would love to get rid of Beasley, but as long as he continues to be so inconsistent and have such horrible cold streaks, Phoenix will be stuck with him.
Perhaps another season in Phoenix would give Beasley another chance to blossom and finally be a star. But the more you watch Beasley, the more you begin to understand that that goal might just be unattainable.