NFL Draft '09: Who Will the Indianapolis Colts Select?
I still consider myself rather new to the NFL game. Sure, I've always loved football, no matter which league. But I live in the South, in a Tri-State area; Tennessee, Georgia, and Alabama all converge just a few miles from my home.
Obviously then, college football has always been a large part of my life. I watched the NFL but never got into the pro game like I did the college game.
That is, until one Peyton Manning went to the University of Tennessee, became my favorite Vol of all time, and then went No.1 to the Indianapolis Colts.
Having only been a die-hard NFL fan since 1998, I consider myself rather new to the NFL game.
In that short amount of time, however, I immersed myself in all things Indianapolis Colts.
With that said, I will try for the first time ever to predict who the Colts will select in Saturday's draft. Yes, I know it's a complete stab in the dark, but maybe I'll strike flesh on this one.
Bill Polian and company have a knack for this draft thing. Just look back at previous first round selections. It's a virtual who's who of the Colts latest dynasty.
Manning in '98, Edgerrin James in '99, Reggie Wayne in '01, Dwight Freeney in '02, Dallas Clark in '03, Marlin Jackson in '05, Joseph Addai in '06, and Anthony Gonzalez in '07. Not too shabby.

To me it's obvious that the Colts' biggest weakness in recent years is defense, especially up the middle. DT and LB are areas of need.
With the recent release of Marvin Harrison, the Colts also opened up a WR position. Presumably Reggie Wayne will continue as the No. 1 option, while Anthony Gonzalez steps in as the No. 2 receiver. So the need for a young slot guy is obvious.
The other five picks should, in my humble opinion, address depth at RB, WR, LB, and OL.
So after consulting many mock drafts, rosters, and prospects, here are my final conclusions.
First Round, Pick 27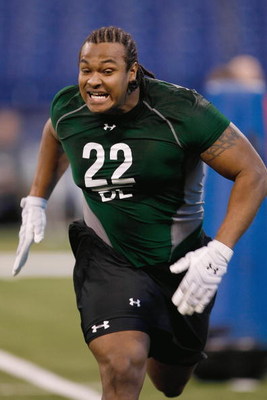 Evander Hood, DT, Missouri
Hood has been flying up the boards lately. He had a good combine and is a monster inside. Hood is ridiculously quick for a 6'3", 300-lb. lineman. Athletic and explosive are the major buzzwords surrounding Hood.
Second Round, Pick 29 (61 Overall)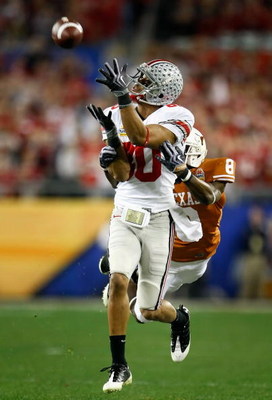 Brian Robiskie, WR, Ohio State
Hopefully Robiskie will still be around this late. He grades out as late second, early third round, so my hopes are high. Robiskie is considered the ninth best wide receiver prospect in this draft. He's a tremendous pass catcher and could surprise a lot of people with Indy next season.
Third Round, Pick 28 (92 Overall)
Marcus Freeman, LB, Ohio State
The Colts stick with another former Buckeye at this spot. Marcus Freeman was a projected first round pick if he had come out after his junior year. A subpar senior year has relegated his status to third/fourth round. In other words, this guy is a steal and a true Polian pick.
Fourth Round, Pick 27 (127 Overall)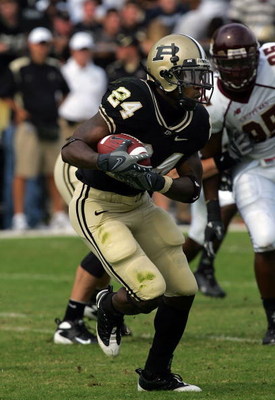 Kory Sheets, RB, Purdue
Sheets is an underrated runner. He's a quick, squirty back with tremendous open-field running ability. He's also a good pass catcher coming out of the backfield. Another hidden diamond this late in the draft.
Fourth Round, Pick 36 (136 Overall)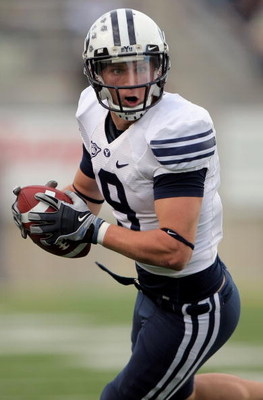 Austin Collie, WR, BYU
The Colts only have four wide receivers on the active roster. Austin Collie is a good pick late in the fourth round. He will remind many of former Peyton target, Brandon Stokley. Another great pass catcher.
Fifth Round, Pick 29 (165 Overall)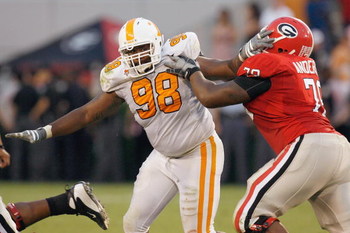 Demonte' Bolden, DT, Tennessee
I have to get one former Vol in here. Defensive tackle is a definite position of need in Indy. After taking Hood with the first round pick, Bill Polian adds more depth with this pick.
Sixth Round, Pick 28 (201 Overall)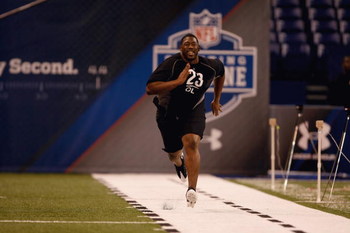 Tyronne Green, G, Auburn
The Colts want to eventually move Mike Pollack over to become the future center once Jeff Saturday's recently re-signed contract is up. Getting Green at this point in the draft would give the Colts time to develop and improve his strength. He adds much needed depth at guard as well.
Seventh Round, Pick 27 (236 Overall)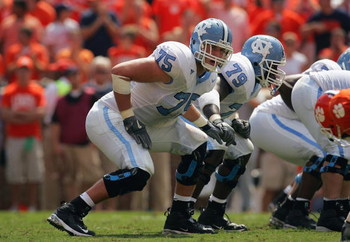 Garrett Reynolds, T, UNC
The Colts address depth on the O-line with this pick, yet again. Reynolds is a three-year starter at UNC. He's versatile (has played every position on the line) and has tremendous awareness. Also very technically sound.
The Wild Cards
These are complete guesses—albeit somewhat educated guesses, but still guesses nonetheless.
Here are some other names mentioned as first round possibilities for the Colts, all of which would change the entire look of my predictions.
Peria Jerry, DT, Ole Miss; James Laurinaitis, LB, Ohio State; Eben Britton, OT, Arizona; Darrius Heyward-Bey, WR, Maryland; Hakeem Nicks, WR, UNC; Kenny Britt, WR, Rutgers; Brian Cushing, LB, USC.
I know of at least one Colts fan who will be glued to the TV on Saturday.
Keep Reading

Indianapolis Colts: Like this team?