Twitter Reacts to Katherine Webb, Kareem Abdul-Jabbar and More on 'Splash' Week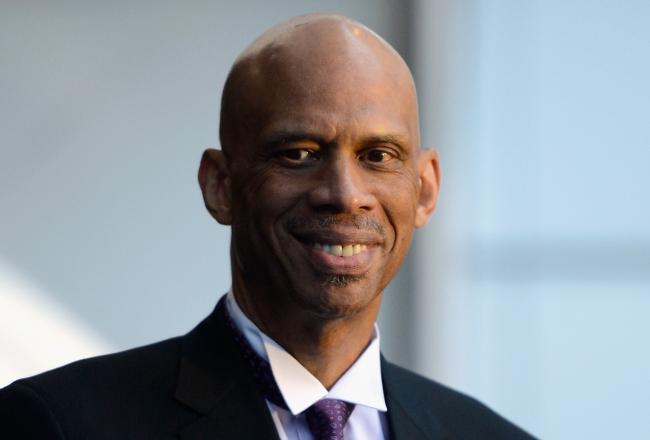 Kevork Djansezian/Getty Images
Episode 5 of ABC's new show Splash kicked off on Tuesday, as celebrities and athletes alike battled to advance to the next round of the diving competition.
Former Cosby Show Keshia Knight Pulliam actress was the first to be eliminated in the competition, followed by Detroit Lions defensive lineman Ndamukong Suh, former The Girls Next Door star Kendra Wilkinson and comedian Louie Anderson.
Miss Alabama 2012 Katherine Webb has staved off elimination twice already in the competition.
Here's a look at how it all went down on Splash on Tuesday, through the lens of Twitter.
Twitter Reaction
USA Diving, which has been giving Splash publicity throughout the show, started things off, drawing attention to Charissa Thompson and Joey Lawrence:
look at @charissat and @joeylawrence go off 10M! #Splash

— USA Diving (@USADiving) April 17, 2013
There was a big surprise on Tuesday, as Louie Anderson replaced Katherine Webb due to injury.
David Portnoy of BarstoolSports.com tweeted:
Kathryn Webb out?No. Not now. Not now.....Wait!It's LOUIE in a stars n strips mumu suit!Thank you splash!'Merica!

— David Portnoy (@stoolpresidente) April 17, 2013
The return of Louie Anderson got the attention of one famous celebrity, Rosie O'Donnell:
Louie Anderson on SPLASH - so inspiring and adorable .I totally want to be on season 2 (- after losing 25 more lbs )

— Rosie O'Donnell (@Rosie) April 17, 2013
Comedian/sports writer Rick Muscles quipped:
Katherine Webb withdrawing from Splash is the latest black mark in a disastrous year for Auburn sports.

— Rick Muscles (@RickMuscles) April 17, 2013
Michael Buckley of What the Buck?! tweeted:
The scoring on #Splash is HILARIOUS!!! Like it makes ZERO SENSE AT ALL! HAHAHAAHHAAHA!!!!

— Michael Buckley(@buckhollywood) April 17, 2013
World of Isaac captured a visual of Katherine Webb's disappointing exit from the show:
Katherine Webb broke down, cried and quit 'Splash.' BOOOOO! twitter.com/WorldofIsaac/s…

— World of Isaac (@WorldofIsaac) April 17, 2013
Former VH1 VJ/celebrity talk shot host Bobby Rivers couldn't believe what the world had come to:
So..Louie Anderson is now swimming for Greg Louganis and Andy Dick is making big money as a dancer on network TV? Wow. #Splash #DWTS

— Bobby Rivers (@BobbyRiversTV) April 17, 2013
Sports reporter Erin Cofiell congratulated Kareem Abdul-Jabbar for going through with his dive:
Atta boy Kareem! So nervous to go off 10m platform but like a true athlete, you went for it! #splash @splashabc

— Erin Cofiell (@erincofiell) April 17, 2013
The host of On the Beat with Brett Jensen highlighted a scary moment for Abdul-Jabbar, when he appeared to injure himself on his dive:
So I'm watching Splash Got the very first time and within 5 minutes of turning it on, Kareem Abdul Jabbar damn near breaks his neck.

— Brett Jensen (@Brett_Jensen) April 17, 2013
Broadcast journalist Phil Latzman echoed what a lot of people have been saying about Splash:
I really want to compete in the new ABC show "Splash". It's the stupidest and smartest show on TV.

— Phil Latzman (@PhilLatzman) April 17, 2013
Howard Cohen of the Miami Herald thought the popular Louie Anderson was getting favorable treatment from the judges:
Bring Louis back for show if you must, #Splash, but to score him 7.5 for a non-dive is unfair to the better divers. Totally bogus.

— Howard Cohen (@HowardCohen) April 17, 2013
Cohen, who is also a former competitive swimmer, was impressed with Drake & Josh star Drake Bell on Tuesday:
Drake Bell's the real diver on #Splash. Legs came apart on entry but handstand 10m dive was otherwise quite fine. Controlled.

— Howard Cohen (@HowardCohen) April 17, 2013
Canadian professional skier Rory Bushfield, who lost his wife Sarah Burke in a skiing accident in January 2012, executed a dive on Tuesday, as USA Diving noted:
inspirational and amazing to hear @bushywayne speak about his wife - and go head first from 10M for a great dive! #Splash

— USA Diving (@USADiving) April 17, 2013
After Louie Anderson was once again eliminated from the competition on Tuesday, USA Diving tweeted out the five remaining contestants in the show's first season:
Only five divers remain on #Splash–who is your favorite to win?! @nicoleeggert @kaj33 @drakebell @brandichastain @bushywayne

— USA Diving (@USADiving) April 17, 2013
This article is
What is the duplicate article?
Why is this article offensive?
Where is this article plagiarized from?
Why is this article poorly edited?