Malliciah Goodman: Video Highlights for the Former Clemson DE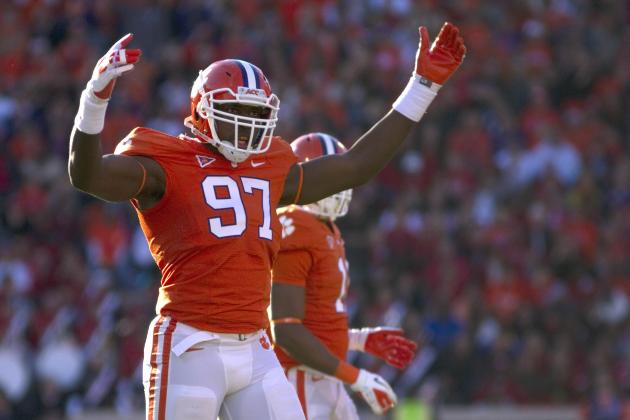 Joshua S. Kelly-USA TODAY Sports

Former Clemson defensive end Malliciah Goodman is not yet a household name, but certainly has the skill set and physical capabilities to become one.
At Clemson, Goodman struggled to consistently produce at a high level; however, his performance against LSU in this year's Chick-fil-A Bowl essentially showed how much untapped potential this unique prospect just might actually have.
Ahead we examine Goodman's game further by taking a look at six of his best plays during this past year at Clemson.
Begin Slideshow

»
The first of the three sacks Malliciah Goodman was able to generate in Clemson's bowl game against LSU may have just been his most impressive of the bunch.
While his get-off-the-line isn't top notch, Goodman does an excellent job attacking the outside shoulder of the offensive tackle, while completely locking out his elbows on contact.
The other thing to notice is just how low Goodman is able to drop his pads when running the arc—effectively angling his body and thus decreasing the surface area the tackle has to work with.
This flexibility is key for pass-rushers and is what ultimately allowed Goodman to finish the play and start his night off strong in what became a memorable bowl game performance.
Similar to the first sack we just witnessed, Goodman shows off his impressive overall flexibility and bend while turning the corner here.
By locking out his inside arm, Goodman is able to create some leverage and separation around the edge, but that may not be the most impressive aspect of this sack.
What is, is the way Goodman is able to contort his body and continually work the edge, showing off an impressive amount of core and functional strength, while also displaying a relentless quality to chase the quarterback down and finish the play.
Goodman's arc gets a little wide on this particular play, but I appreciate the motor, effort and hustle to never give up.
Qualities that NFL coaches are sure to appreciate as well.
This play might be my personal favorite of all the video highlights in this package.
One of the first things I personally look for in a defensive line prospect is his ability to use his hands, which Goodman has already shown us plenty of, but it never hurts to see a bit more.
In the play above, Goodman again does a good job of locking out his elbows, while essentially bench pressing his opponent off of his body to give him space to work.
Moving laterally down the line of scrimmage, Goodman also does an excellent job stringing out the play while simultaneously resetting his hands to win inside positioning.
This combination and coordination of movements is an underrated quality, and even though this may look like a pretty basic play, it effectively shows how Goodman is much more than just a pass-rusher.
We've seen a couple times now how well Goodman uses his long arms and active hands to create separation, and this play is no different.
By simply slapping away his opponent's arms, Goodman is able to escape the reach of the offensive tackle by just so slightly dipping under his outside shoulder.
This gives Goodman his clear line to the quarterback, and I love how well he finishes off the play by causing the sack fumble.
Clearly Mike Glennon never felt or saw him coming, which is absolutely shocking considering Goodman's sheer size.
Goodman is not always the quickest off the snap, but in this LSU game, he seemed to be timing it up perfectly.
Thanks to his excellent get-off, the offensive tackle is forced to lunge and reach for Goodman, but by that time, it is too little, too late.
As Goodman breezes past his opponent, he is able to drop his inside shoulder and stick his foot in the ground before ultimately reaching the quarterback and collecting the sack.
What's most impressive here is the ankle, knee and hip flexibility Goodman uses to turn the corner and close in on the quarterback.
A quality that is all the more intriguing considering the insane physical tools Goodman already possesses as a pass-rusher.
As J.J. Watt emphatically proved last year, just because you don't reach the quarterback, doesn't mean you still can't affect the play.
Here, Goodman experiences a chip block and recognizes quickly that he is unlikely to get to the quarterback, so he does the next best thing.
Using his instincts and incredibly long arms, Goodman times his jump and gets his hands up in the passing lane to ultimately bat the ball down.
I love this play because it shows the level of focus Goodman exhibits, as well as the awareness he has to diagnose and react to the information happening in front of him.
Something the Houston Texans pass-rusher would certainly appreciate.