2013 Draft Prospects with NFL Connections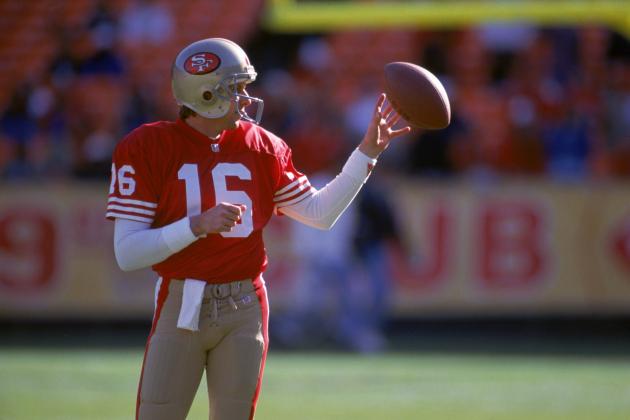 George Rose/Getty Images
Pro Football Hall of Fame quarterback Joe Montana has some interest in the 2013 NFL Draft.
Many athletes, on any level, consider the teams they play for to be their second families.
Of course, it's often said that blood is thicker than water. Or in their cases, sweat and tears.
We saw one of the ultimate family moments this past February in New Orleans, when the Harbaugh brothers squared off as head coaches in Super Bowl XLVII. In case you need a reminder, John's Baltimore Ravens bested Jim's San Francisco 49ers, 34-31.
Therefore, here is a baker's dozen of players available for the 2013 NFL Draft. We'll take a look at mostly their family ties with the league but also a few college connections as well.
While some of these players may or may not be drafted, this is always a fun exercise—kind of like playing the game we call six degrees of Kevin Bacon…
...who is not related to former NFL defensive end Coy Bacon.
Begin Slideshow

»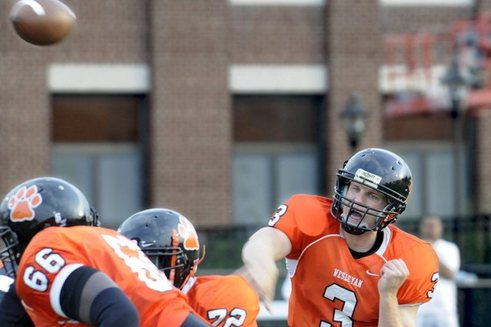 Photo credit: lancasteronline.com
Quarterback Nate Montana might have been better off being the brother of Hannah Montana—talk about the pressure of being the son of a legend.
In all honestly, the professional prospects for this Montana aren't necessarily high. But when you're the son of Pro Football Hall of Famer Joe Montana, it's hard not to get noticed.
As for Nate, the former Notre Dame product spent the 2012 season at West Virginia Wesleyan. In nine games with the Bobcats in 2012, Montana totaled 2,480 yards through the air, 19 scores (seven interceptions) and threw two or more touchdown passes in seven of those outings.
Will he be drafted, or will he get a look-see at an NFL training camp this year? Only time will tell.
But here's what we know. His dad was no ordinary Joe.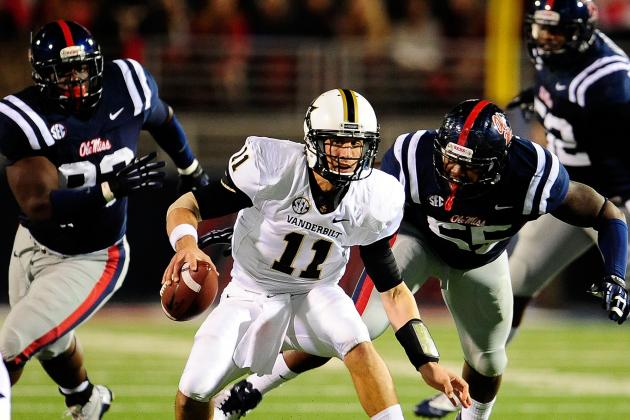 Stacy Revere/Getty Images

You could make a case that no quarterback in the NFL has been hotter over the last two seasons than Green Bay's Aaron Rodgers.
So if you're Jordan Rodgers, Aaron's younger brother, be ready for the inevitable comparisons between you and the Super Bowl XLV champion who was also the 2011 MVP of the National Football League.
In four collegiate seasons (Butte and Vanderbilt), the younger Rodgers threw twice as many touchdown passes (50) as interceptions (25). That includes 24 scores and 15 interceptions the last two years with the Commodores.
Over the last two NFL regular seasons, Aaron Rodgers has thrown 84 touchdown passes and just 14 interceptions.
Those are big shoes to fill indeed.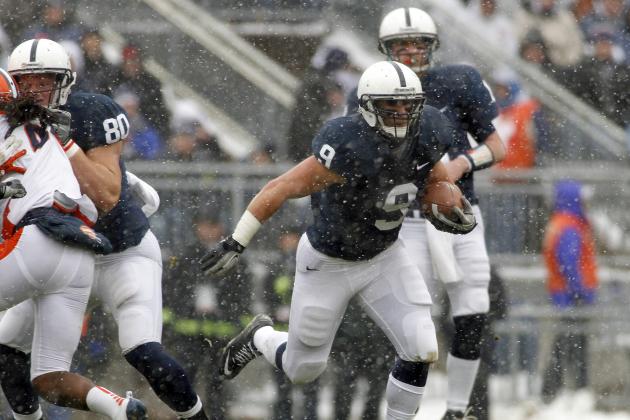 Justin K. Aller/Getty Images

It's pretty obvious who was chasing who in the Zordich's backyard when father and son were playing football.
Penn State fullback Michael Zordich didn't get a lot of touches in his four seasons with the Nittany Lions. The fullback totaled 584 yards from scrimmage and scored nine touchdowns during his collegiate career.
His father Michael was a safety for the New York Jets, Phoenix/Arizona Cardinals and the Philadelphia Eagles for a combined 12 seasons and totaled 31 takeaways during his NFL career.
Still, you have to wonder how many missed tackles there were on Dad trying to stop his son?
All kidding aside, the fullback in the NFL these days has been doing a fast fade, so we'll have to see if the younger Zordich gets a crack at the league.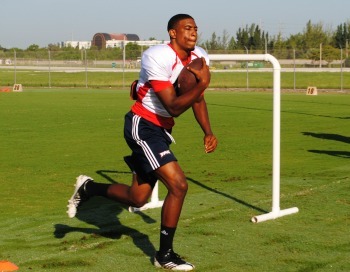 Photo credit: fauowlsfootball.blogspot.com
In August, NFL wide receiver Cris Carter will take his rightful place in the Pro Football Hall of Fame.
But next week, Dad will be rooting for his son to get a shot in the National Football League.
Wide receiver Duron Carter began his college career at Ohio State, and several stops later, he wound up at Florida Atlantic. But he never played a game for the Owls.
But here's a thought: Wouldn't it be something to see Duron drafted or signed by either the Miami Dolphins or the Dallas Cowboys? We're not playing favorites, but those teams are slated to meet each other in the Pro Football Hall of Fame Game in August in Canton, Ohio.
And wouldn't that make for an exceptional weekend for the Carter family?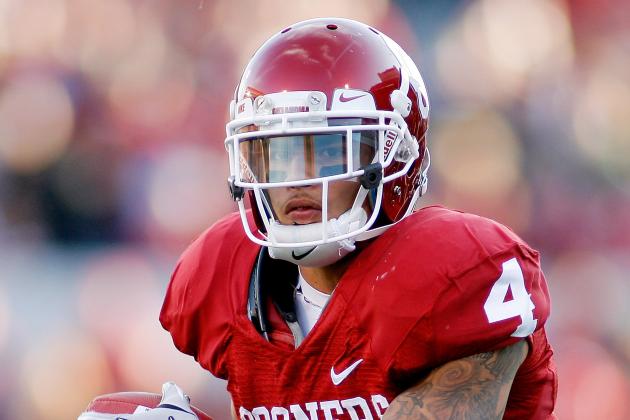 Photo credit: blog.philsteele.com
University of Oklahoma wide receiver Kenny Stills put up some solid numbers in three seasons with the Sooners.
Now let's see if his game translates to the next level, something that runs deep (no pun intended) in his family.
His father Ken and his uncle Gary both went on to play professional football. Ken was a defensive back with the Green Bay Packers and Minnesota Vikings. Gary toiled for the Kansas City Chiefs, Baltimore Ravens and St. Louis Rams.
At Oklahoma, Stills pulled down 204 receptions for 2,594 yards and 24 touchdowns and is coming off his best season, where he caught 82 passes, 11 for scores.
We'll have to wait and see just when his name will be called next week.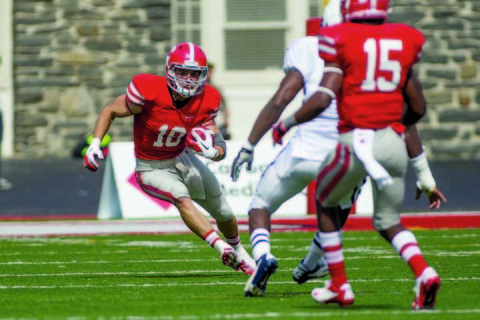 Photo credit: ithaca.com
Former NFL wide receiver Steve Tasker caught 32 passes in 13 seasons with the Houston Oilers and Buffalo Bills. And all of those receptions came in his final five seasons with the Bills.
Of course, Tasker was known for much more than that. The former Northwestern product was a star on special teams and earned seven trips to the Pro Bowl because of that work.
Now enter his son Luke via Cornell University. Last season, he totaled 75 catches for 1,204 yards and eight scores with the Big Red.
You can hear it now: "Luke, I am your father…and good luck in the NFL draft next week."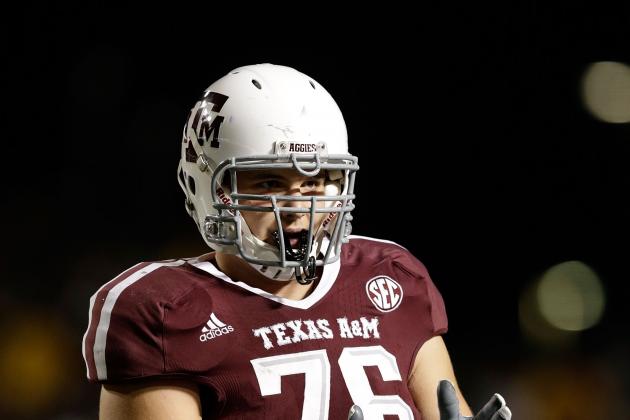 Scott Halleran/Getty Images

We all know the old saying—familiarity breeds…a trade?
Stop if you've heard or read this one before. Tackle Luke Joeckel could be the first player taken in Thursday night's NFL draft. He played for current Miami Dolphins offensive coordinator Mike Sherman and with quarterback Ryan Tannehill at Texas A&M.
So all the Dolphins have to do is send a couple of their lower-round picks—they have 11 selections overall—to the Kansas City Chiefs for the top spot on the board, and they can bring Joeckel to Miami.
And what irony would that be? The last time there was a player other than a quarterback drafted No. 1 overall was 2008…when the Dolphins selected tackle Jake Long.
Defensive end Howie Long terrorized opposing offenses as a member of the Oakland and Los Angeles Raiders for 13 years, totaling more than 80 sacks. The eight-time Pro Bowler is enshrined in Canton, Ohio.
His son Chris Long was the second overall pick in the 2008 NFL Draft by the St. Louis Rams. He's yet to miss a game in his five-year NFL career and has totaled 42.0 sacks.
So it's only natural that another one of Long's sons, Kyle Long, be responsible for protecting opposing quarterbacks.
The former Oregon Ducks blocker could figure at either guard or tackle. In any case, he'll likely be lining up on some team's offensive line in 2013.
And wouldn't it be fun to see him and brother Chris square off one or two times a year?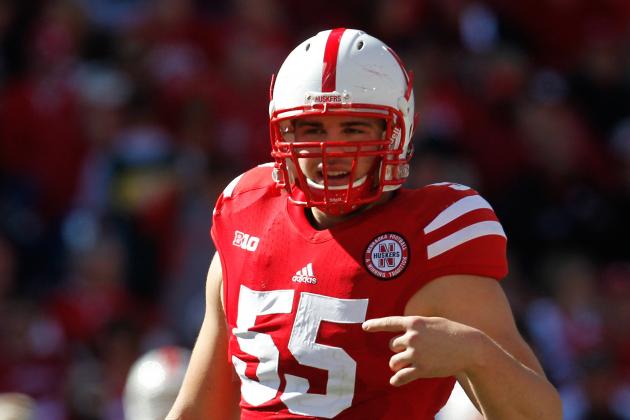 Bruce Thorson-USA TODAY Sports

There's just something about the name Steinkuhler that makes you think football.
Pretty soon, we're going to find out what NFL personnel people and coaches think about Nebraska defensive tackle Baker Steinkuhler.
The 6'5", 290-pound performer totaled eight sacks in his four seasons with the Cornhukers. He may or may not be on an NFL training camp roster this year. In any case, Baker is the son of former Nebraska standout Dean Steinkuhler. The latter spent seven seasons with the Houston Oilers after the franchise made him the second overall pick in 1984.
As for this year and the younger Steinkuhler, either the Houston Texans or Tennessee Titans would be a good fit for obvious reasons.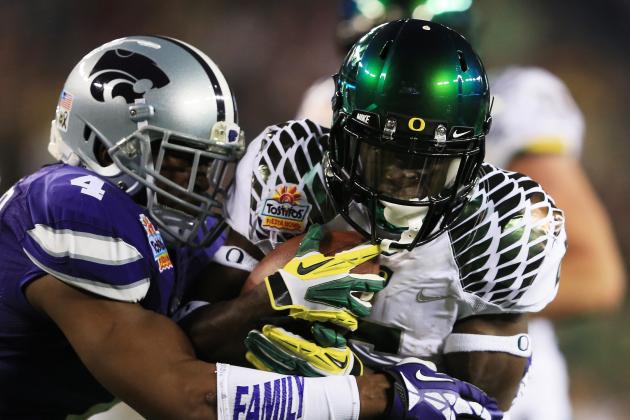 Doug Pensinger/Getty Images

One-time Miami Hurricanes linebacker Arthur Brown eventually became Kansas State linebacker Arthur Brown.
Now the rangy defender hopes to add a NFL team to his resume.
Brown totaled 100 or more tackles in each of his two seasons with the Wildcats. Now he takes aim at a pro career and hopes to make an NFL roster like his brother did a year ago.
Running back Bryce Brown, also from Kansas State, was a seventh-round draft choice by the Philadelphia Eagles in 2012 and the 229th player selected overall. With injuries to starter LeSean McCoy being a factor, Brown managed to rush for 564 yards and four touchdowns—most of that in back-to-back games versus the Carolina Panthers and Dallas Cowboys.
Now the question may be, will Arthur be chasing Bryce around an NFL field this fall? Or, perhaps at their team's practice?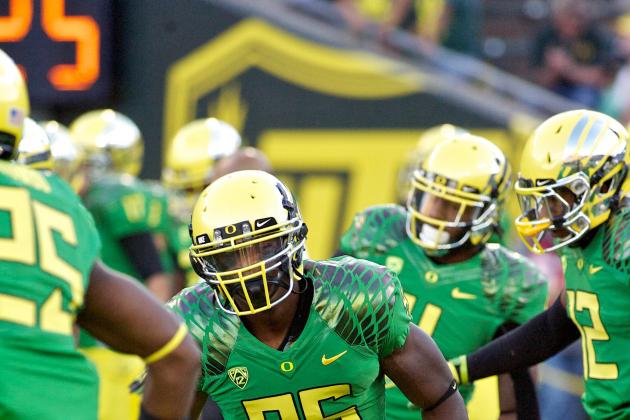 Craig Mitchelldyer/Getty Images

Will Philadelphia Eagles head coach Chip Kelly take a chance on one of his prized pupils?
The former University of Oregon sideline leader begins his first season in the City of Brotherly Love. The Eagles come off a disastrous 4-12 season, and there have been plenty of changes.
The Birds will make the switch to the 3-4 defense this season. Philadelphia signed free agent Connor Barwin and will start former defensive end Trent Cole at the other outside linebacker spot.
But could Dion Jordan fit into the Eagles' plans? He could take the other outside job opposite Barwin, while Cole could return to end.
It is food for thought indeed.
A decade ago, cornerback Marcus Trufant was the 11th overall pick by the Seattle Seahawks in the 2003 NFL draft.
In 10 seasons, the former Washington State product totaled 21 interceptions, seven of those coming in his Pro Bowl campaign of 2007.
Now Desmond Trufant, Marcus' younger brother, hopes to carry on the family legacy when it comes to the National Football League. The rangy corner set a school record for career passes defensed and picked off six passes in four seasons with the Huskies.
Currently, older brother Marcus remains an unsigned free agent. But once Desmond latches on with a team, could a package deal be in the discussion?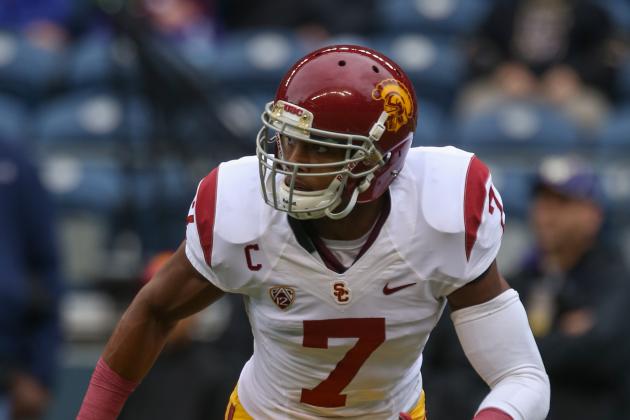 Otto Greule Jr/Getty Images

Talk about a nice legacy?
Former USC safety Tim McDonald had quite the NFL career, and in some ways, it's almost forgotten. The six-time Pro Bowler, those honors evenly split between his days with the St. Louis/Phoenix Cardinals and San Francisco 49ers, put up some impressive numbers during his 13 seasons.
McDonald totaled a combined 56 takeaways with the Cardinals and Niners, including 40 interceptions. The consistent defender totaled at least two interceptions in each of his final 12 seasons.
Now son T.J. McDonald, also a standout with the Trojans, will get his chance at the NFL. He comes off an impressive year, in which he totaled 122 tackles and picked off two passes.
It will be fun to see what he can do at the next level once he gets his chance.