Every NFL Team's Greatest Draft Class in Franchise History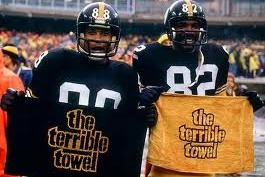 Photo credit: coolchaser.com
Now it's time to have some fun.
We'll be looking at each NFL team's best draft class from top to bottom. And while we may not mention every pick, be it a seven, eight, 12, 17, etc., round draft, we won't leave out any key selections.
Obviously, a few exceptions will be made considering the magnitude of the players and their impact when it comes to the size of the class. You need not look any further than the 1965 Chicago Bears as an impressive example.
A few notes. In the case that we select a team from the American Football League and its class from 1960-66 (before the NFL common draft in 1967), rounds referenced are from the AFL Draft that year.
Also, we'll make sure we give a shoutout to some of the club's other great draft classes. Like the draft itself, this process is not an exact science.
So sit back and enjoy as we look back at the previous 77 NFL drafts (dating back to 1936) and who was the top class for every franchise.
Let the reminiscing begin.
Begin Slideshow

»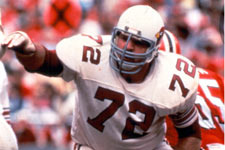 Photo credit: profootballhof.com
The headliner for the then-St. Louis Cardinals draft class of 1971 was Pro Football Hall of Fame offensive tackle Dan Dierdorf.
But there were numerous other selections that proved important to a franchise that captured back-to-back NFC East titles in 1974 and 1975.
Cornerback Norm Thompson played six seasons with the team and 22 of his 33 career interceptions came with the Cardinals. Meanwhile, wide receiver Mel Gray (sixth round) put the big play into Don Coryell's passing attack commanded by quarterback Jim Hart.
And defensive end Ron Yankowski (eighth round) played for the team for 10 seasons.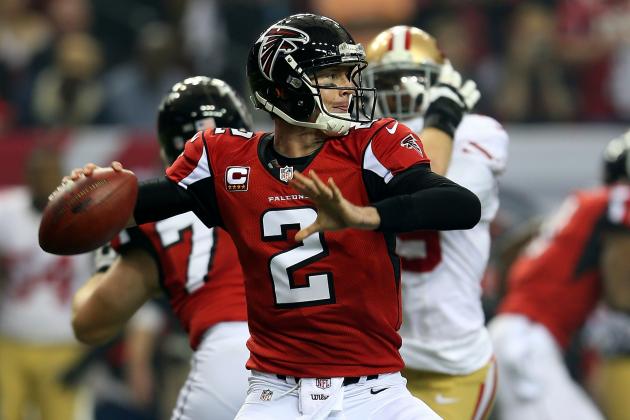 Mike Ehrmann/Getty Images

The Atlanta Falcons have not enjoyed a long period of success until recently, hence the choice to acknowledge this very recent draft class.
Quarterback Matt Ryan was the third overall pick in 2008 and while his critics like to point to what he hasn't done, the former Boston College product has increased his touchdown pass total each season in the league.
Ryan was named to his second Pro Bowl in 2012, while safety Thomas DeCoud, a third-round pick that year, was a first-time Pro Bowl selection this past season.
Versatile wideout Harry Douglas (third round) and defensive end Kroy Biermann (fifth round) have also been a part of the franchise's current run, which has included five consecutive winning seasons and four playoff appearances over that span.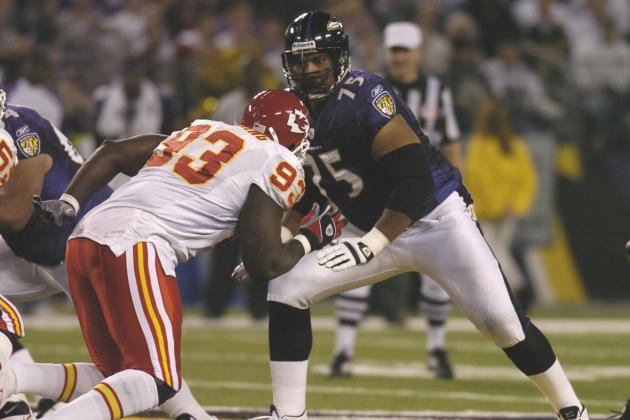 A. Messerschmidt/Getty Images

It's safe to say that if you wind up drafting a Pro Football Hall of Fame with the team's first-ever pick and a likely second Hall of Famer with the second pick, you've done something right.
In 1996, the old Cleveland Browns turned Baltimore Ravens made tackle Jonathan Ogden the fourth overall selection. He'll be enshrined in Canton this August.
In that same round and with the 26th overall pick, the Ravens grabbed linebacker Ray Lewis, he of a dozen Pro Bowls and the heart and soul of the team for 17 years.
Add in the fact that Baltimore also took wide receiver and kick returner Jermaine Lewis (fifth round), a key part of the special teams during the club's Super Bowl XXXV season, and you have quite a group.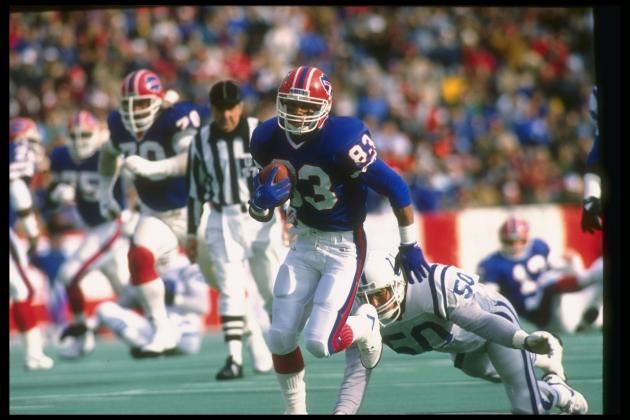 Rick Stewart/Getty Images

The seeds of the 1990s Buffalo Bills and those unprecedented four straight Super Bowl appearances were planted with the 1995 draft.
Yes, quarterback Jim Kelly was selected in the 1983 draft but was busy playing in the USFL and had not yet joined the team. Both had head coach Marv Levy.
But here was defensive end Bruce Smith with the first overall pick in 1985. He would go onto a magnificent career and is a member of the Pro Football Hall of Fame.
In the third round came quarterback Frank Reich, who would obviously play a big role in the team's Super Bowl runs. He was part of the greatest comeback in NFL history as he rallied the team (in relief of Kelly) from a 32-point deficit to defeat the Houston Oilers in the 1992 AFC Wild Card Playoffs.
And lest we forget wide receiver Andre Reed (fourth round), who was one of the most productive pass-catchers in NFL history.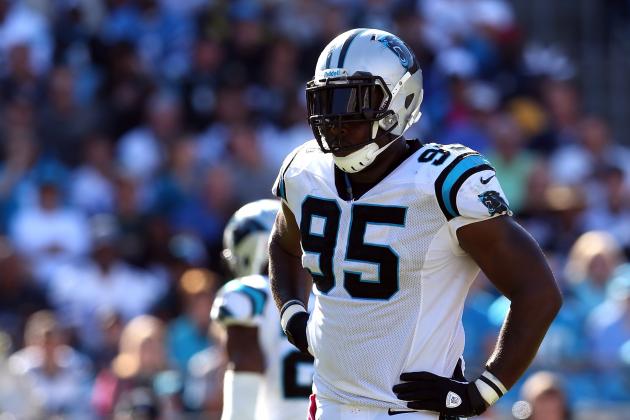 Streeter Lecka/Getty Images

The Carolina Panthers, who made their debut on the field in 1995, have not enjoyed a winning season since 2008. The year before that in April, the team added pivotal parts to its current roster.
First-round selection and linebacker Jon Beason is a three-time Pro Bowler. And while injuries have taken their toll as of late, he remains one of the league's better defensive players.
Speaking of three-time Pro Bowlers, there's center Ryan Kalil (second round), who teams with tackle with Jordan Gross to form a very respectable offensive front.
Last season, Charles Johnson (third round) led the team with 12.5 sacks and teamed with Greg Hardy to form one of the better defensive end tandems in the league.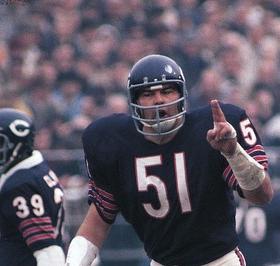 Photo credit: spokeo.com
Yes, we're aware of the fact that neither Gale Sayers nor Dick Butkus ever played for a team that reached the postseason.
But when you talk about the team's pair of first-round picks in 1965, the best-ever at their positions is often one of the topics.
Sayers, his career hampered by injuries, was one of the great all-purpose threats in league history. And his 22 touchdowns scored as a rookie remains an NFL record.
Butkus was one of the fabled players in league history, his physical presence and intimidating style making for a rough afternoon for any opponent.
Legendary performers, to say the least.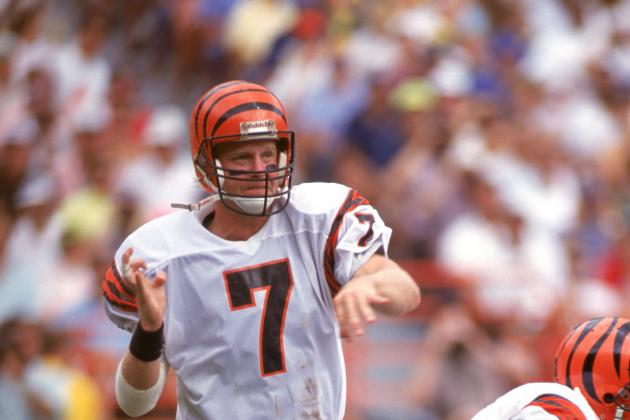 George Rose/Getty Images

The Cincinnati Bengals' draft class of 2001 gave the team defensive end Justin Smith, wide receivers Chad Johnson and T.J. Houshmandzadeh and running back Rudi Johnson.
But the class of 1984 certainly earned their stripes as well.
The team grabbed quarterback Boomer Esiason in the second round and productive running back Stanford Jennings in the third round.
The team also added a trio of effective blockers in Brian Blados (first round), Bruce Reimers (eighth round) and Bruce Kozerski (ninth round).
And defensive back Barney Bussey (fifth round) was a playmaker as well.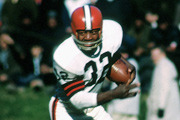 Photo credit: profootballhof
The Cleveland Browns actually drafted three future Pro Football Hall of Famers in 1957. But defensive tackle Henry Jordan really earned his acclaim with the Green Bay Packers.
Still, the team added running back Jim Brown in the first round and later added Hall of Fame guard Gene Hickerson in the seventh round.
And second-round quarterback Milt Plum won more than he lost in five seasons with the Browns, throwing 63 touchdown passes and just 39 interceptions during his days in Cleveland.
On a side note, it was hard to bypass the team's 1964 class, which gave us Hall of Famers in wide receiver Paul Warfield and running back Leroy Kelly.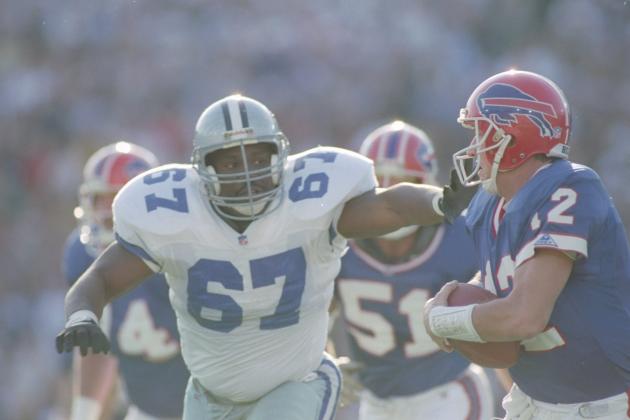 Mike Powell/Getty Images

In three consecutive years in the first round, the Dallas Cowboys selected wide receiver Michael Irvin (1988), quarterback Troy Aikman (1989) and running back Emmitt Smith (1990).
So why pick the draft class of 1991?
Jimmy Johnson and the organization secured talent from pillar to post. And it started with the first overall selection that April in the form of defensive tackle Russell Maryland. Later in the round, the Cowboys grabbed wide receiver Alvin Harper.
In the second round, linebacker Dixon Edwards came aboard and one round later, tackle Erik Williams. The latter was a four-time Pro Bowler for the Pokes.
Add in late-round pickups such as defensive tackle Leon Lett (seventh round) and Super Bowl XXX MVP Larry Brown (12th round) and you have the makings of a team that would win three Super Bowls in a four-year span.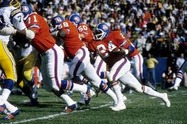 Photo credit: spokeo.com
The Denver Broncos would be four years away from the team's first Super Bowl appearance. And this group was a big part of the team's emerging success.
Running back Otis Armstrong was the team's first-round pick and in his second season (1974), he would lead the league in rushing.
Defensive end Barney Chavous (second round) and playmaking outside linebacker Tom Jackson (fourth round) were big parts of that fabled "Orange Crush" defense.
And guard Paul Howard (third round) was a big part of the Broncos' offensive line for 13 seasons.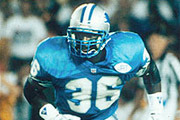 Photo credit: detroitlions.com
We all know that the Detroit Lions have seen better days.
Some of those days were in the early 1990s, when the team could be found in the NFC title game in 1991 and the playoffs on numerous occasions.
And some of those key pieces came in the 1988 draft, when the club added talented safety Bennie Blades (first round) and inside linebacker Chris Spielman (second round). Blades was a Pro Bowler during that aforementioned 1991 season, while Spielman was named to the game four times with the Lions.
Safety William White (fourth round) was a key contributor, totaling 13 of his 20 career interceptions in six seasons in the Motor City.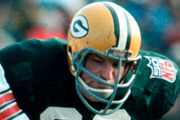 Photo credit: profootballhof.com
Although the Green Bay Packers were the NFL's team of the 1960s, it was a few selections in the late 1950s that helped put the dynasty in motion.
In the second round, the Packers selected fullback Jim Taylor, who went onto a Hall of Fame career. A round later the team grabbed middle linebacker Ray Nitschke, who emerged as the emotional and physical leader of those great Green Bay defenses. Like Taylor, Nitschke is also enshrined in Canton.
In the fourth round, the team picked Idaho guard Jerry Kramer, who is as big a part of Packers lore as any player or coach.
By the way, first-round pick Dan Currie was a seven-year starter for the team at outside linebacker, totaling 11 career interceptions.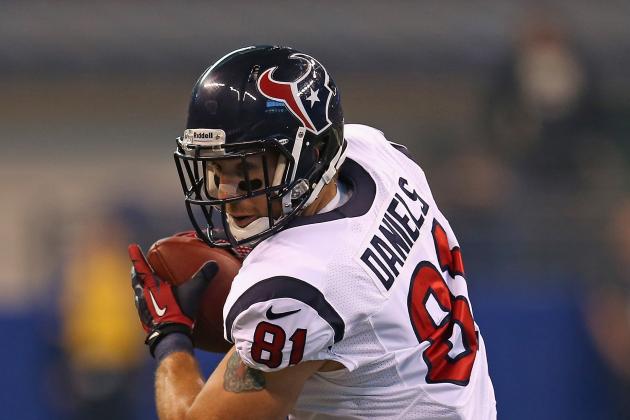 Jonathan Daniel/Getty Images

The Houston Texans finally struck gold in the draft. It just took five tries to do so.
With the first overall pick in 2006, the franchise shrugged off conventional wisdom (most felt Reggie Bush should have been the selection) and went with North Carolina State defensive end Mario Williams. The talented specimen had problems staying healthy each of his last two seasons with the Texans but not before going to a pair of Pro Bowls.
The team added inside linebacker DeMeco Ryans in the second round and later used a third-round pick on dependable right tackle Eric Winston. And this impressive class also boasts Pro Bowl tight end Owen Daniels, a fourth-round pick.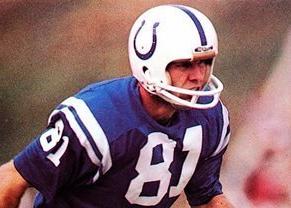 Photo credit: fanbase.com
The year before the then-Baltimore Colts won the first of three straight AFC East titles, they added a few more pieces to make that a reality.
The 1972 draft brought running back Lydell Mitchell, safety Bruce Laird and linebacker Stan White, the latter a 17th-round pick. A year later, the team added quarterback Bert Jones and defensive linemen Joe Ehrmann and Mike Barnes.
But some of the final pieces came in 1974 with the additions of defensive linemen John Dutton and Fred Cook, who came via the first and second rounds.
Also in that first round was wide receiver Roger Carr. He and Jones would develop a great rapport and those entertaining Baltimore offenses were formidable indeed.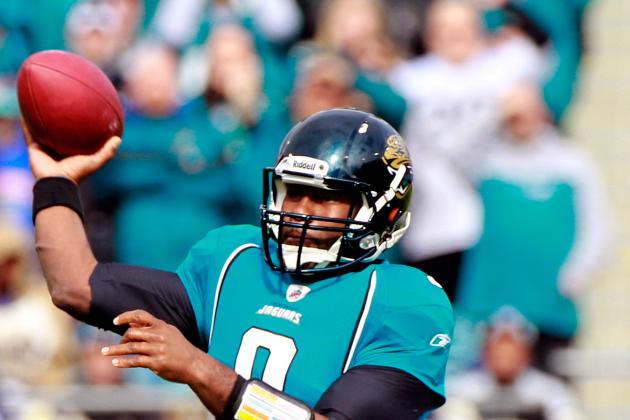 Sam Greenwood/Getty Images

The recent editions of the Jaguars have certainly had their issues. But the team was a playoff contender in its very early days in the mid-1990s and the early 2000s.
In 2002, the team paired defensive tackle John Henderson with 2001 first-rounder Marcus Stroud, giving the team a stout middle for more than a few seasons.
In the fourth round, the Jaguars wound up adding their quarterback of the not-too-distant future in David Garrard. He was at the helm when the franchise lost reached the playoffs in 2007.
Third-round pick Akin Ayodele was a capable performer before making a tour around the league via free agency.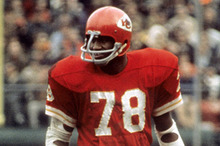 Photo credit: ign.com
At the time of the AFL draft in 1963, the Kansas City Chiefs were still the Dallas Texans and more importantly, defending league champions.
But the foundation for one of the best defenses ever assembled was laid down with this class, led by Pro Football Hall of Fame defenders Buck Buchanan (first round) and Bobby Bell (seventh round).
The Chiefs would also draft another player in the first round in the form of Ed Budde. The standout guard was named to a combined seven AFL All-Star games and Pro Bowls.
There's more. In the eighth round, the team added Jerrel Wilson, who became one of the premier punters in the league. And what about tackle Dave Hill, who the team drafted in the 24th round?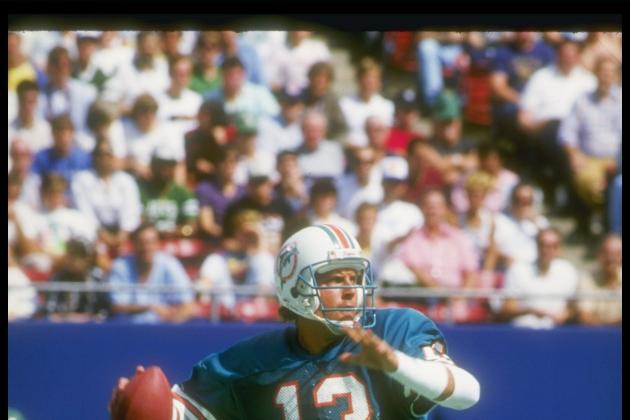 T.G. Higgins/Getty Images

The Miami Dolphins' 1968 class included Pro Football Hall of Fame running back Larry Csonka, as well as backfield teammate Jim Kiick and ball-hawking safety Dick Anderson.
But we'll opt for the legendary year of 1983. Of course, it starts with Dan Marino, one of the game's most prolific passers ever. His play as a rookie and his magnificent second season, in which he threw for 5,084 yards and 48 scores, made life more difficult for quarterbacks entering the league.
Speaking of prolific, punter Reggie Roby (sixth round) was one of the best ever at his position. And talk about a steal. The Dolphins added a wide receiver named Mark Clayton in the eighth round.
Nose tackle Mike Charles (second round) and linebacker Mark Brown (ninth round) proved to be good pickups as well.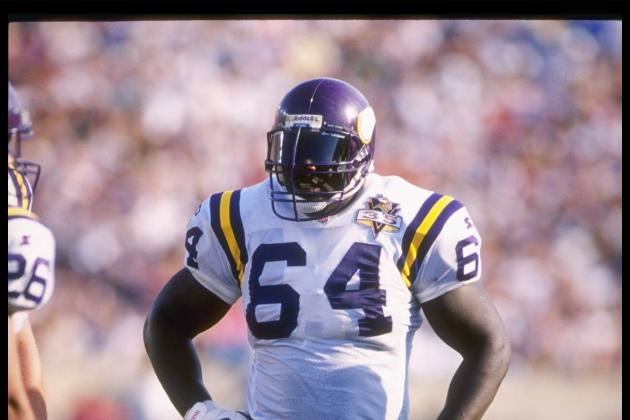 Jonathan Daniel/Getty Images

Those late 1980s (and early 1990s) Minnesota Vikings teams were indeed talented but never got to the Super Bowl. But it wasn't for a lacking of quality drafting.
Pro Football Hall of Fame guard Randall McDaniel, who was named to a dozen Pro Bowls during his magnificent career, played in 11 of those with Minnesota.
Speaking of offensive linemen, the team also drafted Todd Kalis (fourth round) and Brian Habib (10th round) with later selections.
And defensive end Al Noga (third round) was part of those terrific front fours that included Keith Millard and Hall of Fame defensive end Chris Doleman.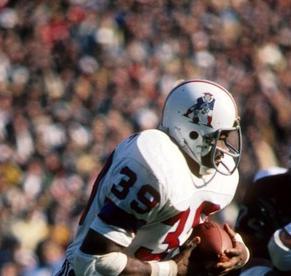 Photo credit: spokeo.com
When you add perhaps the best player ever at a respective position, it's hard not to lead with that class.
Especially when the New England Patriots draft class of 1973 would produce more than that.
Pro Football Hall of Famer John Hannah was a nine-time Pro Bowler at guard and one of the game's great offensive linemen.
The Patriots also had two other first-round picks that year. Running back Sam Cunningham was one of the franchise's best-ever offensive performers. Wide receiver Darryl Stingley made his presence felt despite his career being shortened to only two seasons.
While New England came up big early, they also grabbed longtime defensive tackle "Sugar Bear" Ray Hamilton in the 14th round.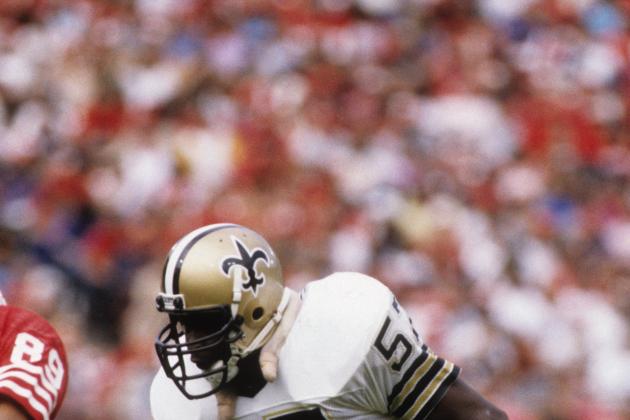 George Rose/Getty Images

The same year the New York Giants were busy adding Pro Football Hall of Fame linebacker Lawrence Taylor to their roster, the New Orleans Saints drafted Rickey Jackson with the second of two second-round picks.
In the first round, the team added Heisman Trophy-winning running back George Rogers with the first overall selection.
Ironically, both players would go onto Super Bowl glory with other franchises, Rogers with the Washington Redskins (XXII) and Jackson with the San Francisco 49ers (XXIX).
In later rounds, safety Russell Gary (second), as well as third-round picks in defensive ends Frank Warren and Hoby Brenner, all enjoyed very productive careers with the team.
Sixth-round cornerback Johnnie Poe totaled 17 interceptions in his days with the team, nifty running back Hokie Gajan (10th round) had his moments and defensive lineman Jim Wilks (12th round) was a mainstay on defense for more than a decade.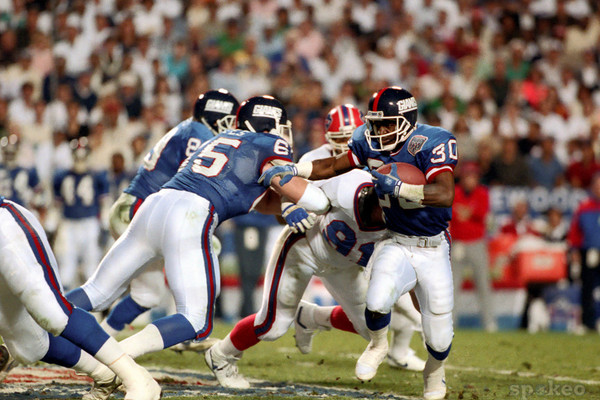 Photo credit: spokeo.com
The New York Giants added a group of players that not only aided the team's efforts in winning Super Bowl XXV but contributed beyond.
Center Brian Williams (first round) and guard Bob Kratch (third round) both had successful careers with the G-Men.
Third-round pick Greg Jackson picked off 14 passes in his five seasons with Big Blue, while safety Myron Guyton (eighth round) was a contributor as well.
Running backs Lewis Tillman (fourth round) and Dave Meggett (fifth round) were perfect additions to the team's crowded backfield and the latter was one of the best special teams performers in the league.
Finally, tight end Howard Cross (sixth round) was a mainstay on the New York roster for over a decade.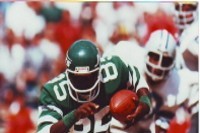 Photo credit: thejetsblog.com
In 1977, the year before the New York Jets drastically altered their uniforms, the team altered its roster with a very solid class of players.
First-round pick Marvin Powell would be a five-time Pro Bowl tackle for the team. A round later, there was speedster Wesley Walker, who caught 71 T-D passes for the J-E-T-S.
Running back Scott Dierking (fourth round) had his moments. Meanwhile, Joe Klecko (sixth round) was a force on the defensive front, named to Pro Bowls as a defensive end, defensive tackle and nose tackle.
Finally, guard Dan Alexander (eighth round) played 13 seasons for the franchise and was a starter for the vast majority of those years.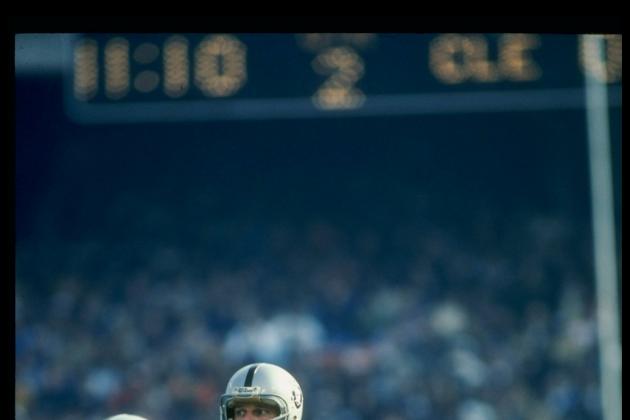 Getty Images/Getty Images

Off their first Super Bowl appearance (a loss to the Green Bay Packers), the Oakland Raiders got busy adding quality players to an already solid roster.
While Eldridge Dickey was drafted in the first round as a quarterback, the team would tab Kenny Stabler in the second round.
But it was one round later that the Silver and Black added Pro Football Hall of Fame tackle Art Shell, who teamed with fellow Canton enshrine Gene Upshaw to form one of the great tackle/guard tandems in league history.
Hard-hitting safety George Atkinson was quite the pickup in the seventh round. And in the 11th round, productive running back Marvin Hubbard was added to the team.
It was one of many impressive drafts by the organization during its glory years.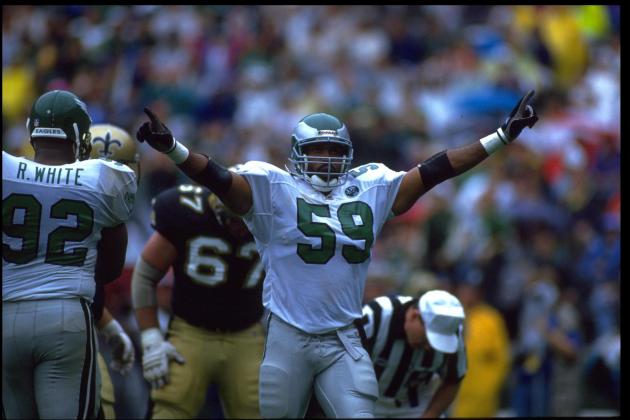 Getty Images/Getty Images

Buddy Ryan took over as Philadelphia Eagles head coach in 1986 and he proved that he had an eye for talent during his five-year stint in the City of Brotherly Love.
He grabbed running back Keith Byars in the first round, who served many roles during his long NFL career with what proved to be numerous teams—seven of those seasons with the Eagles.
But the beauty of this draft was its late selections in rounds that do not exist today. In the eighth round, Ryan added outside linebacker Seth Joyner. In the ninth round, the front four wound up adding defensive end Clyde Simmons.
Both performers were part of the great Philadelphia defenses in the later 1980s and early 1990s. In 1991, the Eagles were the top-ranked defense in total yards allowed, as well as fewest rushing and fewest passing yards given up (the last team to achieve that feat).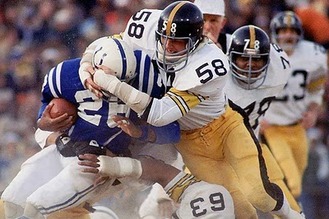 Photo credit: backandgold.blogspot.com
When the debate of the greatest draft class in the history of the NFL begins, the discussion usually starts with the 1974 Pittsburgh Steelers.
Now that's not to say it also ends there. But the impact of this group could be heard loud and clear on Super Bowl Sundays as well as in Canton, Ohio.
Four members of this class are enshrined in the Pro Football Hall of Fame.
First-rounder Lynn Swann was one of the most acrobatic wideouts in league annals and the MVP of Super Bowl X.
Second-round selection Jack Lambert was one of the game's most intense performers and the middle linebacker was the tone setter for the "Steel Curtain" defense.
In the fourth round, the Steelers added wide receiver John Stallworth, another consistent player who really came up big in the postseason.
And in the fifth round, Pittsburgh added nine-time Pro Bowl center Mike Webster.
Wow.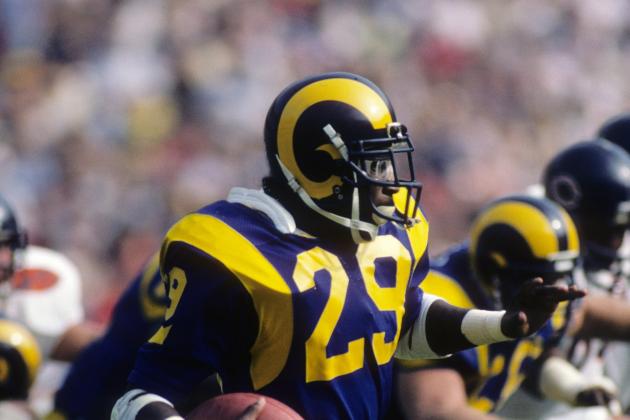 George Rose/Getty Images

To assume that the Rams (then in Los Angeles) 1983 draft class was just about running back Eric Dickerson would be a mistake.
Not that you wouldn't have a compelling case. After rushing for 1,808 yards as a rookie, the Pro Football Hall of Famer set a new NFL single-season record with 2,105 rushing yards in 1984.
But in the second round the Rams also added wide receiver Henry Ellard, who became one of the league's most productive pass-catchers ever. Fellow second-rounder Mike Wilcher was a solid linebacker for the team for eight seasons.
And in the fourth round, the club added safety Vince Newsome, who like Wilcher played for the franchise for eight years and was part of several playoff teams with the Rams.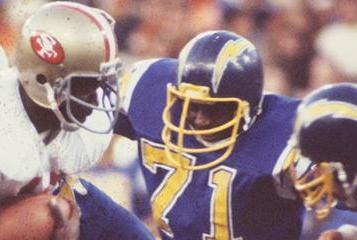 Photo credit: profootballhof.com
It's hard not to like what the San Diego Chargers did in 2005.
A pair of first-round picks brought outside linebacker Shawne Merriman and defensive end Luis Castillo. Throw in wideout Vincent Jackson (second round) and versatile runner Darren Sproles (fourth round) and that's quite the respectable haul.
But 30 years earlier, the team that would go onto being known for its offense did pretty well securing defensive lineman in Gary Johnson (first round), Louis Kelcher (second round) and Pro Football Hall of Famer Fred Dean (second round).
Defensive backs Mike Williams (first round) and Mike Fuller (third round) combined for 39 interceptions during their stints with the team.
Running back Rickey Young (seventh round) rolled up nearly 3,000 yards from scrimmage in three years with the Chargers. Meanwhile, sixth-round tackle Billy Shields was an eight-year starter for the franchise.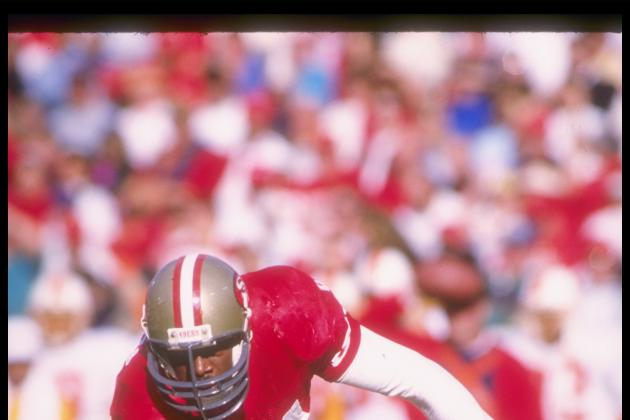 Otto Greule Jr/Getty Images

Without the benefit of a first-round pick, the San Francisco 49ers laid the groundwork for a team that would go onto win some more Super Bowls.
In the second round, the team would draft defensive end Larry Roberts. Wheeling and dealing led to three more selections in the third round: Fullback Tom Rathman, cornerback Tim McKyer and wide receiver John Taylor.
Three more picks in the fourth round and three more additional standouts in defensive end/linebacker Charles Haley, tackle Steve Wallace and defensive tackle Kevin Fagan contributed as well.
And with a sixth-round pick, the Niners grabbed cornerback Don Griffin.
Enough said.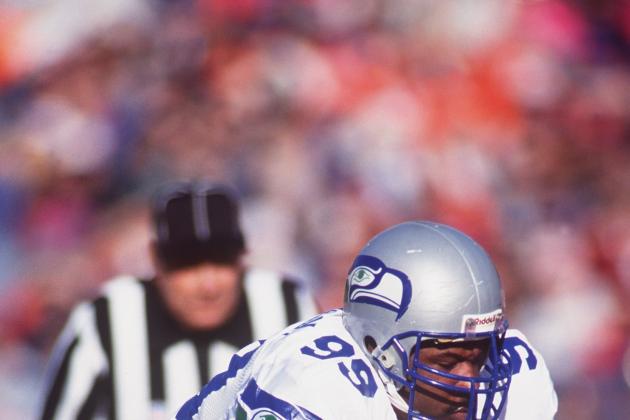 Tim DeFrisco/Getty Images

Head coach Pete Carroll and the current Seattle Seahawks regime have been doing quite a job as of late. And their draft classes of 2010 and 2012 could warrant some attention down the road.
But the focus here is 1990. And the star of this class was Hall of Fame defensive tackle Cortez Kennedy, who in 1992 was the NFL Defensive Player of the Year for a 2-14 Seahawks team.
Both linebacker Terry Wooden and safety Robert Blackmon, a pair of second-rounders, were solid performers in their seven seasons in Seattle.
But the coup was running back Chris Warren (fourth round) from Ferrum, who went from standout kickoff returner to three-time Pro Bowl running back, rushing for 1,000-plus yards in four straight seasons from 1992-95.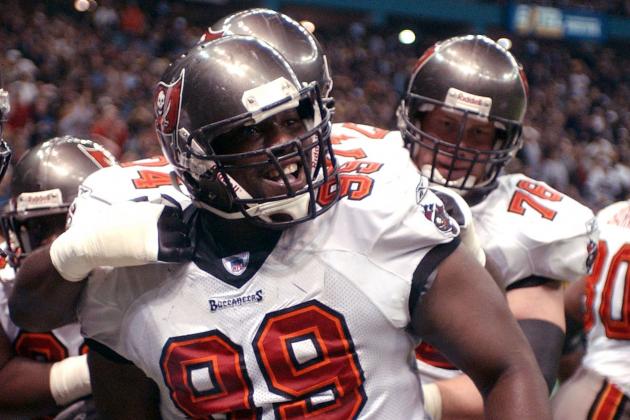 Chris Graythen/Getty Images

Stop us if you've kind of heard this story before.
Somewhat like the Baltimore Ravens in 1996, the Tampa Bay Buccaneers drafted a Pro Football Hall of Famer with their first selection in 1995 (although not the Bucs' first-ever pick).
Defensive tackle Warren Sapp would turn into a seven-time Pro Bowler for the franchise and was a big part of the team's Super Bowl XXXVII title season in 2002.
Likewise, outside linebacker Derrick Brooks was named to 11 Pro Bowls during his magnificent career. The former Florida State Seminoles star had a nose for the football and his interception return for a touchdown in that Super Bowl win was the icing on a great cake.
This pair of tremendous first-round selections may one day both have one more thing in common.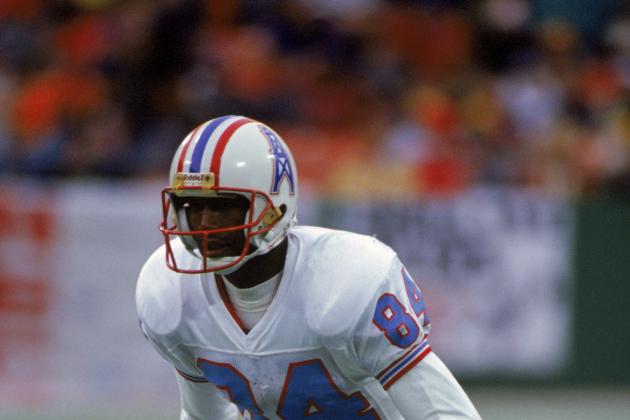 Jed Jacobsohn/Getty Images

Before there were the Tennessee Titans, there were the Houston Oilers. The franchise moved from Houston following the 1996 season and after the two seasons as the Tennessee Oilers, the Titans were reborn in 1999.
Back in 1987, the Oilers were about to embark on what proved to be seven straight trips to the playoffs. And their rookie class played a big part in that surge.
The team drafted running back Alonzo Highsmith and wide receiver Haywood Jeffires in the first round. The latter teamed with fellow rookie Curtis Duncan (10th round) as well as Drew Hill and Ernest Givens to give quarterback Warren Moon a quality quartet.
Elsewhere, quarterback Cody Carlson (third round) proved to be an effective backup, while inside linebacker Al Smith (sixth round) could be found at the top of the team's tackles chart on a yearly basis.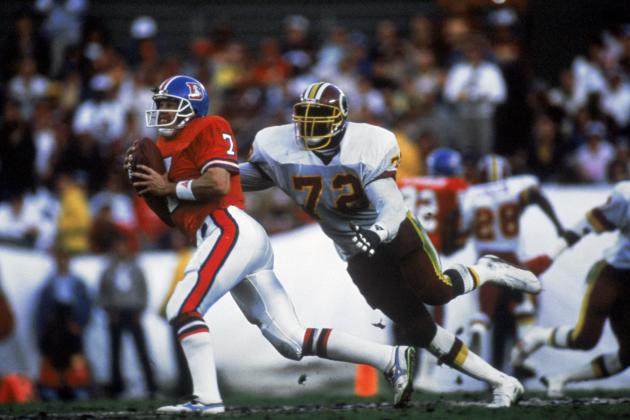 Mike Powell/Getty Images

A year before the franchise's first Super Bowl win (XVII), the Washington Redskins added some pieces that helped make that happen.
Tackle Mark May (first round) and Hall of Fame guard Russ Grimm (third round) helped paved the way for John Riggins.
Defensive end Dexter Manley (fifth round) was one of the best pass-rushers of his era, while wideout Charlie Brown (eighth round) teamed with Art Monk and gave the Washington offense that big-play ability.
And while defensive tackle Darryl Grant (ninth round) aided the defense, pass-catching tight end Clint Didier (12th round) proved to be a highly reliable target.