NBA Playoffs Schedule 2013: High Seeds on Upset Watch Heading into Postseason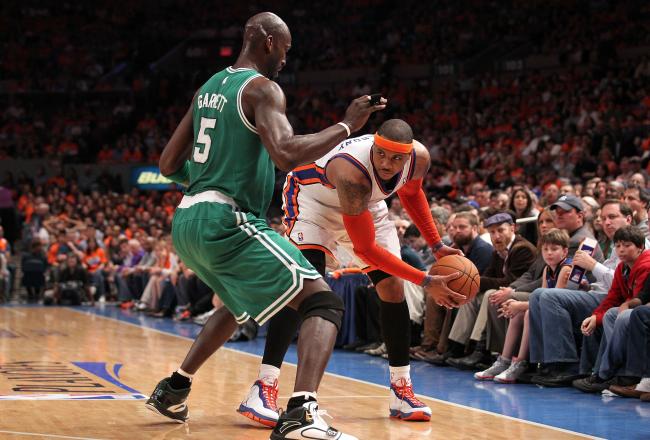 Nick Laham/Getty Images
Since the NBA playoffs expanded to include 16 teams in the 1983-84 season, only five No. 8 seeds have toppled the giants (No. 1 seed) and moved on to the second round.
Coincidentally, three of those five upsets have come in the last six seasons (Golden State over Dallas in 2007, Memphis over San Antonio in 2011 and Philadelphia over Chicago in 2012).
It's not quite the NCAA tournament, but first-round upsets are coming more frequently in the NBA playoff model.
Whether its a byproduct of the uptick in talent, a lack of focus from higher seeds or sheer luck (see Derrick Rose injury in 2012), it seems that seeds matter less now than ever—on any given Sunday, as they say in the NFL.
This season, we don't know the full extent of the 2013 NBA playoff schedule or the accompanying bracket, but we can take a brief look at which teams are coming into the playoffs hot and which teams are on upset watch.
Check out the blurbs below for the latter.
2013 NBA Playoff Schedule
What: Best-of-seven format (all rounds)
When: Playoff series begin Saturday, April 20 (view what we know courtesy of SportsMediaWatch.com)
Where: Home court advantage to higher seed, 2-2-1-1-1 format for first three rounds, 2-3-2 format in NBA Finals
Watch: ABC, ESPN, TNT, NBA TV (Check local listings after matchups are official)
2013 NBA Playoff High Seeds on Upset Watch
Denver Nuggets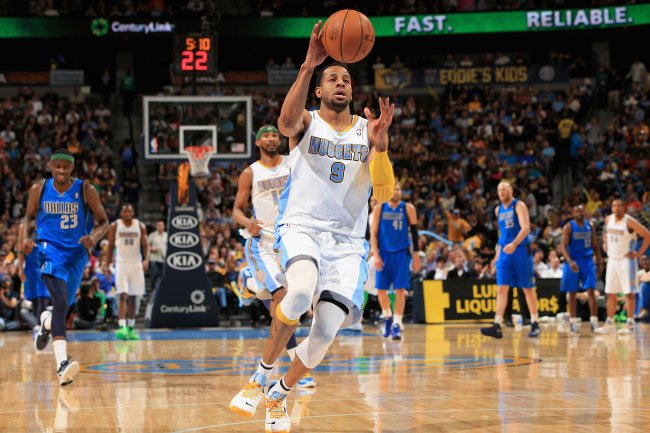 Doug Pensinger/Getty Images
While the Denver Nuggets' depth and inspired play on both ends this season certainly has them coming into the playoffs as a dark horse to challenge San Antonio and Oklahoma City atop the Western Conference perch, their two potential opponents should also keep them in upset conversations.
Denver is 55-26 (pending Wednesday night's game) and has a firm grasp over the No. 3 seed in the West.
But matchups with two teams that have the potential to match Denver's scoring output (the Nuggets currently rank No. 2 in the NBA at 106.0 per game) are both lurking. The Golden State Warriors and Houston Rockets are the No. 6 and 7 seed, respectively, in the West, with a chance to flip-flop in the standings if Houston wins and Golden State loses on Wednesday.
Which injury will hurt Denver more?
While Denver has a winning record (3-1 against GS, 4-0 against Houston) this season, it also had a full compliment of players during seven of those eight games. Danilo Gallinari is expected to miss the postseason after suffering an ACL injury in April, while Kenneth Faried is ailing, too, though he vows to not miss the playoffs (via NBA.com).
Right now, consider the Nuggets to be the biggest boom-or-bust team in postseason contention.
With the depth and leadership (Andre Miller, Andre Iguodala and George Karl) to make a deep run, there's little reason to punch the full-out panic button, but injuries and the propensity for high-scoring games against hungry teams should at least heighten an alert in Denver.
Throw in the bleak history of eight first-round playoff exits in the last nine seasons, and things really start looking cloudy for the Nuggets.
San Antonio Spurs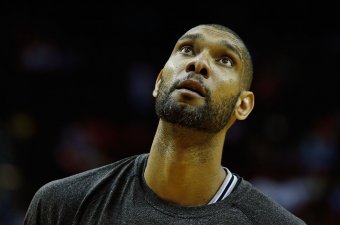 Scott Halleran/Getty Images
Things haven't been clicking for the Spurs of late.
If not for the All-Star-caliber play of future Hall of Famer Tim Duncan, the Spurs might not have managed to hang on to the No. 2 seed in the West amid what has been a struggle of an end to the regular season.
One of the Spurs' best lineups (Duncan-Boris Diaw-Manu Ginobili-Tony Parker-Kawhi Leonard) is on the injury report (via CBS Sports) in its entirety prior to Wednesday night's game against the Minnesota Timberwolves.
Duncan has literally had to carry the Spurs on his back down the stretch, averaging 22.3 points, 8.3 rebounds and 3.3 blocks over his last four games. While the Spurs might be the most persistent dynasty of our time, they are also on the verge of breaking (though we've said that before to no avail).
San Antonio will also limp into the postseason, losers of six of its last nine with only one of those three wins coming against a playoff team (a two-point victory over Atlanta at home). The six losses were all to current playoff teams.
With San Antonio dumping Stephen Jackson—a noted postseason performer—in favor of Tracy McGrady—whose last action was in China—and you have to figure things are getting quite dicey down south, indeed (h/t USA Today).
If you can't even picture that (I imagine some can't), here's a look at what McGrady will look like for the Spurs (h/t Alex Kennedy of HoopsWorld):
Are you wondering what Tracy McGrady will look like in a San Antonio Spurs jersey? Here you go: twitter.com/RHurstDesigns/… (via @rhurstdesigns)

— Alex Kennedy (@AlexKennedyNBA) April 16, 2013
The Spurs will get whomever doesn't grab the No. 6 seed between the Warriors and Rockets, and the athleticism that both of those squads protrude could also be troublesome for the methodical Spurs. Don't count out the most consistently (and quietly) dynamic team of the 2000s, but take a first-round series win prediction with a grain of salt.
New York Knicks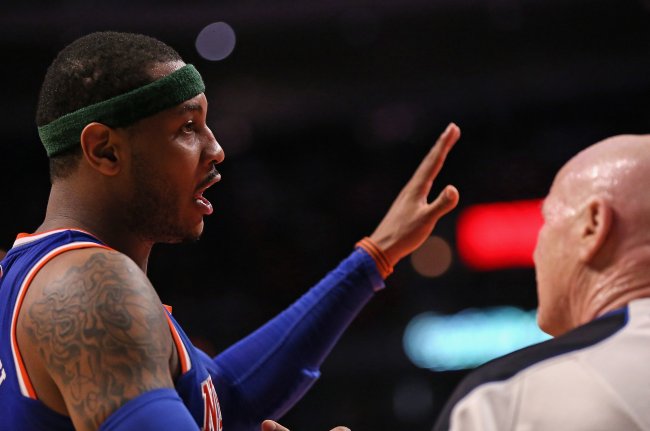 Jonathan Daniel/Getty Images
To steal a quote from a good friend of mine, you could create a starting lineup with the guys currently on the Knicks' injury list (much like San Antonio).
Tyson Chandler, Rasheed Wallace, Amar'e Stoudemire, Carmelo Anthony, Kenyon Martin and Marcus Camby (h/t ESPN) all wind up on the list prior to New York's final game of the regular season.
How do the beat-up, aging Knicks respond in the postseason?
Which team is on upset watch the most when the first round begins?
More specifically, how does Anthony's torrid April pace handle the pressure of the NBA playoffs?
Melo is averaging an un-earthly 36.9 points in the month of April, leading the Knicks to wins over five playoff teams during the stretch, while making up for the fact the rest of the lineup is beat up down low and relying on the three-point shot more than ever before (via Jared Zwerling of ESPN).
With regular season rival Boston awaiting the Knicks in the first round of the playoffs, it's hard to say that New York will be an underdog by any stretch of the mean. Still, the rivalry between these two and the always-tough Celtics won't go away—even more so with Paul Pierce and Kevin Garnett's potential final stand on the line.
We're set up for an exciting end to the NBA season. The marathon is just beginning—and that means upsets are on the horizon. These three clubs could be headed for the first-round variety.
This article is
What is the duplicate article?
Why is this article offensive?
Where is this article plagiarized from?
Why is this article poorly edited?