Grading the Effectiveness of the Entrance Themes for WWE's Newest Stars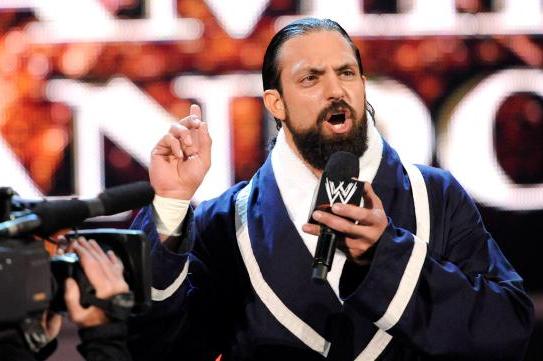 Photo from WWE.com
WWE's newest stars enter the ring backed by songs of the aggressive and dance-inspiring variety.
Fans have watched WWE add Ryback, Damien Sandow, Antonio Cesaro and several others to the mix in the last year. Their entrance themes are as important to their success as their look, their finisher and their catchphrases.
An effective entrance theme is immediately recognizable, so as soon as it hits, fans know who is heading to the ring. It should further the wrestlers' gimmicks and add to their mystique. The ideal songs begin strong with a noise or a spoken line.
Grading based on those criteria, the following are the newest generation of stars' entrance themes and how well they do their job.
Begin Slideshow

»
Grade: C+
More often than not, Big E Langston comes out with Dolph Ziggler and so doesn't get to use his own entrance music.
His theme "I Can't Keep Still" has an upbeat, fun pace. It also features the apropos line, "I'm trouble."
What holds this back, though, is the lack of bass or grit. For such a powerful, large man, the song seems a little too fun and not aggressive enough. If WWE plays up Langston's Caribbean background, the singer's accent will be a nice touch.
Grade: B
"Miracle" combines toughness with melody in one of the most unique entrance themes in WWE today.
Antonio Cesaro's foreignness is played up by using both German and French in his song. This choice of language is a great fit for Cesaro's anti-American character, but it suffers from the fact that the majority of the WWE fanbase will not understand the lyrics.
On the other hand, the beat will have even Cesaro's biggest detractors bobbing their head.
A more distinctive opening sound, a la Steve Austin's glass breaking, would make this more memorable and get a bigger immediate reaction.
Grade: B+
Damien Sandow's instantly recognizable entrance music fits his self-righteous, intellectual gimmick perfectly. The grandiose song contrasts with all the rock and rap which most WWE stars use.
In the tradition of Randy Savage, Curt Hennig and Ric Flair, Sandow's use of classical music gives his character a larger-than-life feel.
Its repetitiveness and lack of personalization holds it back from being an A or higher. The song gets good marks for its strong opening, but varies little after that initial "hallelujah."
Adding a "You're welcome!" or some other Sandowism to the opening moments would elevate this to greatness.
Grade: B+
"Making Moves" begins with a whistle and The Prime Time Players saying, "millions of dollars." While not as strong an opening note as the best in the business, it's distinctive and recognizable.
The song's fun energy matches that of Titus O'Neil and Darren Young. It's a groovy, smooth song that fits The Prime Time Players perfectly. It's the kind of infectious song that makes one want to be a part of the team even if they lose to Team Hell No just about every week.
This entrance theme is only a more explosive few opening seconds from earning an A grade.
Grade: A-
When Roman Reigns, Seth Rollins and Dean Ambrose prowl around WWE rings, their hard-hitting, guitar-heavy song adds to the ominous feeling of their arrival.
Its simplicity and straight-ahead style is an ideal match for The Shield.
The entrance theme has all the intensity and toughness one could ask for, but the strange opening moments hold it back just a touch. It's hard to hear in the context of a live WWE show, but "Special Op" begins with The Shield's name being spelled out.
It starts off, "Sierra, hotel, India, echo, Lima, delta." There are far more intimidating things to say to start off an entrance theme.
Grade: A+
"Meat on the Table" is the perfect marriage of wrestler and entrance theme.
The song is everything that Ryback is; aggressive, in-your-face, high-energy. It incorporates Ryback's catchphrase, "Feed me more!" It features guitars as intense as Ryback in the ring.
The lyrics add depth to the entrance and tie in incredibly well to Ryback's gimmick. "Meat on the table and I'll get my fill" sums up Big Hungry quite well. The explosive, well-timed additions of the singer screaming "hey!" make this the most effective entrance theme of WWE's newer guys.
Grade: Incomplete
The Monday after WrestleMania 29 was the genesis of the Fandangoing phenomenon.
The IZOD Center crowd hummed and danced to Fandango's entrance theme. The Houston Texans' cheerleaders, PETA and the Kansas City Royals soon followed suit.
WWE then took the fun out of the fad by pushing it on WWE Raw. It felt so forced and inorganic that the fun dissipated from it. If fans continue to dance and sing to the song and have a blast regardless, then Fandango's entrance music is ideally effective.
However, if the fad fades then it has to be graded much lower. We have to wait to see how things play out, if his momentum builds or slows.