Arizona Cardinals 2013 Mock Draft: Full 7-Round Predictions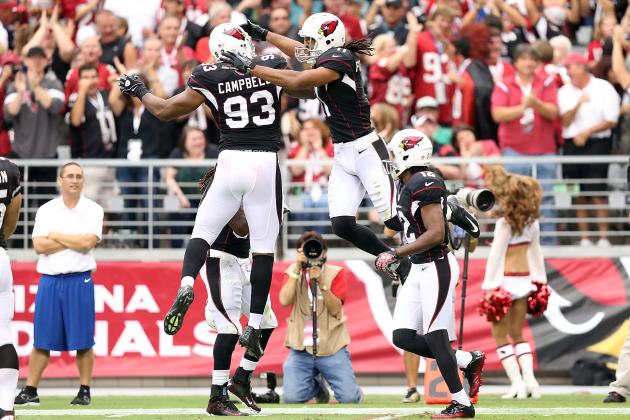 Christian Petersen/Getty Images
The Cardinals celebrate a touchdown.
The Arizona Cardinals will head to next week's NFL draft needing a solid plan in place to improve the team as much as possible.
The offensive line is a key area that needs to be addressed at the draft, as are running back, defensive line and wide receiver, to a lesser extent.
Arizona has picks in all seven rounds as a result of the Carson Palmer trade. Start the slideshow and see who the Cardinals could take in each round.
Begin Slideshow

»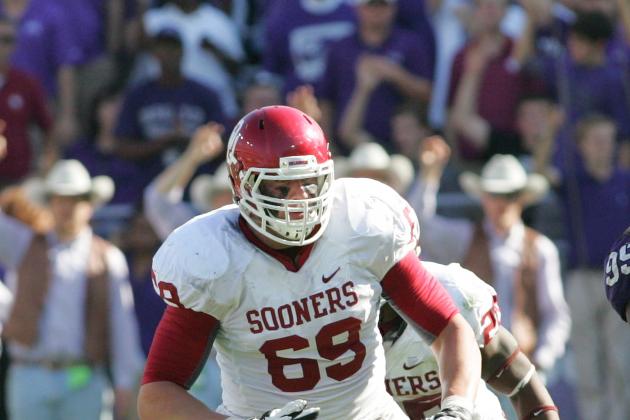 R. Yeatts/Getty Images
Johnson could very well be Arizona's first-round pick.
Lane Johnson should be the Cardinals' first-round pick, and it makes plenty of sense.
Johnson would be able to solidify a leaky offensive line that has allowed at least 50 sacks in each of the last three seasons. Arizona has also struggled in the run game for the better part of the last decade, so Johnson would be able to open up lanes for the running backs to burst through.
At 6'6" and 303 pounds, Johnson has the size the Cardinals want. He was also a top-five performer at the combine in most categories, which raised eyebrows and his draft stock. With his speed and size, Arizona needs to pick him in the first round.
Carson Palmer should also appreciate getting Johnson to help keep him upright and allow him time to throw when he takes the reins under center this coming season.
Along with fellow offensive linemen Luke Joeckel and Eric Fisher, Johnson is a top-seven pick. Arizona would do well with any of them, though Johnson is the most likely to be available at this spot out of those three linemen.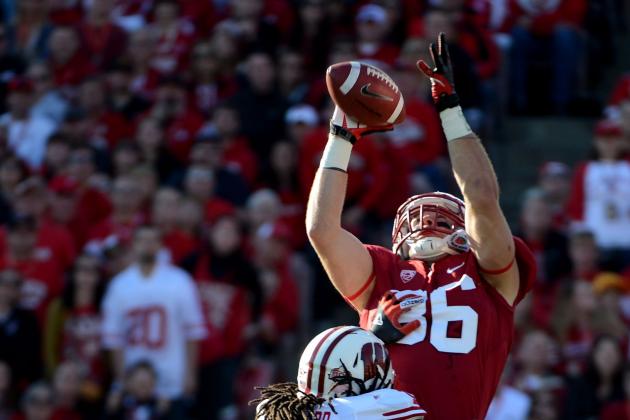 Harry How/Getty Images
Ertz goes up for a catch in the Rose Bowl.
Stanford tight end Zach Ertz would make a strong second-round pick for the Arizona Cardinals. Ertz would give Arizona an immediate shot in the arm at a position that has long been a weakness for the team.
The tight end has been utilized more as an extra blocker in pass protection than a threat in the passing game for the Cardinals, but Ertz can change that. Standing 6'5" and 249 pounds, Ertz can be an effective blocker, but his true value is getting open down the seam. He runs his routes smoothly and has the hands teams look for in a wide receiver.
This should also benefit Palmer as well, as he favored his tight end last season in Oakland. Brandon Myers led Oakland last season with 79 catches on 105 targets for 806 yards. The next closest receiver, Denarius Moore, had just 51 catches last season, so it's no secret that Palmer likes his tight end.
Ertz would be able to add that element to the passing game and take some pressure off of Larry Fitzgerald, which is a win-win for the Cardinals.
Arizona has picked up 11 receiving touchdowns from the tight end spot in the last five seasons. Picking Ertz in the second round would make the tight end a significantly more relevant option in the passing game.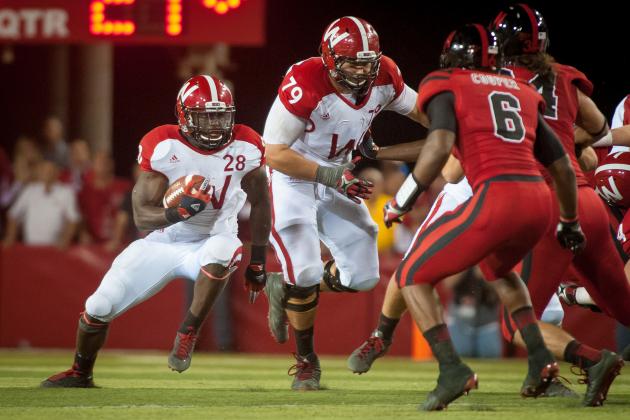 Eric Francis/Getty Images
Ball (left) looks for running room against Nebraska.
Arizona could use a running back, and Montee Ball would be an excellent choice for the team.
Ball, the NCAA's all-time touchdown leader, has that nose for the end zone that hasn't been seen too often over the years from Arizona running backs. He's able to make the quick, sharp cuts and change direction quickly, which are big assets for a running back.
He's also got the patience to let his blocks form, so he won't be the kind of runner who blindly runs into his own blockers and minimizes his effectiveness. With a potentially strong offensive line to run behind, Ball can have success at the NFL level.
Rashard Mendenhall (torn ACL in January) and Ryan Williams (shoulder injury) both suffered severe injuries in 2012, so a healthy running back like Ball would be a durable insurance policy for the team.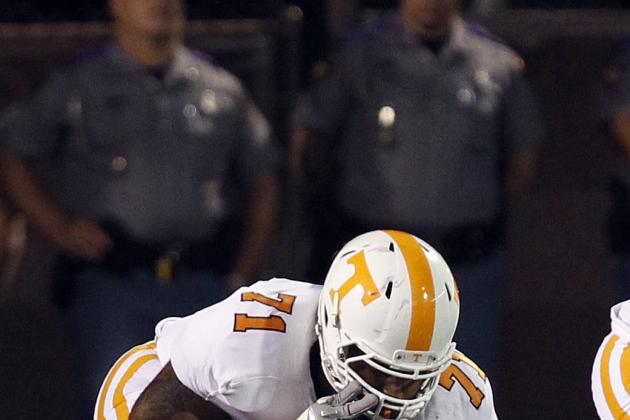 Butch Dill/Getty Images
Thomas was a key blocker for the Volunteers in 2012.
Dallas Thomas would be a middle-round pick that Arizona could use to shore up the offensive line. Thomas can play either the tackle or guard position so that versatility is a big selling point at the NFL level.
Thomas made 37 straight starts for the Volunteers and helped lead them to the second-most productive offense in the SEC last season. Thomas, at 6'5" and 308 pounds, is big but not bulky. With his quickness and balance, he makes himself a strong asset in pass protection, which Arizona needs. He also is able to power his way through opposing defenders in the run game, which will help create daylight in the ground game.
As a straight-ahead guard, Thomas would be a great addition to the Cardinals offensive line.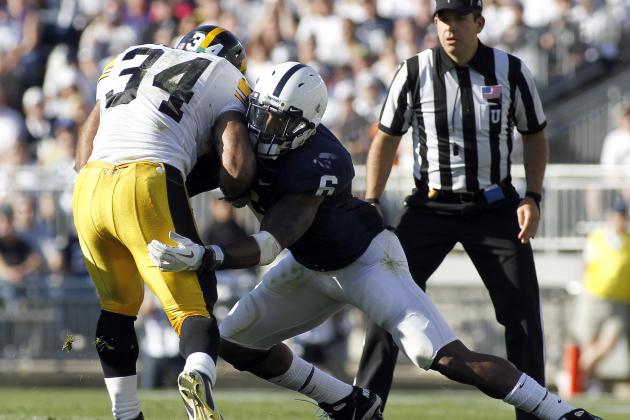 Justin K. Aller/Getty Images
Hodges (right) wraps up a Hawkeye in Big Ten action.
Gerald Hodges would give Arizona some more punch at the linebacker position. Hodges, 6'1" and 243 pounds, would help shore up the Cardinals run defense, which has been consistently weak over the last few seasons. Arizona finished 28th against the run last season, so any help would be welcomed.
Hodges has that nose for the ball that teams look for in linebackers, and he posted consecutive seasons with more than 100 tackles at Penn State. He's able to motor all over the field and deliver a pop when he hits ball-carriers.
His speed (4.78-second 40-yard dash) is good for the NFL level and his 35.5" vertical jump would also allow him to be able to drop back in pass protection and match up against tight ends.
Hodges would be a smart pick on the third day of the draft to bolster the defense.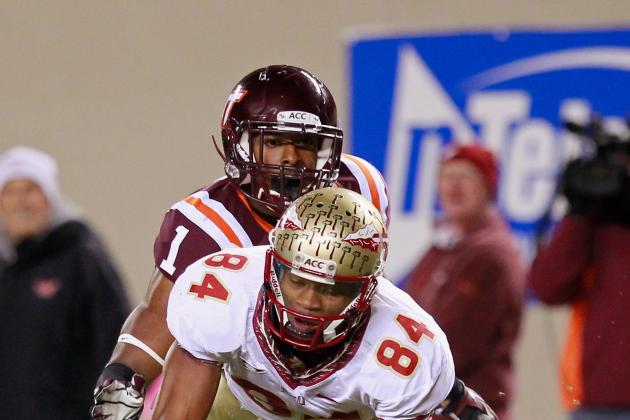 Geoff Burke/Getty Images
Smith dives for a pass against Virginia Tech.
Arizona could use a complimentary wide receiver for Larry Fitzgerald, and Rodney Smith might be able to fill that role.
Smith, at 6'5" and 225 pounds, has the size and speed (4.45 40-yard dash) to be effective at the NFL level. That kind of size isn't an everyday find and would fit in with the rest of the Arizona wideouts, three of whom are 6'3" or taller.
With his long frame, he can get chew up yards downfield quickly and makes himself a large target to be thrown to. Smith can adjust to off-target throws as well, which can be an asset when the pocket collapses. Smith also had a catch in 30 straight games, so he's a consistent receiver.
Perhaps Smith could follow in the footsteps of another former Seminole wide receiver drafted by the Cardinals in Anquan Boldin.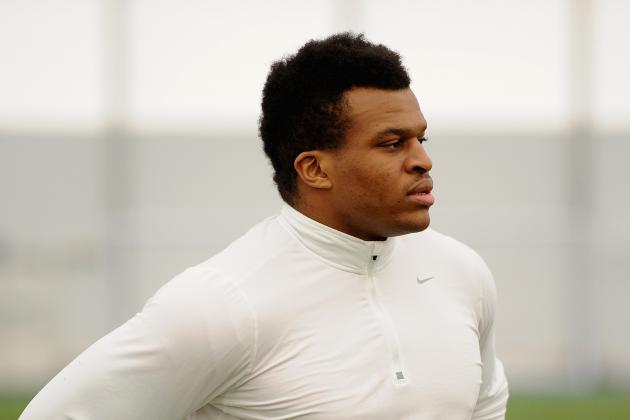 Tom Dulat/Getty Images
Lawrence Okoye is an Olympian trying to make the NFL.
Lawrence Okoye is taking the scenic route to the NFL. The 6'6", 308-pound Olympian is trying to make the switch from track and field to chase and tackle.
Okoye was a member of the British Olympic track team and finished 12th at the 2012 London Olympics in the discus. He's got the size, raw talent and speed teams look for in a defensive end. With being a discus thrower, there's no doubt he would have great core strength, which is key for being a defensive end.
Okoye would be an interesting project of a player to pick up in the seventh round of the draft. Perhaps he could be a defensive end or maybe Arizona could convert him into an offensive lineman.
But there is a downside to him. He's never played a down of football. Ever. He played rugby growing up, so he knows how to play up to the demands of a physical game like the NFL will be for him.
There would be a learning curve involved and he would take a good amount of time before he could be put on the field, but the rewards certainly outweigh the risk.