The 10 Best Big-Play WRs in the 2013 NFL Draft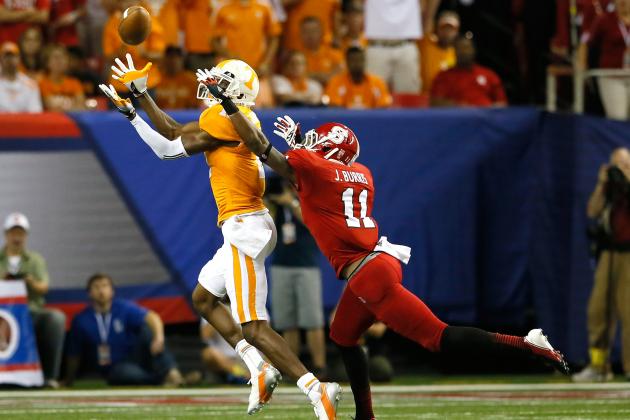 Kevin C. Cox/Getty Images
These receivers know how to get past the secondary.
Teams looking to add a big-play threat to their offense will often turn to the NFL draft, and 2013 should be no different.
This year's class offers plenty of wide receivers capable of causing fits for a defense with their speed on deep routes and underneath.
Big plays come in all shapes and sizes, but a great boundary receiver has a distinct impact on the way a defense plays. They have an ability to make a defense adjust to them.
It's difficult, at times, to assess whether a receiver's speed can translate to the NFL level. However, these players were capable of "turning on the jets" at the college level.
Begin Slideshow

»
The knock on Cordarrelle Patterson headed into the draft is that he only played one year against the top competition in college football. That one year, however, was still one of the best in the country for a wide receiver.
Patterson ranked sixth in the SEC with 16.9 yards per reception, showing he could torch a defense if he ran the go route. He gave additional proof to that with his 4.42 time in the 40-yard dash, which ranked sixth among wideouts at the NFL combine.
He hasn't only put his long speed on display in the passing game. Far from it, as 308 of his 1,086 total yards and three of his eight touchdowns came in the running game. Patterson averaged a gaudy 12.3 yards per carry on 25 attempts, mainly on end-arounds but occasionally lining up in the backfield as well.
Whichever team adds Patterson may have to be patient with him as his raw talent develops with better route-running and receiving fundamentals, but as he progresses, the big plays should pour in.
Two Tennessee receivers make this list.
After suffering a torn ACL in 2011, there were big questions about Justin Hunter's future. He went on to put up career highs across the board in receptions, yards and touchdowns in 2012, although his average yards per reception took a hit, dropping from 18.5 the season before to 14.8.
That could be attributed to a larger sample size, but while he still made some big plays, some scouts noted he didn't look quite as explosive as a senior. His performance at the combine may have helped answer some of those questions, as he ran a 4.44 40-yard dash as the ninth-fastest wide receiver at the combine.
It's not just his blazing speed that helps Hunter make plays, though. He has incredible size at 6'4" and 196 pounds with soft hands that should help him catch the ball away from his body, something he occasionally neglects due to lapses in concentration.
Hunter could provide a great boundary threat for any team looking to add one with a pick late in the first round or early in the second round.
Oregon State receiver Markus Wheaton didn't burst onto the scene; he just burst into the end zone with more than twice as many receiving touchdowns as he had in his previous three seasons combined.
Like Cordarrelle Patterson, Wheaton got a chance to show his skills out of the backfield for further proof that his speed can be used multiple ways.
Wheaton's 13.7 yards per reception were not particularly gaudy, but he was not used only as a deep threat, often getting the ball underneath to use his speed in space. Still, he consistently tested defenses vertically and showed his long speed at the combine with a 4.45 40-yard dash, the 10th-fastest time of any receiver.
He may not have the ideal size for a boundary threat, but his speed and overall quickness make him a big-play threat no matter where he lines up.
USC wide receiver Robert Woods is becoming more known for the question marks around his checkered injury history than his consistent big-play ability for the Trojans in 2012.
Woods didn't do all his damage on vertical routes, averaging just 11.1 yards per reception, but he often showed the ability to get behind a defense, whether it was before or after he had the ball in his hands.
Woods' 4.51 40-yard dash wasn't one of the fastest at the combine, but it ranked in the top half of receivers there.
USC got 26 touchdowns out of Woods in a two-year span, so it's safe to say that if he remains healthy, he can provide big plays and scoring potential to an NFL offense in need.
The Mountaineers offense is likely to produce two players taken in the top half of the first round—quarterback Geno Smith and wide receiver Tavon Austin.
The word "electric" may be worn out, but it absolutely describes Austin with the ball in his hands. A cut here, a juke there and once he kicks in his incredible acceleration, he's gone.
That's why it was no surprise when Austin's 4.34 40-yard dash tied for second for any receiver at the combine. We know what Austin can do in space, but several scouting reports, including one from NFL.com, indicated that he was "underutilized deep" at West Virginia.
Not only was he a dynamic receiving threat, he was also an explosive running back. Austin had 643 yards on 72 carries, averaging 8.9 yards per attempt; he averaged 11.3 yards per reception.
The word on Austin is that whichever team drafts him will have to find ways to get him the ball, but if it does, the big plays will surely follow.
The Mountaineers offense was known as one of the most vertical offenses in all of college football in 2012, so it's no surprise to see their top two receivers appear on this list of deep threats.
Stedman Bailey is the less explosive of the two with a 4.52 40-yard dash at the combine, which was below the middle of the pack. Still, 14.2 yards per reception is an impressive feat considering that Bailey hauled in 114 catches—the most in the Big 12.
Oh yeah, there's also that whole bit about him leading the entire nation in receiving touchdowns in 2012.
There are concerns over whether his speed will translate to the NFL level, where he'll face much more physical defenses. There are also concerns that he never had the attention of a team's top cornerback with Tavon Austin playing opposite him.
That being said, there's a lot of potential in Bailey, and an offense that puts him to good use will have a big-play threat for years to come.
Even after Robert Griffin III started playing on Sundays, Baylor wide receiver Terrance Williams tore it up on Saturdays.
He ranked 12th in the nation in yards per reception with a gaudy 18.9 per haul on 97 catches. He also tied for the most games with over 100 receiving yards with eight in 2012. All those figures helped rank the first-team All-American No. 1 in the country in receiving yards with 1,832.
Williams' 4.52 40-yard dash was far from the blazing time he wanted to post and was outside the top 20 at the combine. However, his performance in pads is proof of his ability to run the go-route.
Like every receiver in this draft, Williams has weaknesses. He is a bit of a strider, building speed as he runs, but that is enough to get over the top of an opposing defense. He doesn't run a variety of routes, but when it comes to running deep patterns, Williams was one of the best in the nation in 2012.
A little polish on his fundamentals could go a long way toward making him a great NFL receiver.
It may not show up in the numbers, but Louisiana Tech wide receiver Quinton Patton has better long speed than anyone on this list.
Patton didn't have the gaudy yards-per-reception average (13.4 YPR) or the fast 40-yard dash time (4.53 seconds) of other receivers mentioned, but look at the highlights of his senior year at Louisiana Tech to see how he used his long speed to make defenses look silly on a regular basis.
He has great acceleration off the line and gets to top speed within his first few steps. He is also well versed in the art of being a vertical receiver, with great hand-eye coordination to make catches while tracking the ball over his shoulder.
Patton could be a late pick in the first round or go early in the second round.
Clemson wide receiver DeAndre Hopkins is not known for his vertical speed. That much became evident when his 4.57 40-yard dash ranked 28th out of 35 wide receivers at the combine.
He may not have the blazing long speed of some other players on this list, but Hopkins brims with big-play ability. He averaged 17.1 yards per reception, but the biggest proof of his big-play ability were his 18 touchdown catches last season (second in the nation). Nearly 22 percent of his catches went for scores
He is an outstanding route-runner, as we see in the highlight here where he sets up the vertical route well with a subtle fake inside. He's not the kind of player you send on a go route consistently, but he'll get big plays if used correctly.
There was no way we couldn't find room for Georgia wide receiver Tavarres King on this list.
King's 40-yard dash time of 4.47 seconds wasn't as fast as some scouts might have liked, but it was good enough to land him in the top 50 percent of receivers at the combine.
He spent his senior season proving he had long speed in pads with 950 yards on just 42 receptions. His 22.6 yards per reception ranked third in the nation, and with nine touchdowns on 42 receptions, he scored on over 21 percent of his catches.
Like a lot of the receivers on this list, King has the speed to hurt defenses deep and the quickness to do damage with the ball in his hands and on underneath routes.
With questionable hands and less than ideal size, King won't be one of the top receivers taken in the draft, but in the right environment, his speed could be put to good use to create big plays through the air.