Kansas Basketball: Projected Stats for Each Incoming 2013 Recruit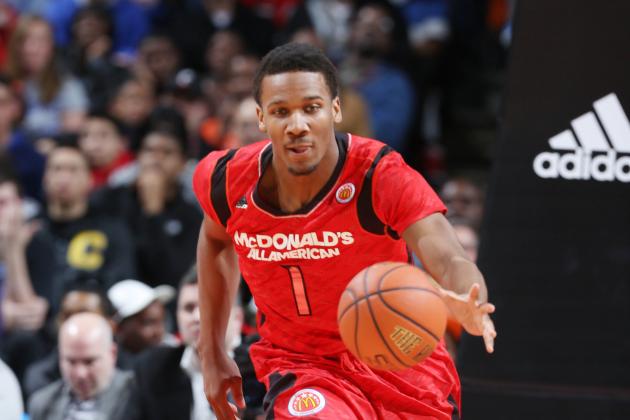 Brian Spurlock-USA TODAY Sports

A mass exodus commonplace in college hoops, especially during the one-and-done era, is an event that Kansas coach Bill Self is experiencing in a big way for the second time in five years.
As his entire starting five exits Lawrence, they take with it 79 percent of the Jayhawks' scoring, 70 percent of their rebounding total, 68 percent of assists and 80 percent of the team's blocks from last season.
Naadir Tharpe and Perry Ellis are the only returnees to have averaged more than 10 minutes per game in 2012-13 and the only with extensive NCAA tournament experience.
Self's five-member 2013 recruiting class will likely have a major impact on a young team that might play second fiddle to Oklahoma State in the Big 12's preseason chatter.
Begin Slideshow

»
Frank Mason has largely been known as the fifth-wheel to a highly-touted recruiting class, routinely overlooked by Kansas fans.
While the suddenly coveted point guard might be reduced to spot duty in year one, he should grab spurts of minutes in the event of foul trouble and cold shooting. He and Conner Frankamp could be running the Jayhawks' backcourt as upperclassmen in 2015-16.
MIN: 8.5 PPG: 3.1 RPG: 0.9
APG: 1.5 SPG: 1.0 BPG: 0.1
FG%: 40.5 FT%: 79.0 3P%: 37.0
Everyone knows Wichita North product Conner Frankamp can shoot and should get every opportunity to prove he can contribute immediately despite being an undersized scoring guard.
The three-point shot is not imperative in Bill Self's offense, but it remains a fantastic complimentary luxury if available. Frankamp must find his stroke against inferior non-conference competition as he seeks to replace Ben McLemore's perimeter game.
MIN: 14.5 PPG: 6.1 RPG: 1.2
APG: 2.5 SPG: 0.6 BPG: 0.2
FG%: 46.5 FT%: 86.0 3P%: 43.0
Everyone is finally learning about Joel Embiid. Flying under the radar for much of his brief prep career, the lanky center will be counted on to replace as much of Jeff Withey's lane presence as possible, realistic or not.
His first offseason in Lawrence will be imperative to future minutes, minutes that could approach 20 per game if he can improve his discipline defensively against Big 12 forwards.
MIN: 18.8 PPG: 5.5 RPG: 5.8
APG: 0.9 SPG: 0.4 BPG: 1.8
FG%: 54.0 FT%: 66.5 3P%: 0.0
Like Frankamp, everyone knows Brannen Greene has a picture-perfect jump shot, one that resembles the smooth mechanics of Ben McLemore.
Without a proven shooter returning to KU, Greene can maximize his size and versatility in becoming a No. 1 or No. 2 option along the perimeter for Self.
MIN: 23.5 PPG: 9.8 RPG: 4.1
APG: 2.2 SPG: 1.0 BPG: 0.4
FG%: 44.0 FT%: 80.5 3P%: 42.0
Wayne Selden can do it all, seriously. He added bulk to his 6'5" frame as a senior in becoming one of the most physical guard-forward combo players in the nation.
Selden also proved his perimeter shot is much more than a complementary aspect of his game and will immediately become Naadir Tharpe's go-to playmaker off the edge.
MIN: 30.5 PPG: 13.8 RPG: 5.8
APG: 1.8 SPG: 1.0 BPG: 1.1
FG%: 46.0 FT%: 78.0 3P%: 40.5