Christine Michael: 5 Things You Need to Know About Texas A&M RB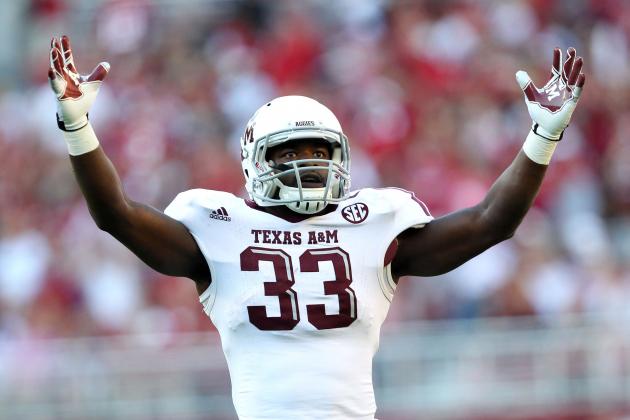 Mike Zarrilli/Getty Images
Christine Michael will be on a lot of teams' boards leading up to the draft.
Texas A&M running back Christine Michael is a very interesting prospect, and one who will excite a lot of teams looking for a back with great speed and quick cuts.
However, there are also many questions surrounding his ability as a blocker, and his injury problems will raise some red flags. He's not the complete package, but he has raw talent to burn, which can often be the difference.
Read on for five things you need to know about Michael.
Begin Slideshow

»
Full Name: Christine Michael
Birthday: November 30, 1990
Hometown: Beaumont, Texas
High School: Westbrook High School, Beaumont, Texas
Major: General Studies
Year: Senior
During his four years as an Aggie, Michael compiled a series of differing achievements.
As a freshman, he was named Big 12 Offensive Freshman of the year, racking up 844 yards and 10 touchdowns. It seemed that he would be an absolute star, but his second season was suddenly brought to a close when he broke his leg against Texas Tech. He missed the final four games of 2010, including the Aggies' Cotton Bowl loss to LSU.
Nevertheless, he came back strong in 2011 and gained some real momentum with three consecutive 100-yard games. Again, however, this came to an abrupt end when he tore his ACL and missed the final three games of the season, including another bowl game.
Even after all this, there was reason to believe he would finally have his breakout season in 2012, but these hopes were brought crashing down as the season began.
Michael faced accusations of laziness and a bad attitude, resulting in him spending a lot of time on the bench. His blocking remained a concern, as well as his ability as a receiver. He seemed unwilling to work on these issues, and as a result, he had little momentum going into this year's combine.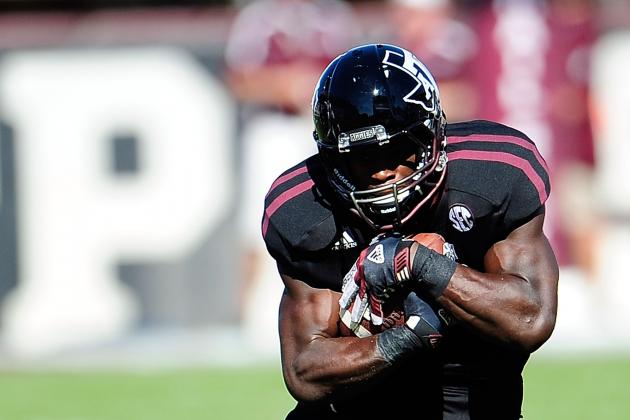 Stacy Revere/Getty Images

At 5'10" and 220 pounds, Michael has the ideal combination of power and a low center of gravity. However, it's safe to say that he hasn't yet lived up to his potential.
His statistics reflect this, and not all of it is down to injuries. Those attitude concerns will be a major red flag to NFL teams, and the concern will be that this will continue into his professional football career. Money can be a great motivator, but it's also seen a lot of players content to sit back and enjoy the benefits away from the field.
Rushing
Receiving
Scrimmage
Year
Att
Yds
Avg
TD
Rec
Yds
Avg
TD
Plays
Yds
Avg
TD
2009*
166
844
5.1
10
15
66
4.4
0
181
910
5.0
10
2010*
126
631
5.0
4
13
174
13.4
0
139
805
5.8
4
2011*
149
899
6.0
8
8
35
4.4
1
157
934
5.9
9
2012*
88
417
4.7
12
8
48
6.0
0
96
465
4.8
12
Career
529
2791
5.3
34
44
323
7.3
1
573
3114
5.4
35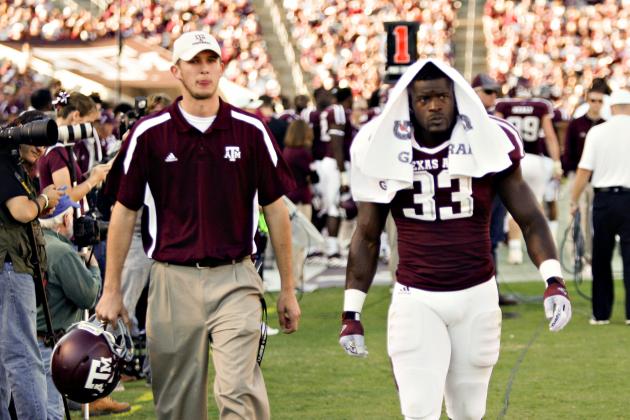 Bob Levey/Getty Images
Michael's perceived bad attitude caused him to back into the draft process.
Measurables
Height: 5'10"
Weight: 220 lbs
Arm Length: 31 1/2"
Hand Size: 9 3/8"
Combine Results
40-yard dash: 4.54 sec
Broad jump: 125"
Vertical jump: 43"
Pro Day results
Michael stuck with his combine numbers, participating in positional drills only.
Over the course of his career, Michael cultivated a reputation as a great player to have on the field, but a real problem off it. He needed to change this as he got closer to the NFL, but instead he just added to it.
At the combine, Michael posted a 4.54 40-yard dash, which was actually worse than expected, but his game speed is better, and his ability to make defenders miss in the open field will have gotten him a lot of attention. By posting a 43" vertical, 6.69 three-cone time and 4.02 short shuttle, he shot ahead of all other running backs, while his 27 bench press reps and 10'5" broad jump landed him in the top three. He's a fantastic athlete and that overall performance helped his cause a lot.
However, in classic Christine Michael style, he then literally slept through two team meetings, re-igniting concerns about how seriously he really takes his responsibilities.
At his pro day, he blamed cold medicine for missing the meetings, but it remains to be seen how much it has affected his stock, to the extent that it's impossible to say how he'll fare in the draft right now. He's a classic boom-or-bust pick, and it will take a brave team to pick him before the second day.
Statistics via NFL.com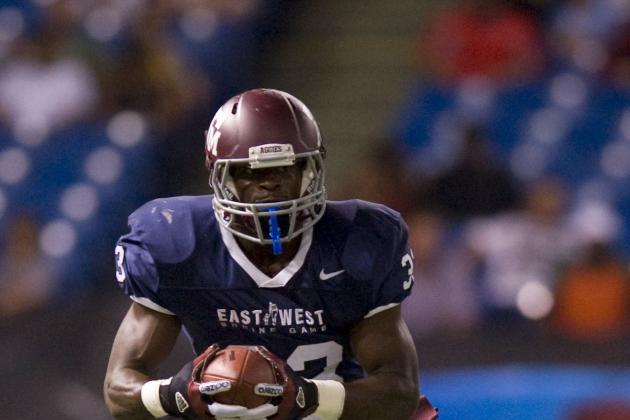 Jeff Griffith-USA TODAY Sports

His name is pronounced "Chris-TIN," not "Chris-TEEN."
In 2009, Michael won the Walter Payton Trophy for the best high school football athlete in the country, cementing his reputation as a potential star running back. This continued at Texas A&M, where he averaged a touchdown every 15 carries. He is an incredibly talented athlete, and his 43" jump at the combine is better than any running back in the event's history.
However, his problems off the field extended to his Twitter account, which has landed him in trouble before. He would do well to avoid it in the NFL.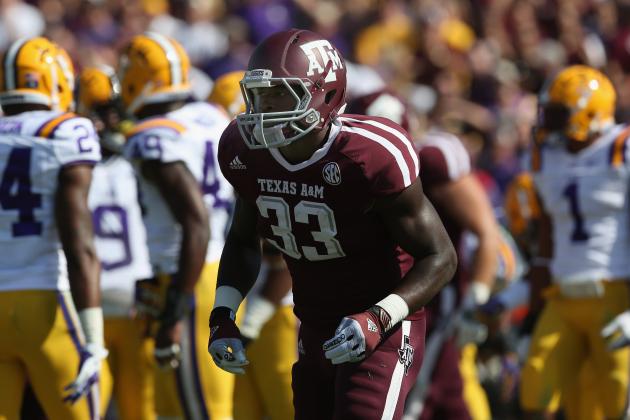 Ronald Martinez/Getty Images

The general consensus about Michael is that he could be a star in the NFL but remains a risky pick. Not just for his off-field issues, either.
His history of injuries call his durability into question, and it's this combination of unknown factors that could see him fall to the third round. However, all it takes is one GM willing to put his faith in him, and he could yet go early. A quick glance around the Internet reveals a similar pattern:
Via NFL.com:
Low center of gravity back with good thickness throughout his frame to take and give out punishment. North-south runner who uses his strong legs to burst out of the hole to eat up six or seven yards in a hurry. More speed in the open field than you'd expect given his size, sets up defenders in the open field for a dangerous cut on the run.
According to Charlie Campbell, WalterFootball.com:
For the next level, Michael has a three-down skill set, but it would be better to use him in a committee approach to decrease the injury risk. He could adapt to any NFL offense, but he could be a tremendous fit in a zone-blocking scheme. Michael's one-cut downhill running would make him a natural for that kind of system. Playing for head coach Mike Sherman in three collegiate seasons gave Michael the experience of an NFL West Coast offense.
He might not be as physically imposing or as sudden as some of the other top-tier running back prospects in the class. But, he has a game that is built for the NFL as he doesn't take many negative runs, keeps teams ahead of the chains and can break a big play at anytime either running between the tackles or toward the edge.

He's a guy who needs to prove he's healthy. However, if he can do that, looks like a prospect who could end up going somewhere in the 2nd/3rd round range and end up being a steal as a potential starting caliber NFL runner.