Rod Sweeting: Video Highlights of the Former Georgia Tech CB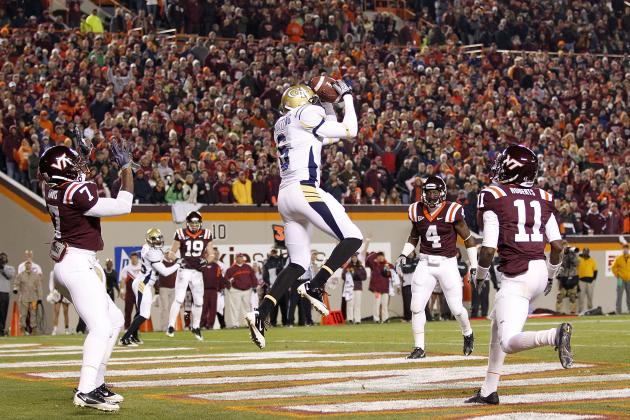 Geoff Burke/Getty Images
Rod Sweeting is expected to be a mid- to late-round pick in the draft.
Rod Sweeting is part of what's considered a deep 2013 cornerback class.
The Georgia Tech product entered the pre-draft process as a late-round prospect. But he helped himself with an impressive performance at the scouting combine. Sweeting ran a 4.42-second 40-yard dash, ninth-best among cornerbacks. His 37-inch vertical was eighth-best at the position.
Sweeting displayed that he has the skill set to contribute to an NFL defense. Although he's just 5'11" and 189 pounds, Sweeting is a physical player with excellent instincts.
A two-year starter at Georgia Tech, Sweeting was honorable mention All-ACC in 2011. He finished that year with 56 tackles, three interceptions and two forced fumbles. His 10 pass breakups were tied for fifth in the conference.
Sweeting set a career high with 58 tackles in his senior season. He broke up another seven passes and had one interception.
The gem of Sweeting's college career was his MVP award in Georgia Tech's 2012 Hyundai Sun Bowl victory over USC. He had three tackles and an interception in that game.
Let's take a look at some highlights from Sweeting's time at Georgia Tech.
Begin Slideshow

»
Here's a nice example of Sweeting's physicality.
He's in press coverage at the bottom of the screen. He jams the receiver at the line, throwing him off his route and disrupting the timing of the play. Sweeting stays glued to his man and takes away the throwing window, resulting in an incomplete pass.
Although he's just 5'11" and 189 pounds, Sweeting is capable of handling bigger receivers.
Here, he's matched up against Utah tight end Kendrick Moeai, who's listed at 6'5" and 252 pounds. Sweeting plays physical, getting his hands on Moeai and even getting away with a hold. He does a nice job disguising it, though, only grabbing long enough to get favorable position. Sweeting finishes the play by making a nice play on the ball.
Sweeting's deep speed is tested on this play.
He's one-on-one with the wide receiver, who's running a go route. Sweeting is able to stay in his hip pocket the whole way, leaving no space for the quarterback to drop the ball in. He also does a nice job turning his head back to the ball before it arrives to make sure a pass interference penalty isn't called.
Sweeting is a reliable tackler.
Here, he recognizes the quick throw, attacks the ball and makes a sure tackle on the much bigger wide receiver.
You never want to see your defensive backs making tackles downfield. But Sweeting is capable of doing so when called upon.
He's in coverage near the top of the screen when this play begins. The run goes off left guard, away from Sweeting. He pursues the ball-carrier across the field, showing good speed and taking a perfect angle to make the tackle.
Sweeting likely prevented a touchdown on this play.