Juventus vs. AC Milan: 4 Key Battles to Watch in Sunday's Classic Matchup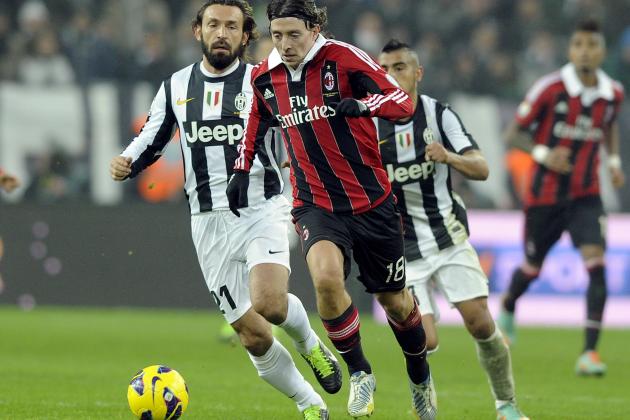 Claudio Villa/Getty Images

Even with the Scudetto all but wrapped up in black-and-white ribbons, Juventus vs. AC Milan is a tie that's always going to attract attention.
And for the Rossoneri at least, there's more at stake in this encounter than simple pride. They couldn't do it against Napoli, but AC Milan will be hoping to take all three points from their visit to Turin and keep their dreams of second place alive.
Juventus for their part know that a win will seal this title properly. After Milan, the highest-ranked opposition left for the Bianconeri are 10th-placed Cagliari. Capitulation is inconceivable.
So where are the key talking points likely to be in this game?
Begin Slideshow

»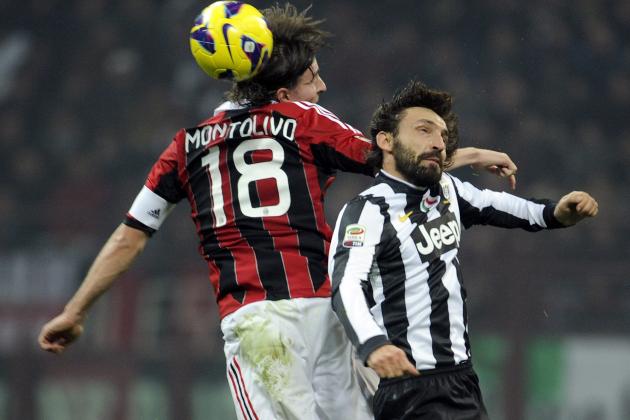 Claudio Villa/Getty Images

Andrea Pirlo is the undoubted master here, but Riccardo Montolivo is Milan's metronome and it will be interesting to see which of the Italians has the better game.
Montolivo is the more mobile of the two, and is perhaps not relied on as heavily as Juventus' Pirlo, but they both dictate tempo and direction for their respective sides and are both going to have a massive effect on the result of this game.
The former Fiorentina midfielder is occasionally guilty of drifting in and out of games and it was one of these lapses in concentration that was at fault for Goran Pandev's goal in their last game against Napoli.
But when he's good, Montolivo is very good and almost all of Milan's positivity starts at his feet. And Pirlo, as everyone knows, only needs half a chance to do something special. These two midfield maestros will be key to Sunday's outcome.
Claudio Villa/Getty Images

Giorgio Chiellini is pushing to be fit in time for this game, and if he makes the starting 11 he'll have his work cut out for him with Giampaolo Pazzini.
The former Inter and Sampdoria striker doesn't always get the credit he deserves outside of Italy, but he's a tireless worker and plenty skilful, too.
Many wondered if he'd still have a place in this team following Mario Balotelli's arrival, but the former Man City man's current ban aside, Pazzini is proving himself very useful to Massimiliano Allegri.
Balo is the archetypal star striker and one of the most gifted forwards playing today, but Pazzini's work rate and ability to hold up the ball for his teammates affords the coach some interesting tactical options. Chiellini will have to stick very close to him if he wants to prevent his fellow Italy international adding to his 13 goals so far this season.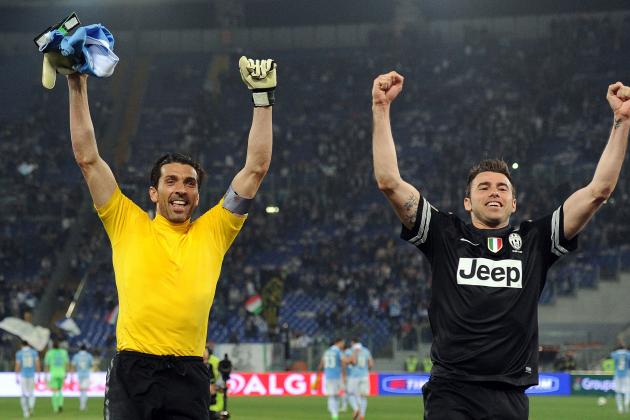 Giuseppe Bellini/Getty Images

Stephan El Shaarawy was dropped by Allegri for the last game, the coach siting fatigue and a little mental fragility. He said:
I made a technical choice. I believe I needed a player with different skills compared to Stephan El Shaarawy- that is why I substituted him with Robinho. Nobody can play an entire season at the top level. In the last few rounds he had dipped in psychological terms.

He is only 20 years old and has already scored many goals, which is precisely why he needs to be dealt with in the best way possible.
When these sides met last in the league back in November, Andrea Barzagli did a reasonable job of tracking El Shaarawy—who at the time was the league's form player.
A couple of rash tackles from the Juve defender could have hurt his side, but on the whole Barzagli marked the Little Pharaoh excellently, especially when compared to his teammate Martin Caceres, who had a nightmare coming to terms with Milan's movement and creativity.
With no Balotelli, El Shaarawy is Milan's great hope and the youngster will want to bounce back from the Napoli drop to prove that he's capable of dealing with the pressure of being a key player for one of the world's great sides. Because he might be only 20, but the Rossoneri need him.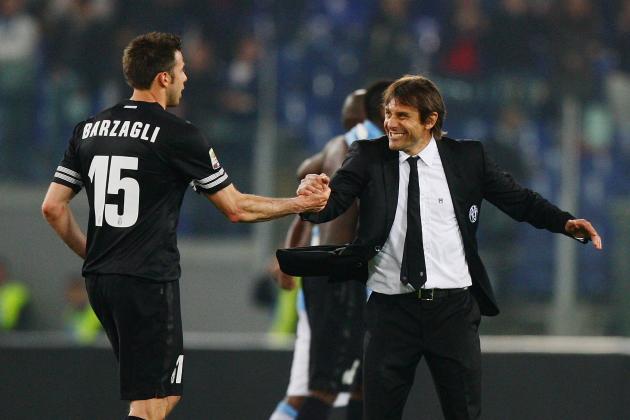 Paolo Bruno/Getty Images

Antonio Conte and Massimiliano Allegri are very different coaches. Both are popular with the players, have shown faith in youth and achieved success early. But while Conte's Juve is very much just that, his Juventus, Allegri's Milan is still something of an unknown quantity.
The Rossoneri have done excellently to turn their season around after a drastic start. Before November, it had looked like Allegri was not far from the chop as his side looked set to spend the season languishing mid-table.
Since then, the difference has been night and day. The coach must be given credit for that. His work paid off and his rejuvenated squad have salvaged the season and even given a club like Barcelona a run for their money.
But it still lacks personality. Allegri's been on the Milan bench for three seasons now and it's still hard to really describe what his Milan is. Under Conte, Juventus have a clear shape, work ethic and overall outlook on how the game should be played and what it means to wear the Bianconero stripes.
Milan, meanwhile, look a little more ragged. The coach still seems unsure of his best 11 and the players often look uncomfortable with his tactics. The Rossoneri have been carried by a handful of world-class players rather than guided by world-class tactics. This needs to change.
Even this season's great success, El Shaarawy, was more a stroke of luck for Allegri than it was genius. The young winger was fifth choice last season and only promoted after the club got rid of Zlatan Ibrahimovic, Antonio Cassano and Pato. He might take the credit now, but had El Shaarawy been a flop he wouldn't have been taking the flack.
In Conte, Allegri is coming up against everything he needs to be if Milan are to push on next season. The Juventus boss is clear in his ideas and his actions and knows how to consistently get the best out of his players. And you can see his side being even better next year.
If Allegri can engineer a victory in Turin, Milan can use the momentum and push for second. They have the players to do it. Now all they need are the tactics.