Who's Hot and Who's Not as 2013 NHL Playoffs Approach?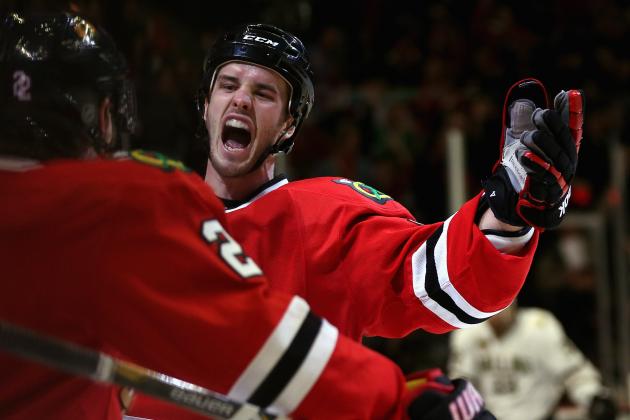 Jonathan Daniel/Getty Images

Conventional wisdom says the hot team going into the playoffs is often the team that has the best chance to win.
Conventional wisdom is not always correct. The Los Angeles Kings were 3-2-3 in their last eight games and they didn't look like they were going to be much of a problem for the top-seeded and President's Trophy-winning Vancouver Canucks.
The Kings went on to win the series in five games and then rolled to the first Stanley Cup in the team's history.
The year before, the Boston Bruins were 3-2-1 over their last six games. While that wasn't terrible, it didn't serve notice that they would win three seven-game series en route to their first Stanley Cup in 39 years.
But sometimes, a strong finish does result in a payoff. The Chicago Blackhawks were 6-1-0 in their final seven games in 2009-10 and then won the Stanley Cup for the first time in 49 years.
Here's a look at who's hot and who's not with the playoffs approaching.
Begin Slideshow

»
Stop if you've heard this before. The Chicago Blackhawks are red hot.
The Blackhawks have not been satisfied. The team that set the record by going 24 games without a regulation defeat from the start of the season has won six games in a row. The Blackhawks have gone 8-1-1 in their last 10 games.
That's why they are clearly the favorite to emerge in the Western Conference this year and will probably favored over any team in the Eastern Conference unless Sidney Crosby returns to his best form when he comes back from a broken jaw.
The Blackhawks play a different game. They are not interested in asserting themselves with hard-hitting physical play. They are a puck-possession team that can complete passes, make solid offensive moves and fire hard shots on net.
When you have control of the puck, you are not usually pounding your opponent.
Can they slip up in the postseason? Of course. But if they maintain possession, the Blackhawks are going to win most of the time. It's difficult to see anyone beating them in a best-of-seven series.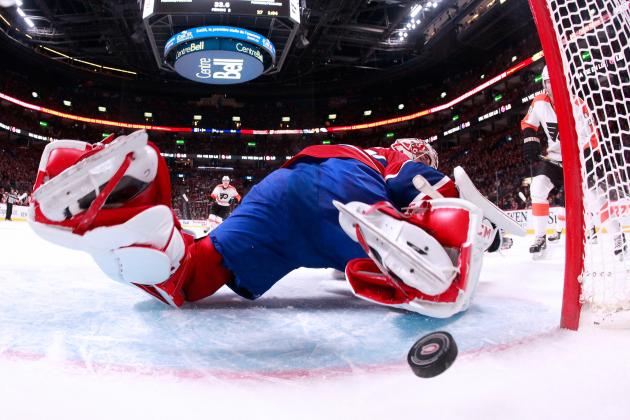 Richard Wolowicz/Getty Images

It is starting to slip away from Carey Price.
For most of the season, the Canadiens have authored a magical comeback story. They were the worst team in the Eastern Conference last season, but they put their miserable finish behind them and were enjoying a spectacular rebound this season.
The Canadiens were not only in first place in the Northeast Division—ahead of the highly favored Boston Bruins—they were chasing the Pittsburgh Penguins for the top spot in the Eastern Conference.
They had solid defense, clutch scoring and dependable goaltending from Price.
However, in recent games, Price has done a superb Swiss Cheese impression. He has lost four of his last five decisions, giving up at least three goals in all of those losses. He gave up 10 goals in two losses to the lowly Philadelphia Flyers. He was driven from the net April 13 in a damaging loss to the Toronto Maple Leafs when he gave up three goals on the first four shots he faced.
That prompted head coach Michel Therrien to bench Price and insert backup Peter Budaj.
If the Canadiens are going to do anything in the postseason, they need Price to be at his best. He's a long way from that right now.
Jeff Carter has been the Los Angeles Kings' top goal scorer all year. He has the very unusual stat line of 24 goals and five assists. You should expect a little more playmaking out of your center, but you can live with Carter because he's such a strong finisher.
He has had several hot streaks during the year, and he's on another right now—he's scored a goal in six of his last nine games.
Carter helped carry the Kings to the Stanley Cup last year, and they will likely be a very tough out this year.
The Washington Capitals have not garnered a lot of respect this season even though they have risen to the No. 3 seed in the Eastern Conference and first place in the Southeast Division.
The division is so disappointing and the Caps were struggling so much early in the year that they are not looked at as a credible team.
Look again. The Caps are simply rolling.
They have taken their lead from Alex Ovechkin, who is scoring a ton of goals once again. The Caps' explosive forward leads the NHL with 27 goals, and his game is once again noted for speed, power and passion.
The Caps have reeled off an 8-1-1 record in their last 10 games. They are getting a lift from goalie Braden Holtby, who is 9-1-1 in his last 11 games and has four shutouts this season.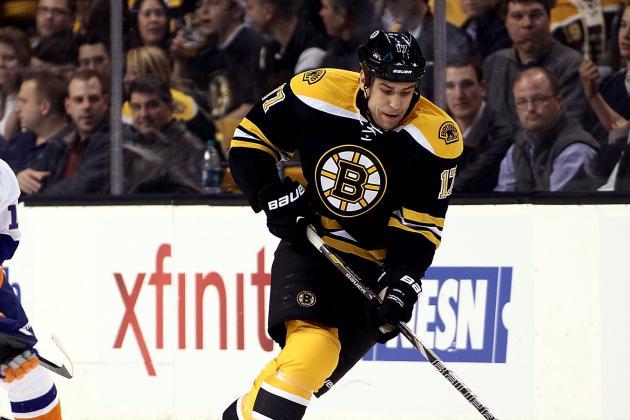 Alex Trautwig/Getty Images

Milan Lucic of the Boston Bruins is supposed to be one of the mainstays of head coach Claude Julien's offense.
The big left winger does not bring a lot of subtlety to the ice, but he has fine straight-ahead speed, dominating physical strength and a reasonably strong shot.
He has shown the ability to jump on rebounds in the dirty areas, fire a hard wrister or deflect shots and turn them into goals.
But not this year. He is having a nightmarish time of it. Lucic has scored two goals in his last 26 games. Lucic has not often played with the speed or power that fans have been accustomed to seeing. He floats to the puck instead of skating hard.
Lucic may be squeezing his stick too hard and pressing too much, but that doesn't make it better. He is in an old-school slump, and he is hurting the Bruins.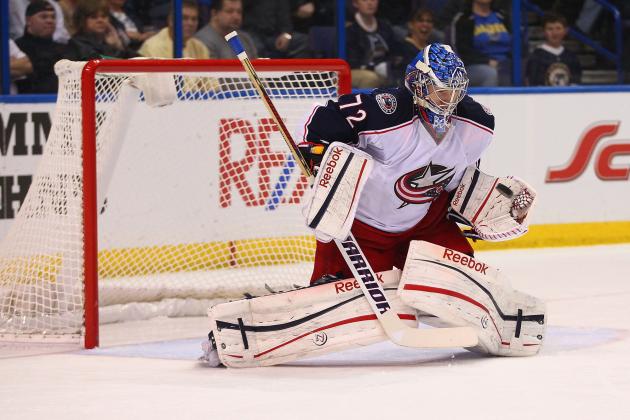 Dilip Vishwanat/Getty Images

Sergei Bobrovsky has been the main man for the Columbus Blue Jackets.
Normally, that and $3 would get you a cup of coffee, but this time it just might get the Blue Jackets a spot in the Western Conference playoffs.
The Blue Jackets are on the cusp of playoff eligibility. They are going to have to dominate in the final two weeks to get there, but they are much better than they were last year when they had the worst record in the NHL.
Bobrovsky is the main reason behind their improvement.
Bobrovsky has given up two goals or less in seven of his last 10 games. He has two shutouts and three games where he has given up one goal in that streak.
Bobrovsky is on fire, and he is gaining support in the Vezina Trophy race.
The New Jersey Devils hosted the Florida Panthers March 23 and picked up a 2-1 win over the last-place team in the Eastern Conference.
The Devils haven't won a game since.
They have lost 10 straight games (0-6-4). Head coach Peter DeBoer's team just can't score clutch goals. The offense has gone dry for the Devils.
They have been shut out in their last two games and three of their last six games. They have only scored three goals or more in two of their last 11 games.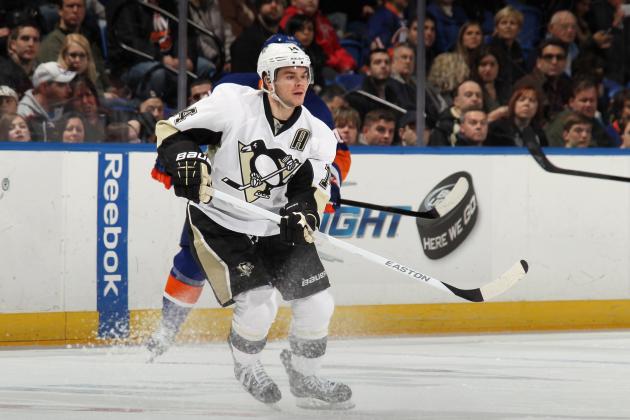 Bruce Bennett/Getty Images
Chris Kunitz has been an offensive force this year.
Chris Kunitz has been enjoying a remarkable season for the Pittsburgh Penguins.
The stat line tells you that Kunitz has been productive. He has scored 21 goals and 26 assists. His 47 points leave him tied for fourth in scoring with Patrick Kane.
Kunitz is also playing well in the defensive end. He takes the puck away from his opponents, he blocks shots and he gets in the passing lanes. That aspect of his game has helped him build a league-leading plus-29 rating.
Kunitz has also connected on 22.8 percent of his shots. That ranks second on players who have taken at least 50 shots this season.