Winnipeg Jets: Analyzing the Jets' Remaining Schedule and Playoff Chances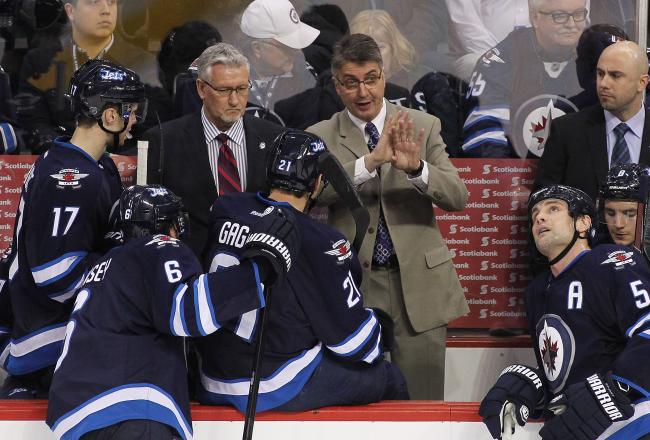 Marianne Helm/Getty Images
The Winnipeg Jets remain in playoff contention with just six games left in the regular season, but there's still a lot of work to be done if they want to get in.
The Jets are in ninth place in the Eastern Conference. They sit four points back of the Washington Capitals for the Southeast Division lead, and two points back of the New York Rangers for the eighth and final playoff spot.
The Jets go into their final six games on a three-game winning streak, with all three of those wins being on home ice. They remain home for their next three games before going on the road for two. Their final game of the regular season will be on home ice at the MTS Center.
The Jets final six games look like this: vs. Tampa Bay, vs. Carolina, vs. New York Islanders, at Buffalo, at Washington, vs. Montreal. As far as difficulty goes, it's split right down the middle, as three of the six teams are ahead of the Jets in the standings, while the other three trail them.
Obviously, if the Jets wish to make the playoffs, they must win their own games first. They can't afford to drop any games to teams like the Lightning or the Hurricanes. At this point in time, it would be devastating and probably end their season.
With that being said, they're going to need some help from other teams, as well.
Every win is important, but Winnipeg's two most important games during this stretch are the ones against the Islanders and Capitals. Both teams are ahead of the Jets in the standings, but not by much. Still, overlooking any game is a mistake. We've seen the Jets get dominated by Tampa, and even Carolina, this season.
Winnipeg does not control its own destiny. That means that if the Jets win out their final six games, they still won't have a guaranteed spot in the playoffs. Winning out is obviously the best bet, but other teams can win out, as well.
The best the Jets can do now is just to keep winning games and scoreboard-watch other teams later. If you can't win your own games first, there is no point in scoreboard-watching to see how others fare.
Also, the Jets cannot take either of these next two games lightly.
It's extremely important for the Jets to take care of business and get these next two wins over Tampa and Carolina. It would set up almost perfectly for a playoff-like showdown against the Islanders on Saturday. Any type of letdown-game loss would diminish all energy and hope for the playoffs.
According to Sports Club Stats, the Jets have a 32.8 percent chance of making the playoffs. Don't let that number get your hopes down. As long as the Jets keep winning, they'll set themselves up for the best opportunity.
With six games left and 44 points on the season, I'd say, at best, the Jets can only afford to drop one more game. A 5-1 record would give them 54 points, which should be enough to get in. If the Jets finish 4-2, they'd be pushing it, but may still get in. If they finish 3-3 or worse, it's golf time.
This article is
What is the duplicate article?
Why is this article offensive?
Where is this article plagiarized from?
Why is this article poorly edited?

Winnipeg Jets: Like this team?