Trades That Could Shake Up the NFL Draft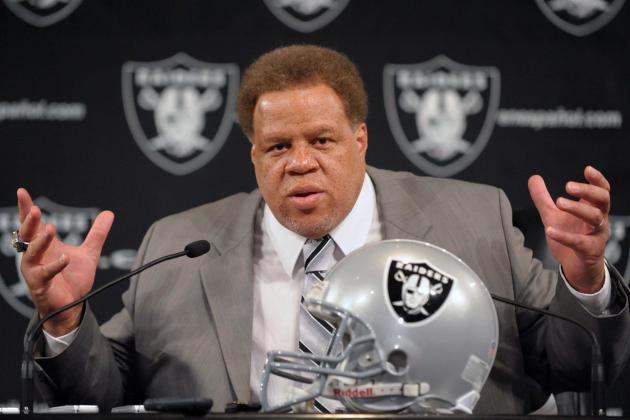 Kirby Lee-USA TODAY Sports

The 2013 NFL draft doesn't have iconic superstars at its top—a player worth trading a goldmine of draft picks for like Robert Griffin III in 2012. But that doesn't mean this year's draft will be void of first-round trades.
In fact, with such a level field of first-round talent, teams might be more inclined to wheel and deal picks to snag the player they want in the right slot, especially once the draft exits the top five picks.
Which teams could make such trades next weekend? There's a number of likely candidates.
In the following slides, we'll present the trade scenarios that could shake up the first round of the 2013 NFL draft.
Begin Slideshow

»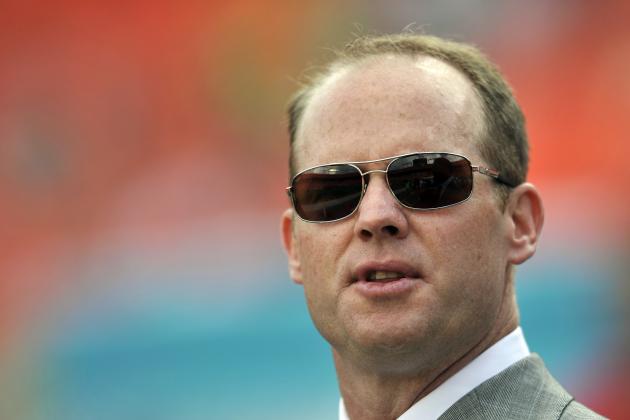 USA TODAY Sports

Is there any NFL team that has put more stock into the 2013 season than the Miami Dolphins?
During free agency, the Dolphins spent upward of $170 million on nine players—including both signings and re-signings. No other team came close to the kind of spending spree executed by general manager Jeff Ireland.
What better way to augment a new crop of players than with an aggressive move in the draft?
Despite their spending, the Dolphins still have a glaring need at offensive tackle. The three best—Luke Joeckel, Eric Fisher and Lane Johnson—might be off the board before the No. 12 overall pick.
If Ireland wants to make another offseason splash, he'll finagle a trade and ensure he gets one of the top offensive tackles in the 2013 class.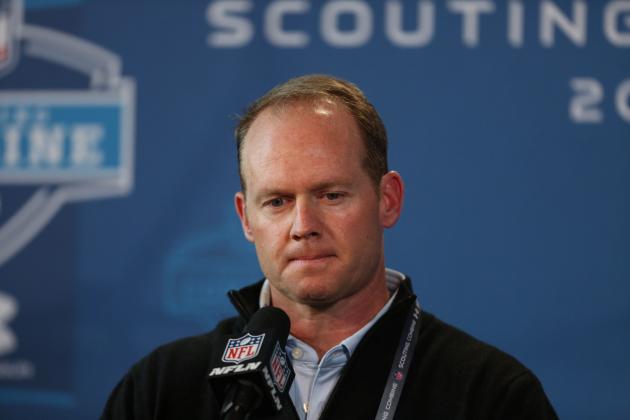 Brian Spurlock-USA TODAY Sports

While the aggressive nature of Ireland this offseason wouldn't suggest it as a possibility, don't discount the potential of Miami moving down in this draft.
The Dolphins certainly need an offensive tackle, but what if Ireland can turn the No. 12 pick into a late first-rounder and another second-rounder? Armando Salguero of the Miami Herald presented such an idea Tuesday, with the San Francisco 49ers as the prime candidate to be the Dolphins' trading partner.
In Salguero's scenario, the Dolphins move down and take a combination of D.J. Fluker or Menelik Watson in the late first and both a cornerback and tight end or cornerback and safety in the second.
The idea certainly makes sense from Miami's point of view, and it's conceivable that the 49ers would be interested in moving their picks around to maximize their draft haul. No team has more flexibility next weekend than San Francisco and its 13 total picks.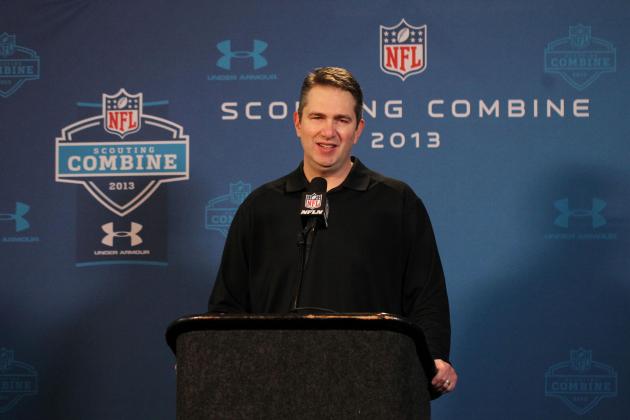 Brian Spurlock-USA TODAY Sports

The Cleveland Browns may be afforded the opportunity to draft Alabama cornerback Dee Milliner at No. 6 overall, but there's also a distinct possibility that an offer comes across their table on draft day that is too good to refuse.
To their fortune, the Browns are currently situated directly before the Arizona Cardinals and Buffalo Bills, who are scheduled to select at Nos. 7 and 8, respectively. Both teams could use upgrades at quarterback, leaving a quarterback-needy team with a clear trade route if there's a signal-caller on their board they want.
While there's likely to a be fit available for the Browns at No. 6, the idea of moving back in a talented first round—while also picking up a potential second-round pick (something they lost when taking Josh Gordon in the supplemental draft)—is an enticing scenario.
Don't disregard an NFL team's hunger for a quarterback.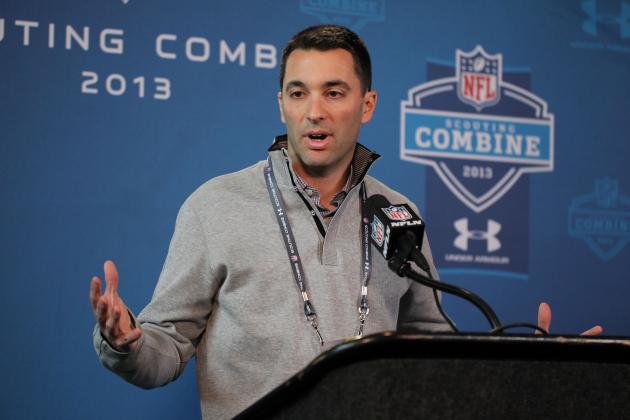 Brian Spurlock-USA TODAY Sports

The Chargers are sitting in what could be an unfavorable situation.
The top offensive tackles—Luke Joeckel and Eric Fisher—are slated to be top-five picks. Lane Johnson, the consensus third tackle, might not get out of the top 10.
San Diego, as it stands currently, holds the No. 11 pick, likely just out of the range of the top three. With offensive tackle the team's clear No. 1 need heading into the draft, the Chargers could be looking at a scenario in which no player at the position is worth drafting at No. 11.
What's the easy fix to this problem? A trade up, either to get Joeckel or Fisher in the top five or to snag Johnson before he comes off the board. It wouldn't take a huge chunk of draft capital to ensure a first-round tackle lands in San Diego.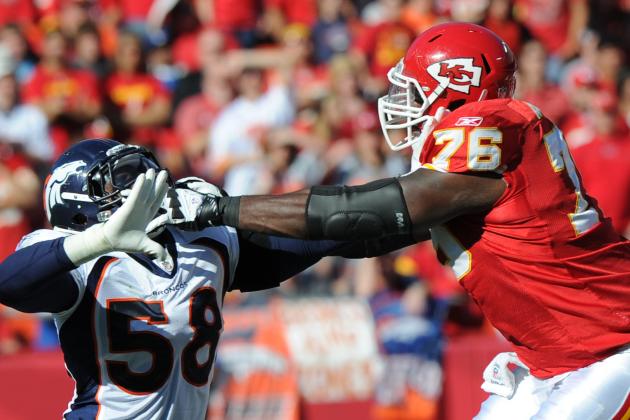 Peter Aiken/Getty Images

Every so often, a draft-day trade scenario comes along that makes too much sense not to happen. A swap between the Chiefs and Cardinals could be one of those situations.
Arizona has a need at offensive tackle that few will dispute. But the franchise also needs a franchise quarterback, and it's probable that the front office has identified an ideal candidate at No. 7 overall.
Here's where the Chiefs come in.
Instead of gambling on a tackle later, the Cardinals can send their second-round pick to Kansas City in exchange for established tackle Branden Albert.
According to Peter King of Sports Illustrated, the Chiefs are looking for a "high second-round pick" in return for Albert, who is likely the odd man out at left tackle once Joeckel or Fisher comes off the board at No. 1 overall. The Cardinals have such a draft pick to offer.
In this scenario, the Cardinals can confidently select their quarterback of the future at No. 7 and upgrade the tackle position.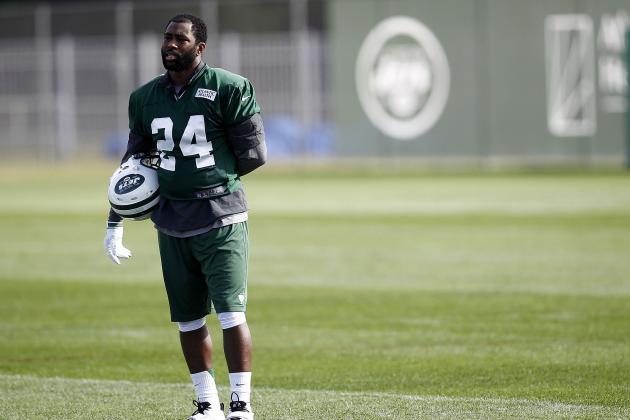 Jeff Zelevansky/Getty Images

The Revis trade speculation is certainly dizzying.
The latest report, according to Sal Paolantonio of ESPN (via Pro Football Talk), has the Jets pushing the "pause" button on a potential deal that would send Revis to Tampa Bay.
Regardless, Revis landing with the Buccaneers—and the Jets taking over Tampa Bay's No. 13 pick in the 2013 draft—still remains the more likely scenario, even if it has to come down the wire during draft day.
At that point, the Jets would have the luxury of two first-round picks—situated within four picks of one another—and general manager John Idzik could then get aggressive in rebuilding a franchise that was previously run into the ground.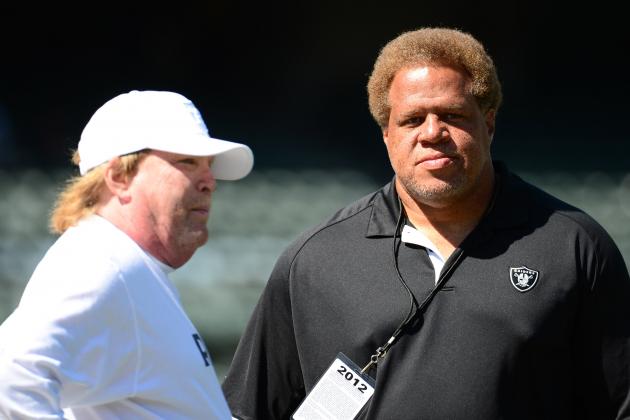 Kyle Terada-USA TODAY Sports

A draft-day trade down makes more sense for the Oakland Raiders than any other team in football.
General manager Reggie McKenzie, handed a garbage dump of terrible salary cap numbers, has cut most of the dead weight off his roster. However, the result is now an awful collection of players—with holes littering his depth chart.
McKenzie holds the No. 3 overall pick in this year's draft, but he can't fix all his problems by hitting on that one pick. In an ideal world, he'd ship the pick to a trigger-happy front office and collect as much draft capital as possible.
The Raiders need an infusion of young talent. Holding the pick will give McKenzie a very gifted player, but trading down will only accelerate his rebuilding plan. Any takers?