2013 Detroit Lions Schedule: Game-by-Game Predictions, Info & Analysis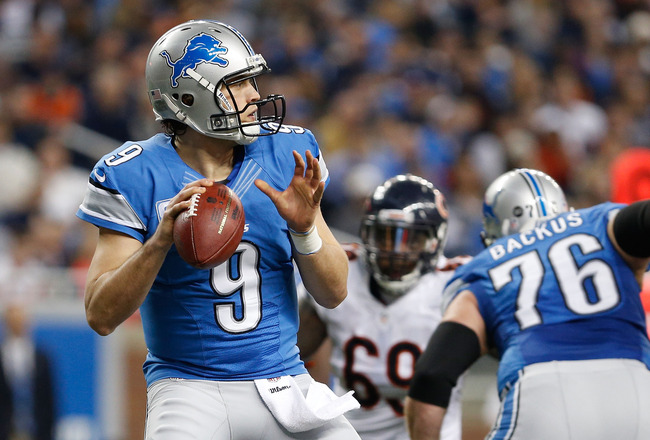 Gregory Shamus/Getty Images
What a tangled web we weave, when we practice to...drive under the influence of intoxicants? It's hard to draw a direct connection between the Detroit Lions' off-field struggles in the spring and summer of 2012, and their disastrous flop on the gridiron.
Something, though, was rotten in Detroit. A team that had improved from 0-16 in 2008, to 2-14 in 2009, to 6-10 in 2010, to 10-6 and a long-awaited playoff berth, returned 21 of 22 starters and suffered a 4-12 implosion.
Time and time again, the Lions whole failed to equal the sum of its highly paid, highly talented parts. Only Calvin Johnson delivered, as he shattered the regular-season receiving yardage record.
Matthew Stafford looked like the cocky, shell-shocked rookie he was in 2009, and his 17 interceptions against just 20 touchdowns looked like rookie numbers, too. The Lions offense scored just 23.2 points per game, ranked 17th and well behind their 29.6 point-per-game clip of 2011.
Technically, the defense allowed 24.2 points per game, but that counts a slew of punt, kickoff, interception and fumble-return touchdowns that confounded the Lions during their 1-3 start.
The Lions again spent big money to keep many of its key players around, but lost stalwart left tackle Jeff Backus and would-be Hall of Fame candidate kicker Jason Hanson to retirement (if kickers made the Hall of Fame).
They also lost right tackle Gosder Cherilus, defensive tackle Sammie Hill, and linebacker Justin Durant to free agency.
However, the Lions had 6.5 Pythagorean wins, meaning they won 2.5 fewer games than they "should" have given their scoring differential. Even if the Lions don't bounce back to playoff form, they should bounce back to a degree.
Week 1: Detroit Lions vs. Minnesota Vikings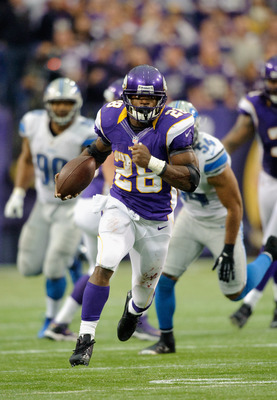 Hannah Foslien/Getty Images
Kickoff Time and Network: Sep. 8, 1:00 pm ET, FOX
The NFL did a wicked, wicked thing by scheduling the Detroit Lions and Minnesota Vikings to open and close their seasons against each other.
The opening fixture is almost more important; by the end of the season it's likely that one of these two teams' fates will already be sealed. Making sure they aren't that team is the name of the opening game.
The Vikings always tend to play well at Ford Field, and the Lions' best weapon against Adrian Peterson—run-stopping linebacker Justin Durant—left via free agency. This should be a close game, but a breakaway Adrian Peterson run makes the difference.
SCORE PREDICTION: 28-24, Vikings
Week 2: Detroit Lions at Arizona Cardinals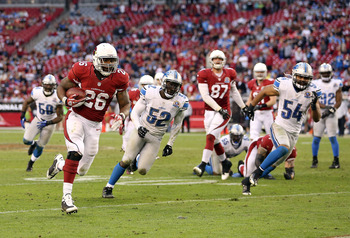 Christian Petersen/Getty Images
Kickoff Time and Network: Sep. 15, 4:05 pm ET, FOX
It was a humiliation the Detroit Lions won't soon forget. After the crushing road loss to the Green Bay Packers cemented a year with no playoffs and no win in Wisconsin, the Lions travelled to Arizona for a pencilled-in win.
The Cardinals didn't get the memo, and shocked the Lions 38-10.
This season, both teams are looking to bounce back, but the Cardinals have cleaned house, while the Lions have mostly stayed put. New head coach Bruce Arians has a whole lot of work to do this season; Lions head coach Jim Schwartz just needs to focus on execution.
That's the edge the Lions need to get their revenge.
SCORE PREDICTION: 35-17, Lions
Week 3: Detroit Lions at Washington Redskins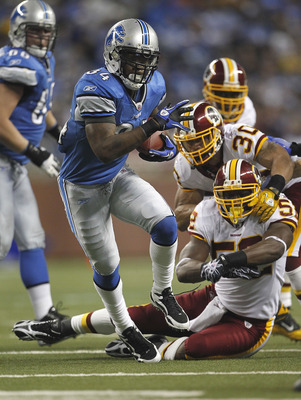 Leon Halip/Getty Images
Kickoff Time and Network: Sep. 22, 1:00 pm ET, FOX
Legend tells—okay, the Washington Post's Mike Wise tells—that when the Detroit Lions beat the Washington Redskins in 2009, was a fateful day for the Redskins franchise.
As the Lions broke a winless streak that extended past the beginning of the season before, with the Lions coming out of the locker room for a post-game curtain call, Redskins owner Dan Snyder and his top advisors began drinking.
That's when Synder began his pursuit of head coach Mike Shanahan.
Since then, both teams have made the playoffs, and both teams are looking to do so again this season. The Lions, however, are the ones who embarrassed themselves last season, and the Redskins and Robert Griffin III are ascendant.
SCORE PREDICTION: 34-30, Redskins
Week 4: Detroit Lions vs. Chicago Bears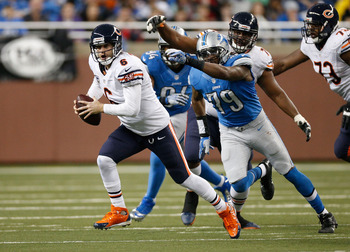 Gregory Shamus/Getty Images
Kickoff Time and Network: Sep. 29, 1:00 pm ET, FOX
The Chicago Bears probably wouldn't have chosen to open their season with two AFC North road games and two divisional games, but it happened.
The Detroit Lions host the Chicago Bears in Week 4, and the division race will already be tightening up. Last season, with the Bears' playoff hopes on the line and the Lions playing for nothing but pride, the Bears roared out to a 20-3 lead. They then barely staved off a Lions comeback, closing out a 26-24 win.
This season, the Lions will need this one more than the Bears do, and vengeance will certainly be on their mind. Calvin Johnson will be looking to finally crack Charles "Peanut" Tillman, and the Bears' linebackers will have to deal with the combination of Reggie Bush and Mikel Leshoure.
Jay Cutler and Matthew Stafford will be mysteriously quiet in this one, as both secondaries tend to play at their best against each other. It's close, but it's a Lions win.
Score Prediction: 17-14, Lions
Week 5: Detroit Lions at Green Bay Packers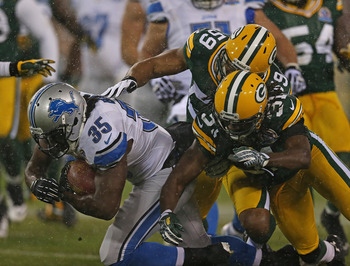 Jonathan Daniel/Getty Images
Kickoff Time and Network: Oct. 6, 1:00 pm ET, FOX
The Detroit Lions haven't beaten the Green Bay Packers in Wisconsin since before Jason Hanson was drafted, so everything that applies to how incredibly long Hanson played in the NFL applies to this streak and then some.
The Lions were leading the Packers 14-3 in this game, but a botched snap started the downhill-rolling snowball that buried the Lions once again.
The Lions are lucky that this matchup game comes so early in the schedule, but the lack of frozen tundra won't help them contain Aaron Rodgers against a back seven that lost linebacker Justin Durant and will still be relying on second-year cornerback Bill Bentley and never-healthy safety Louis Delmas.
Just as it did last season, and for many seasons before, this game will come down to how well the Lions protect the football—and they never seem to.
SCORE PREDICTION: 30-27, Packers
Week 6: Detroit Lions at Cleveland Browns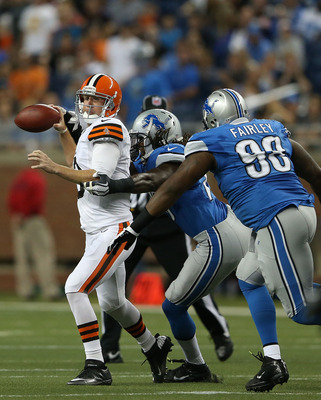 Leon Halip/Getty Images
Kickoff Time and Network: Oct. 13, 1:00 pm ET, FOX
For two teams with such little recent success, these two franchises have played a lot of games—and even some memorable ones.
Not only do the Cleveland Browns and Detroit Lions square off every preseason in the "Great Lakes Classic," the two teams have played some amazing games with little at stake—most memorably, the "Matthew Stafford Mic'd Up" game, where the then-rookie won the game by throwing a touchdown pass on a dislocated shoulder.
This one will have a little more at stake; the two young teams both had big aspirations last season and flopped. The Browns' reloaded defense will be a tough matchup for the Lions, and their pass rush is unlikely to hit home with the protection the Browns give Brandon Weeden.
With two strong running games, it will likely, again, come down to Stafford.
SCORE PREDICTION: 24-21, Lions
Week 7: Detroit Lions vs. Cincinnati Bengals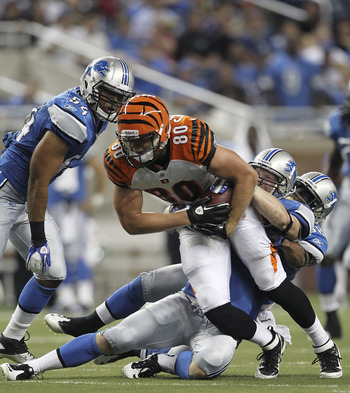 Leon Halip/Getty Images
Kickoff Time and Network: Oct. 20, 1:00 pm ET, CBS
The Detroit Lions and Cincinnati Bengals have a lot in common: both have built around a young quarterback and dominant wide receiver, both have built their defenses around a solid front seven and good-enough secondary.
The problem for the Lions is that the Bengals have built their defense much more successfully.
The Lions defense played well last season, but was repeatedly hamstrung by the offense and special teams. This season, even if the offense and special teams are corrected, the Lions lost a lot of key personnel. It's doubtful they can slow down A.J. Green.
However, the Lions have invested heavily in their running game, and the Bengals sorely need to. Unless the Bengals get a game-breaking back in the draft (or the Lions fail to address the defense), the Lions win this one in a squeaker.
SCORE PREDICTION: 35-33, Lions
Week 8: Detroit Lions vs. Dallas Cowboys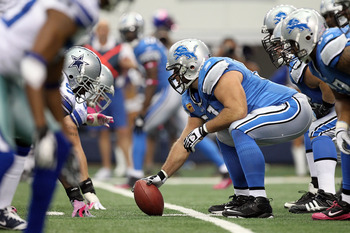 Ronald Martinez/Getty Images
Kickoff Time and Network: Oct. 27, 1:00 pm ET, FOX
The Dallas Cowboys are in for a rough time on defense this season, perhaps no rougher than when the man-to-man Rob Ryan-built secondary has to try and defend Calvin Johnson in a Tampa 2 zone.
The Cowboys can certainly match, if not exceed, the Lions' offensive talent, but the Lions defense has been built for four years to play the scheme they're in. The Lions also have a big advantage in the running game, with the Cowboys almost certain to draft and start a rookie.
New Lions safety Glover Quin should help the cornerbacks deal with Dez Bryant and the Cowboys receivers, but this will still be a track meet. At home, the Lions score last.
SCORE PREDICTION: 35-30, Lions
Week 10: Detroit Lions at Chicago Bears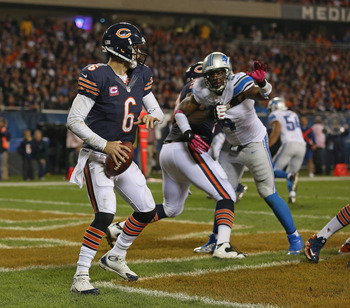 Jonathan Daniel/Getty Images
Kickoff Time and Network: Nov. 10, 1:00 pm ET, FOX
Last season, this matchup was a bar fight, a no-holds-barred 13-7 round of fisticuffs. The Detroit Lions and Chicago Bears had a score to settle, and settled it was.
The Lions could not move the ball against the Bears. Cornerback Charles "Peanut" Tillman completely shut Calvin Johnson down, and the Lions could not hold onto the ball to save their lives. Reggie Bush might provide the ball security that Mikel Leshoure didn't, but can Bush get the tough yards?
Coming off a bye week and a division loss, the Bears will need this game, and the home-field advantage should give it to them. The Lions will be riding a winning streak, but Soldier Field is where it snaps.
The Lions keep waiting for the season when they get revenge for the Calvin Johnson Rule catch, but it's doesn't look like this will be the year either.
Score Prediction: 21-17, Bears
Week 11: Detroit Lions at Pittsburgh Steelers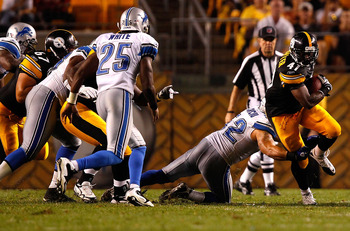 Jared Wickerham/Getty Images
Kickoff Time and Network: Nov. 17, 1:00 pm ET, FOX
The Pittsburgh Steelers are a nightmare matchup for the Lions.
Ben Roethlisberger is a master of evading the pass rush, and the Lions edge rushers are practically nonexistent. Look for Ndamukong Suh and Nick Fairley to repeatedly flush Ben out of the pocket, only for Big Ben to find Antonio Brown or Emmanuel Sanders open in space.
Johnathan Dwyer should be able to run through the heart of the Lions defense with little resistance; unless Reggie Bush hits a few home runs the Steelers have the advantage there, too.
On the road, this is a clear loss for the Lions
SCORE PREDICTION: 28-10, Steelers
Week 12: Detroit Lions vs. Tampa Bay Buccaneers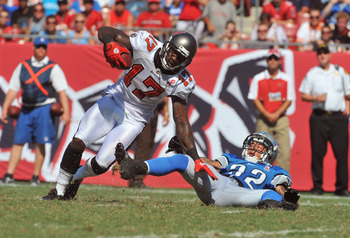 Al Messerschmidt/Getty Images
Kickoff Time and Network: Nov. 24, 1:00 pm ET, FOX
The Detroit Lions have had good luck in Tampa Bay. Not long ago, Jim Schwartz celebrated breaking the Lions' interminable road loss streak with the first of his trademark fist pumps.
In many ways, the Lions and Buccaneers mirror each other. Both started major rebuilds around rookie quarterbacks in 2009. Both drafted a top-three pass-rushing defensive tackle in 2010.
Both achieved success in fits and starts and streaks. Both fell short of expectations in 2012.
Last season, the Buccaneers rode the momentum of a new head coach and splashy free-agent period to a hot start, only to cool off at the finish. This season, I see the Buccaneers finally starting to jell as head coach Greg Schiano's methods take root.
The Lions have never excelled on the road, and without a clear talent advantage it's hard to see a victory here.
SCORE PREDICTION: 24-21, Buccaneers
Week 13: Detroit Lions vs. Green Bay Packers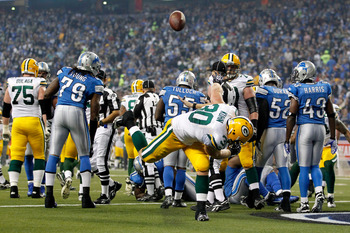 Gregory Shamus/Getty Images
Kickoff Time and Network: Nov. 28 (Thanksgiving), 12:30 pm ET, FOX
Sometimes, rivalries are really rivalries. It's not when two teams have been in the same division for umpteen years. It's not when generations of fans of two teams teach each other to hate the other team.
A real rivalry is when two teams—the players and coaches that take the field—have beef.
In a rivalry that's seen the Suh stomp, the Packers put the exclamation point on the Lions' 0-16 season and Matt Flynn get paid solely on the strength of his pinball game against the Lions, this matchup means a little more.
Unless Matthew Stafford and the Lions somehow get much better by losing three-fifths of their starting offensive line, they don't have the ability to end the Packers' Wisconsin winning streak.
Every season, though, there's a game the Ford Field crowd helps the Lions steal.
This season, it'll be on Thanksgiving.
SCORE PREDICTION: 28-27, Lions
Week 14: Detroit Lions at Philadelphia Eagles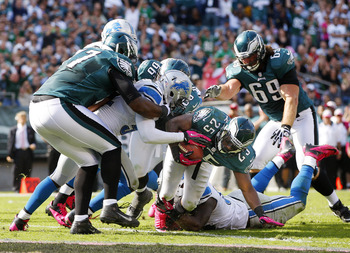 Rich Schultz/Getty Images
Kickoff Time and Network: Dec. 8, 1:00 pm ET, FOX
The Detroit Lions beat the Philadelphia Eagles last season back when they were still something resembling the "Dream Team." By this December, we'll have a much clearer idea of what these new-look Eagles are about.
Whether it's by injury, hot streak or cold streak, the Eagles' quarterback situation should be settled by this point. Though the Eagles' offense should work just fine—especially for LeSean McCoy, who will gash the Lions—their massive defensive overhaul is just too much too soon for the Eagles to contend in year one.
It's close, but the Lions again earn a vital road win.
SCORE PREDICTION: 28-27, Lions
Week 15: Detroit Lions vs. Baltimore Ravens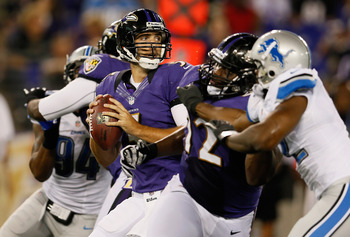 Rob Carr/Getty Images
Kickoff Time and Network: Dec. 16th, 8:40 pm ET, FOX
When the Detroit Lions last hosted Monday Night Football, it was a game for the ages. Not only did the Lions reel off a famous victory over the Chicago Bears, the frenzied home crowd forced the Bears into nine false starts. Jim Schwartz even awarded Lions fans a game ball, which sits on display in Ford Field.
The Baltimore Ravens may be Super Bowl champions, but a lot of the veteran leadership that got them through the playoff pressure cooker are gone. The Ravens will be walking into a snake pit on Monday night, and they won't come out victors.
SCORE PREDICTION: 28-20, Lions
Week 16: Detroit Lions vs. New York Giants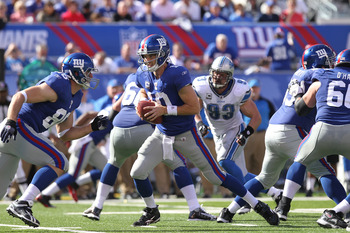 Nick Laham/Getty Images
Kickoff Time and Network: Dec. 22nd, 4:05 pm ET, FOX
The Detroit Lions' bounce-back season will nearly be complete by the time this week rolls around, but beating Eli Manning and the New York Giants is a big ask.
Can the Lions offensive line handle Jason Pierre-Paul and the Big Blue pass rush? Even if they add a rookie tackle at the top of the draft
The Lions will be fighting for their playoff lives, and the Giants could still be in contention for a division crown. This will matter just as much to the Giants as it does to the Lions, and it's hard to see Detroit coming away victorious.
SCORE PREDICTION: 24-17, Giants
Week 17: Detroit Lions at Minnesota Vikings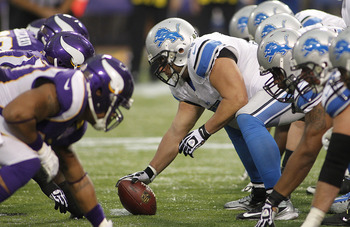 Andy King/Getty Images
Kickoff Time and Network: Dec. 29th, 1:00 pm ET, FOX
There just aren't enough wins to go around.
In the NFC North, there are two perennial favorites, one returning playoff team and one playoff team from two years ago that had a nasty playoff hangover. All of their rosters have been fairly static throughout, and all of them are talented enough to put together a run.
Either the Vikings or the Lions could be fighting for their playoff lives; it's quite possible that the winner takes the wild-card berth and the loser goes home. More likely, though, one of these teams will need to win this game, and the other will try to play spoiler.
The Lions will beat their 2012 hangover in 2013; this season is the Vikings' turn to drink coffee and chew aspirin.
SCORE PREDICTION: Lions, 24-17
Keep Reading

Detroit Lions: Like this team?