Frank Mir vs. Daniel Cormier Head-to-Toe Breakdown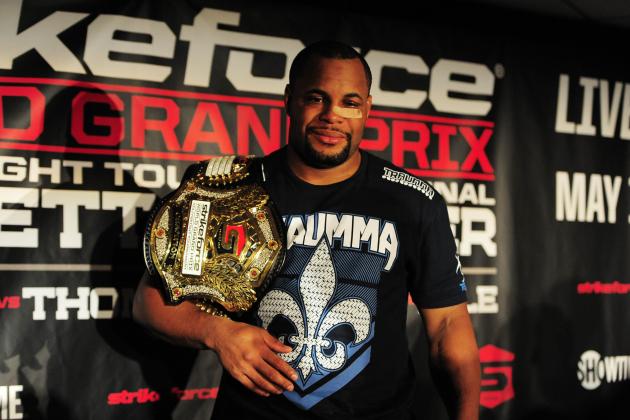 Kyle Terada-USA TODAY Sports

Daniel Cormier will make his UFC debut this Saturday on FOX, and he will step right in to the deep end of the pool against former UFC heavyweight champion Frank Mir.
Mir has been out of action since suffering a defeat to then champion Junior dos Santos last May. Time off and a change of camp to Jackson's MMA will try to put him back on the map this Saturday.
This is a premier fight in the heavyweight division. Two elite heavyweights. Cormier will try and make a case for a title shot in his next bout, and Mir wants to play spoiler and upset the rising prospect. This fight can go any number of ways.
This is a head-to-toe breakdown of the fight before Saturday's action gets underway.
Begin Slideshow

»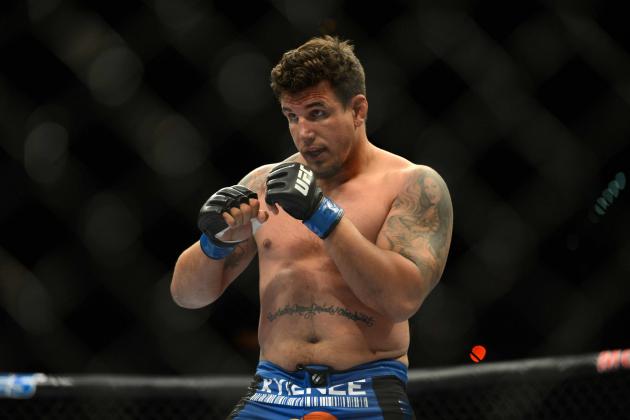 Ron Chenoy-USA TODAY Sports

Striking is not either man's forte. They are grapplers. However, both are dangerous on the feet if underestimated.
Cormier showcased his knockout power in Strikeforce. He has tremendous power in his hands, and they do damage when they land. He continues to hone his skills at AKA in the Bay Area. With each passing training session he improves his striking.
Mir has been at this a bit longer than Cormier, and the camp switch to Jackson's will only further his development. That's where his advantage lies.
Mir has showcased solid power in his hands, and he has a growing all-around striking attack. He has more time put in to his striking, and thus has a small edge on the feet. He can throw more techniques at Cormier if the fight stays standing.
Edge: Mir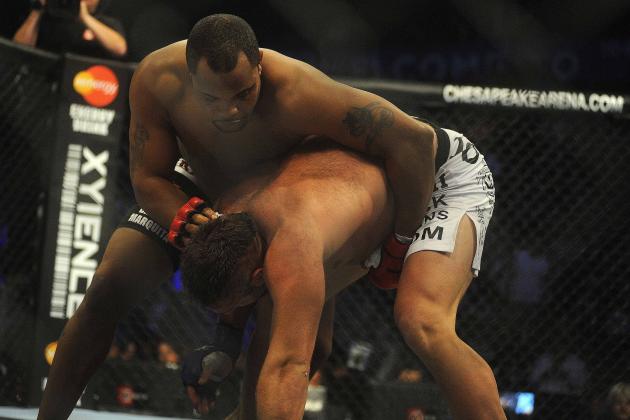 USA TODAY Sports

I could have broken this down with a more foggy title, but let's get to the point. This is a case of wrestling vs. jiu-jitsu (which I'll get to in the next slide).
Mir has worked on his wrestling, but Cormier is world class.
That term gets thrown around a lot in MMA, but Cormier truly is a world-class wrestler. He has represented our nation on the biggest stage and just barely missed the podium at the 2004 Olympic Games. There is no comparison regarding who is the better wrestler, and Cormier should control where their fight takes place.
Mir will want to avoid the clinch against Cormier.
Edge: Cormier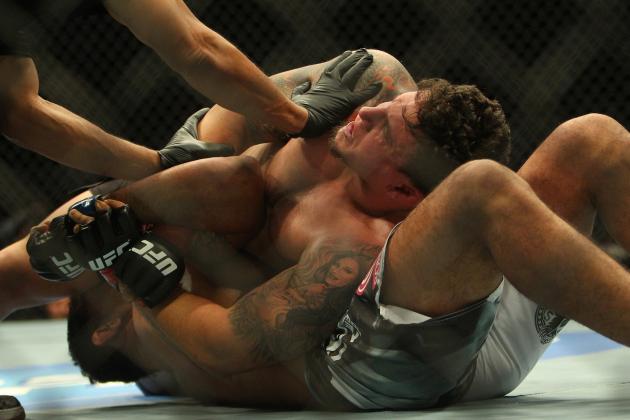 Tom Szczerbowski-USA TODAY Sports

Much like the previous slide, this is a no-brainer. Mir holds the clear advantage in the submissions category.
The question is: how does he get it to the mat?
Unless Cormier takes him down Mir will likely have to decide if he wants to pull guard on the decorated wrestler. It will be a hard decision to make, but Cormier may make it his only option. Once on the ground, it is in Mir's world.
Mir can submit anyone. Mir is ruthless.
If Mir has an appendage he will try to break it, and if you refuse to tap out he will do just that. He has proven it inside the Octagon on more than one occasion. If Cormier finds himself on the ground he will be playing with fire.
Edge: Mir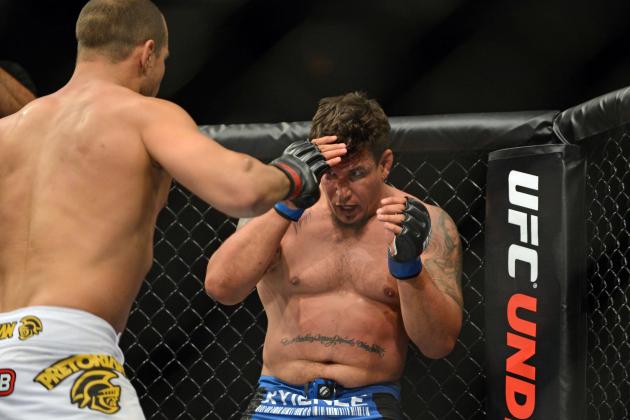 Ron Chenoy-USA TODAY Sports

Cormier's X-Factor: Striking Offense
Cormier has to be successful on his feet to avoid going to Mir's world. Cormier's wrestling will allow him to dictate where this fight takes place, but if he can find success on his feet he can avoid Mir's ground game.
Mir has more weapons on the feet, but Cormier has the power advantage. Cormier has to find holes in Mir's striking and punish him.
Mir's X-Factor: Striking Defense
If there has been one thing that has gotten Mir in trouble in the past it has been his striking defense. He has allowed heavy hitters to slip through his defense and put him away.
Cormier's speed and power will test Mir's defense.
We will get a good look at how much Mir has improved when he stands at a striking distance with Cormier. If Mir can avoid Cormier's attacks and score his own offense he'll force Cormier to take the fight to the ground.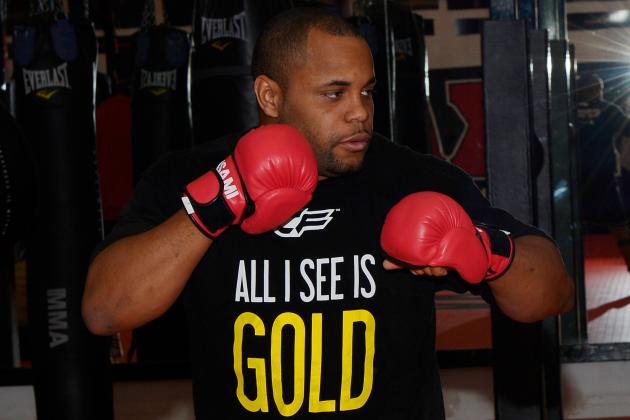 Thearon W. Henderson/Getty Images

This is a very interesting fight. It is a fantastic stylistic matchup for fans.
If the fight stays standing it will be interesting to see if Cormier's power can top Mir's technique. If the fight hits the canvas we will see if Cormier's top game can stifle the jiu-jitsu of Mir.
I believe this fight will primarily take place on the feet. Because Cormier will not allow it to go past the first five minutes.
Cormier will land one shot that will alter the fight. When that punch slips through and connects Mir will be in deep trouble. Cormier's killer instinct will kick in and the referee will jump in to peel him off.
Cormier will be a top contender in the UFC after this fight.
Prediction: Cormier defeats Mir by TKO in the first round