2013 Atlanta Falcons Schedule: Game-by-Game Predictions, Info & Analysis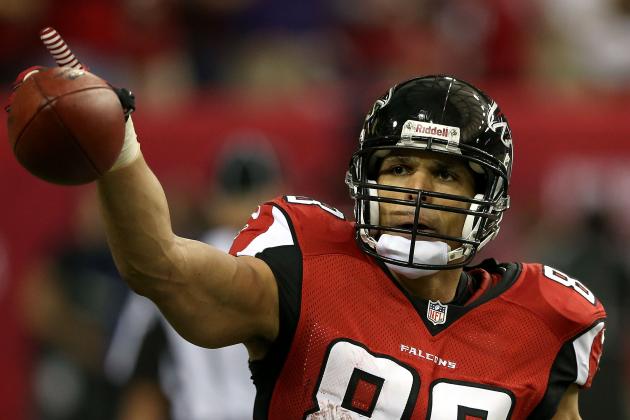 Streeter Lecka/Getty Images

The 2013 regular season schedule for the Atlanta Falcons has been released by the NFL.
For some time, the Falcons have known who they would play, but it wasn't until April 18 that the dates and times and television determinations were released to the public.
The Falcons soared to a 13-3 record last season and secured the NFC's No. 1 seed in the playoffs. In 2013, it will be "Super Bowl or Bust."
Can the birds get it done?
Here is a look at the complete 2013 Falcons schedule with a game-by-game analysis and prediction for each.
Begin Slideshow

»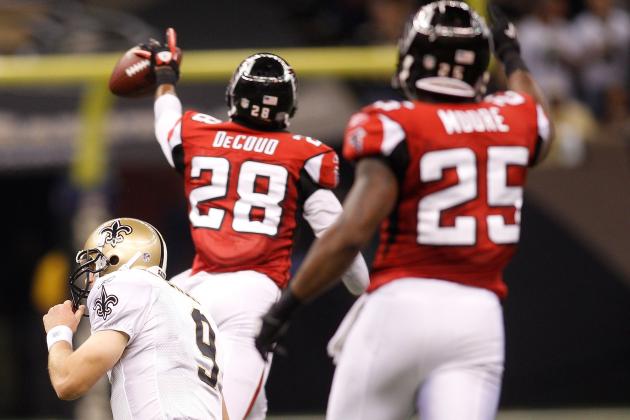 Chris Graythen/Getty Images

Date/Time: Thursday, Nov. 21, 8:25 p.m. ET
Network: NFL Network
Matt Ryan's big three receivers are still intact now that Tony Gonzalez has decided to return for one final season in 2013.
Gonzalez will stand with Roddy White and Julio Jones to make up one of the best trio of receivers in the NFL.
It next to impossible for opposing defenses to cover all three of Ryan's options, making Atlanta's offense so potent. However, with the addition of Steven Jackson at running back, the Falcons have instantly upgraded from Michael Turner and made Dirk Koetter's offense seemingly unstoppable.
Jackson will give Atlanta's running game a boost and his sure hands out of the backfield give Ryan an extra target in the passing game.
Imagine Atlanta being able to line up in 21 Personnel (two running backs with one tight end) with White and Jones split out wide. If the two backs are Jackson and Jacquizz Rodgers, either one or both can split out and run passing routes, giving Ryan five receivers from a two-back set and flummoxing opposing defenses.
This is the versatility Koetter will be able to play with in 2013.
New Orleans is also going to be playing around with versatility, but the Saints will be looking for pass rushers as the Saints move from a 4-3 defensive scheme to a 3-4.
The move, in theory, will help the Saints get more pressure on opposing quarterbacks and slow down both the run and pass. Just how much the Saints will be able to slow down the Falcons, however, is anyone's guess.
SCORE PREDICTION: Atlanta 27, New Orleans 20
LAST MEETINGS (2011):
Week 10: New Orleans 31, Atlanta 27 (Superdome)
Week 13: Atlanta 23, New Orleans 13 (Georgia Dome)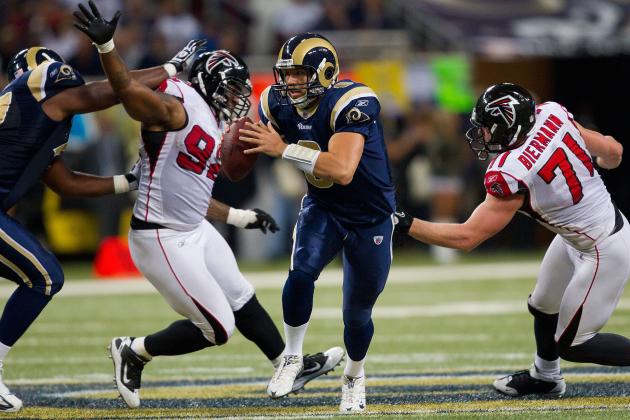 Dilip Vishwanat/Getty Images

Date/Time: Sunday, Sept. 15, 1 p.m. ET
Network: Fox
It's a good thing the Falcons will face the St. Louis Rams in the Georgia Dome in 2013 because if this game were in St. Louis, running back Steven Jackson would definitely get an earful of boos and nastiness shouted his way.
Jackson bolted from the Rams to the greener pastures of Atlanta in hopes of making a trip to the Super Bowl with the Falcons. This game will be a chance for Jackson to catch up with some of his old teammates and get the feel of how a high-powered offense can run all over the Rams.
St. Louis finished last season ranked No. 15 in run defense, but had trouble stopping the run when facing high-powered offenses with big-run or big-arm components. The eight teams that ran for more than 100 yards on the Rams in 2012 were led by rushers named Shonn Green, Alfred Morris and Frank Gore or quarterbacked by Tom Brady or Aaron Rodgers.
Atlanta will enter this game with one of the best quarterbacks in the NFL in Matt Ryan and one of the league's best rushers in Jackson. St. Louis usually folds against offenses that pack this much punch, and I expect this game to be no different.
SCORE PREDICTION: Atlanta 40, St. Louis 17
LAST MEETING: Atlanta 34, St. Louis 17 (2010)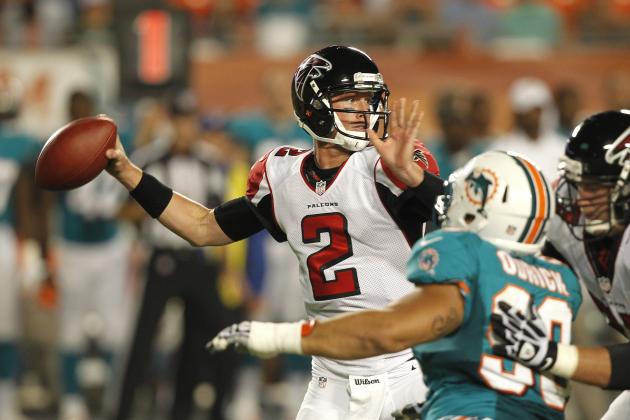 Joel Auerbach/Getty Images

Date/Time: Sunday, Sept. 22, 4:05 p.m. ET
Network: Fox
The Miami Dolphins made some offseason moves that will make this game with the Atlanta Falcons somewhat interesting.
Wide receiver Mike Wallace was brought in to be quarterback Ryan Tannehill's new best friend, and Wallace will stretch the field for the Dolphins, but Miami's new success in the passing game won't be all about Wallace.
After throwing 11 interceptions through 10 games last season, Tannehill calmed down and only tossed two more picks through the final six games of the season. He also threw the same number of touchdowns (six) in those final six weeks than he did in the first 10 weeks.
Tannehill should be an improved passer in 2013 and the Dolphins should be able to exploit a Falcons' secondary that lost both Dunta Robinson (to Kansas City) and Brent Grimes to the Dolphins.
Grimes is going to have to earn the money Miami paid him against Atlanta because the Falcons are going to have to air it out.
Miami ranked 13th against the run last season and added linebackers Dannell Ellerbe and Philip Wheeler to help out. Even the best of defenses have trouble stopping Atlanta's aerial attack, and while Miami is improved, it's not elite.
This game will be closer than expected, but Miami doesn't have enough yet to beat Atlanta.
SCORE PREDICTION: Atlanta 26, Miami 17
LAST MEETING: Atlanta 19, Miami 7 (2009)
Mike Zarrilli/Getty Images

Date/Time: Sunday, Sept. 29, 8:30 p.m. ET
Network: NBC
The first word most think of when the topic of the New England Patriots comes up is "offense."
OK, maybe it's Tom Brady, but Brady's name is somewhat synonymous with offense.
The same can be said about the Falcons and quarterback Matt Ryan, who has his team moving forward fast. His trio of targets in Roddy White, Julio Jones and Tony Gonzalez gives Ryan the ability to move the football at will.
The Patriots boasted the league's most powerful offense in 2012, gaining 6,846 yards. Atlanta ranked eighth with 5,906 total yards. Both teams took to the air with regularity and their 2013 matchup won't be any different.
This game could come down to which defense can affect the others' offense the most. Atlanta's pass defense was a bit better than New England's last season, but the Falcons lost two of their three starting cornerbacks to free agency and still have a huge hole opposite Asante Samuel prior to the NFL draft.
Ryan should be able to keep up with Brady in this game, but I like the Patriots when all is said and done because Brady typically has great success against secondaries with issues.
SCORE PREDICTION: New England 33, Atlanta 27
LAST MEETING: New England 26, Atlanta 10 (2009)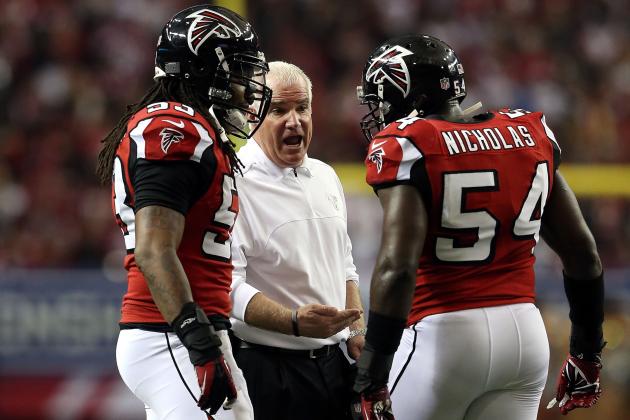 Streeter Lecka/Getty Images

Date/Time: Monday, Oct. 7, 8:40 p.m. ET
Network: ESPN
There are a couple of things that the Falcons do not do well.
Atlanta's had trouble in recent years getting to opposing quarterbacks and, last season, the Falcons' defense had big troubles stopping the opposing team's rushing attack.
Luckily for Atlanta in this matchup with the New York Jets, those two weaknesses will not be exposed.
Throwing the ball for the Jets will be (OK, could be) Mark Sanchez, who tossed 18 interceptions last year and only threw for 13 touchdowns. After Sanchez, the Jets have Tim Tebow at QB3 and brought in David Garrard to compete with Sanchez.
There is nobody among that quarterback crew who strikes fear in opposing defenses.
The Jets also lost their most capable running back in the offseason to free agency as Shonn Green will not be around to help the Jets pound the ball on the ground.
If the Jets aren't going to move the ball when they face the Falcons, it could be an ugly day for J-E-T-S Jets, Jets, Jets fans in the Georgia Dome as Matt Ryan and company will score a ton.
SCORE PREDICTION: Atlanta 37, New York Jets 14
LAST MEETING: Atlanta 10, New York 7 (2009)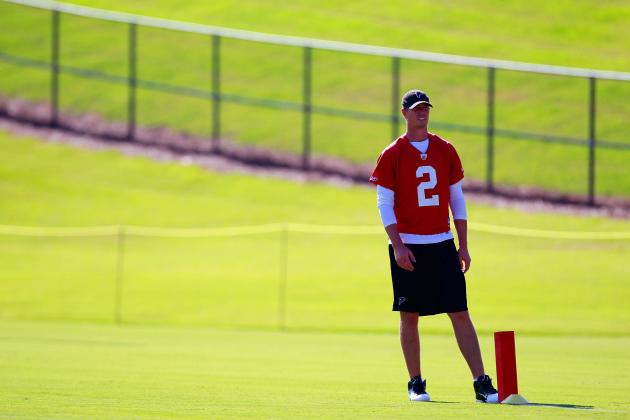 Kevin C. Cox/Getty Images

The Atlanta Falcons have an early bye week in 2013. They'll rest after playing just five games.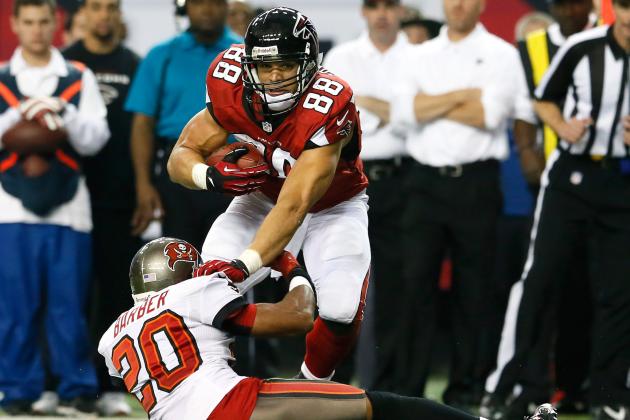 Kevin C. Cox/Getty Images

Date/Time: Sunday Oct. 20, 1 p.m. ET
Network: Fox
It might not have mattered to the seeding of the NFC playoffs, but losing to the Tampa Bay Buccaneers in Week 17 in the Georgia Dome last season had a profound effect on the Falcons.
Head coach Mike Smith told the NFL world he was playing to win, even though he had the No. 1 seed wrapped up. When the Buccaneers jumped out early to a lead they wouldn't relinquish, Smith had to keep fighting for the entire game.
The score and outcome made no difference, but defensive end John Abraham was hurt in the contest and wasn't the same for the duration of the playoffs.
This is not to say that the Falcons blamed the Buccaneers for what happened in the NFC Championship Game, but I imagine that when Tampa Bay comes to Atlanta there will be a bit of a chip on the Falcons' shoulders.
SCORE PREDICTION: Atlanta 33, Tampa Bay 20
LAST MEETINGS (2011):
Week 12: Atlanta 24, Tampa Bay 23 (Raymond James Stadium)
Week 17: Tampa Bay 22, Atlanta 17 (Georgia Dome)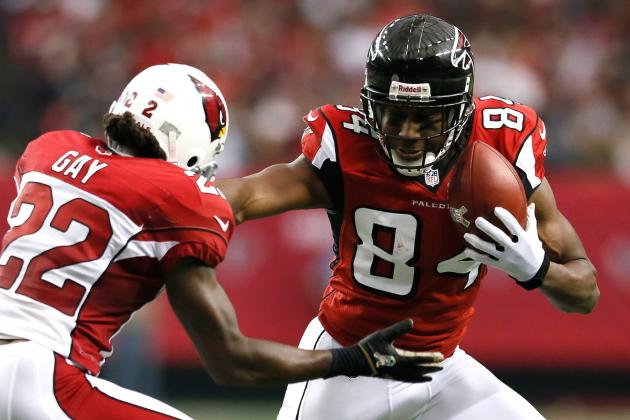 Kevin C. Cox/Getty Images

Date/Time: Sunday, Oct. 27, 4:25 p.m. ET
Network: Fox
The Falcons' game in Week 11 against the Arizona Cardinals last year should have been easy.
It wasn't.
Matt Ryan threw five interceptions and the Falcons had to come from behind to beat the Cardinals in the fourth quarter. Even though Ryan and the Falcons have become fantastically adept at late-game heroics, this was an experience they shouldn't have had to go through.
The Cardinals could be much improved in 2013. Veteran quarterback Carson Palmer is in town for Arizona and looks to open up the passing game. With Larry Fitzgerald on the outside, there may be some marked improvement there, especially against a Falcons' secondary that's missing two of its three starting cornerbacks from 2012.
Ryan is going to have to erase his mistakes from the year prior and get his offense going. Roddy White had a huge day in 2012 as the Cardinals chose to shut down tight end Tony Gonzalez and wide receiver Julio Jones. Arizona is going to have to pick its poison again in 2013 as the defense can't cover all three.
Since Arizona's run defense ranked 28th last year, newly acquired running back Steven Jackson could open up the passing lanes more for Ryan this time around.
SCORE PREDICTION: Atlanta 27, Arizona 20
LAST MEETING: Atlanta 23, Arizona 19 (2012)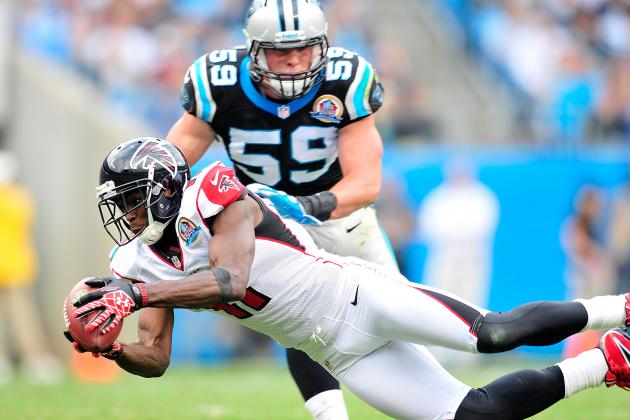 Grant Halverson/Getty Images

Date/Time: Sunday, Nov. 3, 1 p.m. ET
Network: Fox
There is still a sizable divide between the "haves" and the "have nots" in the NFC South. The Falcons are still the team to beat in the division and improved more in the offseason than did the Carolina Panthers.
Cam Newton came into his own down the stretch, playing like a Pro Bowl passer and leading the Panthers to five wins in their final six games, including one over the Falcons in a game where the Falcons looked outclassed in every aspect.
Newton should continue to grow as a quarterback in 2013, but this Carolina team has some major holes.
Atlanta's new running back, Steven Jackson, should be able to run roughshod over the Panthers' defense and Carolina's secondary will be likely weaker in 2013 than it was in 2012.
Matt Ryan may be like a kid in a candy store.
SCORE PREDICTION: Atlanta 34, Carolina 28
LAST MEETINGS (2011):
Week 4: Atlanta 30, Carolina 28 (Georgia Dome)
Week 14: Carolina 30, Atlanta 20 (Bank of America Stadium)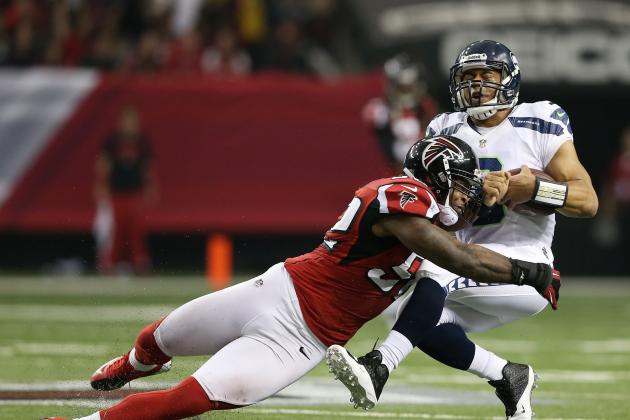 Streeter Lecka/Getty Images

Date/Time: Sunday, Nov. 10, 1 p.m. ET
Network: Fox
The matchup between the Falcons and the Seattle Seahawks is becoming somewhat of a heated rivalry.
The two played a back-and-forth playoff game in 2012 that could have gone either way, but Atlanta advanced to the NFC Championship Game before ultimately falling to the San Francisco 49ers.
By the looks of things that have happened during the offseason, Seattle isn't taking that loss lying down.
The Seahawks have arguably done more than any team in the NFL to bolster its defense. Add that to what second-year quarterback Russell Martin should able to do with a year of experience under his belt and Seattle looks downright dangerous.
On the flip side, the Falcons have done a lot to make sure their offense is as potent—hopefully, more potent—than a year ago. Adding Steven Jackson at running back will be a huge boost, as will having convinced tight end Tony Gonzalez to return for one more season.
Atlanta's problem in 2013 is that its defense won't be as strong as last season.
The Falcons enter the NFL draft missing a starting cornerback from their 2012 team and having lost John Abraham at defensive end. Osi Umenyiora was brought in to replace Abraham, but it's yet to be seen if he can fill those shoes.
Seattle fell just a bit short in its playoff bid last year to beat Atlanta. It appears that the Seahawks are in a better place right now than the Falcons.
SCORE PREDICTION: Seattle 27, Atlanta 21
LAST MEETING: Atlanta 30, Seattle 28 (2012 playoffs)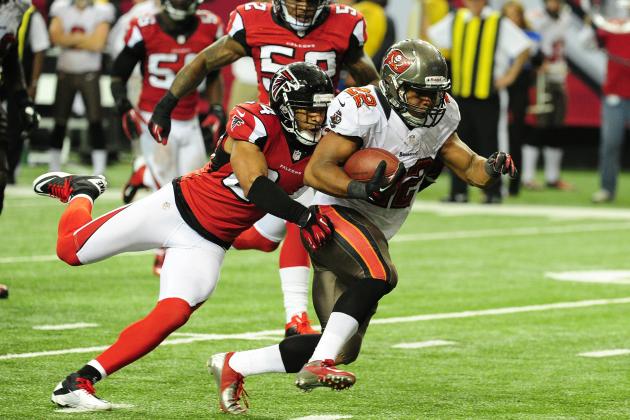 Scott Cunningham/Getty Images

Date/Time: Sunday, Nov. 17, 1 p.m. ET
Network: Fox
The Falcons haven't had an easy game in Tampa since the 2006 season when the Falcons beat the Buccaneers, 17-6. Since then, Atlanta is 3-3 when playing Tampa Bay on the road and has been outscored, 134-97.
There are a few reasons why Atlanta will continue to have trouble with the Buccaneers.
Running back Doug Martin showed he was the real deal as a rookie last year and Atlanta has trouble stopping the run lately. Martin rushed for 192 yards in two games against Atlanta last year and scored three touchdowns. He should continue to wreak havoc.
Josh Freeman showed off his arm at times in 2012 and built a good rapport with his receivers on deep balls.
Atlanta is down to just one starting cornerback on its roster and is going to have to address that need in the upcoming draft. Freeman may have a field day rocketing the ball toward that rookie.
On the flip side, Tampa Bay's pass defense was horrid last season and shouldn't be able to stop Matt Ryan. In a competition between Freeman and Ryan, Freeman is going to lose out more times than naught.
SCORE PREDICTION: Atlanta 24, Tampa Bay 22
LAST MEETINGS (2011):
Week 12: Atlanta 24, Tampa Bay 23 (Raymond James Stadium)
Week 17: Tampa Bay 22, Atlanta 17 (Georgia Dome)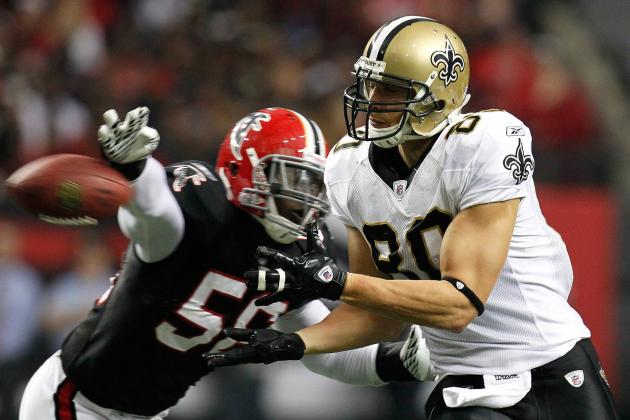 Kevin C. Cox/Getty Images

Date/Time: Sunday, Sept. 8, 1 p.m. ET
Network: Fox
When the Falcons and the New Orleans Saints play, it always football's version of a bloodbath. There's mutual respect here, but both these teams hate each other and it shows on the field and off it.
Last season, the Saints put the first lump in Atlanta's perfect season with a four-point win to push the Falcons to 8-1. Atlanta turned around and won by 10 points three weeks later.
That was the first season split between these two since 2010 as New Orleans has dominated this rivalry of late, winning 11 of the last 14 games.
Atlanta was stacked last season on offense, and the Falcons have reloaded and got even better for 2013. That's the matchup to watch between these two rivals in 2013—Atlanta's improved offense versus New Orleans' new-look defense.
The Saints are moving to a 3-4 defensive scheme in 2013 to get more pressure on opposing quarterbacks and slow down offenses that threw for 4,681 yards against them last season.
As is usually the case for defenses looking at the Saints' offense, it's going to be close to impossible to stop the Falcons in 2013. Where the Saints can succeed is slowing Atlanta down much more than it was able to do in 2012.
SCORE PREDICTION: New Orleans 35, Atlanta 31
LAST RESULTS (2011):
Week 10: New Orleans 31, Atlanta 27 (Superdome)
Week 13: Atlanta 23, New Orleans 13 (Georgia Dome)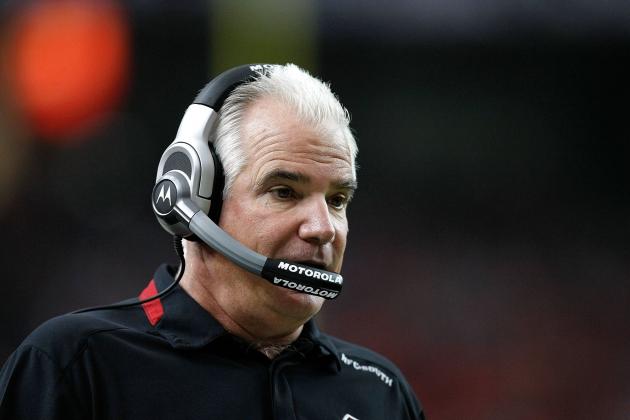 Kevin C. Cox/Getty Images

Date/Time: Sunday, Dec. 1, 4:05 p.m. ET
Network: Fox
If you look back over the past few seasons, the teams that were able to beat the Falcons are either division rivals or teams with great quarterbacks. Sometimes they are both—see Drew Brees and the New Orleans Saints.
The Buffalo Bills are neither an NFC South foe or have an elite quarterback under center.
The Bills will look different at quarterback now as Kevin Kolb will get his shot at driving the Buffalo bus.
Or will he?
There's a distinct chance that Buffalo will draft a quarterback with the eighth overall pick in the draft. Maybe it'll be Geno Smith or possibly Matt Barkley, but if either is taken, Buffalo will have its own quarterback controversy on its hands in training camp.
It shouldn't matter who is under center when Buffalo plays Atlanta, the Falcons have done a wonderful job—even though they might be weaker in the secondary than in the past few seasons—of keeping offenses out of the end zone.
Atlanta typically gives up yards (ranking 24th last season in total yards allowed), but holds firm in the red zone (ranking fifth in points allowed).
When it comes to offense, it's well known what Matt Ryan and company can do, but new addition Steven Jackson might be the biggest star when the Falcons travel north.
Buffalo ranked next-to-last a season ago when it gave up 2,333 yards on the ground to opposing teams. Jackson is going to have a field day against the Bills.
SCORE PREDICTION: Atlanta 31, Buffalo 10
LAST MEETING: Atlanta 31, Buffalo 3 (2009)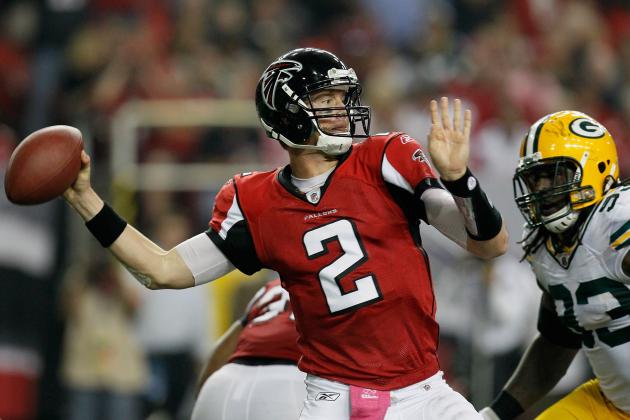 Kevin C. Cox/Getty Images

Date/Time: Sunday, Dec. 8, 8:30 p.m. ET
Network: NBC
The Green Bay Packers used to be synonymous with playoff failure in regard to recent Falcons' history.
After the 2010 season, the Falcons owned the coveted top seed in the NFC and a first-round bye. Green Bay was the No. 6 seed that got hot at the end of the regular season and came to the Georgia Dome and thumped Atlanta by 27 points en route to a Super Bowl Championship.
Not only did that game hurt because of expectation laid on the Falcons, but it also started a trend of playoff inadequacy under head coach Mike Smith and quarterback Matt Ryan.
Last year's win over the Seattle Seahawks proved that Ryan and company could win a playoff game, but don't think that discounts any recent bad blood between the Falcons and the Packers.
Atlanta will travel to the frozen tundra of Lambeau Field to face a top-notch Green Bay offense led by quarterback Aaron Rodgers, and this offense could pose problems for Atlanta's defense.
The Falcons have a glaring hole in the secondary as Asante Samuel is the only starting cornerback currently on Atlanta's roster. Atlanta still has some time to bring in a veteran, or the Falcons could look at cornerback early in the draft.
Either way, will whoever Atlanta brings in be ready to face the Rodgers-led aerial onslaught?
SCORE PREDICTION: Green Bay 31, Atlanta 21
LAST MEETING: Green Bay 25, Atlanta 14 (2011)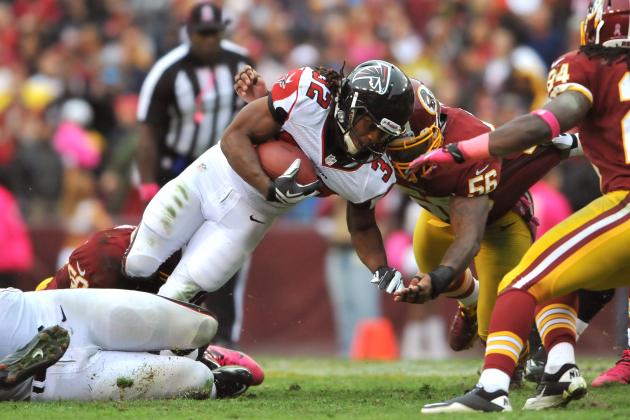 Larry French/Getty Images

Date/Time: Sunday, Dec. 15, 1 p.m. ET
Network: Fox
The 2012 meeting between the Falcons and the Washington Redskins was an intense battle to the finish that Atlanta won with a go-ahead Michael Turner touchdown run in the fourth quarter.
The game may or may not have been affected by the injury to Washington quarterback Robert Griffin III.
The 2013 rematch may also be affected by an injury to Griffin.
As Griffin recovers and goes through rehab to strengthen his surgically repaired knee ligaments, most accounts believe he'll be ready by Week 1 to take the field.
If there are any setbacks, however, or if Griffin just doesn't advance as he thinks he will, the Redskins will have to roll with Kirk Cousins under center. As this game lands on Week 15, odds are Griffin will be back.
Even though Griffin is a game-changer on the field, it may be running back Alfred Morris who makes the difference against the Falcons.
Atlanta had trouble stopping the run in 2012. Morris ran for 115 yards on the Falcons and as it stands before the draft, Atlanta hasn't done anything to bolster its run defense. If Morris can get going again, he can single-handedly win the game for the Redskins.
The more-likely game-changer in this one, however, will be Matt Ryan, who threw for 345 yards against Washington in 2012 and has just as many receiving options this year, along with an additional ace up his sleeve in running back Steven Jackson who should be much more electric than was Michael Turner.
The Falcons will just have too much offense in this one.
SCORE PREDICTION: Atlanta 27, Washington 21
LAST MEETING: Atlanta 24, Washington 17 (2012)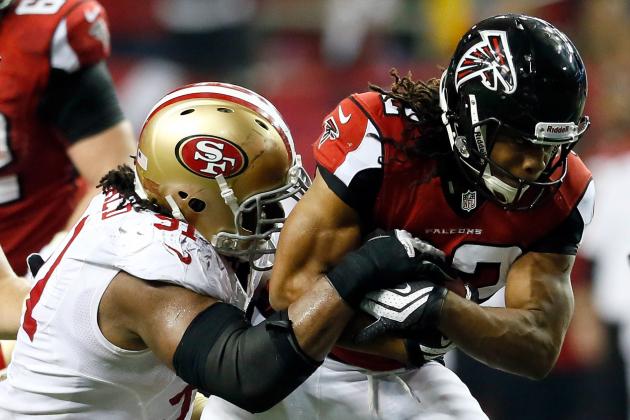 Kevin C. Cox/Getty Images

Date/Time: Monday Dec. 23, 8:40 p.m. ET
Network: ESPN
In last season's NFC Championship Game in the Georgia Dome, the Atlanta Falcons jumped out to a quick 17-0 lead in the second quarter before the San Francisco 49ers came blistering back to score 28 of the games next 35 points.
The Falcons had a chance for yet another magical late-game comeback, but Atlanta came up 10 yards short and had to watch the 49ers celebrate on their own field and advance to the Super Bowl.
Atlanta retooled in the offseason and even convinced tight end Tony Gonzalez, who was 95 percent sure he was going to retire, to return and make another go at the Super Bowl.
Standing in Atlanta's way once again, although this time in the regular season, are the 49ers.
There's a lot of math and statistics that can be used here to explain why the Falcons will travel to San Francisco and beat the 49ers, but the bigger reason is simple and something that can't be measured.
Atlanta will beat San Francisco because the Falcons have to win. It's all about heart.
The Falcons are in absolute "win now" mode and visions of blowing that NFC championship lead and watching San Francisco move on have to hurt. If Atlanta is going to prove to its fan base, if the Falcons are going to prove to themselves that 2013 is different, they must beat San Francisco.
They will.
SCORE PREDICTION: Atlanta 21, San Francisco 20
LAST MEETING: San Francisco 28, Atlanta 24 (2012 NFC Championship)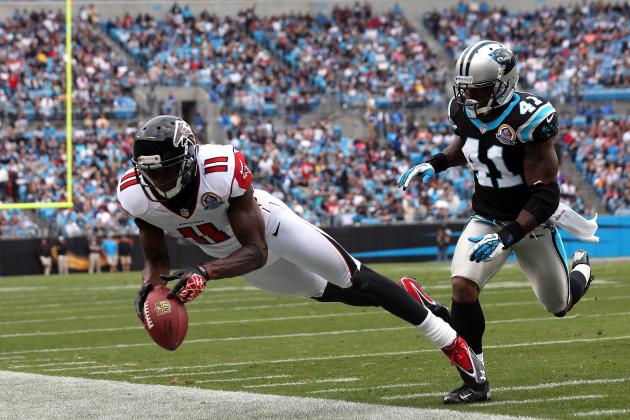 Streeter Lecka/Getty Images

Date/Time: Sunday,Dec. 29, 1 p.m. ET
Network: Fox
Rewind back to last season and revisit the Carolina Panthers' trip to the Georgia Dome.
Late in the fourth quarter, Panthers quarterback Cam Newton was trying to earn a few more yards on the ground and was hammered. Newton fumbled the football back behind the first-down mark and Carolina was forced to punt.
The punt was beautiful and pinned the Falcons deep inside their own territory with less than a minute to play.
From Atlanta's 1-yard line, Matt Ryan started a drive and completed three passes for 72 yards and set up Matt Bryant for a game-winning field goal.
The Panthers were close that day and this I-85 rivalry should never be taken for granted. Atlanta won't let Carolina get that close in 2013 as Steven Jackson may have a lot to say about that.
Unless some massive adjustments are made to the Carolina front-four in the draft, Jackson will find plenty of running lanes to exploit the Panthers on the ground. Even though Carolina found many ways to get to Ryan last season, he still did his damage and will do so again.
SCORE PREDICTION: Atlanta 35, Carolina 17
LAST MEETINGS (2011):
Week 4: Atlanta 30, Carolina 28 (Georgia Dome)
Week 14: Carolina 30, Atlanta 20 (Bank of America Stadium)