2013 Tampa Bay Buccaneers Schedule: Game-by-Game Predictions, Info & Analysis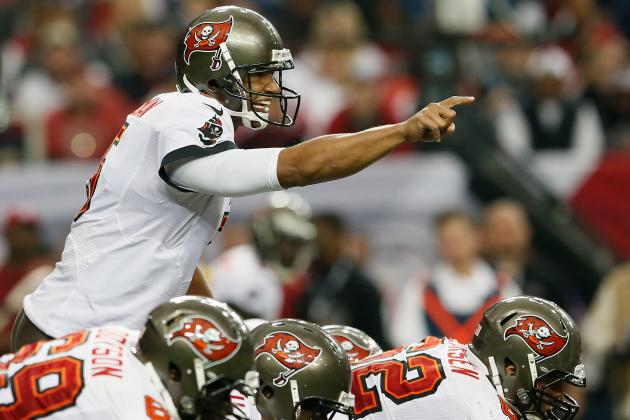 Kevin C. Cox/Getty Images

The 2013 regular-season schedule for the Tampa Bay Buccaneers has been released by the NFL.
For some time the Buccaneers have known who they would play in 2013, but it wasn't until April 18 that the dates, times and television determinations were released to the public.
Injuries took their toll and then Tampa Bay's normal December swoon occurred as the team finished in a tie for second place in the NFC South with a 7-9 record. While 7-9 shouldn't have been a disappointing season for a rebuilding team, it was. The Bucs fan base needs to see some improvement in 2013 from this roster that's growing evermore talented.
Here is a look at the complete 2013 Buccaneers schedule with a game-by-game analysis and prediction.
Begin Slideshow

»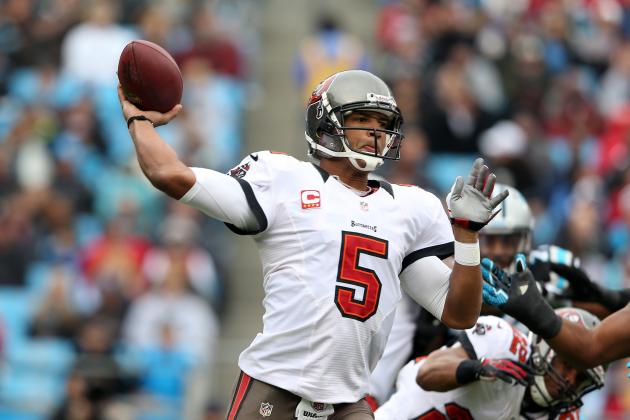 Streeter Lecka/Getty Images

Date/Time: Sunday, Sept. 8, 1 p.m. ET
Network: Fox
The New York Jets are a down-and-out kind of team, with everyone betting against them for the 2013 season. Then again, it's for good reason.
There's no reason to believe the Jets will be in the running for a postseason berth or to win more than five or six games during the regular season. Talent-wise, the Jets won't match up well with the Buccaneers on either side of the ball. Tampa Bay's offensive line should be able to neutralize outside linebacker Antwan Barnes and Doug Martin should be able to weave his way through the Jets defense.
The Bucs are the better team and will win this game. Without a true running back on the Jets roster, it will be hard to create a semblance of balance offensively. Buccaneers quarterback Josh Freeman will throw for three touchdowns with Vincent Jackson catching two of them.
SCORE PREDICTION: Tampa Bay 34, New York Jets 17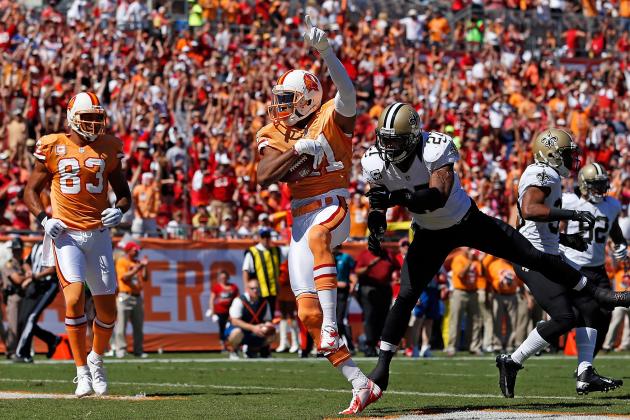 J. Meric/Getty Images

Date/Time: Sunday, Sept. 15, 4:05 p.m. ET
Network: Fox
The Tampa Bay Buccaneers were a controversial, but correct, officiating decision away from tying the New Orleans Saints at home last year on the final play of the game when Mike Williams apparently caught a touchdown pass in the back of the end zone.
But Williams had been pushed out of bounds and therefore couldn't be the first person to touch the football.
There wasn't much just about that call except it's the letter of the law.
Now the Bucs need to forget about that call, and that play, and go about protecting their house against the Saints. Tampa Bay plays New Orleans much better at home than they do on the road, winning two of the last five at home versus and playing much tighter games.
Getting pressure on Drew Brees will be crucial, as will opening up lanes for Doug Martin to brutalize the league's worst run defense of 2012. New Orleans will be switching to a 3-4 defensive scheme in 2013 to get pressure on opposing quarterbacks and slow down the run, and Tampa Bay's coaching staff needs to find ways to confuse the Saints as they are making this transition.
SCORE PREDICTION: Tampa Bay 24, New Orleans 21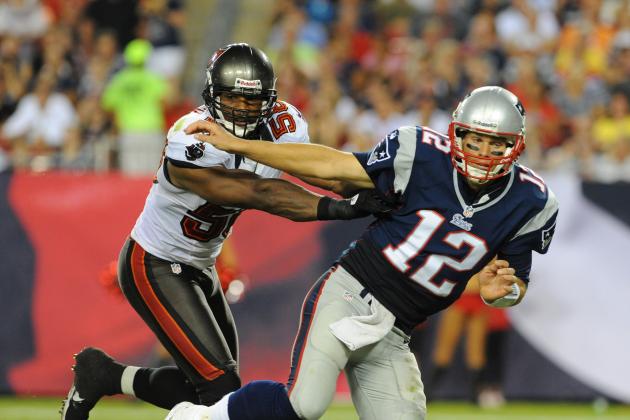 Al Messerschmidt/Getty Images

Date/Time: Sunday, Sept. 22, 1 p.m. ET
Network: Fox
Gillette Stadium is historically a tough place to play and it will be more of the same for the Tampa Bay Buccaneers.
The matchup problems Rob Gronkowski and Aaron Hernandez pose will prove to be too much for Tampa Bay's defense. Though Mark Barron and Dashon Goldson are a top-notch safety duo, forcing one to line up in man coverage could take away from other disguises Tampa would want to implement normally.
Doug Martin and the running game should be able to churn out some yards but it won't be enough against New England's high-octane attack. Look for Tom Brady to have one of his better days with the way the Patriots can spread the field. Danny Amendola and Julian Edelman could have some decent days as well, with Stevan Ridley locking the game up in the fourth quarter on the ground.
The Buccaneers will want to forget about this game as soon as the clock hits triple zeroes.
SCORE PREDICTION: New England 45, Tampa Bay 20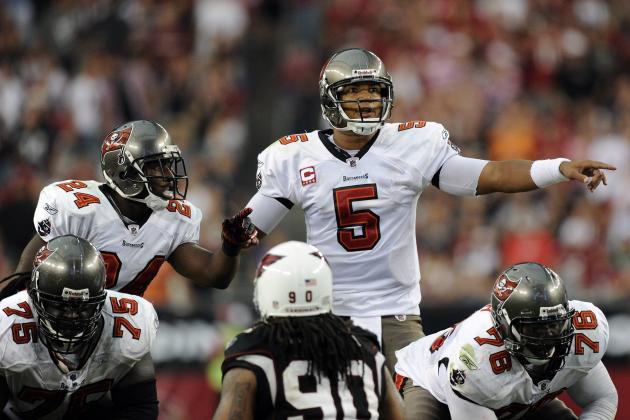 Harry How/Getty Images

Date/Time: Sunday, Sept. 29, 1 p.m. ET
Network: Fox
The Arizona Cardinals will be relying on Carson Palmer to find Larry Fitzgerald deep down the field all year. But against Tampa Bay, that could prove difficult with the safeties in the back end.
Mark Barron and Dashon Goldson should provide enough cushion to force Palmer to check down, which is something he's not too fond of doing. If Tampa Bay can force Palmer to do that, he'll play right into its hands.
Rashard Mendenhall was a shell of himself coming back from Achilles surgery. And without a solid offensive line, his stats may dwindle as well. Add in the fact that Arizona will be traveling to the East Coast, and this has all the makings of a blowout waiting to happen.
Doug Martin will be the one that sets the tone against the Cardinals. He'll help open up the receiving game so that the Bucs can take shots downfield.
SCORE PREDICTION: Tampa Bay 28, Arizona 10
J. Meric/Getty Images

The Tampa Bay Buccaneers play two road games and two home games before hitting their bye week incredibly early in Week 5. The break was in the same place last year and the Bucs regrouped nicely and rattle off five wins in six game directly after the bye.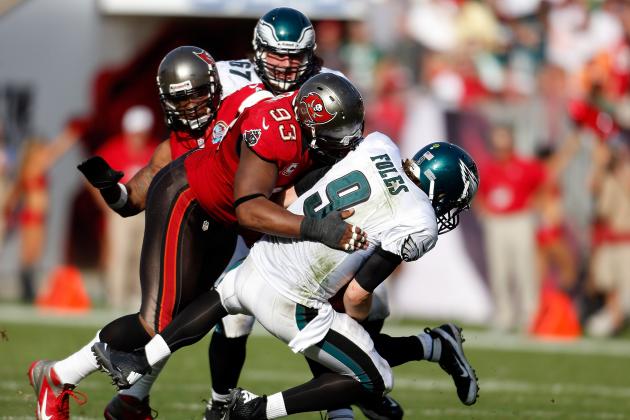 J. Meric/Getty Images

Date/Time: Sunday, Oct. 13, 1 p.m. ET
Network: Fox
Will the Philadelphia Eagles be able to implement option principles from Chip Kelly's college coaching days? That remains to be seen.
You'd have to think that the Eagles will rely on a little bit from both worlds—the option and the downfield passing game, in order to successfully run an NFL offense.
Kelly's offense won't be expected to do much in year one. And Tampa Bay did a decent job against run-first quarterbacks a year ago. Just because Philadelphia is moving toward a higher tempo attack, it doesn't mean a team like Tampa Bay will have to readjust everything it does week in and week out.
That said, the Eagles defense has improved, specifically in the back end. There's a whole new look back there, with capable players that may mesh better than the previous group. Cary Williams is a physical corner who won a Super Bowl as a starter with Baltimore. Kenny Phillips had some successful years, which included a Super Bowl title, with the Giants. Safety Patrick Chung had some great years with New England.
This game figures to be in the 20s and could come down to the end of the fourth quarter. Look for Josh Freeman to make a play in crunch time to give the Bucs a slight edge in the outcome.
SCORE PREDICTION: Tampa Bay 24, Philadelphia 23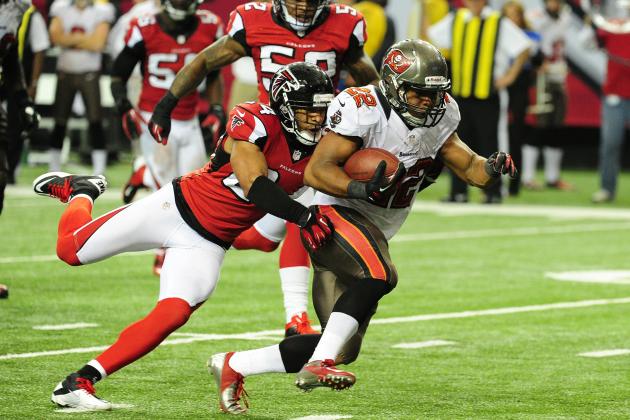 Scott Cunningham/Getty Images

Date/Time: Sunday, Oct. 20, 1 p.m. ET
Network: Fox
The Tampa Bay Buccaneers traveled to Atlanta and beat the Falcons in the Georgia Dome in last season's Week 17 matchup. Typically this would have been a game of no consequence because the Falcons should have been resting their starters. But Atlanta played to win and the Bucs popped them hard in the mouth.
This should go a long way toward establishing confidence among the Buccaneers, but it's also going to spark up the next game played in the Georgia Dome.
Running back Doug Martin rushed for 142 yards in that Week 17 game and scored a touchdown. Attacking Atlanta on the ground was the right move in 2012 and it will continue to be in 2013.
The Falcons have yet to address the need for a run-stopper on the defensive line (they could/should do so in the upcoming draft) and weaker at in the secondary than they were last year.
Tampa Bay might see some success in this game, but Atlanta's higher-powered offense will prevail.
SCORE PREDICTION: Atlanta 33, Tampa Bay 20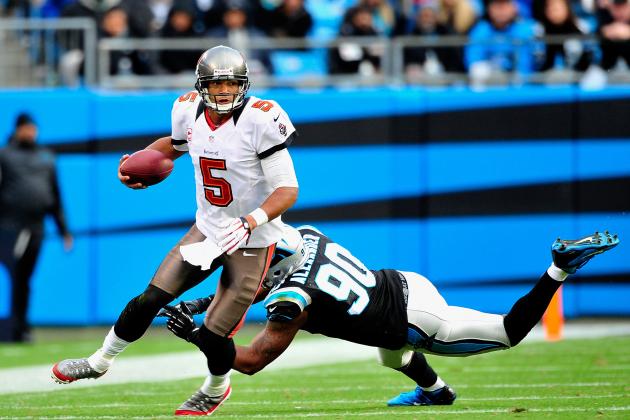 Grant Halverson/Getty Images

Date/Time: Thursday, Oct. 24, 8:25 p.m. ET
Network: NFL Network
The only NFC South team to sweep the Carolina Panthers last year was the Tampa Bay Buccaneers.
The Buccaneers showed from Week 1 that they were going to be a force against the run, holding Carolina to just 10 yards on 13 carries. That was a sure recipe to beating the Panthers early in the season, but when Cam Newton got hot toward the end of the 2012 campaign, you had to more than just stop the Panthers rushing attack.
Carolina should be a much tougher opponent in 2013, but there are still areas of exploitation.
Running back Doug Martin should be able to break into the second wave of Carolina's defense rather easily. Once there though, that stellar linebacker corps will attack and likely stop most rushing attempts. Martin needs to make the most of his first and second efforts, because he's not going to get many third attempts to break free.
With Chris Gamble away from the team in into retirement, the Panthers will have to scramble to find ways to slow down passing games. Josh Freeman can really do some damage here too.
SCORE PREDICTION: Tampa Bay 23, Carolina 21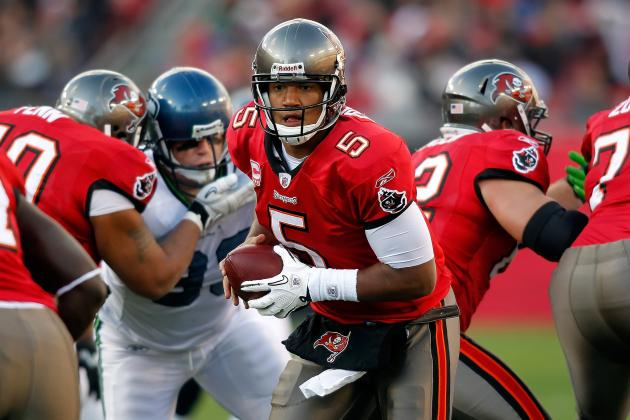 J. Meric/Getty Images

Date/Time: Sunday, Nov. 3, 4:05 p.m. ET
Network: Fox
If there's an NFC South that matches up well with the Seattle Seahawks it's the Bucs. Tampa Bay's front four on defense can get after the quarterback and the back end now has tow top quality safeties in Dashon Goldson and Mark Barron. It will be tough for Russell Wilson to get behind the secondary with the deep ball.
Conversely, Tampa Bay's balance may just be enough to squeak out an upset win on the road in Seattle.
The offensive line's interior is strong enough to get a downhill push for running back Doug Martin and the receiving corps is loaded for Josh Freeman. Vincent Jackson can beat just about anyone down the sideline and has emerged as a top-five receiver in the NFL.
The Buccaneers defense will make some fourth-quarter plays to come out of Seattle with a win. Wilson won't have as much time to throw downfield and the Tampa front seven will contain the option looks.
SCORE PREDICTION: Tampa Bay 17, Seattle 14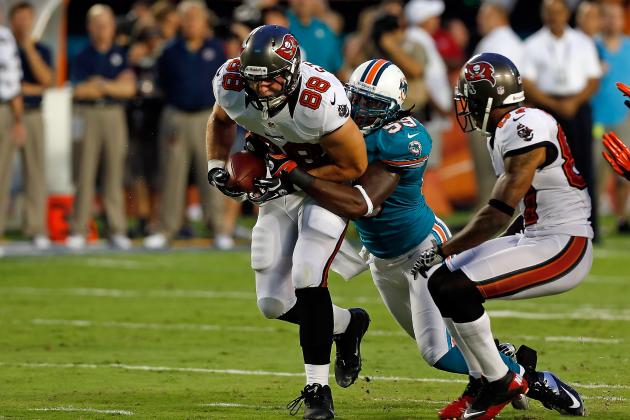 J. Meric/Getty Images

Date/Time: Monday, Nov. 11, 8:40 p.m. ET
Network: ESPN
The Miami Dolphins could pose all sorts of problems to Tampa Bay's running game. Dannell Ellerbe is a solid run-stuffing linebacker who could disrupt Doug Martin's rhythm up the middle. Philip Wheeler is an agile outside linebacker that should be able to set an edge. The front four, led by defensive tackle Randy Starks, should be good enough to get a push to allow free blitzers to come through.
That said, if Josh Freeman can get some time in the pocket, this will be a close game.
Vincent Jackson is a game-breaker that can change the course of an outcome with one play. This may be a scenario where the Buccaneers have to use its passing game to set up the run in order to get Martin some needed yards.
Miami still holds the edge in the outcome based on its offensive weapons, however. Ryan Tannehill has the makings of becoming a pretty good quarterback, and he'll be aided by Mike Wallace on the outside. Brian Hartline proved to be a reliable option for him as well, and Brandon Gibson is another receiver that can stretch defenses.
SCORE PREDICTION: Miami 26, Tampa Bay 23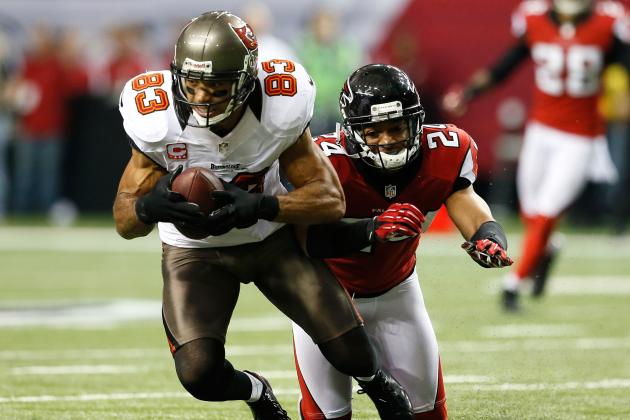 Kevin C. Cox/Getty Images

Date/Time: Sunday, Nov. 17, 1 p.m. ET
Network: Fox
The Tampa Bay Buccaneers have a history of playing the Atlanta Falcons very tough at Raymond James Stadium in Tampa. In fact, since 1999, the Bucs are 7-5 against Atlanta at home.
For whatever reason the Bucs are able to contain the Falcons in Tampa, the coaching staff is going to have call on heavy reserves to do it again, because this Atlanta offense is stacked.
Not only do the Falcons still have three All-Pro caliber receiving threats, but Atlanta hired running back Steven Jackson to step things up from Michael Turner's tenure with the team.
For Tampa Bay to have a chance at beating the Falcons yet again at home, the Bucs front four are going to have to get loads of pressure on Matt Ryan. The Bucs are still suspect in the secondary and they can't possibly contain Ryan when he has tons of time in the pocket.
The Buccaneers, and this shouldn't be an issue, will also have to lean on that No. 1 ranked run defense to contain Jackson. Tampa Bay can win this game if Doug Martin is the running back on the field with the most yardage.
In the end, however, that still may not be enough.
SCORE PREDICTION: Atlanta 24, Tampa Bay 22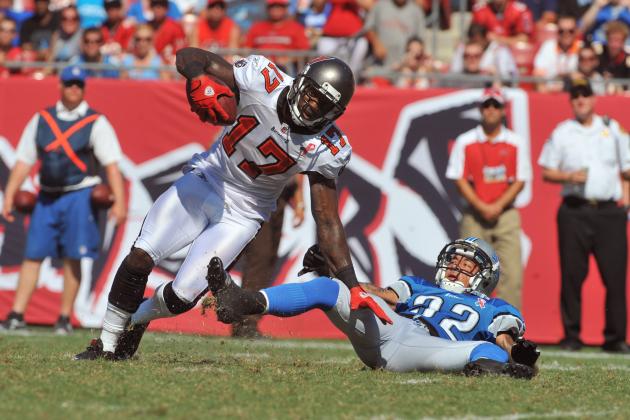 Al Messerschmidt/Getty Images

Date/Time: Sunday, Nov. 24, 1 p.m. ET
Network: Fox
It was surprising to see the Detroit Lions end 2012 with a 4-12 record, especially with what they were able to do in the season prior. But there they were, an inconsistent bunch that couldn't slow anyone down on defense.
The Lions were able to get safety Glover Quin and defensive end Jason Jones in free agency, but that doesn't figure to be enough to fix the defense's problems. Losing Cliff Avril was a major blow to this defense.
On offense, Calvin Johnson will get his yards and make his plays.
What the Lions need is a running back to step up so the team isn't relying on the pass so much. Mikel Leshoure has talent but the addition of Reggie Bush may take away some of his carries. How the Lions figure out their running attack will be key.
The Buccaneers should be able to walk into Detroit and run away with a win. Matthew Stafford will hit Johnson for some big plays but the Buccaneers' offense will be too much for the Lions to handle.
SCORE PREDICTION: Tampa Bay 27, Detroit 23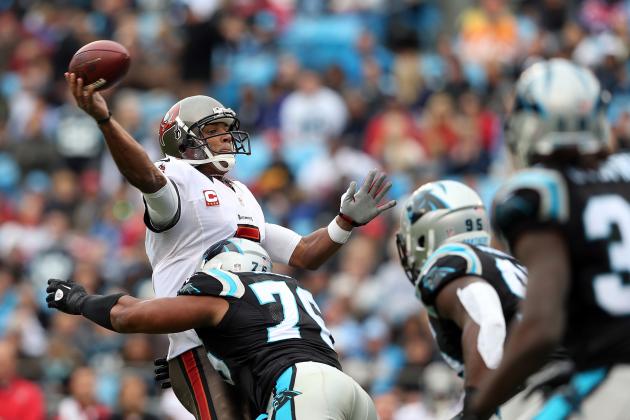 Streeter Lecka/Getty Images

Date/Time: Sunday, Dec. 1, 1 p.m. ET
Network: Fox
The Carolina Panthers and the Tampa Bay Buccaneers will both be better in 2013. Unfortunately they play each other twice and are in a loaded NFC South and play each team in the NFC West.
The games against each other will possibly decide their postseason fate, if there is to be one.
Running back Doug Martin is the key for Tampa Bay in this meeting. The Panthers proved they could be pushed off the line of scrimmage in 2012, giving up 138 yards to Martin in the second meeting between the teams. The Bucs will likely try the same strategy, though Vincent Jackson and the receiving corps will be even more dangerous than they were a year ago.
The Panthers keys will be establishing their own run and for Cam Newton to limit his own mistakes. With the Bank of America crowd behind them, the Panthers will put in an inspired performance to come away with a win. Steve Smith has a big receiving game and DeAngelo Williams runs for over 100 yards.
SCORE PREDICTION: Carolina 23, Tampa Bay 16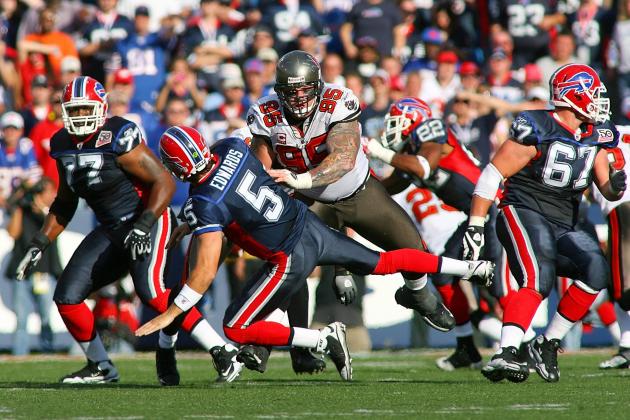 Rick Stewart/Getty Images

Date/Time: Sunday, Dec. 8, 1 p.m. ET
Network: CBS
If the Buffalo Bills can spring C.J. Spiller loose for some big gains, then the Tampa Bay Buccaneers could be in for some trouble when these two teams link up.
Spiller's dangerous as a runner and a receiver, and is lightning with the football. Tampa Bay's defense will need to remain disciplined and sound in its assignments.
The Tampa Bay offense should be able to move the football on the Bills, though. Doug Martin should have some lanes to run through and the receivers have some matchup advantages over corners Leodis McKelvin and Stephon Gilmore.
If Tampa Bay can get out to an early lead, the defense will look to get after the quarterback, whether it's Kevin Kolb or a rookie draft pick. If it's Kolb, the Bucs could have success doing so, considering Kolb has a tendency to hold the football too long when nothing's available.
The Buccaneers should be able to take care of business when Buffalo comes to town.
SCORE PREDICTION: Tampa Bay 20, Buffalo 14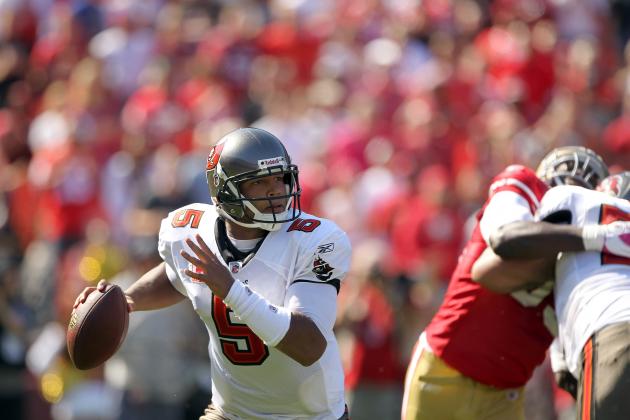 Ezra Shaw/Getty Images

Date/Time: Sunday, Dec. 15, 1 p.m. ET
Network: Fox
San Francisco has the daunting task of flying cross-country to play the Buccaneers after playing a tough rivalry home game against the Seattle Seahawks. It's tough, but not necessarily something a west coast team as talented as the 49ers can't handle.
Defensively, the Niners have an upper hand over what Josh Freeman and the Buccaneers want to accomplish. For starters, Doug Martin will be stifled in the run game as San Francisco has been able to do a stellar job in that area for the past two years.
Though there were problems at cornerback a year ago, the 49ers were able to snag Nnamdi Asomugha, who will look to regain the form he had when he was with Oakland years ago.
Tampa Bay wins this game if they can force Colin Kaepernick into mistakes that lead to turnovers. Kaepernick's a heady player and smart with the football, so the Buccaneers will need to be on their A-game. Ultimately, San Francisco flies back to the west coast with a win at Raymond James Stadium.
SCORE PREDICTION: San Francisco 20, Tampa Bay 13
Al Messerschmidt/Getty Images

Date/Time: Sunday, Dec. 22, 1 p.m. ET
Network: Fox
The St. Louis Rams are in the same boat as the Tampa Bay Buccaneers.
Both have talented teams but are in divisions where they may be the third or fourth best. That will do you no good when it comes to vying for a postseason spot.
The Rams have a stout front seven that will be tough for Doug Martin to run against. However, the Buccaneers offensive line, led by guard Carl Nicks, was able to have success against some tough fronts in 2012. They'll need a good game on the road to spring Martin for some big gains. And of course, unlike the 2012 season, Tampa Bay's offensive line has to stay healthy.
When it's all said and done, the Buccaneers come away with a win due to St. Louis' inability to find a top-tier running back. Daryl Richardson and Isaiah Pead are good, complementary backs, but it doesn't appear that St. Louis will need to use a first-round pick on a running back in order to have an impact player at the position.
The Bucs will be able to hit the end zone while the Rams are stifled to too many field goals.
SCORE PREDICTION: Tampa Bay 24, St. Louis 15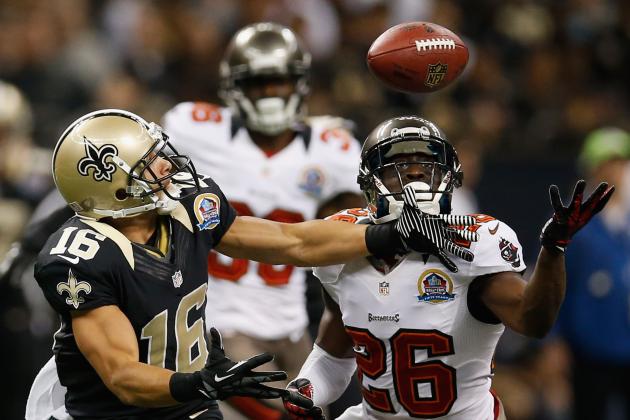 Chris Graythen/Getty Images

Date/Time: Sunday, Dec. 29, 1 p.m. ET
Network: Fox
In two combined games against New Orleans in 2012, the Saints scored a total of 75 points against Tampa Bay. While that likely won't happen this year, there's still some concern as to whether the Bucs are on the Saints' level yet.
The Buccaneers are looking for a fresh start after the adversity it couldn't overcome to end the season. But the good news against the Saints is that they didn't do enough to address the defensive concerns, meaning there will be opportunities to move the ball down field on them.
That said, the Tampa Bay defense will need to put in an inspired performance to slow down Drew Brees, Marques Colston, Jimmy Graham and the rest. The Saints offense will be back with a vengeance in 2013 after failing to reach the postseason. The Bucs get out to a hot start but the Saints are able to pull away late.
SCORE PREDICTION: New Orleans 34, Tampa Bay 24