Minnesota Vikings 7-Round NFL Mock Draft: The Dream Scenario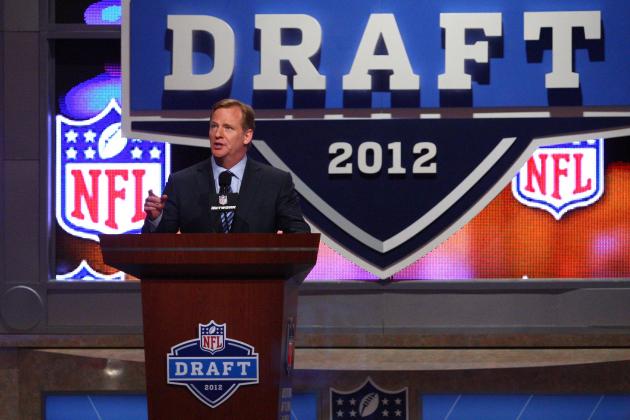 Chris Chambers/Getty Images
Can the Vikings replicate their 2012 draft magic?
Coming off an overachieving 10-win playoff campaign, the Vikings were likely due for a 2013 reality check even before they jettisoned Percy Harvin and Antoine Winfield.

Since Brett Favre's final retirement, the team has been in an awkward no-man's land between retooling and rebuilding. Adrian Peterson gives Minnesota a chance most weeks, but windows are closing on several key players, particularly on the defensive side of the ball. And the team is ultimately at the mercy of the Christian Ponder "is-he-or-isn't-he" dilemma.

Right or wrong, Ponder will get at least one more season to prove something. In the meantime, GM Rick Spielman enters the draft with 11 picks (including six in the first four rounds) and gaping holes at CB, WR, DT and LB. The age-old debate of need vs. BPA really shouldn't come into play, as there are enough needs that the two strategies should align pretty naturally throughout.

Spielman's 2012 draft was nothing short of spectacular, and he'll need a fair amount of luck to replicate the magic.
That's where I come into play.
The following mock is, in my eyes, a dream scenario in which everything falls just right. Just so we are crystal clear: while none of these picks are completely outside the realm of possibility, I am fully aware that some of them are pushing the limits. That's how best-case scenarios work!
Begin Slideshow

»
When you combine Cordarrelle Patterson's freakish physical attributes, electric playmaking ability, technical rawness and frustrating inconsistency, you're left with a polarizing prospect. The Demaryius Thomas comparisons feel about right.
The latest mantra in Vikingland is that the team should pass on WR in Round 1 due to the positional depth in this draft. I can appreciate that logic with respect to the polished route-running types like DeAndre Hopkins (a personal favorite)—indeed, you can probably get more bang for your buck with stylistically similar guys in Rounds 2-4.
However, Patterson possesses one-of-a-kind potential in this class—the kind that rarely comes along for a receiver-needy team picking in the 20s. When it does, Vikings fans know better than anyone (see: Randy Moss at No. 21 and Percy Harvin at No. 22) that it's worth a role of the dice.
Patterson brings several new dimensions to the offense in Minnesota. An outstanding complement to the ever-steady Greg Jennings, he can stretch the defense from the outside, freeing things up for both Adrian Peterson and the short/intermediate passing game.
However, Patterson's real hallmark is his rare ability to score any time he touches the ball, and that YAC ability would go a long way in masking Ponder's deficiencies. Like they had in Harvin, Patterson gives the team an optional element of creativity, whether it's out of the backfield, on gadget plays or catching bubble screens. He's truly special in the open field, and, considering Peterson's similar dynamism, the Vikings offense would have some serious teeth.
Mix in Patterson's return ability (suddenly another need for the Vikings), and you're left with a prospect who's simply too enticing to pass up at No. 23.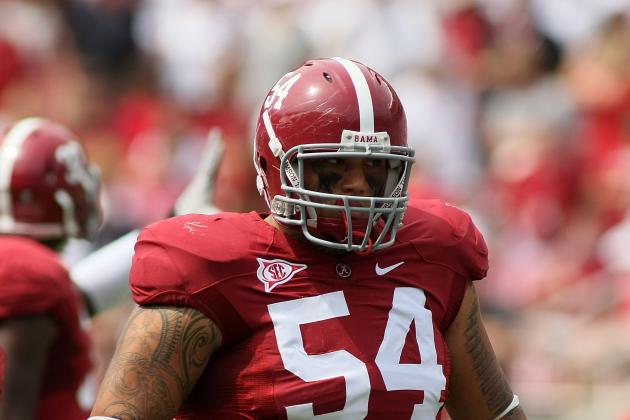 Greg McWilliams/Getty Images

The hunt for Pat Williams' replacement ends here.
Finally.
Aussie Jesse Williams is big, nasty and insanely strong (the 600-lb. bench press is not a myth). He also earns high marks in quickness, technique and hustle.
While he doesn't offer much as a pass-rusher, Williams anchors the middle as a run-stuffing, block-eating brute. He's the kind of guy you can build a defense around—one who will free up the linebackers to make plays, while setting the tone in the trenches with his motor, power and mean streak.
The former rugby player is still relatively new to American football, so we've only scratched the surface on his potential.
I didn't love the scheme fit for any of the guys graded in the 23-25 range, so I passed on CB in Round 1, knowing there's a ton of depth/value at the position.
Banks is a guy who really jumps out to me as a good fit for the Vikings. A disappointing combine 40 time (4.61) was a major blow to his first-round stock, but he has the prototypical Cover 2 height and length, along with the competitiveness to battle the gigantic WRs of the NFC North. Any speed deficiencies can largely be hidden in Minnesota's system, and Banks covers a lot of extra territory with his crazy reach anyways.
Banks is very willing in run support but certainly has room to improve that aspect of his game.
The real value he brings to the secondary is his superb ballhawking ability and interception potential. Chris Cook, Josh Robinson and A.J. Jefferson combined for two interceptions last year—in fact, Cook has yet to record a pick in 22 NFL games. Banks is the kind of nose-for-the-ball playmaker that Minnesota's CB group is sorely missing.
With four years of SEC experience under his belt, the 2012 Jim Thorpe Award winner is a Day 1 starter.
Back-to-back sky-scraping ballhawks?
Yes, please.
Like Banks, Amerson has CB/S flexibility, and I project him as a safety at the next level. His record-breaking 13 interceptions in 2011 tell you everything you need to know about his ball skills, but his 2012 tape (burnt toast) exposed him as a gambler with stiff hips.
I like Amerson at safety because he packs a punch, has more than enough speed to play the Cover 2 deep half and really excels when the play is in front of him. Playing next to a smart leader like Harrison Smith should get him squared away, giving the Vikings a tandem to be reckoned with for years to come.
By adding the 6'2", 185-pound Banks and the 6'1", 205-pound Amerson to a starting secondary that already includes the 6'2", 212-pound Chris Cook and the 6'2", 213-pound Smith, the Vikings are stealing a page out of the Seattle playbook (hey, they're stealing all of our players, we can steal one page). And who could blame them? Calvin Johnson (6'5", 236), Brandon Marshall (6'4", 230), Alshon Jeffery (6'3", 216) and Jordy Nelson (6'3", 217) toyed with the Vikings last season, and the Bears have also added 6'6", 270-pound pass-catching TE Martellus Bennett.
Only three teams registered fewer than the Vikings' 10 interceptions last season, so at the very least, Amerson should immediately help tilt the turnover differential in the Vikings' favor in a pass-happy division.
This is a perfect situation/fit for both Quanterus Smith and the Vikings, and a great way for Minnesota to leverage their extra fourth-rounder. Last year the team turned their fifth-rounder into Detroit's 2013 fourth-rounder, and in drafting Smith, they're essentially turning said fourth-rounder into a 2014 first/second-round prospect.
Smith is mediocre against the run, but he's one of the purest pass-rushers in the draft thanks to his length, burst, hand use and an impressive/polished repertoire of moves.
Smith was leading the nation with 12.5 sacks through 10 games before he tore his ACL in November, so he probably shouldn't be counted on this season. That's fine for Minnesota. He should be back to full speed by 2014, when Jared Allen, Brian Robison and Everson Griffen are all set to hit free agency.
When the time comes to make those tough decisions, Smith gives the team a cheap, young high-upside option.
Kiko Alonso is yet another tall, playmaking athlete who will immediately bolster the pass defense. He uses his speed and rangy length to excel in coverage, which would allow the Vikings to get Erin Henderson off the field in the Nickel.
Alonso plays with so much intensity and aggression that he often crosses the line to reckless abandon. While I'd rather have to reign a guy in than light a fire under him, that questionable discipline and an unrefined approach to run support call into question his viability as a Mike in the 4-3 base defense.
Still, in Mike Singletary and savvy veteran Chad Greenway, the support system is in place to help Alonso tighten up his technique and mental approach. Moreover, the addition of Jesse Williams will help keep Alonso clean to do what he does best—fly around and make plays.
Now, a player with Alonso's potential wouldn't be available in this portion of the draft were it not for some pretty significant baggage. Two alcohol-related run-ins with the law and a torn ACL (2010) dogged him early in his college career, but he's stayed off the radar for nearly two years now.
From the outset, expect Alonso to contribute as a Nickel LB and an impact special teamer and know that there is room for so much more down the line.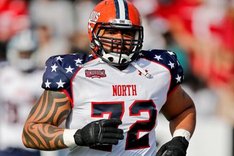 The run of five straight defenders ends with Thornton, a strong, aggressive blocker who gives the team invaluable depth and flexibility. He projects as a guard but has a good amount of experience at tackle as well.
He should push Brandon Fusco for playing time right off the bat, and his ability to make spot starts at multiple positions gives the Vikings something similar to what they had in Geoff Schwartz.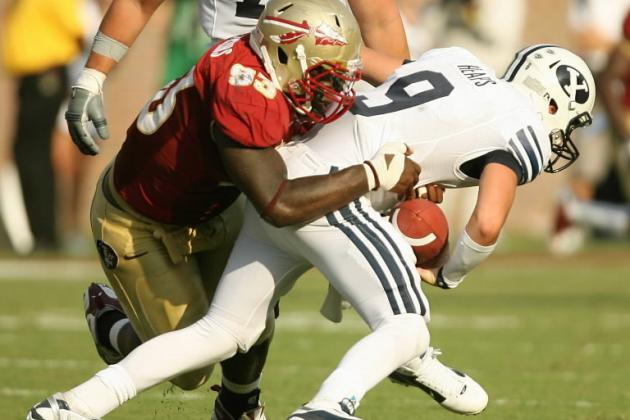 Kevin Williams could very well be entering his final year with the Vikings, so the defensive line overhaul continues here. Dawkins will spend 2013 as Kevin Williams' understudy and has the potential to become the eventual 3-tech pass-rushing complement to Jesse Williams.
A quick, explosive inside pass-rusher, he is a bit susceptible to being overpowered against the run due to his underwhelming size/strength. Essentially, his style is the polar opposite of Jesse Williams', and the two could form a very nice tandem that plays off each others' strengths down the road.
Harrison boasts a mouth-watering blend of size, speed, arm length and athleticism. Those measurables didn't translate into very impressive production at Rutgers, however, and his sketchy hands will likely knock him down into the late-round flier range.
In Patterson and Harrison, the Vikings have added a lot of desperately-needed size/speed outside the hash marks. Harrison's blocking ability and red zone potential are also big pluses.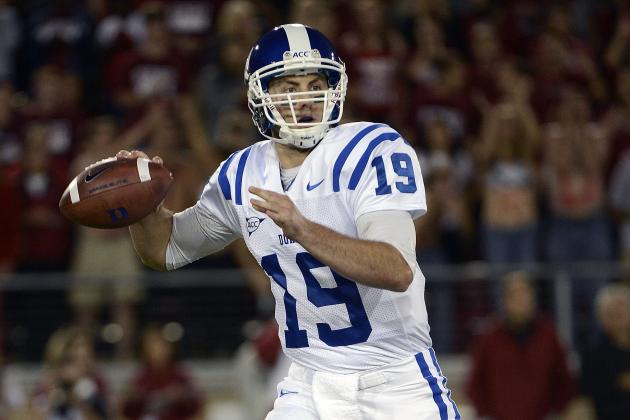 Thearon W. Henderson/Getty Images

There just doesn't seem to be a spot left for Joe Webb on this roster, and it's time to make a decision on McLeod Bethel-Thompson.
Renfree has some coachable issues, such as progressions and decision-making. However, he's a very fine physical prospect with a nice blend of size, accuracy and arm strength. He should have no problem winning the QB3 job, and he certainly has the potential to move up the depth chart in the future.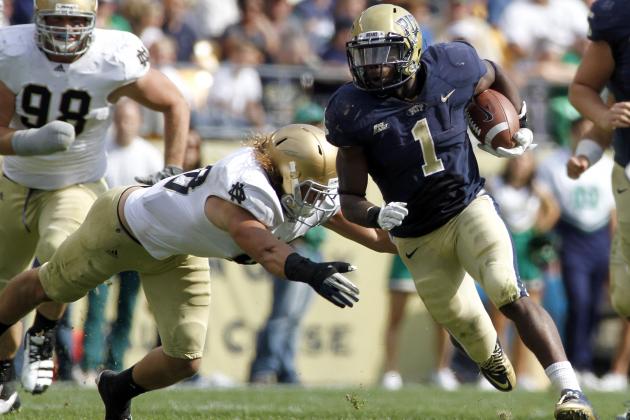 Justin K. Aller/Getty Images

Toby Gerhart is in the final year of his contract, and frankly, I'm bored with him. Graham is more of a true complement to the powerful Adrian Peterson. Quicker than he is fast, his game is built on vision and elusiveness.
He was beginning to draw LeSean McCoy comparisons before a 2011 ACL tear, and, to a lesser extent, a 2012 hamstring injury, derailed his future. Like Quanterus Smith, there would be no pressure on Graham to contribute out of the gate, so taking some time to get his legs under him in the shadows of the man who redefined ACL recoveries wouldn't be a bad thing.
A good receiver/blocker in the passing game, there's certainly a place for Graham on the Vikings roster.