WWE Extreme Rules 2013: Projecting Main Events, Undercard and Winners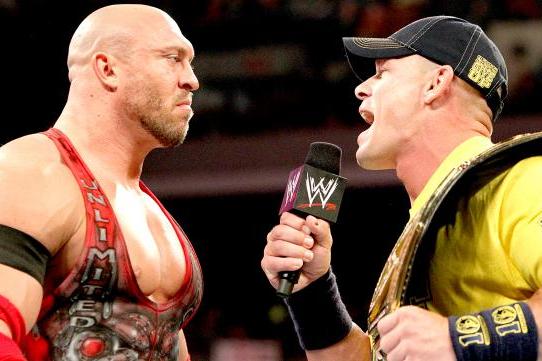 Photo courtesy of WWE.com
Although the Extreme Rules pay-per-view is still over a month away, it is clear that the WWE has already started to build toward it. Because of that, fans' attention is beginning to shift away from WrestleMania XXIX in favor of one of the WWE's most unpredictable events of the year.
Last year's WrestleMania XXVIII was considered to be a strong show, but many agree that Extreme Rules was the best pay-per-view of 2012. Even though the event featured a few WrestleMania rematches, there were several great bouts and there is no question that the extreme stipulations added a lot to them.
As of right now, the only imminent rematch is a potential rubber match between Triple H and Brock Lesnar, so Extreme Rules should be able to pique the fans' interest.
The time after WrestleMania is always interesting due to the changing landscape of the product, and that is once again the case in 2013.
Here is the most likely card for May's Extreme Rules pay-per-view as well as predictions for who will ultimately prevail.
Begin Slideshow

»
Based on the actions of Ryback over the past couple weeks, there is no doubt that the WWE is building toward a WWE Championship match between him and John Cena at Extreme Rules.
Ryback has made the decision to step out of Cena's shadow, but it remains to be seen whether WWE is willing to end Cena's title reign so quickly.
If it wasn't already evident that Ryback turned heel when he attacked Cena the night after WrestleMania, Ryback certainly cemented his heel turn on the most recent episode of Raw.
Ryback blamed Cena for his own shortcomings and left him to fend for himself when The Shield hit the ring.
Ryback called himself the biggest threat to Cena as WWE champion, which could be true from a physical standpoint, but Ryback has lost at every pay-per-view since Hell in a Cell, so he doesn't exactly have a lot of momentum heading into Extreme Rules.
As important as it is for Ryback to start winning important matches, it doesn't seem likely that the creative team will take the belt off Cena a little more than a month after he won it.
Cena will come out on top in a No Holds Barred match.
Winner: John Cena via pinfall
New life was injected into the World Heavyweight Championship scene the night after WrestleMania as Dolph Ziggler successfully cashed in his Money in the Bank contract on Alberto Del Rio—after holding the briefcase for nine months.
Del Rio has an automatic rematch due to the fact that he was the last titleholder, but Jack Swagger can stake claim to a title shot as well.
Del Rio attempted to have his rematch against Ziggler on Raw, however, Swagger interfered and re-injured Del Rio's leg. Swagger was then put in a non-title match against Ziggler. The self-professed "Real American" came out on top and thus became the No. 1 contender for the World title.
Later in the night, Smackdown GM Booker T announced that Del Rio was also the No. 1 contender, so a triple threat is on the horizon.
It may seem pretty obvious that Ziggler is going to retain the title, but the triple threat element makes things interesting. Swagger and Del Rio obviously have an ongoing feud, while Ziggler has a history with both men as well. He cashed in on Del Rio and used to be Swagger's tag-team partner, so there are a lot of moving parts that make this match appealing.
Since Del Rio and Swagger seem to be more worried about each other than the World Heavyweight Championship, The Showoff will take advantage and keep his title.
Winner: Dolph Ziggler via pinfall
When Triple H defeated Brock Lesnar in an entertaining No Holds Barred match at WrestleMania, he was able to keep his career alive. The victory also evened the series between the two competitors, as Lesnar had beaten Triple H at SummerSlam.
Most fans probably figured that this feud was over since they are part-time wrestlers, but it seems as though the WWE is looking to add more star power to Extreme Rules.
After Lesnar destroyed 3MB on Raw, he and Paul Heyman issued an open challenge to Triple H.
Heyman said that he respects Triple H for what he was able to do to Lesnar, but he also said that Lesnar didn't share the same sentiment. In an effort to decide once and for all who the better man is, Heyman suggested a steel-cage match at Extreme Rules.
Triple H has yet to accept, but all signs point to that happening, as he isn't the type of person to back down from a challenge. Even if we have already seen them wrestle on two occasions, this match has the potential to be great.
Lesnar stole the show at Extreme Rules last year when he faced John Cena, and he could easily do it again this year.
Many fans complained about Triple H beating Lesnar at WrestleMania, but the WWE has an opportunity to allow Lesnar to win the feud. That is precisely what will happen as it will give Triple H a reason to take some time off.
Winner: Brock Lesnar via pinfall
Team Hell No has held the WWE Tag Team Championships since Night of Champions, but The Shield represents the biggest threat to that reign by a wide margin.
Tension between the two sides dates back to the build toward the TLC pay-per-view, as The Shield defeated Team Hell No and Ryback at that event, but it seems likely that Kane and Daniel Bryan will be on their own this time.
As of right now, Team Hell No is scheduled to team with Undertaker against The Shield on the next episode of Raw.
As great as that would be, The Shield will probably attack 'Taker and put him on the shelf prior to the match. This will set the table for Team Hell No defending its titles against The Shield at Extreme Rules.
In one respect, The Shield could be forced to choose two of its members to face Kane and Bryan, but they have done everything as a trio thus far, so it's more likely that the "extreme" stipulation will be that of a handicap match.
Kane and Bryan will accept the terms based purely on the fact that they want to get their hands on Dean Ambrose, Seth Rollins and Roman Reigns.
While Team Hell No will be able to hold its own for a period of time, the numbers game will eventually prevail and The Shield will capture the WWE Tag Team Championship.
Winner: The Shield via pinfall
The expectation following WrestleMania was that Randy Orton would turn heel and begin a feud with Sheamus, but the WWE has obviously decided to go in a different direction.
Mark Henry has attacked The Celtic Warrior backstage on a couple of occasions over the past week, so a match between them at Extreme Rules is pretty much a foregone conclusion at this point.
Although there isn't really a storyline behind the feud at this point, Henry is one of the few guys who doesn't need one. He essentially did the same thing against Ryback leading up to WrestleMania as he targeted him for no apparent reason.
The World's Strongest Man simply wants to cause destruction and he has handpicked Sheamus as the next superstar on his hit list.
Henry and Sheamus actually had a brief feud two summers ago when Sheamus first turned face. The rivalry was never settled, though, as Henry beat Sheamus via countout at SummerSlam and they proceeded to go their separate ways. With that in mind, there is definite history between them that needs to be resolved.
Sheamus is essentially the WWE's No. 2 face behind John Cena at this point, but Henry wasn't given a WrestleMania win over Ryback for no reason.
Expect Henry to win this match by incapacitating Sheamus, and to be next in line for a WWE Championship shot.
Winner: Mark Henry via knockout
It may not be the most exciting potential match on the Extreme Rules card, but there is no doubt that the WWE is building toward a Randy Orton vs. Big Show collision at the upcoming pay-per-view.
Big Show turned on Orton and Sheamus following their match against The Shield at WrestleMania and he has continued to make life miserable for The Viper, so they are almost certain to settle their differences at Extreme Rules.
Orton and Sheamus beat Big Show in a handicap match on Raw, but Big Show isn't done with Orton by a longshot. He is likely embarrassed by the loss and will continue to target Orton over the next few weeks.
Since Orton and Big Show have faced each other so many times over the years, it would make sense to add an extreme stipulation, but the WWE generally doesn't do that with the undercard matches.
Sheamus vs. Mark Henry may be an exception in that regard since they are two of the hardest-hitting superstars on the roster, but it's tough to envision Orton vs. Big Show being anything more than a basic singles match.
Neither man would benefit much from a win and neither would be hurt much by a loss, so this one is essentially a coin flip.
Based purely on the fact that Extreme Rules is shaping up to be a big night for the heels, Orton will probably prevail in this one and perhaps pick up some momentum moving forward.
Winner: Randy Orton via pinfall
Kofi Kingston's sudden United States Championship victory over Antonio Cesaro on Raw happened for a reason, and it certainly wasn't because the creative team was desperate to make Kofi a champion again.
Kingston never goes long without having a belt in his possession, but he is generally a transitional champ. That will once again be the case this time around as Fandango is waiting in the wings.
The WWE is doing everything it can to capitalize on the "Fandangoing" craze that has swept the globe, so it only makes sense to give him the United States Championship.
Fandango defeated Chris Jericho in his debut match at WrestleMania and he has a ton of momentum at the moment, so the company would be crazy not to keep the ball rolling.
Fandango's feud with Jericho appears to be over as Y2J didn't attack him on Raw during his promo. Fandango also happened to face Kofi the night after WrestleMania and he won via disqualification due to interference from Jericho.
Since Fandango and Kingston have already had some interaction, it should be very easy to kick start a rivalry.
There are a lot of Kofi fans out there who would love to see him keep the title, but we've seen him hold mid-card titles countless times in the past.
It's time to give somebody else the ball to see if they hit pay dirt.
Winner: Fandango via pinfall
Perhaps nothing in the WWE is more curious than the manner in which Wade Barrett is booked.
After beating Kofi Kingston for the Intercontinental Championship, he went through a tough stretch and eventually lost the title to The Miz at WrestleMania. The following night on Raw, however, Barrett won it back.
Rather than building Barrett back up, he proceeded to lose a non-title match to R-Truth on the ensuing edition of Raw, so it's unclear what the plans are for him.
Barrett is scheduled to face the winner of a battle royal on Main Event in an Intercontinental Championship match, so he could potentially drop the title very soon. Assuming Barrett hangs onto it, though, a logical feud for him moving forward would be against Chris Jericho.
Prior to WrestleMania, Barrett faced Jericho and The Miz in a triple threat match. His feud with The Miz continued, but Jericho moved on to Fandango.
No man has won the Intercontinental Championship more than Jericho, so it would be great to see him go after it one more time. Also, Jericho was Barrett's pro on NXT a few years back, so there is history between them.
If there are any plans to elevate Barrett, then Jericho is the guy he should face.
All of this is contingent upon Jericho hanging around for a while rather than touring with Fozzy, and if that is indeed the case, then Barrett will go over at Extreme Rules.
Winner: Wade Barrett via pinfall
Follow @MikeChiari on Twitter and listen to him on Ring Rust Radio