Predicting Who'll Be the Boston Red Sox MVP in 2013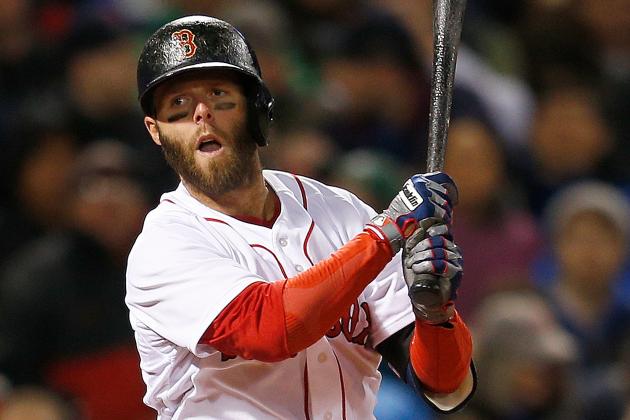 Jim Rogash/Getty Images

It's pretty early for any player on the Red Sox roster to claim the bid for MVP.
But while many players ride a roller coaster—heat up and cool down and heat back up—throughout the season, a strong start can say a lot about what fans can expect from any given player looking ahead.
In the opening weeks of the 2013 Red Sox season, a few players have begun to make their case, while others will have some ground to make up if they plan to emerge as the No. 1 player in Boston.
What's truly surprising thus far is that the players with the highest batting averages are currently Jose Iglesias (who hit .118 in 2012), Daniel Nava (who's been back-and-forth between the majors and minors) and utility player Pedro Ciriaco.
To put this in perspective, a month ago, none of those three were locks to make the Opening Day roster.
But despite their impressive start to the year, none of them will be the Red Sox MVP. None are full-time players, and though underdogs, none are seasoned enough to truly be seen as Boston's most valuable ball player.
So let's break down some of the more likely MVP candidates based on their 2013 performance, with heavy consideration given to their career performance.
Begin Slideshow

»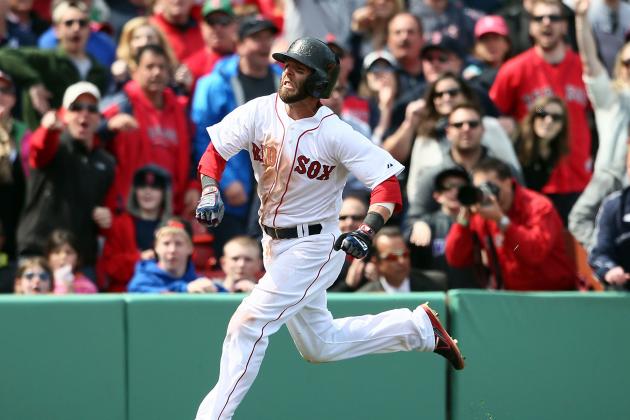 Alex Trautwig/Getty Images

Dustin Pedroia is always a fan favorite for Red Sox MVP. In fact, his last name make the "M-V-Pedroia" chant all too easy.
Why is he an obvious choice year after year? He's a workhorse and he's consistently great.
He even has the hardware to prove it: He won the 2007 American League Rookie of the Year Award and then AL MVP the very next year. He's one of the few guys left that helped the Red Sox win a World Series in 2007.
In 12 games this season, Pedroia is batting a nice .311. He has two doubles on 14 hits, four RBI and scored seven runs. He's also drawn eight walks. The .303-career hitter is as solid as usual, and from the field, he's collected no errors and turned eight double plays with 22 assists.
Pedroia is on an MVP track as usual, but he's yet to do something that really stands out. Luckily, he has plenty of time to do so.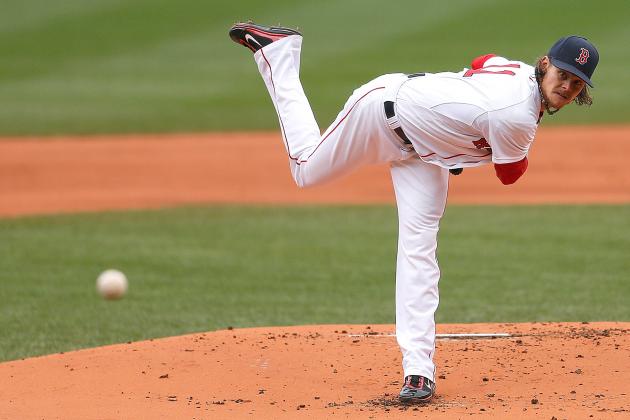 Jim Rogash/Getty Images

Clay Buchholz isn't just on the rebound; he's on a mission.
The starting pitcher was barely edged by Opening Day starter Jon Lester in an MVP-like spring training from the mound and now in three starts, is pitching an MVP season.
His current ERA: 0.41, second in the AL to Tampa's Matt Moore (who's only thrown 11 innings).
Buchholz has allowed just one run and 11 hits in 22 innings and struck out 23.
He was just shy of a no-hitter in his most recent outing against Tampa on Sunday, finally allowing a hit in the eighth but striking out a career-high 11.
Last season's woes, in which Buchholz went 11-8 with a 4.56 ERA, are behind him, and it looks like he's eyeing the ultimate prize.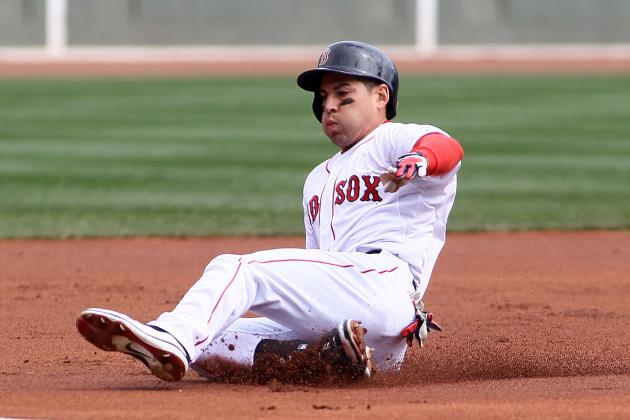 Alex Trautwig/Getty Images

Jacoby Ellsbury had a phenomenal 2011.
He was named the AL Comeback Player of the Year, was a Golden Glove and Silver Slugger award winner and joined the 30-30 club in addition to being the AL MVP runner-up.
Just two seasons later, Ellsbury still has what it takes despite his 2012 fall from grace where he batted .271 with just four home runs (compared to 32 in 2011) and spent much of the season on the DL, playing just 74 games.
In 2013, Ellsbury is healthy and batting .255. He's collected 14 hits—two doubles, three triples and a home run—with eight RBI. He's also already stolen five bases.
He even scored the winning run in the 10th inning of the Red Sox's victory over the Rays on Saturday.
But the biggest factor here is that Ellsbury is in a contract year. This extra motivation could be just what he needs to have a return to 2011 and the Red Sox MVP vote.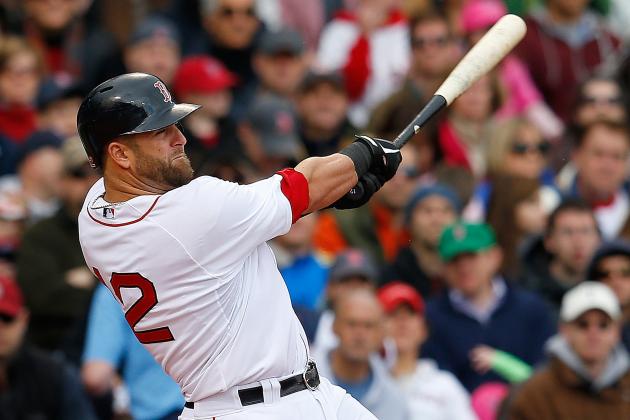 Jim Rogash/Getty Images

Catcher-turned-first baseman Mike Napoli's Red Sox debut is strong. With the game tied in the bottom of the ninth on Monday against Tampa, Napoli hit a walk-off double off the Monster to send Dustin Pedroia home from first and give the Sox a 3-2 win.
Napoli is currently batting .217 with two home runs and 10 RBI. Even though he's a recent convert to first base, he's yet to have an error.
With the health of David Ortiz unknown, Napoli will likely emerge as Boston's slugger this season, especially knowing how well he's hit at Fenway when not in a Red Sox uniform.
However, the state of his hip condition could be a big factor in whether or not Napoli stays healthy throughout the season and puts on an MVP performance. Moreover, his numbers have been declining the last few years, and it's too soon to tell if he's already peaked.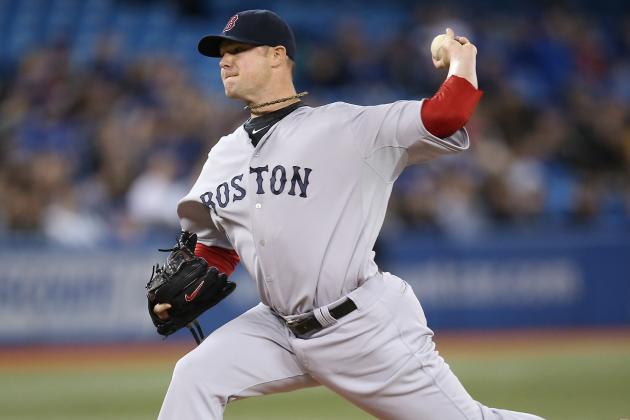 Tom Szczerbowski/Getty Images

Jon Lester
The near-perfect start of Clay Buchholz can't be ignored, but Jon Lester has put on a pretty good show himself in 2013.
Lester is returning from an excruciatingly bad season but like Buchholz, looks poised for a great comeback. In three starts, Lester has allowed only three runs off 15 hits over 19 innings and has struck out 18.
As Boston's predicted ace, Lester could really start to heat up and make a run at MVP. But for now, Buchholz has the upper hand.

Will Middlebrooks
The third baseman's three home run game against Toronto two weeks ago definitely got the city's attention.
Though batting just .217 this season, Middlebrooks has emerged as an up-and-comer and shouldn't be counted out. Yet while Dustin Pedroia proved that a player can grab an MVP in just their second major league season, Middlebrooks might not be there just yet.
Shane Victorino
He's currently leading every other player on this list in batting average (.313) and hits (15). He hit the walk-off grounder that sent Ellsbury home in the 10th inning on Sunday for a Red Sox win.
But the truth is, Victorino's numbers in recent seasons haven't been on the level of an MVP.
The 32-year-old was brought into Boston this year more as part of the club house facelift than for his talent. It's nice to see how well he's started off, especially after an ice cold spring training, but don't expect it to stay this good all season.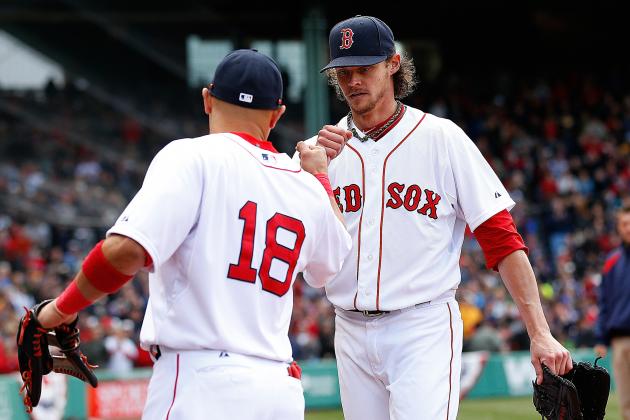 Jim Rogash/Getty Images

It's a tough call that's, again, much too early to make. But based solely off what we've seen in 2013 so far, Clay Buchholz has been the force to be reckoned with on the Red Sox roster.
He's been unbeatable.
Although he hasn't yet proved in his career that he has MVP in his blood—like Pedroia or Ellsbury—he's headed down the road with the motivation from last season's disappointment at his fingertips.