Stock Up, Stock Down on MLB's Top 10 Prospects After Week 2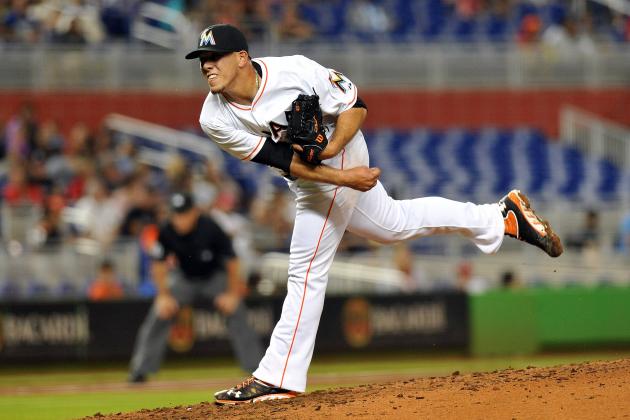 Steve Mitchell-USA TODAY Sports
RHP Jose Fernandez has allowed five hits through his first two starts.
With the first two weeks of the 2013 Minor League Baseball season now complete, it's time to reflect on the early performances of baseball's top prospects.
While some players have enjoyed a torrid start at their respective levels and already surpassed expectations, others are attempting to break out of their early-season funks. Meanwhile, there are several other prospects whose starts to the 2013 season have been delayed by injury and are yet to take the field.
So, using Prospect Pipeline's Top 50 prospects rankings, here's a look at the performances of baseball's top 10 prospects through the first two weeks.
Begin Slideshow

»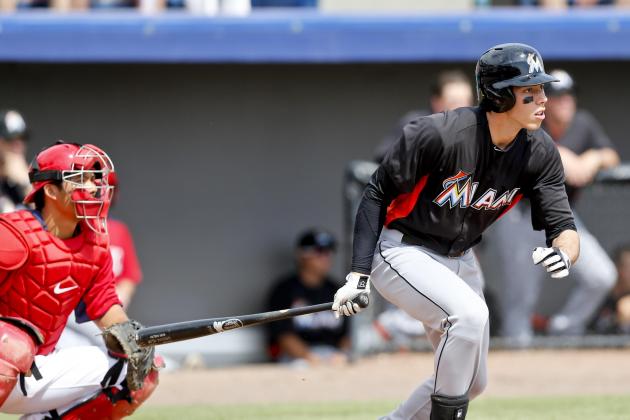 Derick Hingle-USA TODAY Sports

2013 Stats: N/A

After a very impressive showing this spring in major league camp, where he batted .364/.451/.818 with 13 runs scored, nine extra-base hits (five home runs) and 7/6 K/BB in 22 games, Christian Yelich was ultimately assigned to Double-A Jacksonville (along with a host of the Miami Marlins' other top prospects) to begin the 2013 season.

Unfortunately, the 21-year-old outfielder landed on the disabled list to start the year after injuring his heal toward the end of camp. However, he's not expected to miss a significant amount of time and should join the team in the near future.

Stock: Hold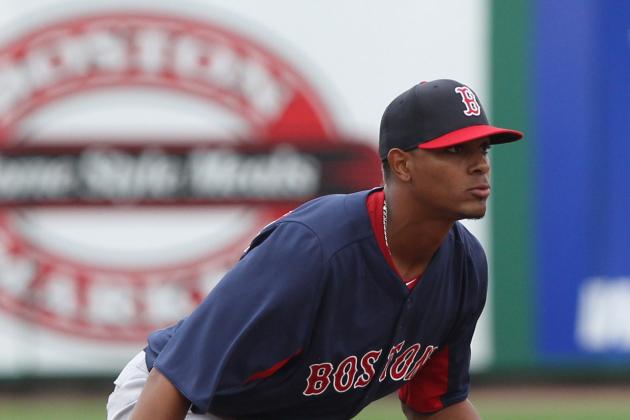 Kim Klement-USA TODAY Sports

2013 Stats: .189/.231/.189, 4 R, 11/2 K/BB (8 G)

After batting .307/.373/.523 with 60 extra-base hits (20 home runs) last year between High-A Salem and Double-A Portland (in his age-19 season), it's safe to say that big things are expected from Xander Bogaerts this season.

Unfortunately, the 6'3" right-handed hitter is off to a slow start back at Double-A. Through the team's first eight games, the 20-year-old is batting .189/.231/.189 with no extra-base hits and 11/2 K/BB. Yes, Bogaerts' struggles are derived from a small sample, but it accurately portrays the lack of plate discipline that many believed he'd experience in the high minors.

Stock: Down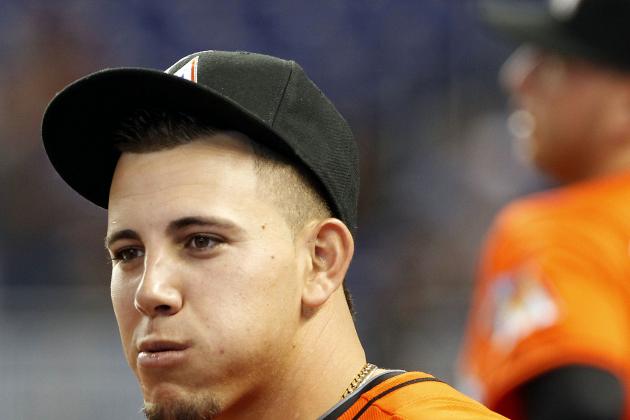 USA TODAY Sports

2013 Stats: 11 IP, 0.82 ERA, .132 BAA, 13/3 K/BB (2 GS)

If you haven't been impressed with Jose Fernandez, then I have no choice but to question whether you have a soul. Making the largely unprecedented jump from High-A to the major leagues, the 20-year-old has pitched as well as any pitcher not named Matt Harvey.

In his big league debut against the New York Mets on April 7, the hard-throwing right-hander allowed one earned run on three hits over five very impressive innings. Behind a 93-97 mph fastball, devastating breaking ball and promising changeup, he recorded eight strikeouts and issued only one walk.

Fernandez was equally impressive in his second start on Saturday, as he held the Philadelphia Phillies to only two hits over six scoreless frames and added five more strikeouts.

Seemingly unphased by the jump from the low minors, the right-hander has pitched as well as anyone in the game to start the 2013 season.

Stock: Way Up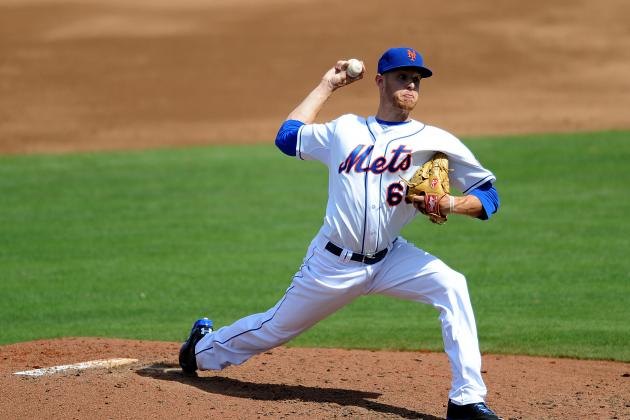 Steve Mitchell-USA TODAY Sports

2013 Stats: 14 IP, 3.86 ERA, .298 BAA, 17/6 K/BB (3 GS)

Even though Zack Wheeler, 22, has struggled more than expected back at Triple-A, he's exhibited steady improvement in each of his three starts. After lasting only 3.1 innings in his season debut, the right-hander surrendered eight hits (but only one earned run) and walked three batters on Tuesday. His outing on Sunday was easily his best thus far, as Wheeler scattered six hits and demonstrated sharper command with eight strikeouts and zero walks over 5.1 innings.

He's still expected to be among the first notable pitching prospects to arrive in the major leagues this season; however, the Mets will likely wait until the top prospect has strung together a few strong starts before considering a promotion.

Stock: Neutral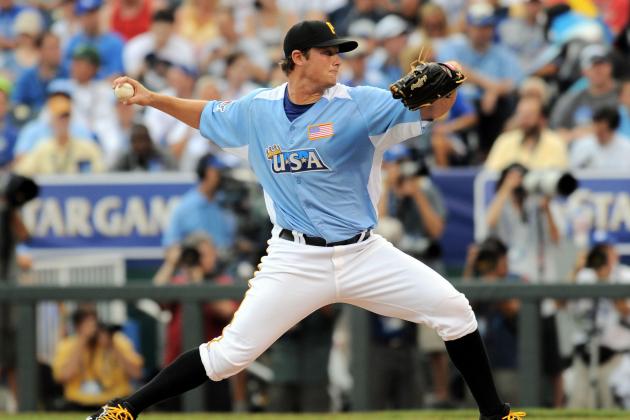 Denny Medley-USA TODAY Sports

2013 Stats: 6 IP, 6.00 ERA, .333 BAA, 7/2 K/BB (2 GS)

Given his tremendous upside with three above-average-to-plus-plus pitches, Gerrit Cole's start to the 2013 season has been disappointing. After registering a 2.80 ERA and .230 BAA with 136/45 K/BB last season across three levels (in his professional debut), the hard-throwing right-hander had an up-and-down spring in major league camp before he was ultimately optioned to Triple-A Indianapolis.

Since then, the 6'4", 240-pounder has struggled in both of his starts this season, as he's encountered high pitch counts and missed few bats. In his latest start on Wednesday, Cole lasted only two innings; he threw more than 30 pitches in his second inning of work and, per the organization's rules, was not allowed to start the following frame.

Stock: Down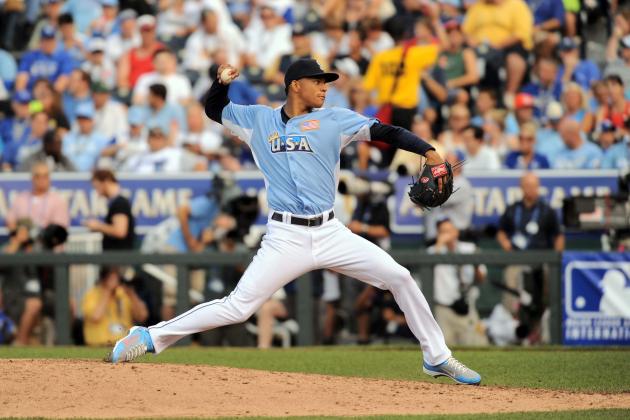 Denny Medley-USA TODAY Sports

2013 Stats: 10 IP, 3.60 ERA, .209 BAA, 13/6 K/BB (2 GS)

Although Taijuan Walker posted a 4.69 ERA with 50 walks in 126.2 innings last year at Double-A, it's important to remember that the 6'4" right-hander spent the entire season as a 19-year-old at the more advanced level. And while other Seattle Mariners prospects such as Danny Hultzen and James Paxton were promoted to Triple-A for the 2013 season, the fact that Walker is repeating Double-A is in the best interest for his long-term development.

After a shaky first start in which he allowed four earned runs over five innings while fanning eight batters, the athletic right-hander was much sharper in his last outing. Throwing five scoreless innings (he allowed three unearned runs), Walker scattered four hits while recording five strikeouts.

Stock: Up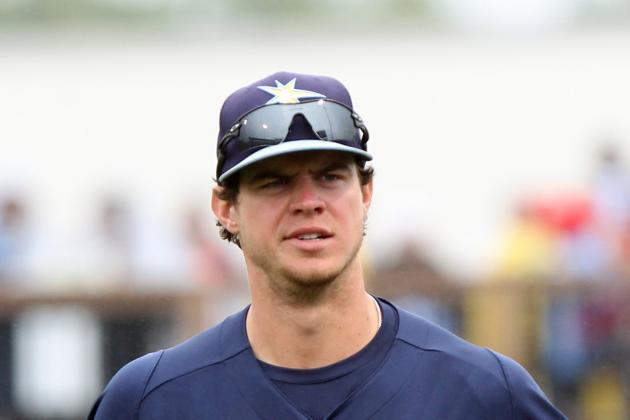 Kim Klement-USA TODAY Sports

2013 Stats: .294/.395/.353, 2 2B, 7 RBI, 10/7 K/BB (9 G)

Even though Wil Myers was assigned to Triple-A Durham to begin the season, the Tampa Bay Rays' lackluster offense could make his stay in the minors short-lived. Coming off a monster 2012 campaign in which he posted a .987 OPS with 37 home runs in 134 games between Double-A and Triple-A, it's safe to say that the 22-year-old outfielder has a spot waiting for him in the Rays outfield.

He's definitely doing his part while biding his time at Durham, too, as Myers is batting .294/.395/.353 with seven RBI through his first nine games. And while he hasn't jumped the yard thus far, the fact that he's posted a favorable 10/7 K/BB rate should be viewed as encouraging.
Stock: Up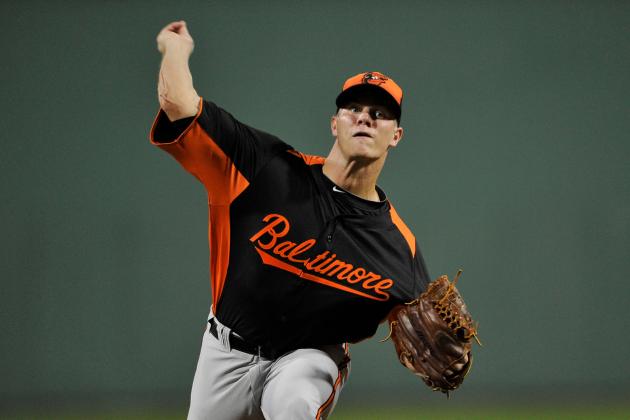 Jerome Miron-USA TODAY Sports

2013 Stats: N/A

Dylan Bundy opened the 2013 season on the minor league disabled list due to right elbow stiffness. He was cleared to begin a throwing program on Wednesday, though the 20-year-old reportedly hasn't thrown since the following day, seemingly a result of the lingering injury.

The Baltimore Orioles will have to exercise extreme caution with Bundy, who enters the 2013 season as the unanimous top pitching prospect in the game. Once he's finally healthy, the right-hander is still expected to report to Double-A Bowie where he'll pitch alongside Kevin Gausman in the starting rotation.

Stock: Hold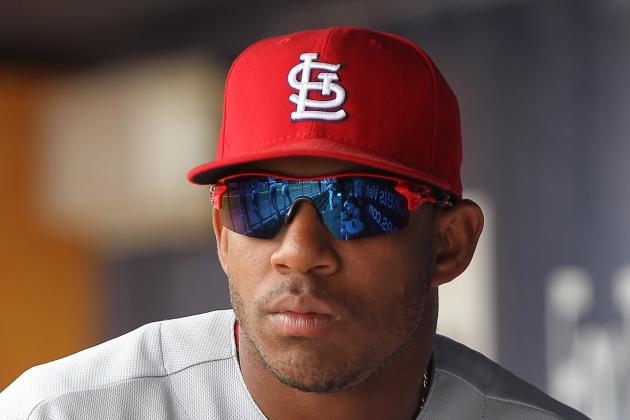 Kim Klement-USA TODAY Sports

2013 Stats: .364/.391/.409, 3/1 K/BB (6 G)

Despite an impressive spring in major league camp, the St. Louis Cardinals ultimately assigned Oscar Taveras to Triple-A Memphis in the hitter-friendly Pacific Coast League to open the 2013 season. The 20-year-old outfielder missed roughly the first week of games while attending to a personal matter, but has collected eight hits in six games since returning.

Taveras is going to put up monster numbers in the PCL and reach the major leagues at some point this season. However, with a stacked big league outfield comprised of Matt Holliday, John Jay and Carlos Beltran from left to right, respectively, it will take an injury for Taveras to receive an ahead-of-schedule promotion.

Stock: Up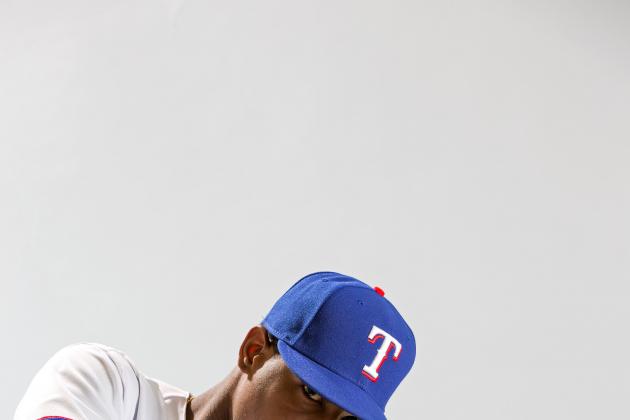 Mark J. Rebilas-USA TODAY Sports

2013 Stats: .222/.400/.259, 5 R, 3 SB, 10/8 K/BB (8 G)

Making the jump from Low-A to Double-A last season, Jurickson Profar batted .281/.368/.452 with 47 extra-base hits, 16 stolen bases and 79/66 K/BB in 126 games. The then-19-year-old was promoted to the major leagues in early September and launched a no-doubt home run in his first career plate appearance.

Unable to offer the young phenom regular playing time in the major leagues, the Rangers optioned Profar to Triple-A Round Rock to open the 2013 season. Although he hasn't swung the bat particularly well and missed several games with a sore left side, the 20-year-old has showcased excellent plate discipline with a .400 OBP through eight games.

Stock: Neutral