Le'Veon Bell: 5 Things You Need to Know About the Michigan State RB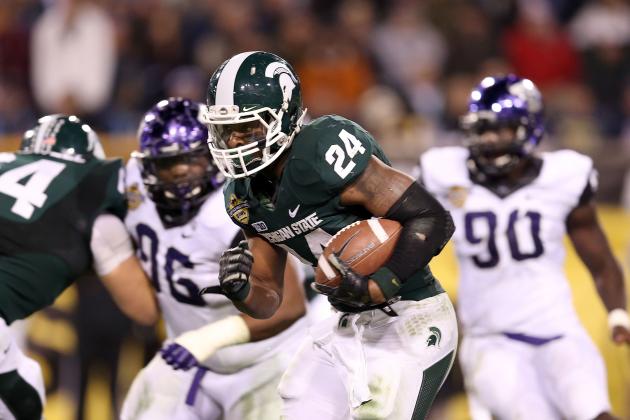 Christian Petersen/Getty Images

With quarterback Kirk Cousins going to the NFL in the 2012 draft, the Michigan State offense fell on the back of Le'Veon Bell during 2013. The big, bruising back did not disappoint, having one of the greatest seasons a Spartan running back has ever had, even better than Javon Ringer's fantastic 2008 season. With that in his pocket, Bell chose to enter the NFL draft, forgoing his senior season at MSU.
Unlike several other running back prospects in this year's draft, Bell is extremely durable. With over 382 carries in 2012, he showed he was able to handle a heavy workload without slipping in effectiveness. As teams review the tape and balk on some halfback prospects with an injury history, Bell is shooting up the draft boards.
So who is this hard-nosed Spartan, and how will he look in the NFL? We look through all of the facts to find out.
Begin Slideshow

»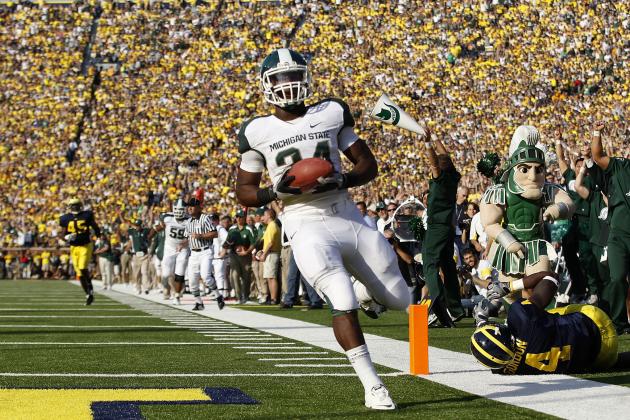 Leon Halip/Getty Images

Full Name: Le'Veon Bell (02/18/1992)
Hometown: Reynoldsburg, Ohio
High School: Groveport Madison High School
Major: Sociology
Year: Junior
Bell went to high school at Groveport Madison High School, where he was selected first-team All-Conference during his senior year. Bell took extra classes so after that fall semester, he graduated and was able to arrive in East Lansing during the spring of 2010.
Bell wasn't highly recruited that year, getting offers from Bowling Green, Eastern Michigan and Marshal. But Mike Tressel (Jim Tressel's younger brother and linebacker coach at MSU) and head coach Mike Dantonio saw potential in Bell, and convinced him to join the Spartans. The move paid off well for both parties.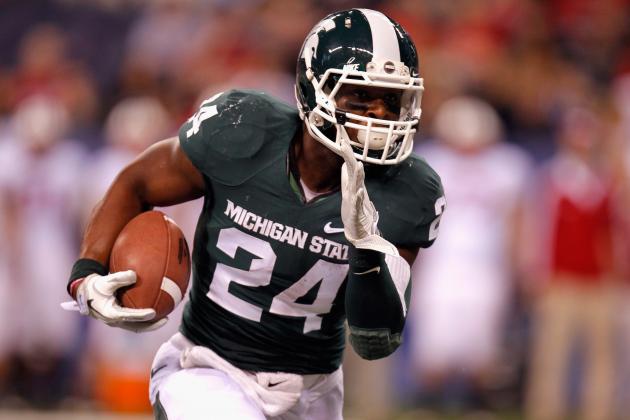 Gregory Shamus/Getty Images

Rushing and Receiving
2010: 13 games, 107 attempts, 605 rushing yards, 5.7 ypc, 11 catches, 97 receiving yards, 8 total TDs
2011: 14 games, 183 attempts, 948 rushing yards, 5.2 ypc, 35 catches, 267 receiving yards, 13 total TDs
2012: 13 games, 382 attempts, 1793 rushing yards, 4.7 ypc, 32 catches, 167 receiving yards, 13 total TDs
Special Teams
2010: 6 kick returns, 142 yards
2011: 1 kick return, 31 yards
2012: 4 kick returns, 46 yards, 3 punt returns, 18 yards
While Bell does have some experience with returns, he won't be asked to do that at the next level. What NFL teams are truly interested in is his rushing productivity, the category in which he has a big advantage over many other top running back candidates in this draft.
Not only were his 1,793 rushing yards the second-highest season total in Spartan history, but Bell also mastered the stat of "yards after contact" in 2012, leading the nation with 922. In addition, he was just one of four backs in the country to record three 200-yard rushing games.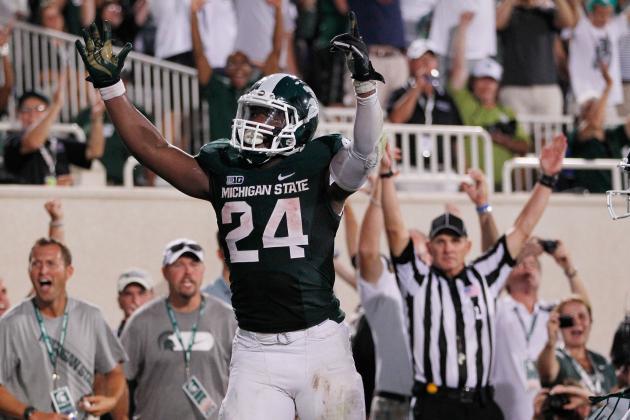 Gregory Shamus/Getty Images

Measurements (NFL.com)
Height: 6'1"
Weight: 230 pounds
Arm length: 31 1/2"
Hands: 9 5/8"
Combine Results (NFL.com)
40-yard dash: 4.60 seconds
Bench press: 24 reps
Vertical Leap: 31.5 in
Broad Jump: 118.0 in
3-Cone Drill: 6.75 seconds
20-yard shuttle: 4.24 seconds
Bell is a big back at 6'1" and 230 pounds, which can be both good and bad. It's perfect for his style of running if he's going to be a downhill, pounding back. At the same time, his big frame presents a big target for defenders in the hole. Bell isn't one of the fastest backs in the draft, but he does have great quickness and gets in and out of cuts well, as shown by his 3-cone drill, the third lowest among backs at the combine.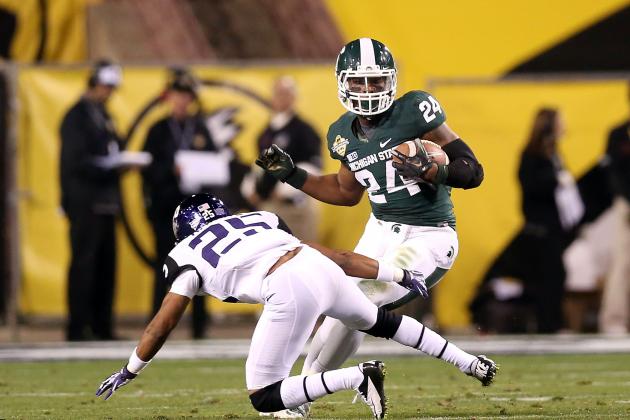 Christian Petersen/Getty Images

Strengths
From Brad Evans (Yahoo):
Really like Giovani, but Le'Veon Bell is quite a specimen. Pulverizing, fall-forward, versatile RB who should generate crazy YAC. Workhorse.
Strong-build and well proportioned with thick hips. Very good balance and stays low to the ground through contact. More of a downhill athlete who picks up speed as he goes. Stays light on his feet and has some deception to his game, slipping through cracks at the line of scrimmage.
Running Inside: This is where Bell is best and I don't think that will change at the next level. He runs patiently, allows his blocks to set up, and is slow to the hole but quick to get through it thanks to his surprisingly acceleration for his size. You aren't going to arm tackle him thanks to his sheer size and strength, plus he can get going pretty fast if you let him pick up steam.
Weaknesses
Taller back who presents a big target for defenders to hit, especially when failing to lower his pads going into the hole. Size also limits his breakaway speed and ability to create on his own if challenged by better front sevens.
From Pete Prisco (CBS)
Am I missing something on Le'veon Bell? Takes a long time to get to the hole
Lacks speed on stretch plays and won't be able to make a living in the NFL going east/west as much as he did in college. Too hesitant and patient at times and gets himself in trouble when he stops his feet, taking time to survey the field and figure it his next move. Wears down late in games and at times looks to have checked out.
Bottom Line
Bell is a great fit for a team looking for a pounding running back to get the job done inside. Unfortunately, Bell may not pan out as feature back long term. What is probably ideal for him is to become part of a tandem backfield, allowing a shiftier back to take the outside duties.
The upside to Bell is that he has talent, and possibly could develop into an every-down back. But right now, his best use is as a grinder inside.