Houston Rockets vs. Phoenix Suns: Live Score, Results and Game Highlights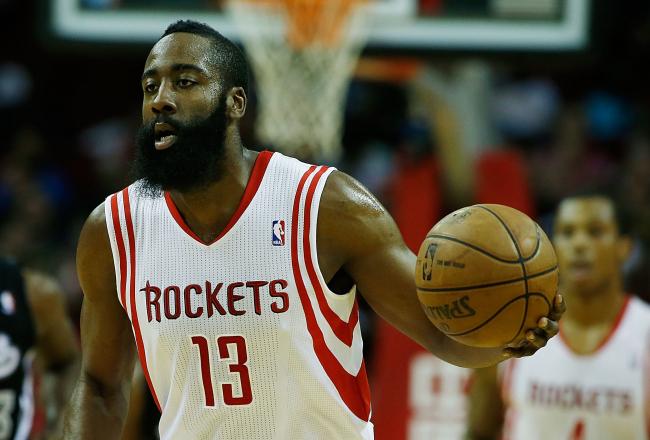 Scott Halleran/Getty Images
The Phoenix Suns' scored a 119-112 surprise victory over James Harden and the Houston Rockets, who are now a full game behind Golden State for the sixth seed in the West after Golden State knocked off the San Antonio Spurs.
The Rockets will close the season out Wednesday night (April 17) against the L.A. Lakers, in a game which will decide the seeding for the Rockets and the playoff fate of the Los Angeles Lakers.
Phoenix won their 25th game of the 2012-13 season and are hoping that the L.A. Lakers do miss out on the playoffs, as the Lakers' lottery pick would then go to Phoenix. Suns fans have little else to watch the standings for, after seeing their two-time MVP matriculate to the team they'd desperately like to see lose now.
Game commentary on the Rockets v. Suns affair here.
3 Keys to Suns Victory:
1) Well Balanced, High Scoring Attack: The Suns were able to milk offense out of just about everyone tonight. All five starters scored in double figures, led by Luis Scola's 26. P.J. Tucker had a career high 21 points, and outplayed James Harden the entire night. As improbable as it was, it led to the Suns gaining a victory which can help close out the season on a positive note.
2) Droppin' Dimes Like Dragic: Goran Dragic has had the passing skills to rack up the dimes all year, but it is a new development that his teammates started moving well without the ball and keeping their heads up. Dragic found them. He dished out 14 of the Suns' 29 assistson the evening, and the team turned the ball over just 11 times in a game which saw them attempt 95 field goals and 23 free throws. That's not a lot of cough ups for such a high paced game, and Dragic is good for that: keeping things under control when the game is seemingly being played too fast for either team's comfort.
3) Aggressive Defense: The Suns came up with 11 steals and nine blocked shots. The team averages just 5.2 steals per game and 8.0 blocks per game, so the 20 combined steals/blocks is considerably better turnover-forcing defense than they play on a typical night.
SUNS 119, ROCKETS 112 — FINAL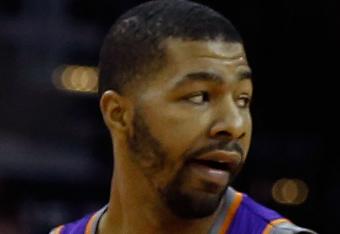 Markieff Morris had a career high six blocks tonight to go along with 18 points and seven rebounds. For a guy who was said to be possibly undersized for the 4-spot in the NBA, he seems to be doing just fine.
The Suns were expressing regret on not having taken Knick guard Iman Shumpert with the No. 13 overall pick in 2011, but it seems that Morris may turn out to be the power forward they've been striving after: a guy who can stretch the court and hit threes, block shots, run and finish hard at the rim.
SUNS 118, ROCKETS 111 — 24.7 seconds in Game
Kendall Marshall, Goran Dragic and P.J. Tucker outplayed Jeremy Lin, James Harden and Chandler Parsons. It took a career high from Tucker, and Dragic suddely found himself with a plethora of passing options, as his teammates figured out that cutting to the lane works out pretty well with an elite ball distributor running the show.
Dragic's 14 assists give an indication of his ultimate upside, and reminds Suns fans that with the right players on the wings, the Dragic signing can still pay off big.
It's just one game, so Suns fans are trying to contain the excitement of having taken down a promising playoff team like the Houston Rockets.
SUNS 118, ROCKETS 109 —29.5 seconds left in Game
P.J. Tucker's hard work on the offensive glass bought the Suns an extra possession, and they called for timeout to maximize it. The Suns lead by six points, and Tucker has three of the team's 10 offensive rebounds.
SUNS 114, ROCKETS 108 — 1:28 4th, Phoenix Timeout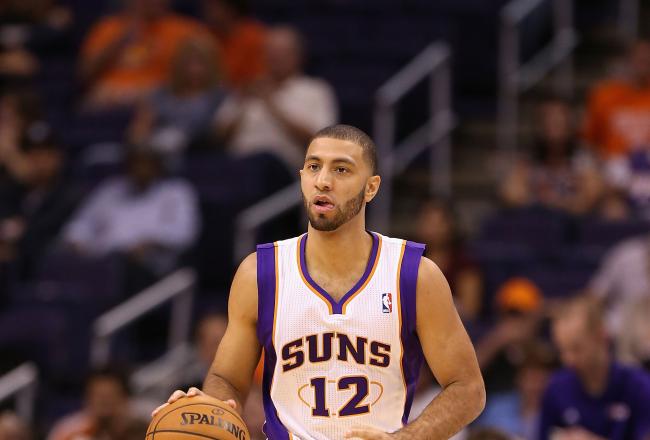 Kendall Marshall is helping to spark the break off the bench. He has played sparingly for the Suns this season after being selected No. 13 overall in the 2012 draft, but he has shown a lot of playmaking abilities.
Marshall has averaged 7.1 assists per-36 this season, though he has turned it over a good bit. His assist to turnover ratio of 2.2:1 isn't good, but he is also just a rookie playing the point, the toughest position to transition to as a pro.
Marshall may not have the pizzazz and immediate impact of the guy selected seven spots in front of him (Damian Lillard), but the Suns are going to patiently develop him behind Goran Dragic and see what becomes of the 6'4" guard.
A late lottery selection was a low risk investment for a player like Marshall, whose pedigree and basketball instincts ensure he will be at least a good backup point guard in the Association.
Marshall has eight points, four assists and a steal off the bench in 25 minutes of play tonight.
SUNS 114, ROCKETS 107 — 2:46 4th
Bench Scoring: Houston 36, Phoenix 17
SUNS 109, ROCKETS 101 — 4:53 4th
Both teams have five players in double-figures, as this game proceeds well over the century mark on the score board. Given the 67 points the teams combined for in the first period, this kind of shootout was expected.
Jeremy Lin and Chandler Parsons have each scored 20 apiece for the Rockets, while Luis Scola has put up 26 for the Suns.
SUNS 103, ROCKETS 101 — 5:58 4th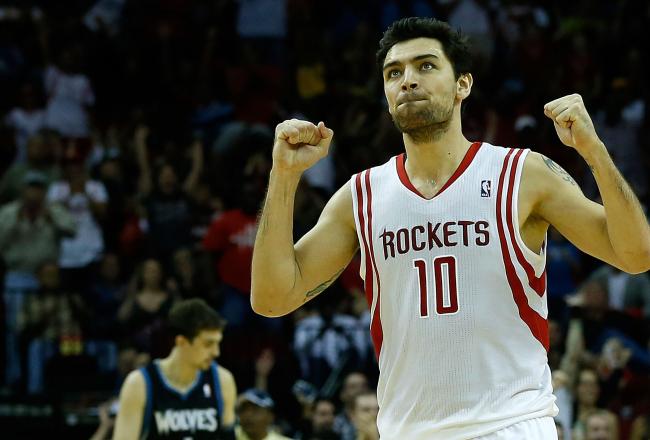 Suns color commentators are peeved that the team isn't contesting open threes, and the Rockets are creeping back in this game. Carlos Delfino has been in the league long enough that opposing players should know he's automatic. Delfino's triple cut the Suns' lead to five leading to a Phoenix timeout.
Delfino has 17 points on the evening and has hit five threes, but the Suns don't seem to be in any hurry to get to him when he spots up. These are the marks of a poor basketball team, an inability to react to in-game trends. Delfino will keep shooting if he keeps finding himself wide open as he has.
SUNS 100, ROCKETS 95 — 8:07 4th, Phoenix Timeout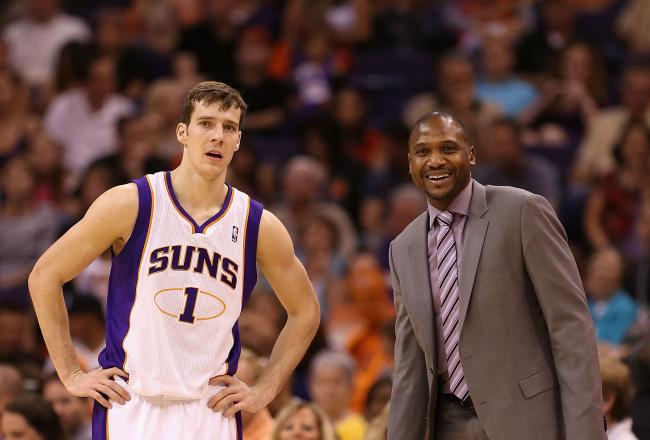 A 7-0 run by the Phoenix Suns extends the lead to 10, and Goran Dragic is not backing down. He pushed the pace in transition and found Luis Scola for his 23 point of the game. Dragic has 14 assists and three turnovers on the night. The Slovenian is showing tonight that if they can surround him with the right talent, he could lead them back to contention.
SUNS 97, ROCKETS 87 — 9:50 3rd, Houston Timeout
The Golden State Warriors are currently engaged in a tight battle with the Spurs on NBA TV. It's a game Rockets fans are keeping an eye on, as the Rockets are still trying to hold off the Warriors to obtain the sixth spot in the West.
SCORE UPDATE: WARRIORS 73, SPURS 71 — 3:00 3rd
P.J. Tucker of the #Suns reminds me an awful lot of Bonzi Wells.And in a good way.

— Brett David Roberts (@BDRHoops) April 16, 2013
At some point, it doesn't really matter if you're an oversized guard or undersized big man, if you can play, you can play. P.J. Tucker has been going toe-for-toe with James Harden, and his unique combination of strength and size combined with his sheer determination has helped the Suns guard/forward/whatever score 16 points to Harden's 15.
The Suns weren't counting on an unheralded former D-Leaguer outplaying the league's fifth leading scorer, but it is just one game.
SUNS 90, ROCKETS 83 — End of 3rd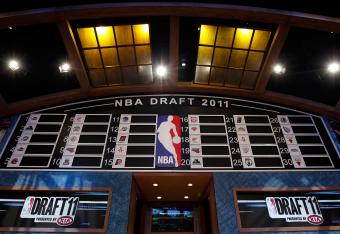 The Utah Jazz won 96-80 tonight against the Minnesota Timberwolves. The win keeps the Suns' hope alive of getting the L.A. Lakers' potential lottery pick. If the Lakers make the playoffs, the stipulations are that they will keep the pick. But should they miss, it will give the Suns a chance to rebuild a little quicker with a late lottery pick in this year's draft.
The draft isn't a very good one, to be sure, but there could be some nice talents available at the 14th pick. Steals every year, ya dig?
SUNS 88, ROCKETS 78 — 2:18 3rd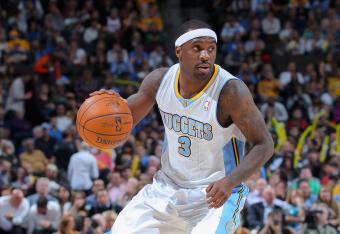 Ty Lawson is still rounding his way back into shape after injury, and Kenneth Faried is currently battling injury. Danilo Gallinari is out for the season.
The Denver Nuggets are a very difficult team to beat at home, and would they would own homecourt advantage in a series against the Houston Rockets. But with the team having injuries to key players, they could still be the most favorable draw for Houston. The Rockets would face Denver if the playoffs began today, and they control their own fate since they have the tiebreaker with seventh seeded Golden State.
If the Rockets don't draw Denver, their opponent will be the second seeded San Antonio Spurs. The Spurs are pretty much a first round bye, and regularly dispose of their first round opponents with ease.
Last year, the Spurs dispatched the Jazz quickly in four games, and the Rockets would likely face a similar fate against a team with a wealth of playoff experience, premier and legendary coach, and all the benefits of home court advantage.
SUNS 80, ROCKETS 73 — 4:09 3rd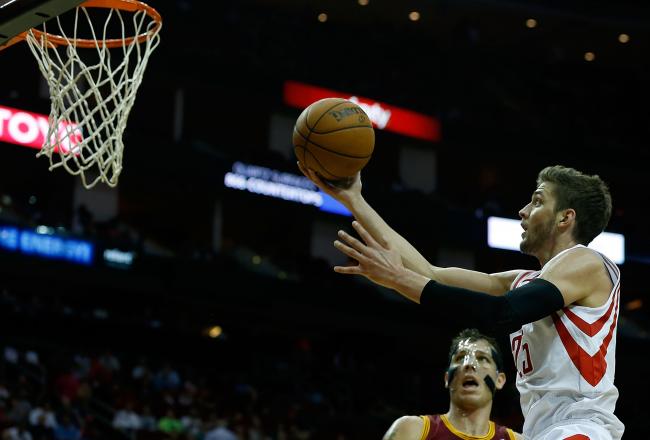 At this point we all know Chandler Parsons is pretty good. What we don't yet know is if he can be great.
Chandler Parsons with push in open court, finds Asik for dunk. Parsons will have to play a bigger role for Houston to have playoff sucxess

— Amin Elhassan (@AminESPN) April 16, 2013
He's had his nights this year, such as when he hit his first nine shots on a 12-of-13 shooting night against the Dallas Mavericks on March 3. Parsons is the perfect small forward for a team which already featured two standout ball handlers in Jeremy Lin and James Harden. He's able to score when called upon, but does not need the ball in his hands to be effective; like say, for instance, Rudy Gay.
That ability to mesh with any team is a part of what makes Parsons such an attractive trade chip, not to mention he is on an $880,000 contract. He's the league's best bargain.
If the Rockets are to upset either the Nuggets or Thunder in the playoffs, it will be because Parsons has a coming out party and has one of his superb shooting nights on the biggest stage.
The Rockets have been knocking off the league's best teams all season, particularly at home, but to do it when the games are do-or-die would elevate Parsons and Rockets to the next tier of championship contention.
SUNS 80, ROCKETS 71 — 5:38 3rd
Chandler Parsons has scored five of the Rockets 10 second half points, as the teams have battled even through the first five minutes of the quarter. The pace has slowed slightly, but the teams are likely gearing up for another shootout as they begin to hit full stride.
Parsons has 16 on the night, keeping pace with James Harden's 18 and Jeremy Lin's 15. It's been a three man show, as Houston's starting 1/2/3-men have combined to score 69 percent of the team's points.
SUNS 78, ROCKETS 71 — 6:57 3rd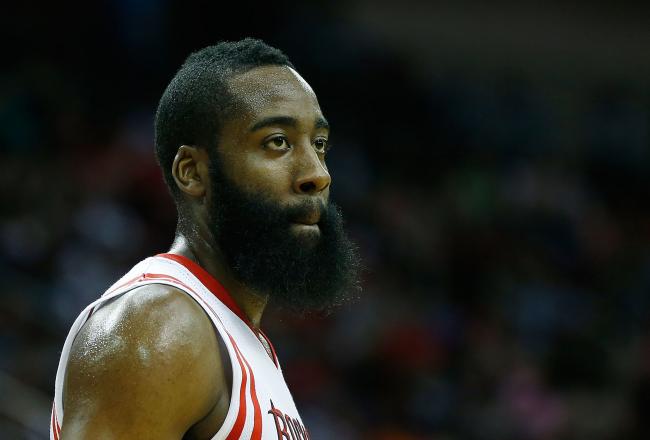 Omer Asik saw just seven minutes of action, as the Suns went small and Kevin McHale didn't feel comfortable leaving him to cover Markieff Morris or Scola.
The Rockets got 30 points from their starting backcourt of Jeremy Lin and James Harden, but the Rockets bench was ineffective, save some hot shooting from Carlos Delfino when he checked in.
For Houston to come back in this game, they likely need to do nothing more than continue to play Houston Rocket basketball. That may seem like an oversimplification, but Kevin McHale's team is far more talented than the Suns, and the law of averages will win out if they give effort in the second half.
Just the fact that James Harden can get to the line so prolifically makes a six point deficit practically no lead at all.
SUNS 67, ROCKETS 61 — Halftime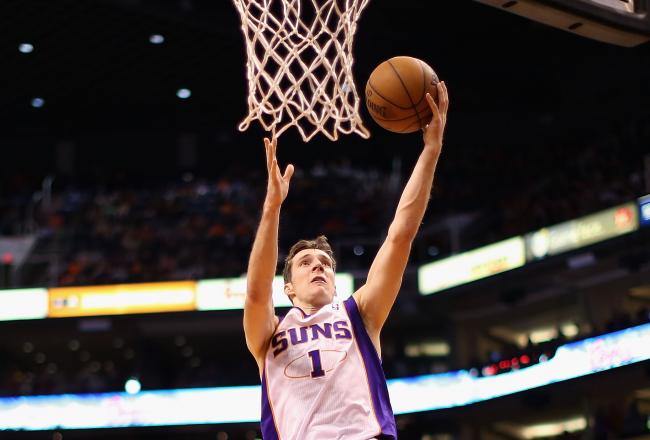 Goran Dragic put the skills on display in the first half, and gave the Suns fans in attendance some reason to believe their team can evolve into a winner next season. The Slovenian floor general scored 12 points and dished out 13 assists in the first half, and at many points looked like a lefty Steve Nash.
Suns fans didn't set the bar that high when he was obtained this summer, and a Hall of Fame career is pretty unlikely to say the least, but to see flashes from Dragic is inspiring for a Suns fanbase who has struggled to fill the arena all season.
Luis Scola is the other primary reason the Suns were able to look like a contending team for one half of basketball. The Argentine power forward had 21 first half points, knocking down an array of mid-range jumpers in addition to strong moves to the rim.
Scola hit 9-of-12 from the floor, exploiting an inexperienced Rockets' power forward rotation, which features second-year man Greg Smith and two rookies (Thomas Robinson and Donatas Motiejunas).
SUNS 67, ROCKETS 61 - Halftime
It's very apparent that with the right pieces, Goran Dragic could run a very effective team around him.
Josh Smith would benefit from Dragic's deft passing skills, and the number of resultant lobs that could result from the tandem would likely rival what Chris Paul and Blake Griffin do in Houston. That's not overstatement. Good luck getting J-Smoove this summer, Phoenix. It's a good fit.
SUNS 67, ROCKETS 61 — 5.3 seconds in 2nd Q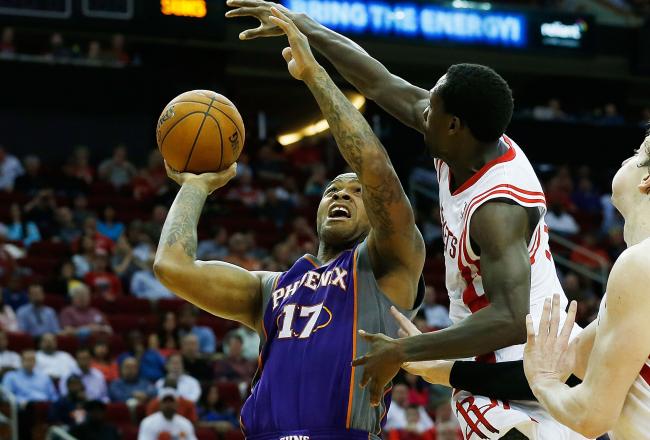 Anthony Leon ("P.J.") Tucker has had a rough path since being drafted 35th overall in 2006. He's spent the majority of the last seven years in the D-League, where he averaged 10.7 points per game, in addition to 3.4 rebounds and 2.1 assists.
Tucker had a standout NCAA career as a three-year starter for Texas, and he averaged 16.1 points and 9.5 rebounds per game as a junior before leaving for the draft. Tucker has started 43 games this year for the Suns, and he's played reasonably well with per-36 averages of 9.2 points and 6.6 rebounds on 46.9 percent shooting.
Tucker's spin move past Jeremy Lin looked polished and crafty, so the flashes are there to show Tucker has the potential to be an NBA player.
It's just unclear as to whether the 6'5" forward can overcome his small stature to succeed as an undersized player at his position. He has six points on 3-of-4 shooting and came up with a steal. It's been a long path to become an NBA starter, and it is on a poor Suns team, but Tucker has arrived.
SUNS 56, ROCKETS 55 — 2:26 2nd, Timeout In Play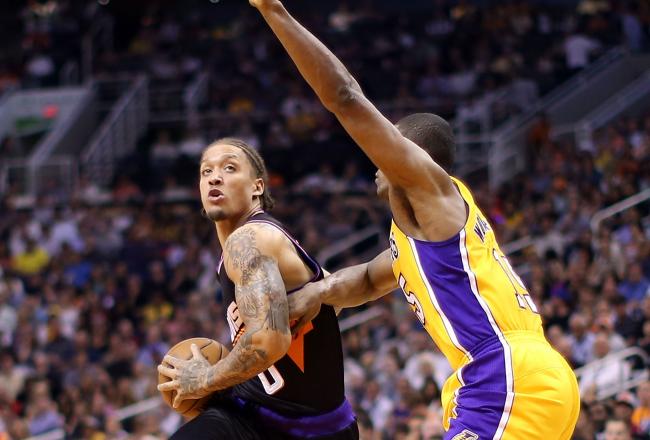 The Phoenix Suns' Michael Beasley has been one of the biggest draft busts of the last few drafts.
Taken No. 2 overall in 2008 by Pat Riley's Miami Heat, Beasley has struggled to establish much of a niche as a player. He's too small to play power forward, despite being listed at an absurdly inaccurate 6'10". He's long—but having a nice wingspan doesn't substantiate the action of adding some 3.5 inches to one's listed height.
$Beasley has averaged just 5.2 rebounds per game over his career, and he's shooting a career low 40.8 percent from the floor this season as a primary scoring option on a horrible team.
Dwyane Wade had hoped Beasley would become his second fiddle in Miami when they drafted the Kansas State standout, but he eventually was dealt to Minnesota for a second round pick, just to clear cap space.
The Lakers reported that they had no interest in Beasley last season when he was offered to them at the trade deadline, and it was only last summer that the Phoenix Suns bit the bullet and took on the malcontent swingman.
They've regretted it ever since, and at this point Beasley is nothing more than a guy who takes a lot of bad shots and once looked as though he could thrive in the NBA. In three minutes of play tonight, he missed both his shots before heading back to the bench.
The Suns were outscored by six points during that span, and Beasley really is more of a liability than an asset, which makes the two years and $12.2 million left on his contract a bitter and difficult pill to swallow.
ROCKETS 54, SUNS 50 — 5:18 2nd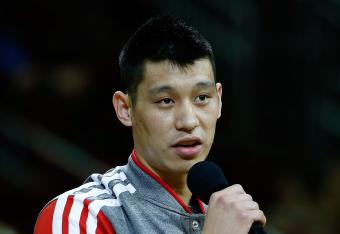 Jeremy Lin has eight points in the second quarter and the Rockets have outscored Phoenix 15-6 in the period to pull back in the game.
SUNS 45, ROCKETS 43 — 8:22 2nd (TO)
The Argentine national team is on display. Luis Scola is still on fire and now has 19 points on 8-of-10 shooting, and Carlos Delfino checked in and immediately drilled a three-pointer for the Houston Rockets.
This tandem, in addition to the San Antonio Spurs' Manu Ginobili and Knicks guard Pablo Prigioni, is the reason why Argentina is consistently one of the toughest international teams for the United States to beat.
SUNS 45, ROCKETS 43 — 8:22 2nd, Phoenix Timeout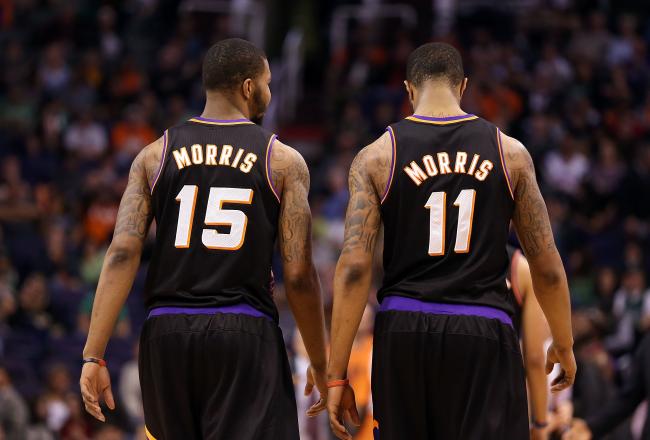 The Morris twins are on the court together again. I missed the only chance to play with my brother in high school when I quit playing after my sophomore year, and as a senior I could have had to the chance to play with a then-freshman brother for our high school. Fascinating, I know.
Markieff and Marcus both were taken in the lottery of the 2012 NBA draft, and they're very similar players from the same alma mater.
The Suns are hoping the twins can create some of the success they experienced together at Kansas on the pro level. The Suns are a ways away from contending again, to be sure. It would have to be pretty cool playing with your sibling in an NBA game. It was a dream of ours growing up, and these Morris fellas are living the sibling fantasy.
Markieff hit a three and has grabbed four rebounds, while Marcus didn't fare quite as well, picking up three fouls and three minutes before heading back to the bench.
SUNS 39, ROCKETS 33 — 10:26 2nd, Timeout In Play
FIRST QUARTER TEAM STATS:
Rebounds: PHX 12, HOU 8
Turnovers: PHX 3, HOU 4
Field Goal Percentage: PHX 61.5%, HOU 43.5%
Leading Scorers: PHX- Scola, 13. HOU- Harden, 12.
SUNS 39, ROCKETS 28 — End of 1st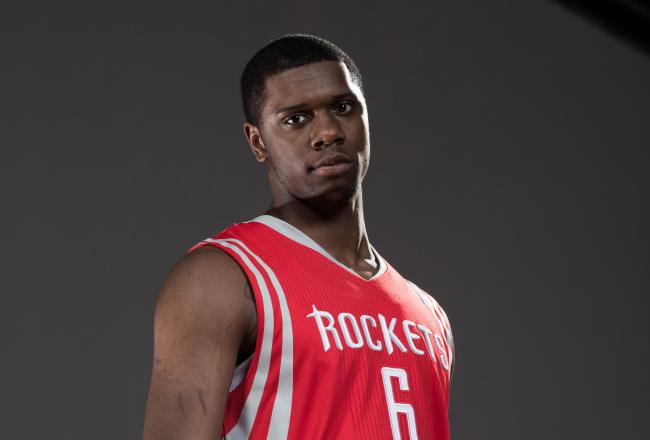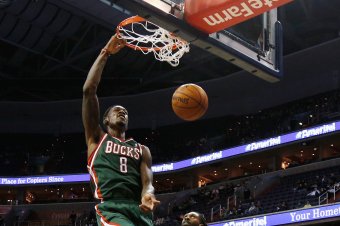 Rob Carr/Getty Images
The Rockets block just 4.3 shots per game, which ranks fifth-worst in the NBA. Adding a guy who can change and block shots would dramatically improve the Rockets, and if there's any way Daryl Morey could pry Larry Sanders as a free agent this offseason, the Bucks loss would make the Rockets contenders.
Sanders is by no means the ultimate prize as a free agent, he's just a great fit that would vastly improve the Rockets and mesh well with their up-tempo style of play. We'll see.
Terrence Jones may be the answer here, though. He's blocked two shots already tonight and had five blocks in the contest against the Sacramento Kings last night (April 14, 2013). Jones was a high upside pick coming out as a one-and-done from Kentucky, and he's very coordinated and athletic.
Watching Jones, you get the feeling he could be a very effective combo forward and game changing defensive talent.
Even so, just because the Rockets have Jones doesn't mean they should be counted out of adding another premier shot blocker this summer.
SUNS 37, ROCKETS 25 — Under 1 Minute, 1st
This article is
What is the duplicate article?
Why is this article offensive?
Where is this article plagiarized from?
Why is this article poorly edited?