Lavar Edwards: Video Highlights for Former LSU DE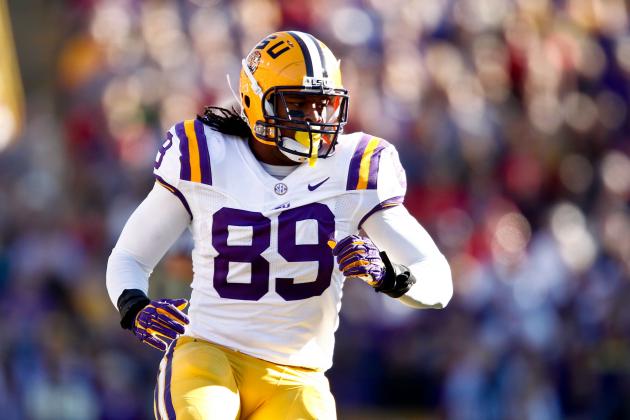 Derick E. Hingle-USA TODAY Sports

LSU's Lavar Edwards flies a little bit under the radar due to some of the bigger names he played alongside, but that should hardly tell you everything you need to know about this well-rounded prospect.
As a player who had to earn his way onto the football field and fight for every ounce of playing time he got, Edwards comes into the NFL with a balanced overall skill set and level of drive and determination that should make him a nice rotational player early on in his career.
It's a role he is undoubtedly familiar with, having played behind both Barkevious Mingo and Sam Montgomery for the majority of his career while in Baton Rouge.
Let's take a closer look at what makes Edwards a name you should look for in the middle rounds of next week's draft.
Begin Slideshow

»
In this clip, Edwards gets a good release upfield initially, but what ultimately allows him to pressure the quarterback is his ability to play with leverage.
By keeping his pad level low, Edwards is able to properly engage his opponent with his arms fully extended—thus allowing him to temporarily knock the tackle off-balance and create a lane to the quarterback.
In the end, Edwards fails to make the sack, but his pressure is the main difference here between a completed pass and an incompletion.
Just another reason why stats don't always tell us the whole story.
When you're competing for roster spots and playing time in the NFL, every little bit helps, and Edwards' ability to contribute on special teams is a quality that should earn him extra points.
In this clip, you see Edwards hustling down the field and ultimately making the play.
What's impressive about this is not just his ability to race down the field, but his discipline to stay in his lane and engage his blocker with the correct shoulder.
Players who can contribute on special teams and have experience covering kicks are all the more valuable and can ultimately be the deciding factor between two similarly graded players.
Certainly an added quality that will only help him stick on a 53-man while earning the trust and admiration of his coaches for being a team player.
To play defensive end, you must also be able to defend the run, and to do this takes some amount of discipline, especially when playing on the outside.
The point of the read-option offense is to force the defensive end or outside defender to make a choice and pressure him into crashing down and losing contain.
Here, Edwards is confronted with this very choice and passes with flying colors.
By executing proper eye discipline, Edwards forces the play back inside, where he is ultimately able to finish the play and keep the runner from threatening the integrity of the defense.
Another positive check in the column for Edwards.
Executing discipline is certainly important, but defensive players make their money by displaying fantastic instincts and awareness.
Ultimately, defenders must be able to find and locate the football, and the quicker they can do this the better off they are.
In the play highlighted here, Edwards does a great job recognizing the run and reacting to the information in front of him by sifting through the traffic and taking down the ball-carrier.
Clearly another skill that will serve him well in his transition to the NFL game.
One surefire way to increase your value is having the ability to play multiple positions.
At LSU, Edwards was used at each defensive end spot and slid inside on passing downs, like in the play highlighted here.
Lined up over the center playing as the zero-technique, Edwards is able to get fantastic upfield push to collapse the pocket and walk his opponent back into the lap of the quarterback.
This interior pressure Edwards is able to create is extremely hard to escape for quarterbacks and speaks to the amount of versatility he can offer to a potential defense as a rotational pass-rusher with flexibility.
Yet another aspect of his overall game that only makes him all the more marketable to NFL teams.
So far we've seen what makes Edwards a balanced player overall, but at the end of the day, a defensive end is judged ultimately by one thing and one thing only.
His ability to rush the passer.
The play I selected to highlight that here starts with Edwards getting a great jump off the line, displaying fantastic snap-anticipation skills.
Due to this initial upfield pressure, he forces the tackle to overextend and temporarily open the inside door. Using his length and powerful hands, Edwards then combines his upper and lower body strength to push through and past his opponent en route to his sack of the quarterback.
This combination or move is known as an up and under and effectively shows how Edwards is able to convert speed to power, while using his long limbs to create separation and space to work.
These are all qualities and skill sets that make him an incredibly intriguing player to consider in the middle rounds of next week's draft.