Fact or Fiction on MLB's Hottest, Coldest Offensive Starts of 2013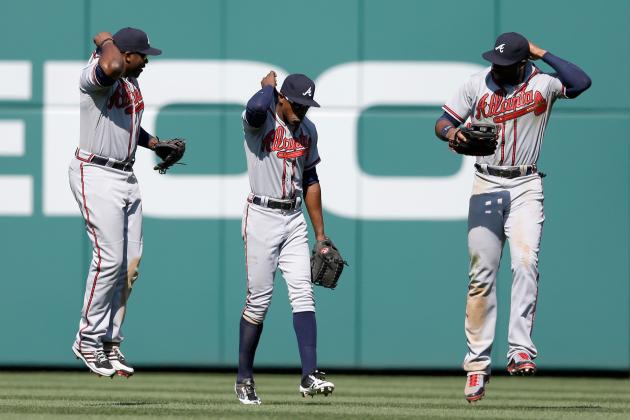 Rob Carr/Getty Images

Two weeks into the MLB season and some stars are really hot, while others are blowing it. Like most stars, they'll either cool off or start to heat up.
However, there are some that have a few question marks behind them. Here's a look at 20 players who are off to hot or cold starts and whether they will last.
It's time to play a little fact or fiction on if each player will indeed stay on the same path or if things will get better or worse.
Note: For players on cold streaks, fact means they'll stay cold all year, while fiction means they'll turn it around. For players on hot streaks, fact means they'll continue the hot streak, while fiction means they'll cool down a lot.
Begin Slideshow

»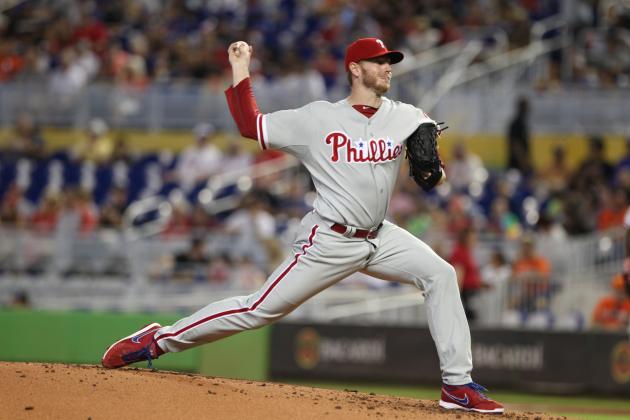 Marc Serota/Getty Images
Roy Halladay
Roy Halladay has struggled this year for the Philadelphia Phillies. While he did pick up his 200th career win Sunday, Halladay has looked anything but his former self this year.
He currently sits at a 7.63 ERA, which is half of what it was before Sunday's start. His struggles could be a result of lost velocity, which had fans worried in the offseason.
Any way you look at it, Halladay is looking human again. He gave up one run on Sunday, but how long will his hot streak last?
Verdict: Fact. Halladay will struggle for most of the year.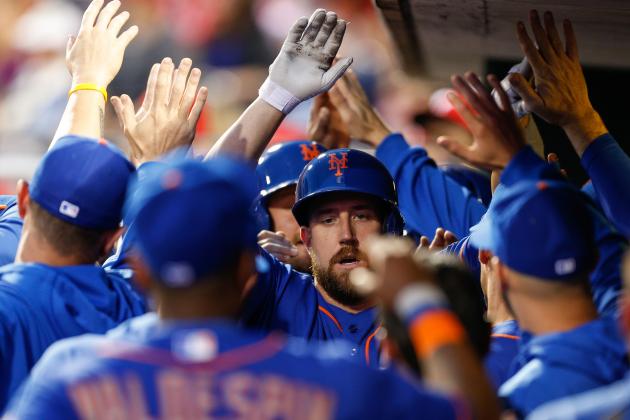 Brian Garfinkel/Getty Images
John Buck
Who expected John Buck to be off to this hot of a start for the New York Mets?
If you raised your hand, you're either a Mets fan or you're lying.
Buck is halfway to his 2012 home-run total with six and has 19 RBI. Even more amazing, he's batting .317. If he finishes at or near that, it will be only the second time in his career he's batted better than .250.
Verdict: Fiction. Buck can't keep this pace up.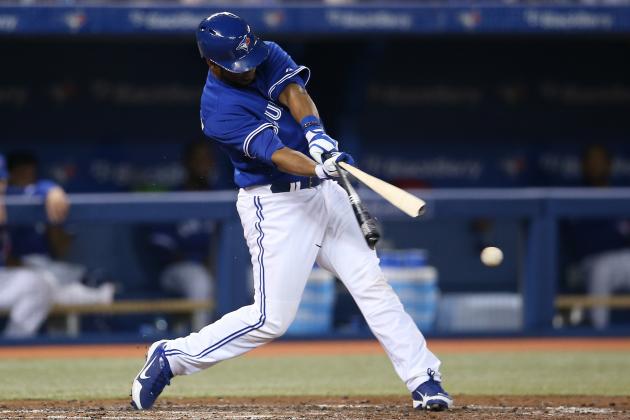 Tom Szczerbowski/Getty Images
Edwin Encarnacion
Edwin Encarnacion was one of baseball's best power hitters last year, hitting 42 home runs for the Toronto Blue Jays. However, 2013 hasn't been too kind to him, as he's batting .184 with two home runs and six RBI. The power is still likely there, but he's starting to strike out more.
Should he keep this up, he could enter Adam Dunn territory.
Encarnacion is only 30 years old, but for a player who has been inconsistent throughout his career, one has to wonder if 2012 was a fluke.
Verdict: Fact. Encarnacion's best days are behind him.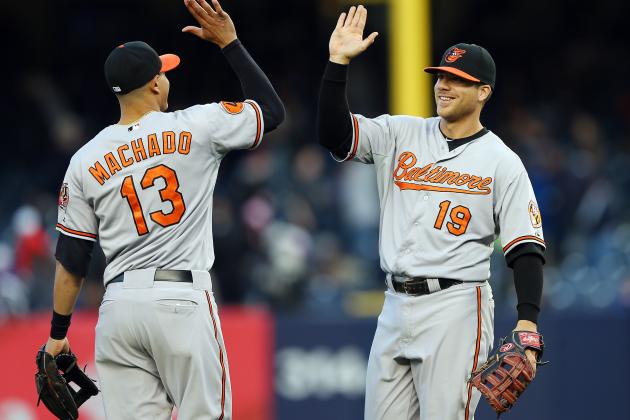 Elsa/Getty Images
Chris Davis
Chris Davis has been on a tear this year for the Baltimore Orioles. He is currently hitting .366 with six home runs and 19 RBI.
Last year, he had a resurgence with the Orioles, hitting 33 home runs and driving in 85 runs.
With many people still doubting Baltimore's ability as a team, Davis and his teammates continue to get the job done.
Whether they'll be back in the playoffs remains to be seen. However, he should keep showing his power, although his average will drop over the next few weeks.
Verdict: Fact. All signs point to Davis slowing down a little, but continuing to perform strong throughout the year.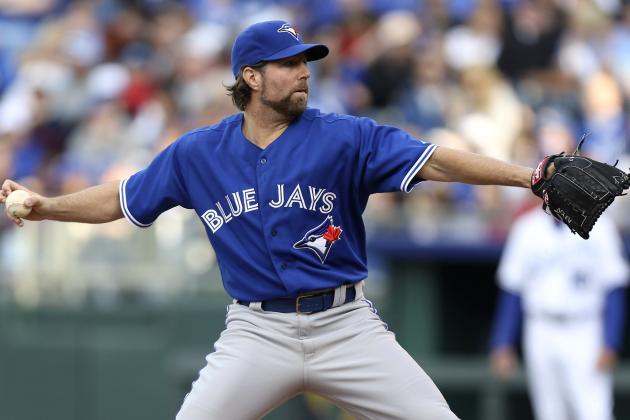 Ed Zurga/Getty Images
R.A. Dickey
From the looks of things, the Mets got rid of R.A. Dickey at just the right time. He is currently 1-2 with a 5.82 ERA and 13 strikeouts in 17 innings pitched.
Last year, Dickey's success was due to the fact that he struck out more than one batter per inning. This year, he hasn't done that.
Is it a change in scenery? Is it age?
However you look at it, Dickey isn't the same pitcher from 2012.
Verdict: Fact. Dickey's knuckleball doesn't look like it did last year. Age, combined with new surroundings, doesn't spell success.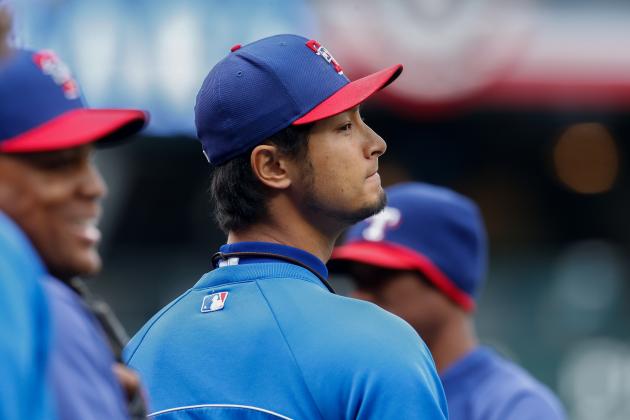 Otto Greule Jr/Getty Images
Yu Darvish
Yu Darvish is looking good once again for the Texas Rangers. He's currently 2-1 with a 2.75 ERA and 28 strikeouts, which leads the league. The ERA might not be where Darvish wants it, but everything else looks good.
He began the season with a bang, almost throwing a perfect game against the Astros. Darvish should continue at this pace, losing a game between every three to five starts.
Verdict: Fact. Darvish proved he could do it last year and he'll keep up his hot start this year.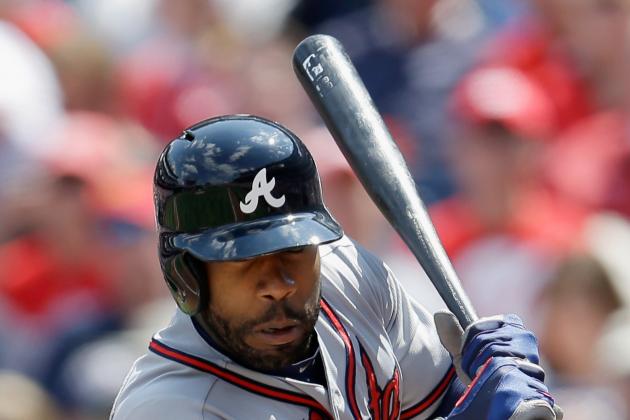 Rob Carr/Getty Images
Jason Heyward
Jason Heyward has had cold spells for the Atlanta Braves. But one thing is for sure, he's making up for it in other ways.
He's made countless plays in the outfield to save runs from scoring. He also is credited with hustling into second base Friday against the Nationals. He prompted a hurried throw from Ryan Zimmerman. The third baseman made an errant throw and the Braves tied the game in the ninth and went on to win in the 10th.
Heyward is struggling, batting .103 with one home run and four RBI. However, he'll eventually get out of this cold streak and turn things around.
Verdict: Fiction. It's not as if Heyward isn't making contact; he's just hitting it to where people are.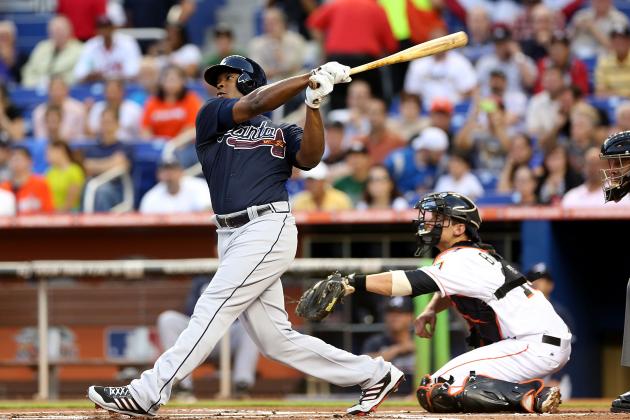 Marc Serota/Getty Images
Justin Upton
Justin Upton has been on a tear since he donned an Atlanta uniform. He's currently batting .348 with seven home runs and 11 RBI, making Braves fans forget about Martin Prado.
Upton seems to be having more fun in Atlanta and realizes he doesn't have to be the face of the franchise. Sometimes, that's all a player needs to succeed.
Verdict: Fact. Upton seems more comfortable in his new surroundings and is enjoying baseball once again. It doesn't hurt that he's on the same team with his brother, either.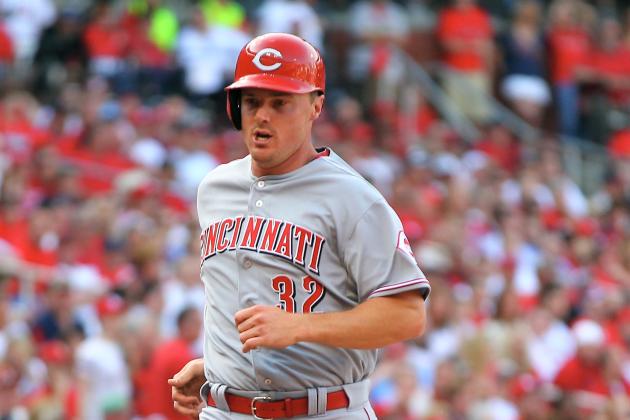 Dilip Vishwanat/Getty Images
Jay Bruce
Jay Bruce is batting a decent .276 for the Cincinnati Reds, but there are other issues in his game right now. He has no home runs and only five RBI in the season's first two weeks. Not to mention he's fourth in the league with 18 strikeouts.
The other players that should be hitting home runs have been doing so for the Reds. Bruce is the only one who hasn't joined the party.
Verdict: Fiction. History shows that Bruce will eventually turn things around. He can't struggle all season...can he?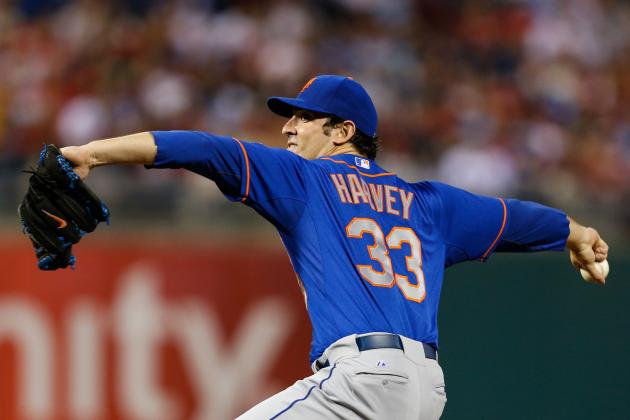 Brian Garfinkel/Getty Images
Matt Harvey
Most of us knew Matt Harvey was good, but not this good. He is 3-0 with an 0.82 ERA and 25 strikeouts. He's putting up numbers better than R.A. Dickey did last year for the team.
While Harvey's start is good, fans should still take a wait-and-see approach. His starts have been against the San Diego Padres, Philadelphia Phillies and Minnesota Twins, all three of which have struggled this year.
He'll make an impact this year for the Mets, but at some point, he'll cool down.
Verdict: Fiction. Hitters are going to figure Harvey out and he'll have to make adjustments.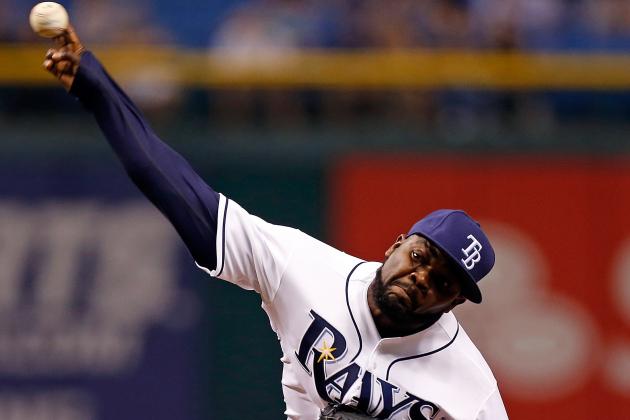 J. Meric/Getty Images
Fernando Rodney
Fernando Rodney had a career year in 2012 for the Tampa Bay Rays, posting an ungodly 0.60 ERA and 48 saves. The saves number is not the remarkable stat, as he had 37 in 2009. The most amazing was his ERA, which was only his second season of having an ERA below 3.52.
Rodney's great 2012 hasn't carried over, as he has a 10.13 ERA in three appearances. It's still early, but you would expect him to start the season off a little better.
Verdict: Fact. Rodney won't see the type of success he saw in 2012 and will see his ERA close to 4.00 by the end of the year.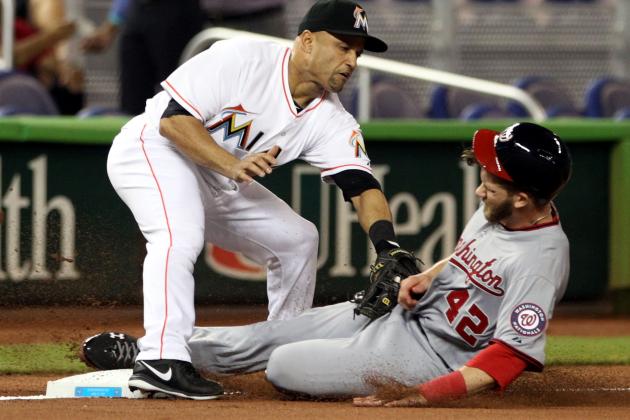 Marc Serota/Getty Images
Bryce Harper
Every time I turn on ESPN and watch a Washington Nationals highlight, the commentators are showing off their "man crush" on Bryce Harper. How many times have you heard them say something like, "Bryce Harper with another multi-hit game. This kid is on fire"?
Harper is an extraordinary athlete, but he's doing what multiple others have done. He's hitting .320 with five home runs and 10 RBI and has looked impressive.
However, like the others, he'll cool down as the season wears on. But, I also believe he'll continue to be one of the best hitters in the NL this year.
Verdict: Fact. The Wonder Boy is looking good so far this year. Once ESPN gets over it being lead-story news when he gets two hits in a game, things will settle down.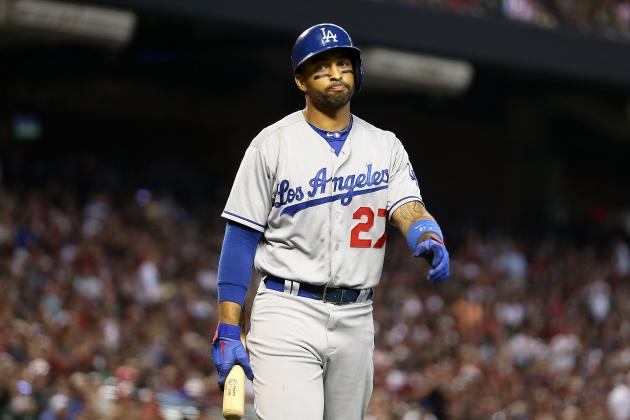 Christian Petersen/Getty Images
Matt Kemp
Most Los Angeles Dodgers fans are probably wondering the same thing—how is Matt Kemp struggling this much to start the year? He is currently batting .196 with no home runs and four RBI.
In fact, the most fire I've seen out of him all season was during the Padres/Dodgers brawl on April 11.

The Dodgers are already without Hanley Ramirez and now Zack Greinke, so Kemp must step up if he wants to be a team leader.
Verdict: Fiction. When healthy, Kemp is one of the best players in baseball. He'll work his way out of the slump and put up good numbers again this year.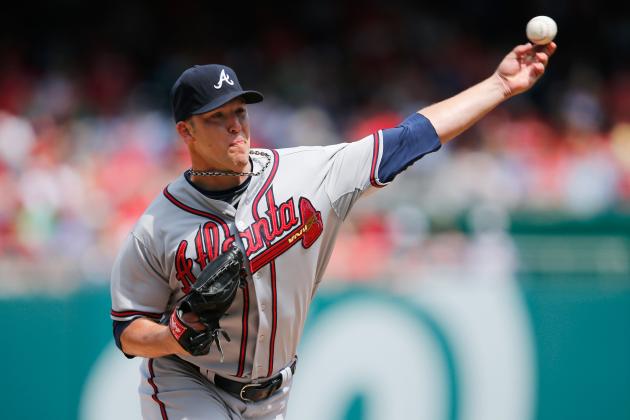 Rob Carr/Getty Images
Paul Maholm
Paul Maholm is currently the hottest pitcher in MLB. In three starts (Philadelphia, Miami and Washington), he has not given up a run and has struck out 20. He's looked good, especially with the slow curve (subscription required) he's developed.
Maholm has turned into the Braves ace, although most would not consider him one.
Someone will eventually score runs off him, but if he continues to pitch the way he is, Maholm could find himself in the Cy Young discussion.
Verdict: Fact. I'm not saying Maholm won't give up a run this year, but he's pitching lights out. He seems to have good command of all his pitches and he's finally on a winning team for an entire season.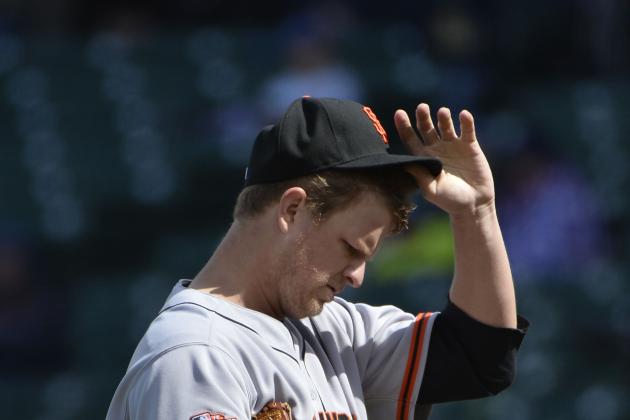 Brian Kersey/Getty Images
Matt Cain
Last year, it was Tim Lincecum, and this year, it is Matt Cain for the San Francisco Giants. For some reason or another, being the ace of the Giants staff hasn't been a good thing the last two years.
Cain is currently 0-1 with a 5.94 ERA. While it's not horrible, it's unlike him to struggle this early in the season. Then again, he does have a career record of 8-10 in April with a 3.43 ERA.
Most likely, he'll turn it around as the season progresses.
Verdict: Fiction. The same would have been said about Lincecum last year when he struggled early, but we saw how that turned out. Cain will turn things around and figure out how to pitch like the team's ace.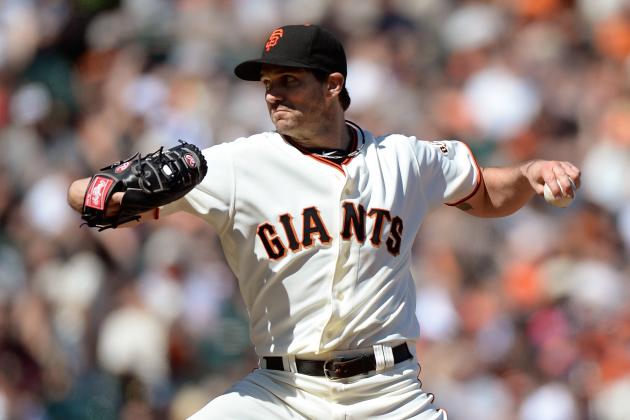 Thearon W. Henderson/Getty Images
Barry Zito
Barry Zito was a pleasant surprise for the Giants last year, and he is shocking everyone again. Once described as the most overpaid player in baseball, he is starting to actually earn the dollars on his contract.
Zito is 2-0 and hasn't given up a run. He's never going to strike out a lot of batters, but his control has been spot on this year.
In the end, he could be the key to whether the Giants return to the World Series.
Verdict: Fact. Zito is looking good and is looking like the pitcher of old. It seems like he's finally worth what his contract is paying him.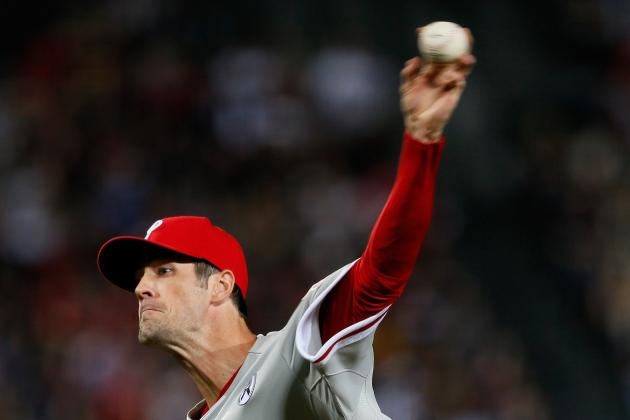 Kevin C. Cox/Getty Images
Cole Hamels
Cole Hamels finally became the Phillies' Opening Day starter and he's struggled ever since. He's given up 14 earned runs in three starts, although he did pick up a loss after giving up only one against the Marlins.
Still, Hamels is not striking anyone out and is allowing a career-high 10.3 hits per nine innings. That's not exactly the way to declare you're the ace.
Verdict: Fact. Hamels is putting too much pressure on himself and that's affecting him. Until he gets that under control, he will struggle.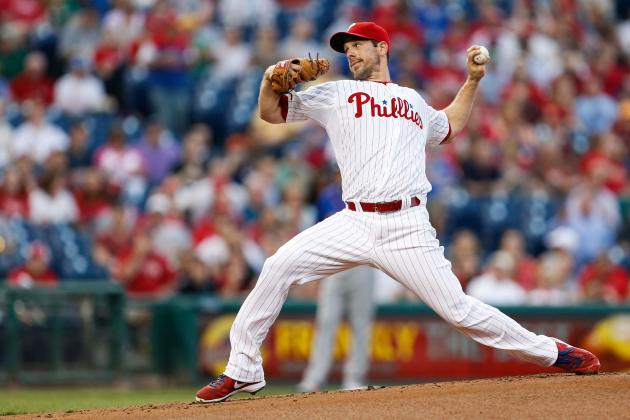 Brian Garfinkel/Getty Images
Cliff Lee
While Hamels has struggled for the Phillies, Cliff Lee has looked good this year. In three appearances, he has a 2-0 record with a 1.52 ERA and 18 strikeouts. He's showing his ace stuff and is the only pitcher to halt the Braves offense this year.
If he's pitching like that against the best teams in the league, then there is no question who the ace of the pitching staff is.
Verdict: Fact. Lee is pitching like we knew he could. While 2012 was a struggle, Lee worked through his troubles and is showing signs of his former self. It should continue throughout 2013.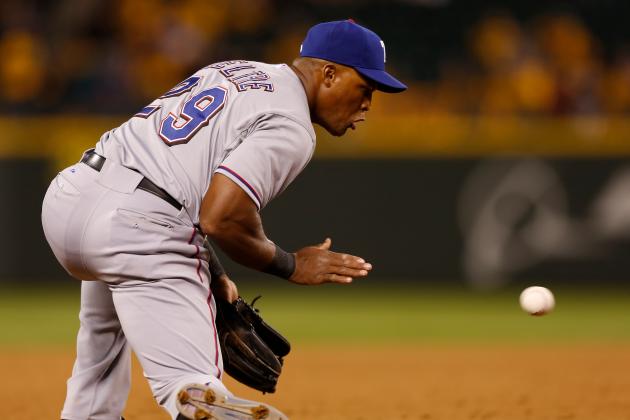 Otto Greule Jr/Getty Images
Adrian Beltre
The Rangers are 8-5, so it's not a time to panic, but Adrian Beltre has to start hitting and pick up the slack of the lost offense from 2012. However, he has yet to do that, as he has a .224 average with one home run and four RBI.
While he's had a great last three years, one has to wonder if he is reverting back to his subpar days when people questioned his work ethic.
However, I don't believe it's the case and he'll come out of the slump.
Verdict: Fiction. Beltre will adjust and his numbers will improve. He's just in the middle of a minor struggle.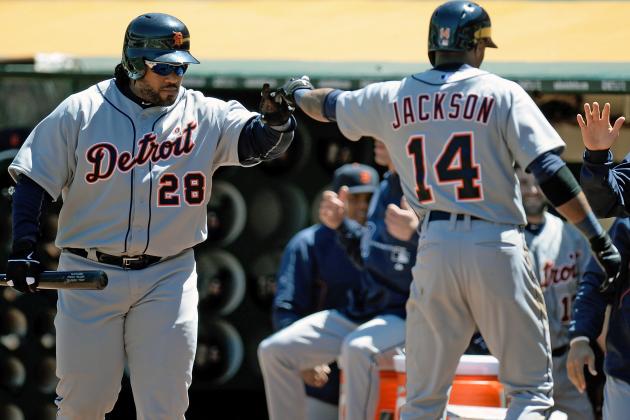 Thearon W. Henderson/Getty Images
Prince Fielder
Prince Fielder wants to keep the AL MVP in house this year, as he's off to a torrid start for the Detroit Tigers. He is batting .429 with four home runs and 19 RBI. He has a .519 average with men on base, belting three home runs and 18 RBI.
Fielder won't continue to bat above .400, but he'll still have good numbers across the Triple Crown categories and could contend for the crown this year.
Verdict: Fact. Fielder is looking like an MVP-caliber player. If keeps it up, he could make it three straight years for Tigers to win the award.