Montel Harris: Video Highlights for Former Temple RB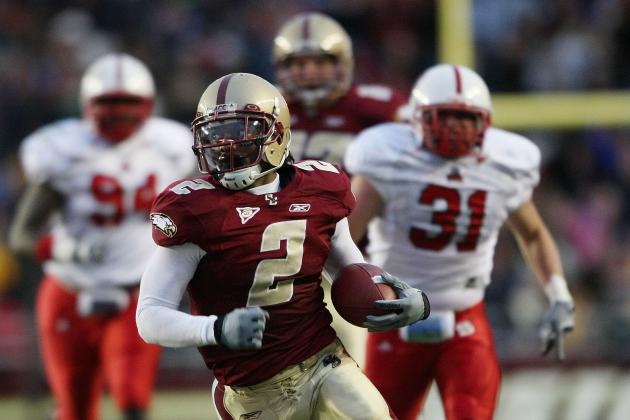 Elsa/Getty Images

At just 5'8", Montel Harris will likely have to find his way to an NFL roster after becoming an undrafted free agent.
Harris holds the record for most rushing yards in the history of Boston College football, but that didn't stop the team from dismissing him due to a violation of team rules.
He then went to Temple, where he was given immediate eligibility. He shined for the Owls, rushing for 1,054 yards and 12 touchdowns.
Harris now looks to bring his talents to the NFL with an outside chance of being a late-round pick.
Let's look at some highlights from Harris' college career.
Begin Slideshow

»
Despite his size, Montel Harris is very good at absorbing hits and getting extra yardage.
Here against Clemson, he takes a hit and spins off it, coming up with about five more yards after contact (play ends at :27).
Montel Harris is a very decisive runner who quickly recognizes his blocks and attacks the hole.
On this play in the same Clemson game, he takes a handoff on 2nd-and-4 before following his blocks and showing some nice footwork for a good gain (play ends at 1:51).
You start to get the idea that what makes Montel Harris a possible draft pick is his elusiveness.
Lined up in the shotgun formation, Harris takes the inside handoff and makes the middle linebacker miss badly before coming up with a nifty spin move to gain another yard (play ends at 3:43).
On this play, Montel Harris shows some versatility by leaking out of the backfield and becoming a receiver.
Yes, he's wide open, but he still shows nice hands. Once he has possession of the ball, he shows a nose for the end zone, barreling in for a 36-yard touchdown (play ends at 4:45).
Montel Harris is a very physical player for his size. He rarely dances around in the backfield looking for holes.
He is a tough north-south runner, as evidenced by this play here.
As Boston College tries to put the finishing touches on a victory, Harris takes the carry and bounces it back to the inside, getting a good chunk of yardage on first down.
On the day, Harris had 143 yards rushing on 37 carries to go along with the 36-yard touchdown catch.