UFC on Fox 7: Info and Predictions for Henderson vs. Melendez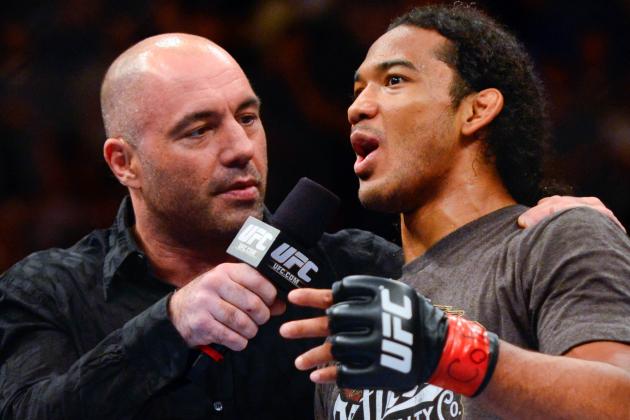 Ron Chenoy-USA TODAY Sports

Benson Henderson will put his lightweight title on the line once again at UFC on Fox 7, where he will appear in the main event against former Strikeforce champion Gilbert Melendez.
Melendez will be fighting for the first time since beating Josh Thomson in his final Strikeforce title defense nearly 11 months ago. Long considered one of the best lightweights competing outside of the Octagon, there will be a lot of pressure on Melendez to perform on Saturday.
UFC on Fox 7 will also feature the Octagon debut of Strikeforce Heavyweight Grand Prix winner Daniel Cormier. Undefeated in 11 MMA fights, Cormier will be tested right away with a bout against former UFC heavyweight titleholder Frank Mir.
A number of other important matchups will be shown on Saturday's fight card, so here's a look at how to see each of them and prediction on which fighters fans should expect to win.
Begin Slideshow

»

UFC.com
How to Watch
Facebook at 4 p.m. ET
Preview
Clifford Starks has been out of action for 14 months since his submission loss to Ed Herman.
Prior to his bout with Herman, Starks used his wrestling to pick up a win in his UFC debut against Dustin Jacoby. Now back to facing a less experienced opponent than Herman, Starks will have a good chance to get back on track at UFC on Fox 7.
Yoel Romero only has five MMA fights under his belt and will be making his UFC debut on Saturday.
Though he doesn't have the cage time of a fighter like Herman, Romero earned a silver medal in Olympic wrestling, so he has the ability to shut down Starks' biggest weapon in the takedown.
Prediction
Romero defeats Starks by technical knockout in the third round.

UFC.com
How to Watch
Facebook at 4 p.m. ET
Preview
Anthony Njokuani has alternated wins and losses over his past seven fights. If that pattern is to continue at UFC on Fox 7, he'll find a way to beat Roger Bowling.
In his latest appearance, Bowling hung tough against eventual Strikeforce champion Tarec Saffiedine, losing in a decision.
With multiple takedowns in several of his fights, Bowling has shown he possesses the wrestling to test Njokuani's shaky takedown defense. The 33-year-old WEC veteran has only defended 59 percent of takedowns attempted on him despite rarely facing truly elite lightweight talent.
Prediction
Bowling defeats Njokuani by unanimous decision.

UFC.com
How to Watch
FX at 5 p.m. ET
Preview
Only one month after knocking out Issei Tamura, T.J. Dillashaw will return to the Octagon for a bout with Hugo Viana.
Viana gained a spot on the UFC roster by participating in TUF: Brazil and has won his first two bouts with the organization.
The Brazilian often swings wildly for the knockout. While that paid off in his most recent fight against Reuben Duran, Viana will leave himself open to takedowns should he get sloppy on his feet against a wrestler like Dillashaw.
Prediction
Dillashaw defeats Viana by unanimous decision.
UFC.com
How to Watch
FX at 5 p.m. ET
Preview
With wins in his first two UFC bouts, Tim Means has looked like one of the brighter prospects in the lightweight division, and he'll get his first big test on Saturday against former Strikeforce title challenger Jorge Masvidal.
After losing to Gilbert Melendez in 2011, Masvidal competed only once in 2012, beating Justin Wilcox in what would be his final Strikeforce appearance.
While Means has gotten it done with his striking at the UFC level, Masvidal has showcased a more well-rounded game against some of the best lightweights to compete under the Strikeforce banner.
Prediction
Masvidal defeats Means by unanimous decision.

UFC.com
How to Watch
FX at 5 p.m. ET
Preview
Joseph Benavidez bounced back from a loss to flyweight champion Demetrious Johnson by beating another top 125-pound fighter in Ian McCall. Though that win solidified Benavidez as the second-best flyweight in the world, the Team Alpha Male member decided to take some more non-title fights and improve before targeting Johnson again.
Darren Uyenoyama has won both of his two fights since joining the UFC roster, but he'll be taking a big step up in competition for this bout with Benavidez.
Uyenoyama is very skilled on the ground, but he could have that aspect of his game taken away by Benavidez, who has proven to be one of MMA's better grapplers against some of the best fighters under 135 pounds.
Prediction
Benavidez defeats Uyenoyama by unanimous decision.

UFC.com
How to Watch
FX at 5 p.m. ET
Preview
Ramsey Nijem has gained some momentum since losing to Tony Ferguson in the TUF finals, winning three straight bouts.
Myles Jury has also become successful after falling short of winning The Ultimate Fighter. Most recently, Jury picked up a dominant win over TUF runner-up Michael Johnson.
Although Nijem has made noticeable strides with his striking, his stand-up game is still less technical than Jury's. Nijem may have an edge in the wrestling department, but Jury showed that edge should be a small one with his performance against Johnson.
Prediction
Jury defeats Nijem by unanimous decision.

UFC.com
How to Watch
FX at 5 p.m. ET
Preview
With wins in his first four UFC bouts, Francis Carmont is starting to look like a potential middleweight contender.
Lorenz Larkin defeated Robbie Lawler in his final Strikeforce appearance, but the striker will have his takedown defense tested more frequently against a more calculated opponent in Carmont.
Training alongside Georges St-Pierre at Tristar Gym, Carmont will be as well-prepared as a fighter could possibly be heading into a bout with a stand-up fighter like Larkin. He'll look to take this fight to the ground early and often.
Prediction
Carmont defeats Larkin by submission in the second round.

UFC.com
How to Watch
FX at 5 p.m. ET
Preview
Chad Mendes has been looking to get back to competing against elite featherweights since losing to champion Jose Aldo. Although he's not set to meet a top-10 featherweight, Mendes will meet a more worthy adversary in Darren Elkins at UFC on Fox 7.
Elkins has won five straight fights and was given the opportunity to fight Mendes on somewhat short notice as a result of a Clay Guida injury.
Aside from his knockout of Antonio Carvalho, Elkins' wrestling has played a big role in his recent success. It'll be tough for Elkins to have the same level of success he has had with takedowns against a two-time All-American wrestler in Mendes.
Prediction
Mendes defeats Elkins by unanimous decision.

UFC.com
How to Watch
Fox at 8 p.m. ET
Preview
Having won four straight fights, Matt Brown appears to be hitting his stride as a fighter at 32 years old. A bout with Jordan Mein on Saturday could be his ticket to competing against a top-10 welterweight in his following appearance.
Mein made a big statement in his UFC debut, finishing a very tough Dan Miller in the first round.
While Brown has looked great lately, he's been facing unproven talent and an apparently fading Mike Swick. Mein is young, hungry and should be in great shape after taking little damage in his fight only one month ago.
Brown exudes toughness, but so did Miller, and that only gets a fighter so far against an opponent with the skill of Mein.
Prediction
Mein defeats Brown by submission in the first round.

UFC.com
How to Watch
Fox at 8 p.m. ET
Preview
Nate Diaz's run to the top of the lightweight class hit a snag when he met the division's champion at UFC on Fox 5. Once again, Diaz finds himself competing on the same network-televised card as Benson Henderson, but this time he'll be looking to pick up a win over an opponent outside the top 10.
Though Josh Thomson has lost two of his past three fights, he fought to a narrow split decision against UFC on Fox 7 headliner Gilbert Melendez in his final Strikeforce appearance. A win over Diaz would show that Thomson's performance against Melendez was no fluke and that he's one of the better 155-pound fighters in MMA.
A Melendez training partner, Diaz will have some inside information heading into the bout, as "El Nino" has fought Thomson three times throughout his career. That alone won't earn Diaz a win on Saturday, but his boxing mixed with the ability to keep opponents defensive on the ground should.
Prediction
Diaz defeats Thomson by unanimous decision.

UFC.com
How to Watch
Fox at 8 p.m. ET
Preview
Frank Mir has not competed in the 11 months since he lost to then-champion Junior dos Santos. However, a bout with the highly touted Daniel Cormier could provide Mir with a great chance to return to title contention.
Cormier will be making his UFC debut on Saturday. The Strikeforce Heavyweight Grand Prix champion has gone undefeated in his 11 MMA fights prior to joining the UFC ranks.
Though Mir is one of the most dangerous grapplers in the heavyweight division, Cormier is a former Olympic wrestler with the ability to shut down his opponent's attempts to take this fight to the ground. He also has worked alongside the likes of UFC titleholder Cain Velasquez at American Kickboxing Academy to develop his striking.
Prediction
Cormier defeats Mir by knockout in the second round.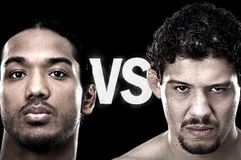 UFC.com
How to Watch
Fox at 8 p.m. ET
Preview
Benson Henderson will look for a third straight title defense at UFC on Fox 7. That would tie him with Frankie Edgar and B.J. Penn for the most consecutive lightweight title defenses in UFC history.
Looking for prevent history on Saturday will be Gilbert Melendez, who enters the UFC on a run of six straight Strikeforce title defenses.
Detractors can go on all they want about Henderson not being deserving of his belt after close fights with Edgar, but Melendez barely held onto his Strikeforce championship in his most recent outing against Josh Thomson.
The UFC lightweight division is a couple steps above what Strikeforce's 155-pound class was, and that will show on Saturday.
Prediction
Henderson defeats Melendez by unanimous decision.