Dodgers vs. Padres: Live Score, Analysis of Jackie Robinson Day Matchup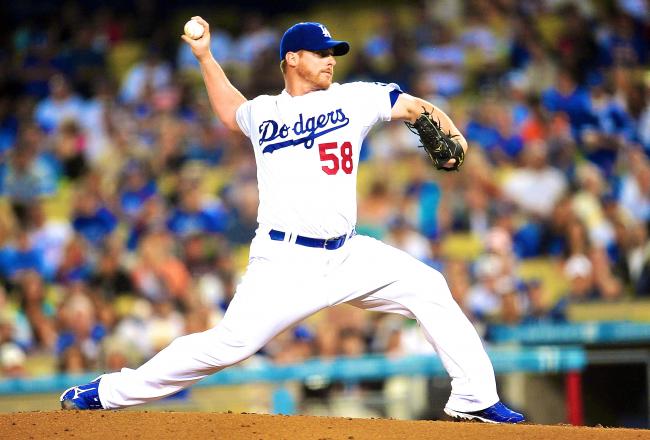 The Los Angeles Dodgers fell to 7-6 on the year following a 6-3 loss to the San Diego Padres on Monday night. The defeat was especially tough as the Dodgers celebrated the 66-year anniversary of Hall of Famer Jackie Robinson's debut with the franchise.
After defeating the Padres in his first start of 2013 last Wednesday, Chad Billingsley took the loss tonight. He gave up three earned runs in six innings, all of which came on a two-out, three-run home run to Padres starter—and former Dodger—Eric Stults in the top of the second inning.
After falling behind San Diego early, Los Angeles managed to tie the game at three by the end of the sixth, with Billingsley gutting out a tough performance. But the Dodgers bullpen continued its recent struggles, giving up three more earned runs over the game's final three innings.
The Dodgers managed 12 hits on the night, including three more by left fielder Carl Crawford, raising his average to .396 on the year. Matt Kemp also managed to get a pair of hits on the night, just his second multi-hit game of the year.
However, the Dodgers continued another disturbing early-season trend by hitting just 3-for-13 with runners in scoring position.
Los Angeles will look to get back on track Tuesday night as left-hander Chris Capuano makes his first start of the season against San Diego's veteran right-hander Jason Marquis.
Well. Not the greatest way to end Jackie Robinson Day in MLB but it's a long season. Plenty to celebrate for Dodgers fans despite the 6-3 loss to the Padres.
Of course Kemp would make the final out of the night. Only way to end a tough start to the season, although he has showed signs of turning it around lately.
This would be a nice time for Kemp to get his first three-hit game of the season and keep the Dodgers' faint hopes alive.
Last chance for the Dodgers down 6-3 in the bottom of the ninth. Not a lot to show for those 12 hits thus far.
The Dodgers' bullpen was supposed to be a strength of the team this year. Over the last few games, it has looked downright awful.
Dodgers fans are tough on the home team right now. It's only the 13th game folks. They'll be alright.
I have a better chance of touching home plate from my bed than any actual #Dodgers do. That's a fact.

— Juan Rosales (@juanrosales_) April 16, 2013
What was A.J. Ellis thinking about right there? Shouldn't the catcher of all people kn ow what's going on there with a potential play at the plate?
Good start to the bottom of the eighth inning for the Dodgers here. Let's see if Luis "Don't Call me Victor" Cruz can come through with a big hit here.
Generous call on the check swing but we'll take. Dodgers need all the help they can get at this point.
Good lord! That's the third batter in two innings the Dodgers bullpen has walked when the batter started off 0-2.
Apparently the 7th inning stretch didn't provide any inspiration for the Dodgers hitters.
Top of the 8th: Padres 5, Dodgers 3
Ugh! That was ugly, but the Dodgers get out of that only down two.
Branch Rickey's great-granddaughter with a sweet rendition of God Bless America during the seventh-inning stretch.
Bottom of the 7th: Padres 5, Dodgers 3
Good to see Kemp continuing to mature off the field
Dodgers' Matt Kemp learns more about Jackie Robinson - Los Angeles Times bit.ly/107Iv4k

— Entertainment Twits (@EntertainmentT) April 16, 2013
How did it all go so wrong so fast??? I'll take that double play though to minimize the damage.
So much for that battle of the bullpens. Bellisario is KILLING us right now!
This is a privilege that other baseball fanbases just don't have. No matter how you feel about the team, you can't deny the great history.
Listening to Vin Scully broadcast a Dodgers game is pure magic. Currently telling 1st-person stories of Jackie Robinson.

— Joey White (@onejoey) April 16, 2013
I love that Vin Scully still doesn't quite have the Twitter lingo down. God bless that man for trying.
Sure we'd love to get a Dodgers victory, but in case any of you forgot what tonight is really about...
66 years ago today, Jackie Robinson broke the color barrier in MLB to playwith the Brooklyn Dodgers. Thank you, #JackieRobinson!

— Erica Perez (@EricaPerezPR) April 16, 2013
Punto pinch hits for Billingsley to end the right-hander's night after 88 pitches. Other than the mistake to Stults, Billingsley gutted out a solid performance on a night when he didn't have his best stuff.
Let's see if the Dodgers can win the battle of the bullpens from here on out.
Top of the 7th: Dodgers 3, Padres 3
Great pickup by the Gold Glover Adrian Gonzalez at first to complete the inning-ending double play. Quick inning for Billingsley means we could very well see him start the seventh unless Mattingly lifts him for a pinch hitter in the bottom of this inning.
Bottom of the 6th: Dodgers 3, Padres 3
Great video on MLB.com on the legacy of Jackie Robinson:
66 years after Jackie Robinson debuted and changed @mlb in 1947, the #Dodgers take a look at his enduring legacy: atmlb.com/Yr9iCh

— Los Angeles Dodgers (@Dodgers) April 16, 2013
Tie game baby! Dodgers scratching and clawing there way back into this one with that RBI single from A.J. Ellis. These are the kinds of games Los Angeles needs to win if they want to unseat San Francisco as NL West champs.
That leadoff double gave Kemp only his second multi-hit game of the season so far. Is this a sign that he's breaking out of his slump?
Billingsley has given up a lot of hits tonight, but that's now three straight scoreless frames after the Stults three-run homer. If he can get through six innings without any more runs allowed, you'd have to consider this a successful start. He's giving the Dodgers a chance to win.
This article is
What is the duplicate article?
Why is this article offensive?
Where is this article plagiarized from?
Why is this article poorly edited?

Los Angeles Dodgers: Like this team?