Kawann Short: Video Highlights for Former Purdue Defensive Tackle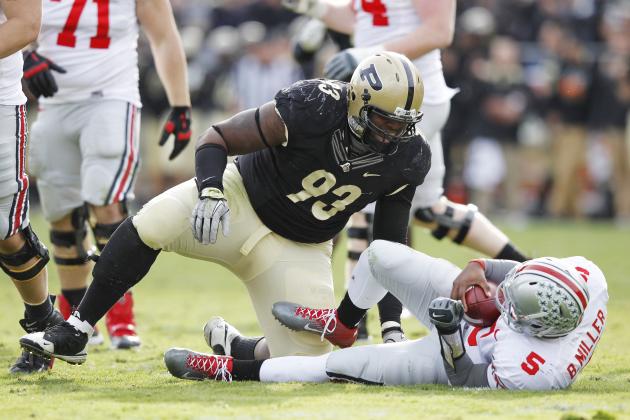 Joe Robbins/Getty Images

Kawann Short is a durable defensive tackle prospect that has some of the best strength you'll find at the position in this draft class.
At Purdue, Short displayed his prowess by consistently getting into the backfield for tackles for loss and batting down passes.
Short figures to be a top-50 pick. Here are seven highlight plays from his collegiate career at Purdue.
Begin Slideshow

»
Short shows his ability to overpower an opponent's blocker by storming into the backfield before Everett Golson had any time to react.
It's hard for any quarterback to make a play when he's under pressure that fast. This is the kind of thing that NFL scouts love to see from a defensive tackle prospect.
Short's ability to plug the hole and be a solid run defender is displayed here against Ohio State.
What makes this play by Short so great is that he forces the running back to cut back to the middle, leading to a tackle for no gain near the goal line.
This textbook tackle for a loss came a week later against Iowa, and once again Short shows his ability to get into the backfield in a hurry by overpowering an offensive lineman.
He also makes a nice shoe-string tackle to make the play. This particular play came on a crucial 3rd-and-short that stalled a drive for the Hawkeyes.
A nice blend of speed and power was displayed here.
You may not always come up with a sack, but rushing the quarterback into a bad throw is sometimes just as effective.
Short does exactly that in this clip against Minnesota this past season. He uses his strength, rather than just his speed, to blow past the blocker. To make things even better on this play, he gets a hard hit on the quarterback to send a message.
Short had a strong Senior Bowl outing, and this was just one of his highlight plays from that game.
On this play, Short uses a nice spin move to surge toward the quarterback. He didn't end up making the hit, but he causes enough hesitation by quarterback Tyler Wilson to let another defender make the play.
Great footwork was displayed here, which shows that Short isn't a one-trick pony when it comes to getting into the backfield.
Here's another highlight play from the Senior Bowl where Short shows how effective he can be against double teams. He pushes through two blockers to make the tackle for loss on Stepfan Taylor.
You love to see a guy overpower not just one blocker, but two and still make an impact on the play. His ability to work against double-teams makes him an intriguing prospect to go in the first two rounds of the draft
Finally, you love to see a defensive tackle who can just put a hurting on the quarterback. You want a guy who has a nastiness about him that will make the quarterback uneasy.
Short displays that nastiness in this perfectly legal,but effective hit on Landry Jones. Whichever team drafts Short should be excited about what he'll bring to a team's ability to put pressure on the quarterback.