Lions 2013 Mock Draft: Full 7 Round Predictions, 1 Week Ahead of the Draft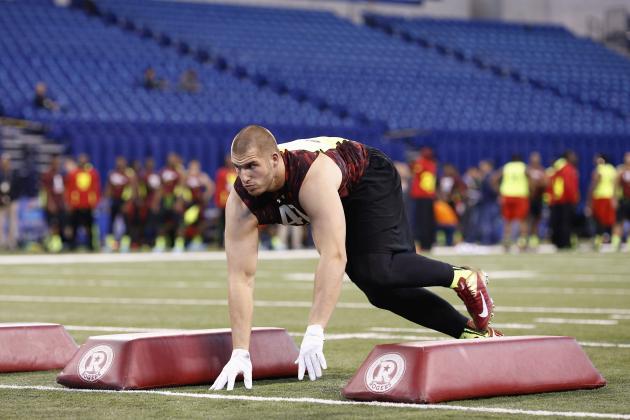 Joe Robbins/Getty Images

After all the hype, we're finally just a week away.
One week before fans of every NFL team splits into equal parts optimism and doomsaying. Grades will come within seconds, some will agree, some will argue, and some will say it's silly to grade a player that just joined his team 15 seconds ago.
It's all part of the process.
But until then, we have a week's worth of near-infinite possibilities, so let's enjoy the speculation and wonder before reality sets in.
As usual, none of these picks will be the same as last time, but there will be some players that have shown up in past drafts. You should recognize the first-round pick well by this point.
Previous mock drafts:
Begin Slideshow

»
At the end of the day, the Lions' first-round choices probably come down to either Eric Fisher or Ziggy Ansah. It's hard to see anyone else worth the No. 5 pick given the Lions' current roster construction.
Of course, that's a need-centric way of thinking. There's no guarantee the Lions don't troll everyone by selecting Sharrif Floyd or Tavon Austin, or go outside their scheme with Dion Jordan.
This is the Lions we're talking about.
But based on pre-draft logic from an NFL outsider, the only prospects that make sense to the Lions in terms of scheme fit, value at No. 5, and usable position (i.e. they don't need a quarterback) are these two.
Of Fisher and Ansah, Fisher is less likely to be available at No. 5 (the Eagles are the biggest threat at No. 4), but by far a safer play. Ansah could turn out to be the best player in the draft, but he has a lot of work to put in to get there.
Fisher needs to polish his technique as well, but he's still one of the best players in the entire draft. "Instant starter" talent plus upside is a very good combination here.
Previous Picks
Manti Te'o, LB, Notre Dame (01/07/13)
Damontre Moore, DE, Texas A&M (01/26/13)
Bjoern Werner, DE, Florida State (02/04/13)
Eric Fisher, OT, Central Michigan (02/11/13)
Kenny Vaccaro, S,Texas (02/27/13)
Ezekiel "Ziggy" Ansah, DE, BYU (03/14/13)
DeMarcus "Dee" Milliner, CB, Alabama (03/18/13)
Eric Fisher, OT, Central Michigan (03/27/13)
Ezekiel "Ziggy" Ansah, DE, BYU (04/03/13)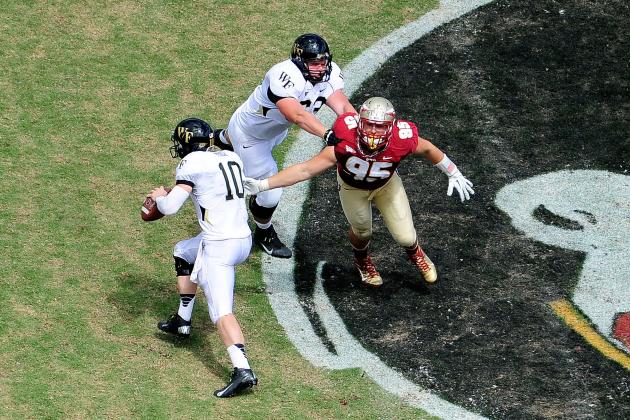 Stacy Revere/Getty Images

It was some two months ago that I mocked Werner to the Lions at fifth overall.
Werner hasn't done an awful lot to damage his stock since then, but he hasn't really helped it, so a bunch of players have zoomed past him.
Werner went from being a top 10 pick to being a late first-early second pick, but he's still roughly the same player he was two months ago.
Werner's talents (athleticism, strength, upside) and drawbacks (inexperience, lack of flexibility) are the same, which means there's a chance the Lions get a mid first-round talent at a position of serious need.
Previous Picks
Barrett Jones, OL, Alabama (01/07/13)
Tavon Austin, WR, West Virginia (01/26/13)
Matt Elam, S, Florida (02/04/13)
Giovani Bernard, RB, North Carolina (02/11/13)
Sam Montgomery, DE, LSU (02/27/13)
Eric Reid, S, LSU (03/14/13)
Arthur Brown, LB, Kansas State (03/18/13)
Cornellius "Tank" Carradine, DE, FSU (03/27/13)
Arthur Brown, LB, Kansas State (04/03/13)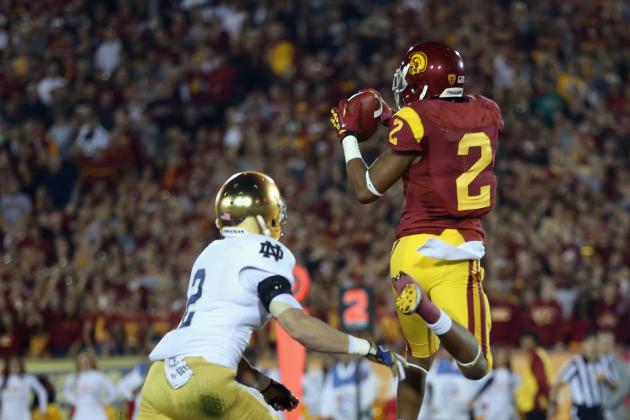 Jeff Gross/Getty Images

Oddly enough, I have not mocked a wide receiver to the Lions in the third round since I started mock drafts back in January. Yet the third round seems like the best time for them to get one.
That's not deliberate at all, just an odd coincidence.
This year's draft is incredibly deep (just not top-heavy), especially at receiver and cornerback. As a result, it is likely the Lions can get a player at approximately the same level as those picked in the first two rounds.
So will Robert Woods fall to the third round?
Maybe, maybe not.
He shows a lot of polish, good route-running, and the ability to get open despite not being overwhelmingly athletic. He's shorter (6' 0") than what most teams want from a downfield receiver, and his hands are a work in progress.
Still, Woods has first-round potential and the college productivity to back it up. The Lions' last great No. 2 receiver (Johnnie Morton) was a USC alum, so why not the next?
Previous Picks
Cornellius "Tank" Carradine, DE, Florida State (01/07/13)
Dallas Thomas, OT/G, Tennessee (01/26/13)
Kyle Long, OT/G, Oregon (02/04/13)
David Amerson, CB, NC State (02/11/13)
Andre Ellington, RB, Clemson (02/27/13)
Travis Frederick, G/C, Wisconsin (03/14/13)
Cornelius Washington, DE, Georgia (03/18/13)
Khaseem Greene, LB, Rutgers (03/27/13)
Barrett Jones, OL, Alabama (04/03/13)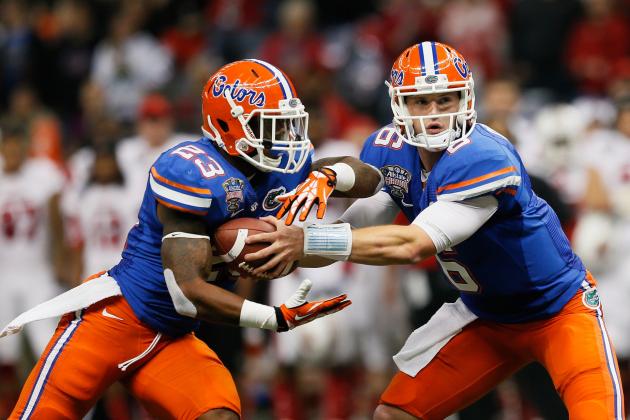 Kevin C. Cox/Getty Images

The Lions signed Reggie Bush to a long-term contract, so the running back position is fine, right?
Maybe, if we assume that nobody gets injured, ever.
Since that's not the case, there is still a need for talent and depth at the running back position.
Mikel Leshoure and Bush both have serious injuries in their pasts, and the last thing the Lions need is another situation in which they lose a starting running back and have no replacement.
Bringing in Gillislee may seem like overkill, but it's actually just insurance.
If Gillislee is talented enough to play straight out of college (very possible), he immediately gives the Lions a Saints-like committee of talented backs, lowering the wear-and-tear on each of them.
It seems like a small thing, but it could be key to keeping a running game intact. The Lions always intend to establish a run game, but it's hard to do with no speed. Gillislee provides good (though not explosive) speed and versatility in the run game, and while his game isn't exactly similar to any of the Lions' current running backs, he could reasonably spell any of them.
Previous Picks:
Brian Schwenke, C, California (03/27/13)
Chris Harper, WR, Kansas State (04/03/13)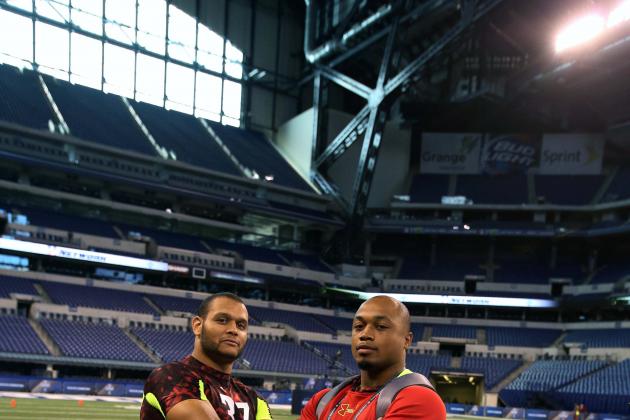 Brian Spurlock-USA TODAY Sports

Ty Powell is an enigma. In his football career since high school, he has played quarterback, cornerback, safety, defensive end, and linebacker.
Right now he projects at the latter two positions
Some may look at this and see versatility, while others will see someone who couldn't stick at a single position.
However, at the combine and in workouts, Powell has been nothing but impressive. If he were polished at a single position, instead of just an athlete who plays wherever, he would be a much more valuable prospect.
But as it is, he's just physical and raw, from tiny Harding University.
Which is good, because prospects that are highly talented physically, but from small schools are exactly what the Lions look for in the later rounds. Sammie Hill and Johnny Culbreath are examples of this, but the Lions will hope he turns out more like the former than the latter.
Previous Picks
Bacarri Rambo, S, Georgia (01/07/13)
Mike Gillislee, RB, Florida (01/26/13)
Johnathan Franklin, RB, UCLA (02/04/13)
Devin Taylor, DE, South Carolina (02/11/13)
Hugh Thornton, G, Illinois (02/27/13)
Knile Davis, RB, Arkansas (03/14/13)
Chris Faulk, OT, LSU (03/18/13)
Dion Sims, TE, Michigan State (03/27/13)
Devin Taylor, DE, South Carolina (04/03/13)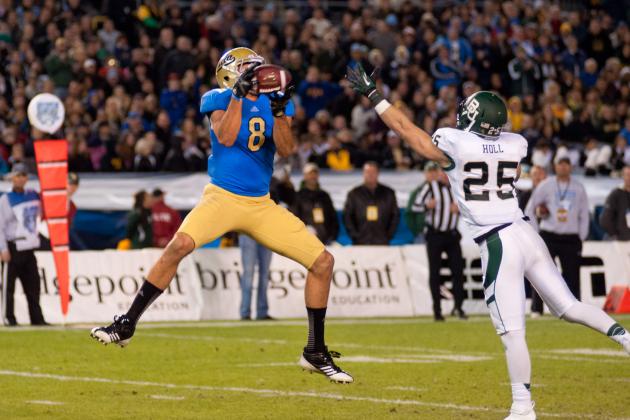 Kent Horner/Getty Images

Joseph Fauria, nephew of former NFL tight end Christian Fauria, is relatively prototypical as receiving tight ends go.
Fauria sports decent size, though he's built very lean for a tight end. In fact, he looks more like a strong wide receiver than a tight end.
Unfortunately, he blocks like one, too.
That's okay though, because Fauria is a receiver first as a tight end, and the Lions shouldn't mind that too much. With Will Heller gone, and Brandon Pettigrew and Tony Scheffler both in contract years, the Lions should absolutely be looking for a replacement tight end.
If the Lions are looking for a replacement for Heller, they'll want a tight end who is a better blocker. But they should also be looking for a groomable receiving target.
Fauria could be that guy. He has the hands, the athleticism, and an NFL pedigree.
Previous Picks
Dion Sims, TE, Michigan State (01/07/13)
Brian Schwenke, C, California (01/26/13)
Jordan Hill, DT, Penn State (02/04/13)
Conner Vernon, WR, Duke (02/11/13)
Dwayne Gratz, CB, Connecticut (02/27/13)
Terron Armstead, OT, Arkansas-Pine Bluff (03/14/13)
Akeem Spence, DT, Illinois (03/18/13)
Kenny Stills, WR, Oklahoma (03/27/13)
Jordan Hill, DT, Penn State (04/03/13)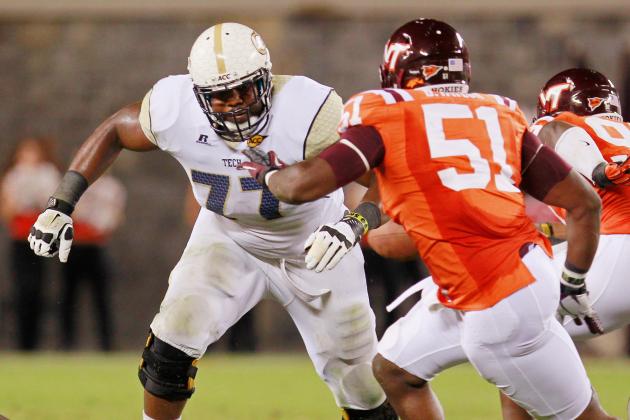 Geoff Burke/Getty Images

The Lions have yet to invest a single draft pick into a guard (unless Riley Reiff ends up there). That changes this year, though it may not be in the round many fans want.
Omoregie Uzzi, in addition to having an awesome last name, is another of those "big-bodied" linemen that needs some polish, but could be molded into a good player.
Even better, Uzzi fits well into the Lions' run game.
While he doesn't have great strength to be a road-grader, he is highly athletic and has good footwork, two attributes he'll need to mirror defenders in the passing game and pull on the many sweeps and tosses the Lions run for their backs.
More to the point, Uzzi is a good developmental project who, if nothing else, provides the Lions with depth. Maybe this is finally the year the Lions decide to cut Dylan Gandy loose.
Or not.
Previous Picks
Josh Boyd, DT, Mississippi State (01/07/13)
Rashard Hall, FS, Clemson (01/26/13)
Marquess Wilson, WR, Washington State (02/04/13)
Joe Madsen, C, West Virginia (02/11/13)
DeVonte Holloman, OLB, South Carolina (02/27/13)
Brad Wing, P, LSU (03/14/13)
Quinn Sharp, P, Oklahoma State (03/18/13)
Kwame Geathers, DT, Georgia (03/27/13)
Kerwynn Williams, RB, Utah State (04/03/13)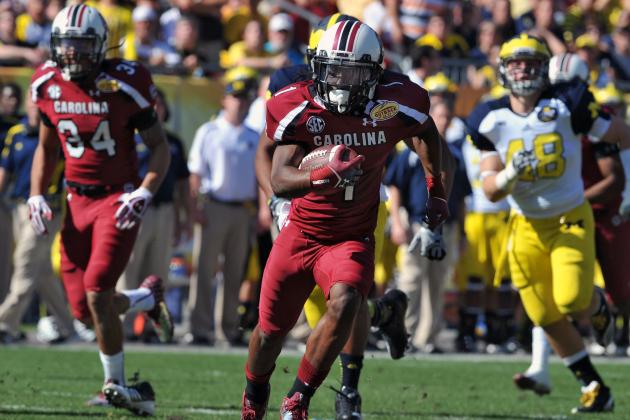 Al Messerschmidt/Getty Images

At this point, immediate needs are irrelevant. All the Lions are looking for is a player who can contribute, either now or in the future.
Ace Sanders can contribute now, not as a wide receiver, but as a special teams, uh...ace.
Probably best to point out, if Sanders makes his way to Detroit (or anywhere) we can probably put away the notion of avoiding "Ace" puns, so better get used to it now.
Seriously though, the Lions need return help in a bad way. They have for about a season or two, stuck with Stefan Logan during a slow, painful regression.
Sanders was one of the best return men in the SEC last season, and while he has some long-term potential as a receiver, his 5' 7" frame will keep him from being anything but a wily slot receiver, which the Lions are currently overloaded with.
For now, he's just a good return man, and that's enough for a seventh-round pick.
Previous Picks:
Wes Horton, DE, USC (03/27/13)
Quinn Sharp, P, Oklahoma State (04/03/13)