Travis Long: Video Highlights for Former Washington State OLB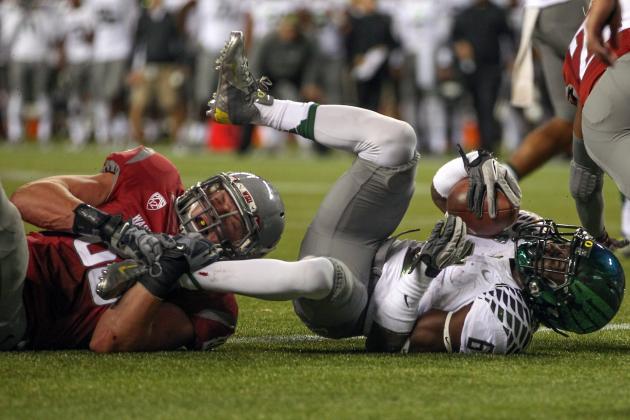 Otto Greule Jr/Getty Images

Travis Long's most attractive quality as a pro prospect is his tremendous versatility. At Washington State, he operated in both the 4-3 and 3-4 defensive schemes, and perhaps more impressively, he played as a down defensive end, standing outside linebacker and as an interior linebacker.
Not only did Long line up in various positions in college, but he was also effective in all of them.
His main function is as a pass-rusher, which he did successfully in college from both a down and standing position.
Long's production at Washington State is impossible to refute. He was a four-year letterman, accumulating 201 tackles (42 for loss) and 20.5 sacks over his career.
His most likely NFL fit will be as a pass-rushing OLB in a 3-4 or as a down defensive end in a 4-3, but as evidenced in the following clips from his game against BYU, Long is competent at a plethora of defensive positions.
Begin Slideshow

»
On 3rd-and-5, Long lines up as a the left defensive end, the strong side, in a 3-4 set, where his task is to simply rush the quarterback.
It's notable to recognize how BYU plays Long. Look at the game clock: This play is the third of the game and is the first passing situation BYU has encountered. BYU demonstrates their game plan as both the tackle and guard are assigned to block Long.
Employing a double-team on Long so early on in the game shows that BYU saw enough in their pregame study to stress Long's value.
On this play, Long lines up as the weak-side defensive end. Initially Long is standing, but as the play begins, he is in a down position.
During this play, we get a glimpse of the athletic ability Long possesses. BYU calls a read-option pass. The quarterback sees Long diving toward the back, so he pulls the ball out and drops left to throw a pass.
Long quickly adjusts and shoots upfield toward the quarterback. En route to the quarterback, a back attempts to pick up Long, but his efforts are proven futile as Long drives him back toward the quarterback.
The quarterback, with Long closing in, is forced to dump the ball incomplete before he is sacked.
On this first-down play, Long lines up as an interior linebacker in a 3-4 scheme, lining up on the weak side (right).
BYU runs a speed option to the strong side (left) and springs a sizable gain.
Long stays with the play and tracks the running back from the opposite side of the field to make the tackle.
It is unlikely that Long will play much interior linebacker in the NFL, but his experience at the position could be extremely valuable for an NFL team that is beset by injuries. The more ways a player can help a team, the more precious he is to them.
On this 2nd-and-goal play, Long lines up as the weak-side outside linebacker. His assignment is to blitz.
BYU runs a quarterback draw. Long is initially engaged by the left guard, but when the quarterback reaches his area, he is able to shed his blocker.
After freeing himself from the guard, Long is able to cut off the quarterback's attempt to reach the outside and throws him down for a loss.
On a vital 3rd-and-goal play, Long is lined up in a down position as a defensive end in the 4-3 scheme. His assignment is to pressure the quarterback.
BYU calls a pass, and Long employs an impressive spin move on the left tackle, immediately creating a open lane to the quarterback.
Long's move is too fast for the quarterback to adjust, and he is taken down for a big third-down sack.
Whats important to note on this sack is that Long creates it all on his own, from a down position. He clearly possesses the tools to be successful as a down defensive end at the next level.