UFC on Fox 7: Facts and Stats for the Henderson vs. Melendez Fight Card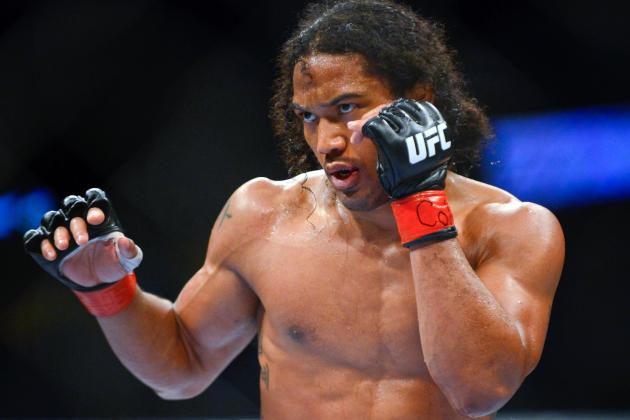 Ron Chenoy-USA TODAY Sports

The UFC heads to San Jose on April 20 for UFC on Fox 7. The fight card, like UFC on Fox 5, will be headlined by a lightweight title bout. In that bout, Benson Henderson will look to go 2-0 in UFC on Fox title fights when he puts his title on the line against Strikeforce lightweight champion Gilbert Melendez.
The evening's co-main event will feature another Strikeforce transfer who will be looking to make his mark in the UFC, as that promotion's World Heavyweight Grand Prix champion, Daniel Cormier, meets up with former UFC heavyweight champion Frank Mir.
If that's not enough champion and former champions fights for you, the promotion will also bring former Strikeforce lightweight champion Josh Thomson in to meet Nate Diaz on the main card.
If you need a few more reasons to get excited for this weekend's card, check out some of the fun facts and stats about the event.
Begin Slideshow

»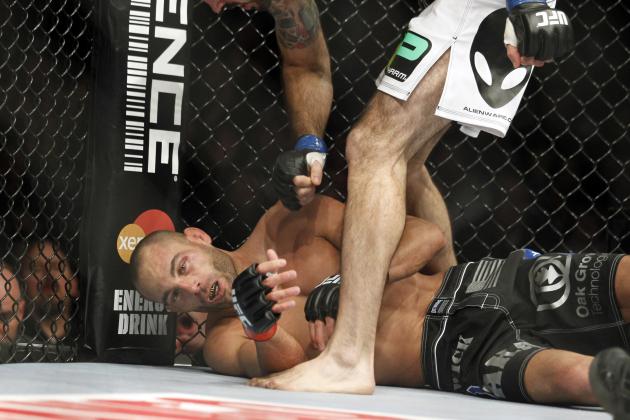 Joe Nicholson-USA TODAY Sports

The legs in the attached photo belong to Matt Brown. The guy on the ground is Mike Swick.
Why this photo, you may ask? That's simple. When Brown knocked out Swick at the 2:31 mark of Round 2 of their bout at UFC on Fox 5 in December 2012, it was Brown's sixth knockout as a UFC welterweight.
That number ties Brown for first all-time in UFC welterweight knockouts with Matt Hughes and Thiago Alves.
Three of Brown's last four fights have ended by knockout.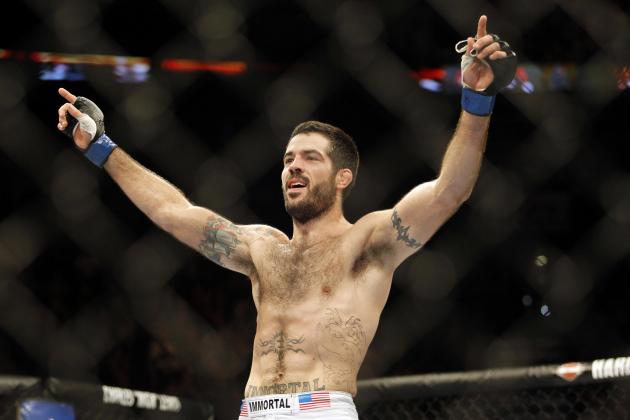 Joe Nicholson-USA TODAY Sports

Matt Brown has fought inside the Octagon a total of 14 times. His total time spent inside the cage is 2:06:11.
During that time, he has absorbed 284 significant strikes from his opponents, none of which has ever put him to the canvas for even a second.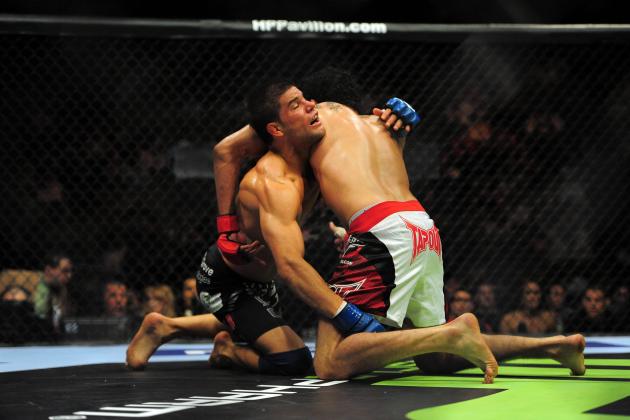 Kyle Terada-USA TODAY Sports

Nate Diaz has shown that he is not all that great at defending the takedown. The most glaring display of his ineffective takedown defense came when Benson Henderson went eight for 12 in the takedown department when those two met at UFC on Fox 5.
Other fighters that were able to take Diaz down multiple times include Rory MacDonald (seven of 10) and Joe Stevenson (eight of 14).
These numbers would seem to be a positive for Josh Thomson. During his time with Strikeforce, Thomson earned takedowns on 10 of his 13 opponents. His total takedowns for the promotion, 23, rank him third all-time with Strikeforce.
With all that being said, there may be a reason for Diaz not being so great with his takedown defense...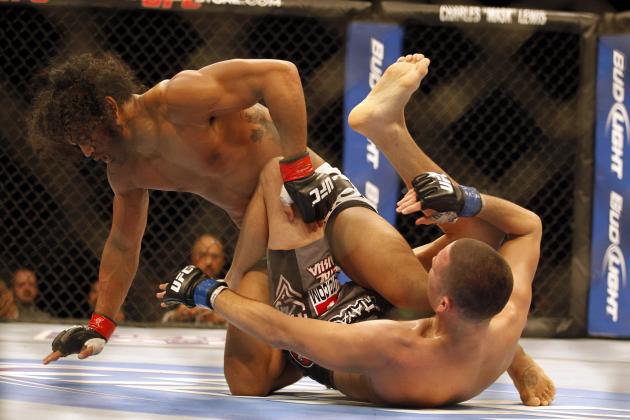 Joe Nicholson-USA TODAY Sports

Josh Thomson may take Nate Diaz down, but that's probably not going to worry Diaz all that much. Diaz has the fifth-most submission attempts in UFC history with 22. 11 of those attempts have come with Diaz in bottom position.
As for his success rate, Diaz has eight UFC submissions to his name, with five of those coming from the bottom.
Something for Thomson to keep in mind when he does attempt his takedowns.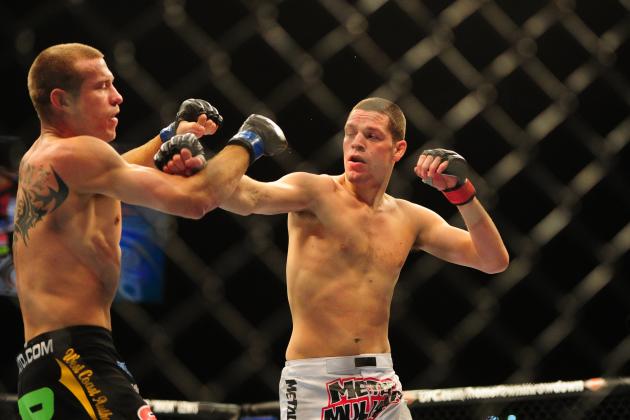 Mark J. Rebilas-USA TODAY Sports

Nate Diaz and Donald Cerrone squared off in the co-main event of UFC 141. After 10 minutes of action, Diaz raised his hands in a double-fingered salute to his opponent. Five minutes later, those same hands were raised in victory after Diaz earned the unanimous decision.
The FightMetric stat keepers had their hands full during that bout. A total of 544 significant strikes were thrown during the three-round contest, with 334 of those attempts landing. Of those 334 strikes, 238 were landed by Diaz, shattering the record that was set by his brother Nick at UFC 137 when he peppered BJ Penn with 178 significant strikes.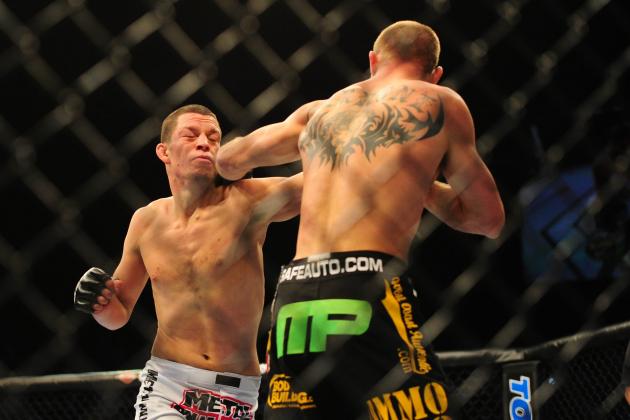 Mark J. Rebilas-USA TODAY Sports

Borrowing some lyrics from Warren Zevon's "Boom Boom Mancini": "Some have the speed and the right combinations, if you can't take a punch it don't mean a thing."
Nate Diaz can take a punch.
Diaz is among a group of only four UFC lightweights that have been on the receiving end of more than 400 significant strikes and never been finished via strikes.The other three fighters are Sam Stout, Frankie Edgar and Clay Guida.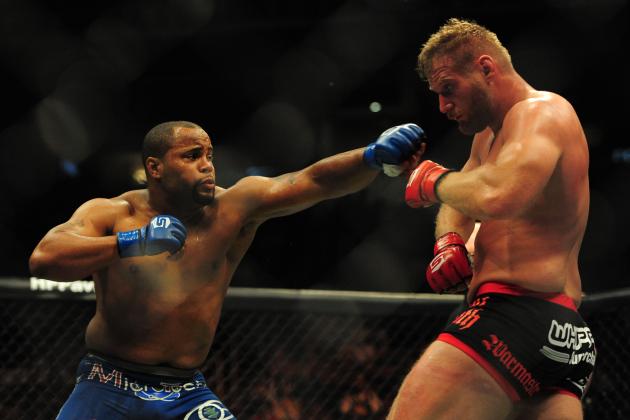 Kyle Terada-USA TODAY Sports

Say what you will about Strikeforce, but at one time the promotion had a pretty deep heavyweight division. When the doors shut on the organization one name showed up a few times in the Strikeforce record book: Daniel Cormier.
Cormier fought under the Strikeforce banner a total of eight times, winning each of these bouts. That number of victories puts him first all-time in the promotion's heavyweight history. Cormier also ranks No. 1 in knockouts with four and significant strikes landed with 305.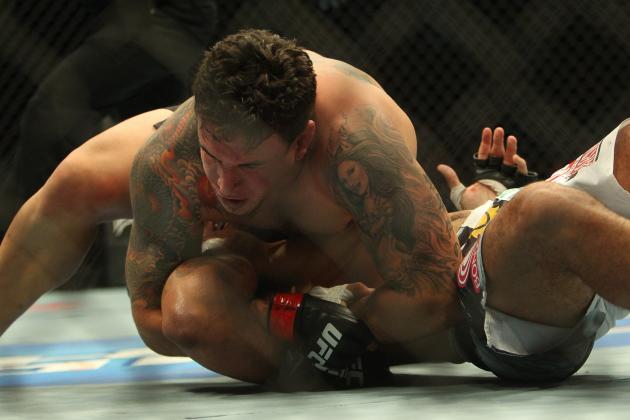 Tom Szczerbowski-USA TODAY Sports

If Daniel Cormier points to his Strikeforce records, you can rest assured that Frank Mir will waste no time in listing his credentials with the UFC.
Mir has fought a total of 20 times in the UFC and has put his name in the UFC record book along the way. Mir's 14 wins rank him first all-time in the UFC heavyweight division. Of Mir's 14 wins, 11 have ended by stoppage (eight submission, three KO), another UFC heavyweight record.
Mir's submissions of Pete Williams and Tank Abbott are tied for the fastest submission in UFC heavyweight history. Both came at 46 seconds of the first round.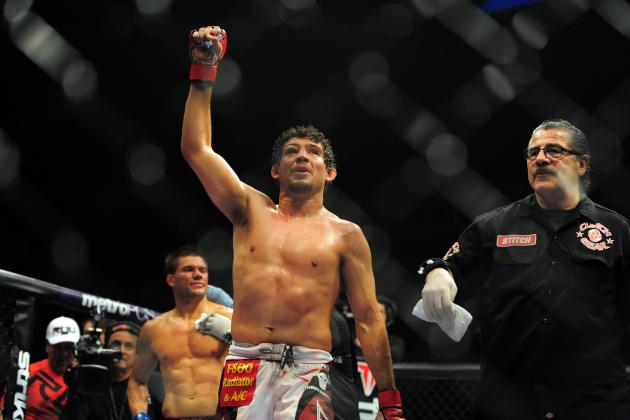 Kyle Terada-USA TODAY Sports

Gilbert Melendez has long been recognized as one of the best lightweights in mixed martial arts. Many see him as the No. 1 ranked fighter in the division.
But he does have his detractors, those that say Melendez has to fight in the UFC to justify his lofty ranking. On April 20, he will.
Melendez joins the UFC after spending more than six years under the Strikeforce banner. Melendez debuted with the promotion in March, 2006, defeating Harris Sarmiento via first-round submission. Melendez would go on to compile a record of 11-1 during the course of his Strikeforce career, ranking him No. 1 all-time in wins with the promotion.
Melendez had two runs as the Strikeforce lightweight champion, with his most recent time as champion clocking in at 1,135 days.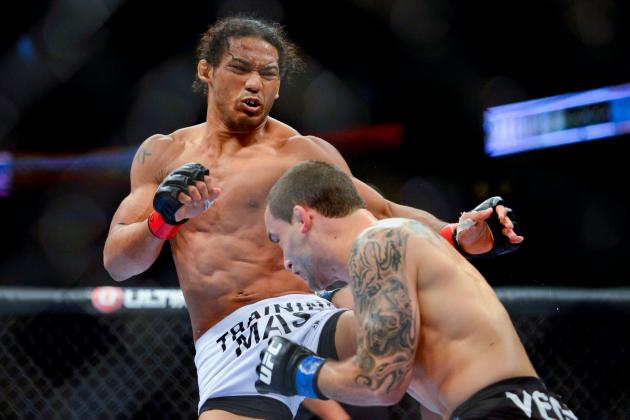 Ron Chenoy-USA TODAY Sports

Benson Henderson fought in the last fight in WEC history, losing that bout and his WEC lightweight championship belt to Anthony Pettis.
Since that loss. Henderson has gone on a six-fight UFC winning streak, capturing the lightweight title and defending that belt on two occasions during that run.
Henderson's run is the longest active winning streak in the lightweight division. Henderson's last victory came against Nate Diaz at UFC on Fox 5, a fight in which Henderson landed 124 significant strikes, the fourth-most ever landed in a UFC title bout.
Another fact about Henderson's winning streak is that his average fight time has been 20 minutes, the longest average fight time in UFC history.