The 20 Best Fictional Sports Performances Ever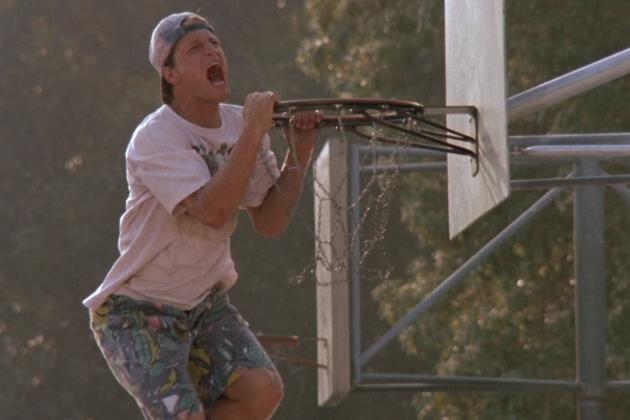 Image via 20th Century FOX
All the glory, none of the reality.
The following is a collection of some of the greatest moments in fictional sports history, taken from a number of different movies and television shows where characters have pulled off jaw-dropping moments on the field of play.
Does it involve dogs playing basketball? Yes. What about golf courses being demolished in a blaze of high-powered explosives? You got it, bub.
And just because it's not "real" it doesn't mean these moments don't resonate with sports fans in the same way a real life game-winning moment or big hit does. Without further ado, it's time for the best fictional sports performances ever.
Begin Slideshow

»
While well-known for his drives, Happy Gilmore had an infamously raw short game. It's not the ultimate shot made by Gilmore during the movie, but a pivotal one.
Plus, he yells "You're gonna die, clown!" So there's that.
Warning: Explicit Language
Epic game-winning plays showed in slow motion is cool.
You know what's also pretty cool? Hits that literally knock the gravy out of your opponents, like Switowski did to the jackass prison guard Dunham in The Longest Yard.
Head to the five minute mark for the nose honking.
"Live or die, man... Wrong... Honk!"
When you tweak your opponent's nose instead of delivering a killing death blow like Daniel LaRusso did in Karate Kid, Part II, you win everything.
Also, note 12 b**** slaps that occur in about a 15-second window of time. That's worthy of an award all by itself.
The Waterboy is a tour de force of goofy acting, nipple grasping and Bobby Boucher laying the wood on terrified opponents.
I cannot select a single moment that stands head and shoulders above as the pinnacle of the movie, but a personal favorite might be Boucher's use of the Captain Insane-O power bomb on Stone Cold Steve Austin.
"You sound like a big... choo-choo train."
The movie Major League began with depictions of some of the poorest athletic performances ever seen on a baseball field (see: "Just a Bit Outside").
All was forgiven after Jake Taylor pointed to the stands and then bunted the ball. Sure, Willie Mays Hayes scored the run, but had Taylor not busted his old wrinkly rear to get to first base, it wouldn't have mattered.
The most impressive part of Rod Tidwell's game-winning catch in Jerry Maguire was not the catch itself. It was the moment he awoke from his unconsciousness and scissor-kicked into a breakdance routine in the middle of the end zone.
Don't sleep on his crow hops at the beginning of the celebration, either; those are some critical, amazing moves.
An unlikely goal from an even unlikelier scorer.
Greg "Goldie" Goldberg might've been ousted from his position as the Mighty Ducks' goalie, but he continued to prove his worth to the Quack Attack with this last-second empty-net goal in D3: The Mighty Ducks.
They're called free throws for a reason.
Next time Dwight Howard misses a pair from the stripe, remember that Buddy from Air Bud—a quadruped—can do it.
There's no rules saying a dog can't play basketball, and there's also no reason a professional ballplayer in the NBA can't hit at least the majority of his charity shots.
Considering the "Beast" chase scene in Sandlot isn't truly a "sports performance," the greatest performance will have to be "The Jet" stealing home as a player for the Los Angeles Dodgers at the end of the movie while Smalls provides some of the worst baseball color commentary ever to grace the airwaves.
It was "the greatest day in anyone's lifetime."
None of us will ever be as happy as Al Bundy from Married...With Children was after scoring four touchdowns in one game. Bundy's feat won Polk High the 1966 City Championship—the last championship the school ever won—and garnered him a bevy of scholarship offers from many prestigious junior colleges.
Bundy's feat remains an oft-whispered legend in the halls of the school (lies), and he could've made something of himself had he capitalized on it.
With hate in her eyes.
After knocking a ball deep into right field, Kit Keller of the Racine Belles demonstrated how to lay into the catcher like a man at the end of A League of Their Own.
Keller's brutal truck-stick won the All-American Girls World Series for the Belles and nearly knocked out her sister, whom she somehow still reconciled with after the game.
Hey, the protagonists can't be the only one who play well.
Moments in cinema don't get much better than Ty Webb schooling his young caddy Danny Noonan on navigating the greens of life.
The scene is a practice in excellence: the wisdom of the Zen philosopher Basha, accompanied by mantra sounds and drained putts amount to a performance only an actor like Chevy Chase can pull off.
Confession: I can only fall asleep at night to the soothing sounds Chase makes in this scene.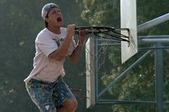 Image via 20th Century Fox
While I haven't been able to find a proper video featuring the dunk, Billy Hoyle dunking an alley-oop and proving that white men are capable of flight at the end of White Men Can't Jump is too great a moment to pass up.
Face-stepping, tongue-lolling. and of course, an assist from Bill Murray—what does His Airness' game-winning dunk at the end of Space Jam not have?
It's almost as good as how the movie should have ended (Warning: Explicit language).
As controversial as Tiger Woods' recent drop ball penalty, caddy Danny Noonan and his final game-winning putt amid a salvo of dynamite explosions at the end of Caddyshack will go down as one of the most contentious moments in fictional golf history.
We'll never know if Moose and Rocco we able to help the Judge find his checkbook, but I like to think they extracted it from him with little to no delicacy.
All right, all right—it's almost impossible to choose just one Rocky miracle comeback that results in an unlikely KO victory over his superior opponents.
But if you have to pick one, you've got to go with his victory over the mountain of Russian muscle that was Ivan Drago. I mean, the guy killed Apollo Creed.
After being told by his ultra-competitive father to walk the batter, Yankees little league pitcher Joey Turner throws a gimme pitch to Engelberg during the league championship scene in The Bad News Bears.
Turner then pulls what I'll call an awesome non-hustle play, standing there and allowing the chubby Bears batter to round the bases for an inside-the-park home run.
The pitcher's decision was a mature moment of protest against his father, who was taking the game far too seriously, and needed to be reminded there's more to sports than winning all the time.
He might've not taken them all the way to a "Pantheon Cup Championship" victory, but Miami Sharks replacement quarterback Willie Beamen managed to leap into the end zone against the Dallas Knights and give head coach Tony D'Amata the playoff win his team so desperately needed.
Intensity doesn't even begin to describe this scene, or most of the rest of Any Given Sunday, for that matter.
The definition of the famous "Dagger!" call used by sportscasters everywhere, Jimmy Chitwood's last-second shot in Hoosiers put Hickory High School over the team from South Bend and won his team the state championship game.
It was the high school version of Kobe Bryant asking for the last shot, and Chitwood sunk the buzzer beater with cold glacier run-off dripping in his veins.
Ridiculous. Over sentimental. Unrealistic.
You could call the ending firework-laden home run scene from the end of The Natural many things, but Roy Hobbs gets the job done and sends a game-winning three-run homer into the lights over right field.
The result? Chills.
Granted, while The Natural is a film based on a book, which was modeled after the real-life comeback of Philadelphia Phillies players Eddie Waitkus, the film version certainly takes enough to liberties to steer into the genre of fiction.