Michigan Football: Coach Hoke's 5 Biggest Concerns Post-Spring Practice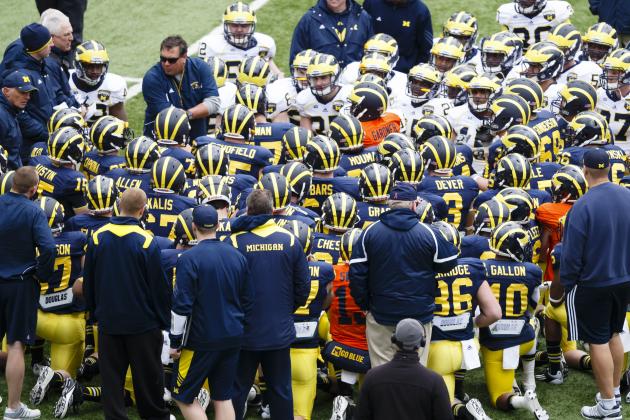 Rick Osentoski-USA TODAY Sports

Spring practice has come to an end for the Michigan football team, and it's clear that there are still some things that need to be ironed out.
This is the case after spring ball every year, though.
Here's a look at the five biggest concerns this team will have heading into the season and what can be done to fix each one.
Begin Slideshow

»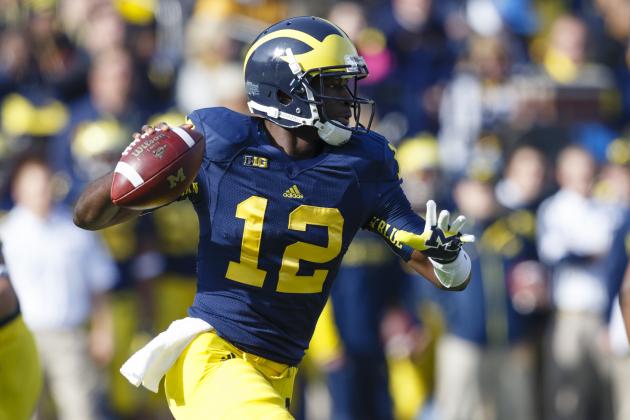 Rick Osentoski-USA TODAY Sports

This one is still a concern, even with Shane Morris arriving in a few months. The ideal situation would have been to redshirt him and have Russell Bellomy serve as the backup if anything happened to Gardner.
However, Morris likely won't be afforded the luxury to redshirt now. Even if nothing bad happens to Gardner, it still would be nice to get Morris in a few blowout games just to get his feet wet.
Plus, in this day and age of college football, injuries are basically lurking around every corner. If something were to happen to Gardner, there's no doubt that Morris would be the next guy in.
Fortunately, he is a special talent and could hopefully at least be solid if called upon.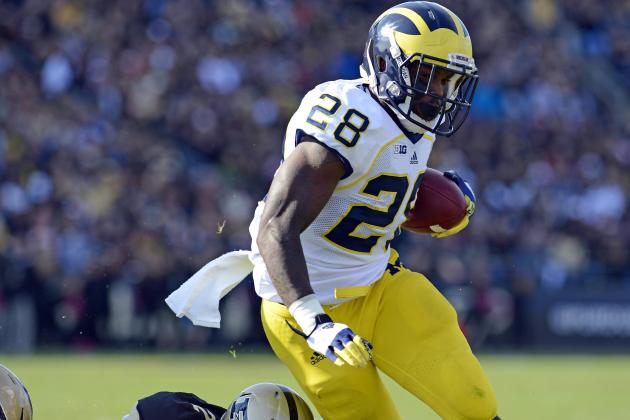 Mike DiNovo-USA TODAY Sports

It's clear to see that Michigan will have a very crowded backfield this fall, with as many as five or six able bodies chomping at the bit.
However, that doesn't always lead to production. Plus, this unit has to bounce back after last year's disaster, in what was one of the worst years of running back production in school history.
Fitzgerald Toussaint is probably the biggest key to this position's success, as he needs to return to his late 2011 form. Derrick Green will also be a big key, as he'll need to pick up the slack if Toussaint struggles.
Thomas Rawls will have every opportunity if Green and/or Toussaint struggles, but it is now hard to envision him ever starting.
Justice Hayes, Drake Johnson and maybe even Dennis Norfleet all look to be situational guys, but the expectations are rising for Hayes and Johnson. Deveon Smith can't be ruled out for playing time either.
As long as Toussaint and Green do what they're expected to do, this unit should be fine. However, the progression of the offensive line will have a big say in things as well.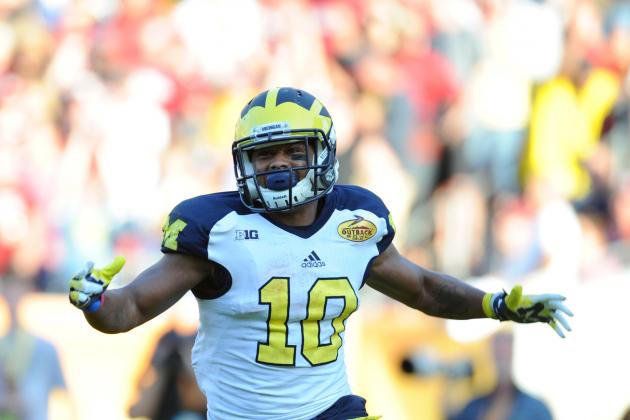 Al Messerschmidt/Getty Images

Jeremy Gallon and Drew Dileo are both proven commodities at receiver, but behind those two there are only question marks. However, that can change quickly.
Amara Darboh is expected to step up and be a huge part of this offense, but he saw literally only a few snaps on offense last year and never was thrown to.
The future is too bright for this kid, though, for him not to be a big contributor in 2013. Jehu Chesson is another guy that could soon break out.
Chesson took a redshirt last year, so he has never seen any game action. The knock on him coming in was that he was extremely raw, but hopefully some of that got ironed out last season in practice. He should definitely contribute at least a little bit.
Finally, there are the two senior holdovers, Jeremy Jackson and Joe Reynolds. Not much should be expected out of either of them, although I do think Reynolds could potentially play somewhat of a role.
Three more freshmen will arrive in a few months, but it's hard to predict if any of them will play.
This position group will be just fine as long as a third receiver steps up. Odds are that it will be Darboh, but if somebody else does as well, that would be great. If that happens, this unit will be just fine.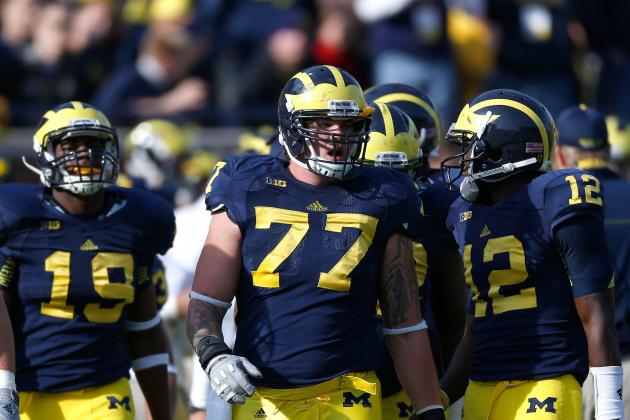 Gregory Shamus/Getty Images

This probably is the biggest area on this team that people are most concerned about. This group is so young and inexperienced, with nothing but question marks surrounding the interior of the line.
Taylor Lewan and Michael Schofield are sure things as the bookend tackles, but those two are the only proven commodities on this line.
A pretty popular and safe assumption is that the interior will be made up of Kyle Kalis and Ben Braden at the guard spots and Jack Miller at center. Kalis and Braden have never played a snap in a college game, and Miller has never played a meaningful one.
Therefore, it is almost impossible to predict how each will perform.
As long as this line matures and progresses as the year goes on, then fans have to be satisfied. By midseason, this unit should be better than last year's ever was.
That's a strong statement when considering the amount of veterans last year's line had on it.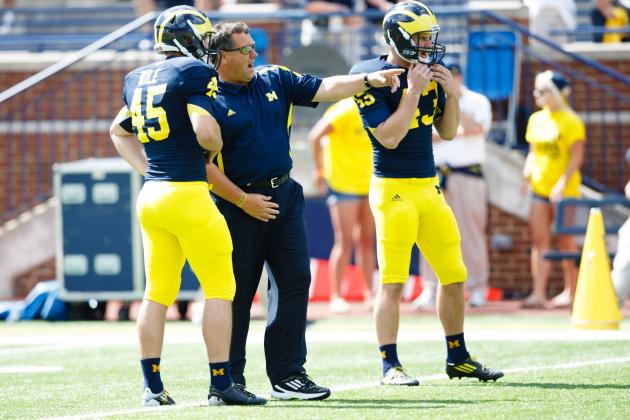 Rick Osentoski-USA TODAY Sports

This isn't necessarily a huge area of concern, but it is a situation that still needs to be addressed. The question mark at the end of the title represents Will Hagerup's status with the team.
The senior remains suspended, as he wasn't even in attendance for Saturday's spring game. If he does wind up returning to the team, then this position is absolutely loaded.
If he doesn't, though, it's still in pretty good shape with Matt Wile as the likely starter. Don't rule out Kenny Allen either; even though he is only a redshirt freshman and a walk on, he seems to be a potential dark-horse contributor if need be.
Even if Hagerup does return to the team (which is a big IF), there's no guarantees he'll get his starting job back. With the inconsistency he's shown at times, it wouldn't be surprising at all if Wile beat him out.
Either way, it's something to keep an eye on over the next few months.