MLB's 7 Most Pleasant Early-Season Surprises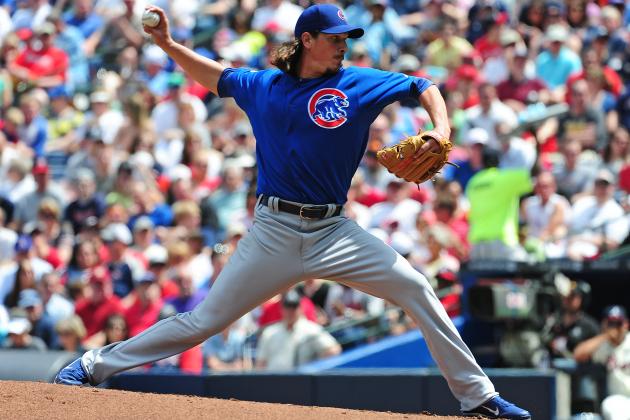 Scott Cunningham/Getty Images
Jeff Samardzija's hot start has Cubs fans excited for the future, especially if he continues to turn into a staff ace.
Baseball is a game of numbers, and so far in the 2013 season some players are playing out of their minds.
In baseball, some players are just plain hard to root against. Maybe he's a hitter who has battled unfortunate injuries his entire career or a lovable pitcher who worked his tail off for years and is finally reaping the benefits.
There are plenty of players who fit this mold and are currently playing at a very high level.
The baseball season is full of up and downs, slumps and hot streaks. But, for now, here are some players who are on hot streaks and deserve their time at the top.
All statistics from ESPN.com prior to games on April 15, 2013
Begin Slideshow

»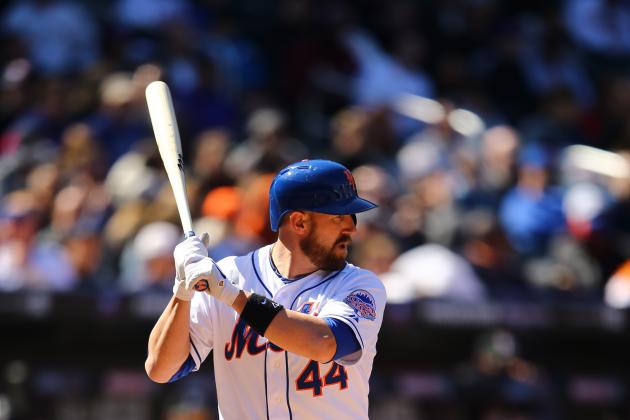 Al Bello/Getty Images
Journeyman catcher John Buck is the backstop for the Mets—for now.
John Buck is known as the "other catcher" in the blockbuster deal this past offseason that sent R.A. Dickey to the Blue Jays and blue chip prospects Noah Syndergaard and Travis D'Arnaud to the Mets. Buck was more of an afterthought, providing nothing more than depth to the Mets.
So much for that.
Buck currently leads the National League in RBI and is anchoring a Mets lineup that is surprising in itself. Buck is a career .236 hitter and hit a measly .195 last season for the Marlins. He is now raking at a .319 clip.
At the beginning of the season, Buck was nothing more than a fill-in until D'Arnaud received his call-up. If he keeps playing like this though, the catching job in New York might be his to lose.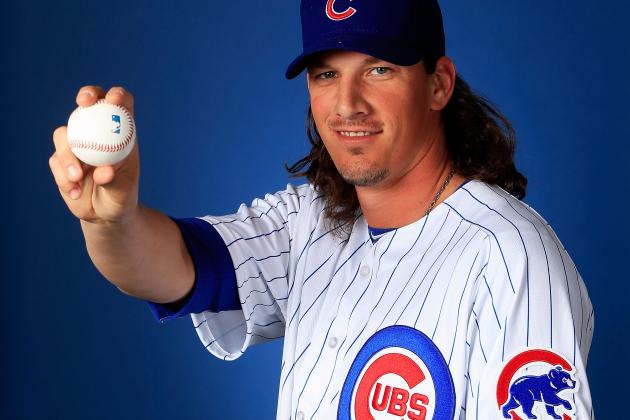 Jamie Squire/Getty Images
Jeff Samardzija is turning into the Cubs' ace. While this might not be a huge accomplishment, it's something the Cubs have not had for a long time.
Jeff Samardzija gives Cubs fans something they desperately need: hope.
Through his first three games, the former Notre Dame wide receiver is currently tied for the NL in strikeouts with Pittsburgh Pirate A.J. Burnett with 27.
Samardzija is entering his second season as a starting pitcher and is trying to prove last year's 3.81 ERA was no fluke. He's also quickly becoming the Cubs' ace, something they haven't truly had since Kerry Wood and Mark Prior.
If Samardzija continues to pitch at this level, he'll give the Cubs a pitcher to build around for the future as well.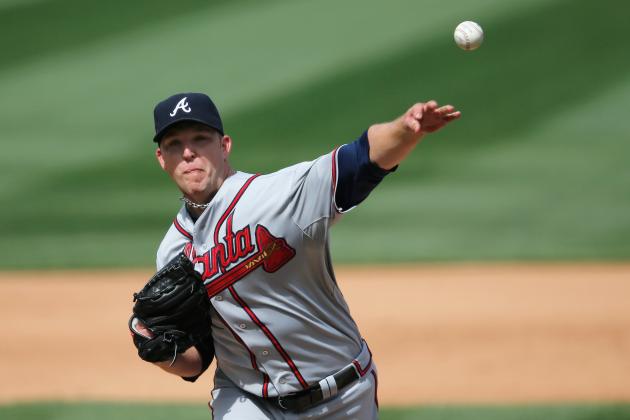 Rob Carr/Getty Images
Paul Maholm finally finds himself on a winning team with the Atlanta Braves.
The Atlanta Braves is Paul Maholm's third team and the first one where he has a shot at the playoffs.
He's certainly been through a lot. In Pittsburgh, he posted two seasons with an ERA higher than five. In Chicago with the Cubs, he pitched well but was not in an opportunity to win. In Atlanta he's in a new world.
Maholm has a 0.00 ERA and 20 strikeouts through three games and 20 innings pitched. He literally can't do any better than that.
Maholm is currently the best pitcher on the best team in baseball.
Who'd have thought that would be possible three years ago?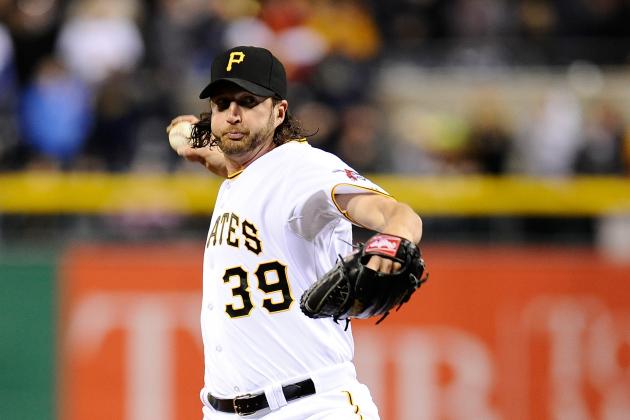 Joe Sargent/Getty Images
Jason Grilli took over as the Pirates' closer this season after Joel Hanrahan was traded to the Boston Red Sox.
Jason Grilli has been in more cities than a truck driver yet is one of the major's best closers early on this season.
The MLB journeyman is currently on his sixth team and is making quite a name for himself at age 36. He has five saves and has yet to give up a run while striking out seven for the Pittsburgh Pirates.
Grilli is the son of former Toronto Blue Jays pitcher Steve Grilli, who is famously known as the pitcher who lost the longest game in baseball history. The two are close, and Jason talks to Steve after every game in which he plays.
The way it's going, they'll be talking pretty frequently this season.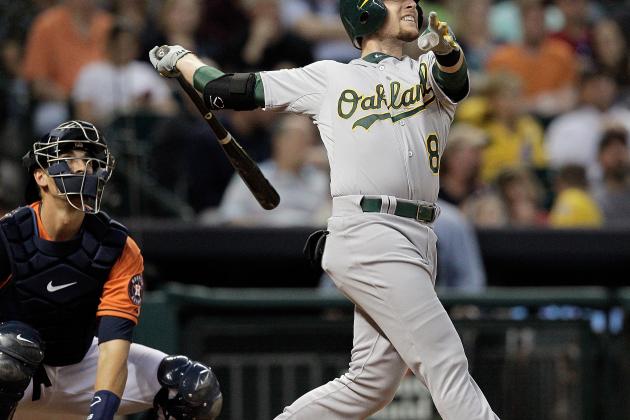 Bob Levey/Getty Images
Jed Lowrie had a promising season going last year before succumbing to an injury.
Jed Lowrie had never played more than 97 games in one season, which he did last year for the Houston Astros. If he can put a full season together, he has the potential to be a solid starter for the Athletics going forward.
For a career .255 hitter who doesn't make his money on power, his start to the season might seem like a fluke, but Lowrie has always had potential. He's in an environment in Oakland where his skill set (getting on base and hitting for contact) will serve him well.
And it's hard not to pull for a guy who barely gets to see the field due to injury.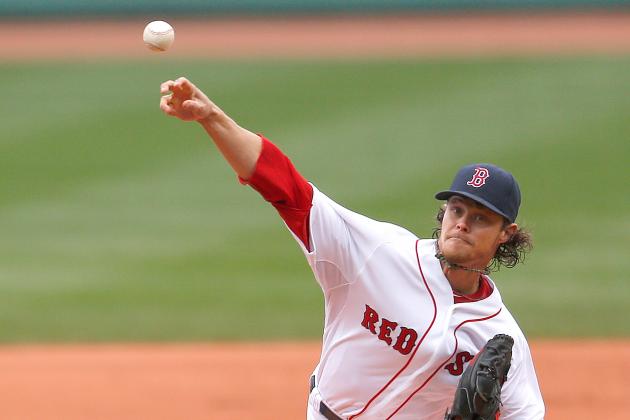 Jim Rogash/Getty Images
Clay Buchholz started 2012 off strong before a rash of injuries.
One might say Clay Buchholz's 2012 season was hard to swallow.
Due to a gastrointestinal issue and an inflamed esophagus, he started 29 games but posted a less than stellar 4.56 ERA. For a player who threw a no-hitter in his second career start coupled with a promising future, those results were not ideal.
This season is going a little better. He flirted with his second career no-hitter against the Tampa Bay Rays on Sunday and currently has a 0.41 ERA.
For a player who has never lived up to expectations, 2013 might just be the year for Buchholz to excel.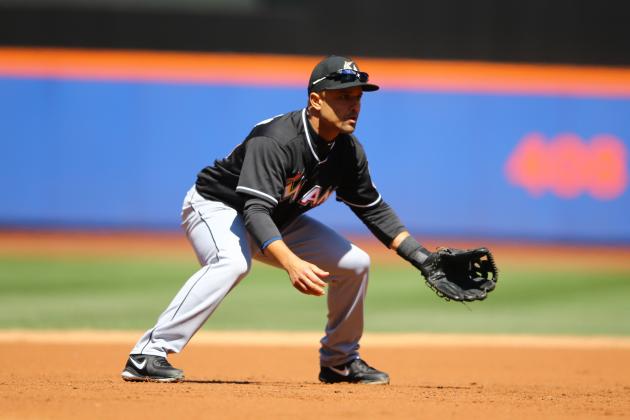 Al Bello/Getty Images
Injury-plagued Placido Polanco batted only .257 last season with the Phillies and wasn't supposed to perform this well. Yet here he is.
Placido Polanco is the veteran leader on the Miami Marlins and will most likely be trade bait come the trade deadline.
That's too bad, because judging by his offensive output, he is one of the Marlins' most valuable players.
On a rebuilding team, it's sometimes difficult to find a bright spot, but Polanco's .333 batting average from the clean-up role is something that should not be ignored. Polanco is not a conventional clean-up hitter and probably never will be. But an injury to slugger Giancarlo Stanton thrust him in the role, and he is doing the most with it.
It's an unselfish move by Polanco to take on that responsibility, and he should be commended for that. Not only is he an outstanding team player, but he's performing well on the field. And, as a Marlins fan, that's really all you can ask for.