English Premier League: Predicting the Order of Next Season's 2013-14 Top 6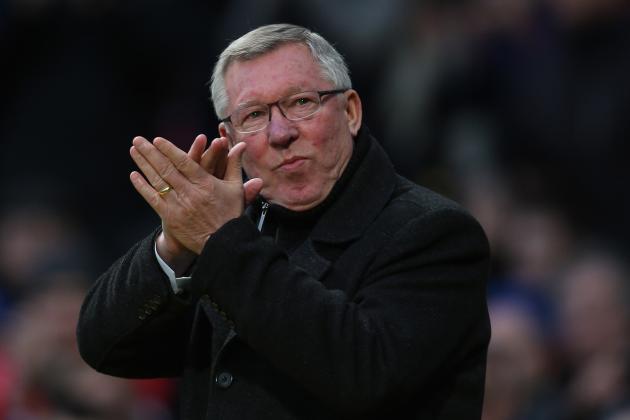 Julian Finney/Getty Images

The 2012-13 English Premier League season is almost at an end. The two-horse race between Manchester United and Manchester City as predicted by most has been all but over since February. The race to get into the top four is still to be determined with Chelsea, Arsenal and Tottenham Hotspur fighting for those coveted two places.
But how will they do next season?
Will the Red Devils and Sir Alex Ferguson hold off the expected challenge from Manchester City? Will Jose Mourinho go to Chelsea and turn the Blues into title challengers? Can Arsenal and Spurs progress? And will Liverpool break back into the top four after four seasons outside it?
Here, Willie Gannon makes an attempt at predicting the top six in the Premier League in 2013-14.
Begin Slideshow

»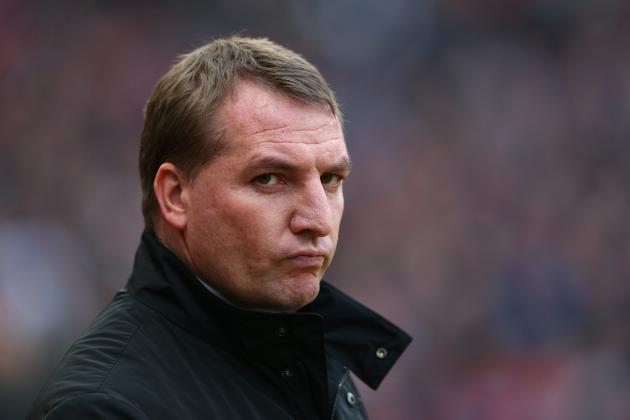 Alex Livesey/Getty Images

Odds to win EPL: 20-1
The Brendan Rodgers revolution is taking its time to get into full swing. The Reds have crept up into seventh place in the Premier League and will remain there until the end of the season.
Next season, however, they will surpass Everton into sixth.
His work in the transfer market is still up for debate after spending some £46 million on six players in 2012-13. He has signed players with potential though and they will undoubtedly be stronger next term.
The imminent retirement of Jamie Carragher will pose an immediate problem in that Rodgers must sign a quality central defender to replace the club legend. Neither Martin Skrtel nor Daniel Agger are capable of being the leader that Liverpool needs at the back. Both full-backs will remain weak points but the current players, Glen Johnson and José Enrique, are more than good enough to guide Liverpool into Europe.
The other area of concern for Rodgers will be central midfield where Steven Gerrard's aging legs will come into question. By the time next season rolls around, Gerrard will be 33 and it is patently obvious to all that he is losing his pace and stamina in incremental stages.
Next season will be a huge one for Liverpool because it will be the first time they will have to really consider signing a replacement for their captain.
Signing a forward to complement Luis Suarez and Daniel Sturridge is also ultra important. However, the impending return of Andy Carroll could scupper any plans there. If Rodgers really wants to sell the man they paid Newcastle £35 million for, he might have to accept less than half that valuation.
The shadow looming in the dark at Liverpool surrounds the future of Suarez. He is now 26 years old and is nearing his peak. His form over the last two years has been good enough to attract the very best clubs in the game and should Liverpool receive a huge offer for their only world-class player they will struggle to hold onto him.
All in all though and looking at Rodgers' track record, Liverpool should progress again next season, but it won't be at the pace many of their fans are hoping for.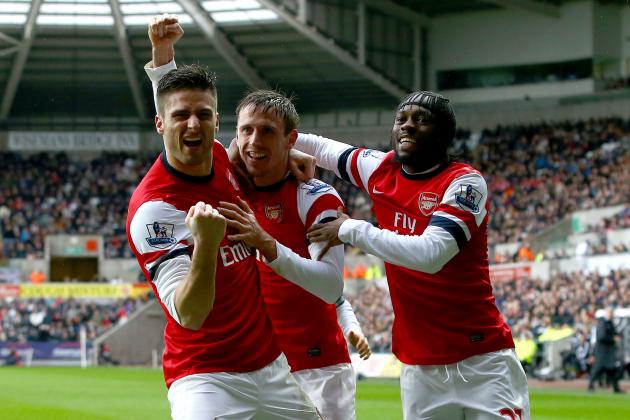 Jan Kruger/Getty Images

Odds to win EPL: 12-1
The Gunners are one of the form teams in the Premier League at this very moment in time, having won five games on the trot. They will, in all likelihood, finish in the top four and will deserve their place in the Champions League if they do so.
However, this current form and probable finish in the top four will only paper over the cracks of a team in need of major surgery.
The Gunners continue to struggle at central defence and need either Thomas Vermaelen to return to form or a new defender at the very least. Per Mertesacker is good enough against the lower lights in the EPL as is Laurent Koscielny. However, both players struggle to deal with fast powerful strikers and make too many mistakes, Koscielny in particular.
They are good enough to get Arsenal into Europe, but they lack the quality needed for a title challenge of any sort. Mikel Arteta in central midfield also poses another problem for Arsene Wenger, the Gunners' manager.
Arteta is a converted midfielder and is really a square peg in a round hole in a defensive role at Arsenal. Again the ex-Everton man brings huge qualities to the EPL. However, he often goes missing at crucial moments against quality opposition and lacks real mobility to be considered a top-drawer player.
These criticisms may seem harsh as these players have helped Arsenal to finish in the top four for the last couple of seasons. They are, however, not good enough to win a title with and this is where Arsenal should be concentrating.
Midfield is well-stocked with the potential world-class talent of Jack Wilshere dictating games of all levels. Santi Cazorla has proved to be a player of some standing in his debut season and should be considered a frontrunner for player of the year next season.
They will be joined by Thomas Rosicky, if he can maintain his fitness, Alex Oxlade-Chamberlain and Aaron Ramsey as first-team players. The likes of Gervinho and Abou Diaby should only really be considered as squad players as they have struggled with fitness and inconsistency over the last number of seasons.
Midfield looks more than good on paper for Arsenal. However, their width is only given by forwards in wide positions like Lukas Podolski, Gervinho and Theo Walcott. Wenger may be better served by buying a wide midfielder with a proven defensive work rate rather than rely upon forwards coming back.
Up front Arsenal will look to improve again. Olivier Giroud has struggled to come to terms with the pace of the EPL, as has Podolski and neither player has contributed as much as many hoped. Walcott will always score against weak opposition and if Wenger wants his team to push on a level they will need to sign a top quality striker.
This may prove difficult though as Arsenal's weakest points are at goalkeeper and in central defence. It is unlikely that Wenger will give up on Wojciech Szczesny just yet. He is, however, not progressing at the rate he should be and 2013-14 will represent a huge year for the 22-year-old Polish star.
When push comes to shove, Arsenal will drop out of the top four for the first time in almost two decades because the teams around them will improve. The Gunners have proven that they struggle to deal with the big occasion and as they drop behind the top four they will struggle to deal with the pressure it brings.
Finishing outside the top four could prove the best thing to happen to Arsenal as it would force internal retrospection. This is turn should make the Gunners realize they should not be aiming to finish in the top four, they should be aiming to win the league.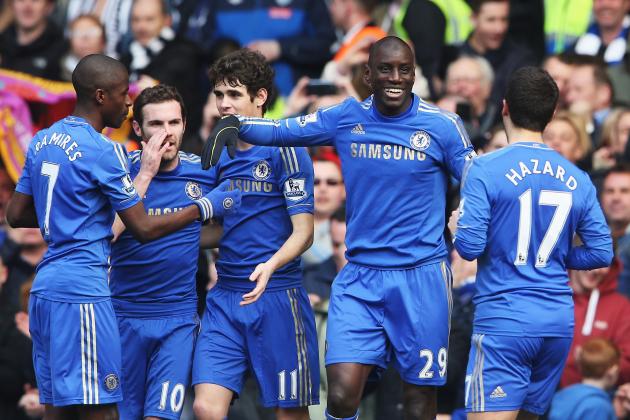 Scott Heavey/Getty Images

Odds to win EPL: 4-1
Despite winning the Champions League in 2012, Chelsea have gone backwards as a club since Carlo Ancelotti was unceremoniously sacked in 2011.
Sure they have exciting talents like Eden Hazard, Juan Mata and Oscar. These three players are capable of beating almost any team if given half a chance.
The Blues are poor at the back, though, and it speaks volumes that John Terry at a very old 32 years of age is still their best defender. The Blues' captain has struggled to deal with back injuries over the last couple of seasons and it finally looks like they have caught up with him.
Without Terry, the STamford Bridge outfit are rudderless against good teams. He organizes and controls defence and midfield and offers so much more than just being the best Premier League defender of his generation.
Ashley Cole remains a world star, but will turn 33 next October. His replacement in waiting, Ryan Bertrand, is a good few levels below Cole as a player. Should Chelsea lose both Terry and Cole long term then they will struggle to keep clean sheets.
Branislav Ivanovic is perhaps best suited to the right-back role, but lacks pace to play there consistently over a season, particularly if Terry is not covering behind him.
César Azpilicueta is a decent right-back, as is Ivanovic. They could share the role between them, but a defence needs continuity so Chelsea's new manager will need to buy two new full-backs eventually.
He will also need a dominant centre-half to replace Terry and a central midfielder capable of joining attack and defense to partner Ramires. He will also need to sign another striker.
The new manager will come into a team fighting fires right across the defensive areas of the team and will need to hit the ground running to control them.
Jose Mourinho would be a great choice as would Jurgen Klopp. But, having missed out on primary target Pep Guardiola it would not surprise to see Roman Abramovich gamble. He could yet bring in someone like David Moyes as he waits for Bayern Munich's first season with Pep to come out in the wash.
Moyes and Mourinho would both instantly repair the defensive problems of the team. While a manager of a different philosophy would repair the midfield and striking options.
Either way, Chelsea are capable of finishing anywhere between sixth and third.
With a top quality manager though they will challenge for the title.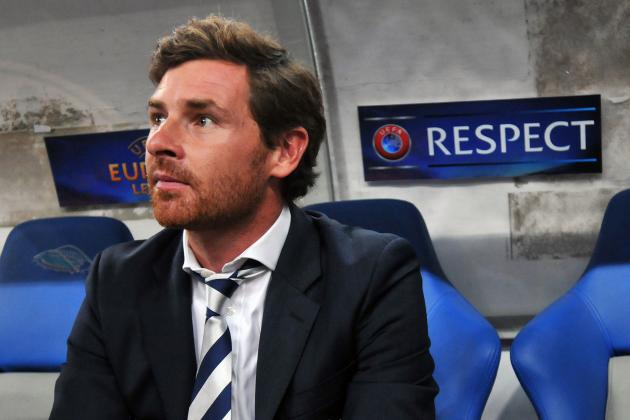 EuroFootball/Getty Images

Odds to win EPL: 16-1
The wheels have come off somewhat for Tottenham Hotspur in recent weeks, but there can be little doubt that the Spurs have progressed under new manager Andre Villas-Boas.
The Portuguese was a surprise replacement for Harry Redknapp last summer and has developed the squad left behind by the Englishman. Villas-Boas has slowly evolved Tottenham's tactics and with a few additions they have become a tough side to beat.
They do, however, lack penetration from midfield when Gareth Bale and Aaron Lennon do not play. This will be one area Villas-Boas will look to repair next summer.
The main area of concern though is at centre-forward. Spurs had the chance to buy a striker in January and chose, unwisely, to gamble on having enough quality to finish in the top four. If they had bought a recognized striker they may have had third place wrapped up by now.
Villas-Boas will try to sign a striker immediately. To play his system and style he will need to bring in a player with the pace of Jermain Defoe and the strength of Emmanuel Adebayor. This won't be an easy find as players of the quality Spurs need are few and far between.
Alvaro Negredo of Sevilla and Saint Etienne's Pierre-Emerick Aubameyang fit the bill perfectly for what Spurs need. But getting them may prove another question entirely.
Spurs also have a major problem at left-back with Benoit Assou-Ekotto, and it is encouraging for the team and the future that Villas-Boas has started to leave the Cameroonian out of recent teams. Kyle Naughton and Danny Rose are expected to vie for the berth, but Spurs might be better suited in bringing in a player like Aly Cissokho who would bring in immediate experience and physicality.
The elephant in the room at Spurs though surrounds the future of Gareth Bale. The Welsh international has enjoyed a phenomenal season under Villas-Boas and has progressed rapidly in the last three years.
He is on the scouting list of every major team and is out of contract in 2016 with Spurs doing everything to get him to sign a new deal.
He will turn 24 during the summer and will be nearing the peak of his powers in 2014. The choice is ultimately his and no Spurs fan would stand in his way, but he might be better served by staying for one more season.
Should Spurs receive a massive bid for the star he could go far quicker than expected. If that were the case Spurs would expect to receive somewhere in the region of £50 million.
That money could give Spurs the platform to progress at a quicker rate.
For next season, though, and holding onto Bale a given, Spurs will be well primed to finish in the top four.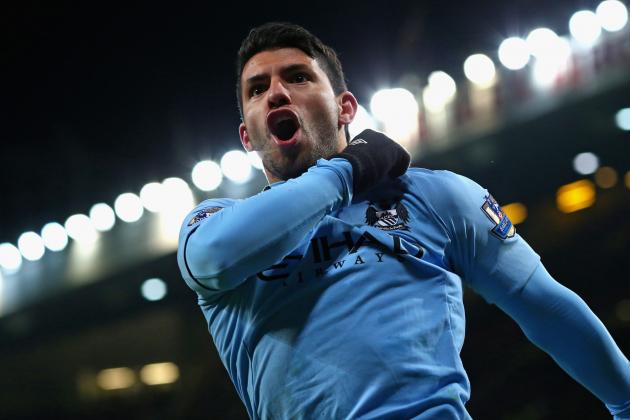 Alex Livesey/Getty Images

Odds to win EPL: 2-1
Manchester City lost their title bid in 2012-13 on several fronts.
Roberto Mancini bought terribly in the transfer windows and brought in lesser players than already at the club bar Matija Nastasic, who already looks a top-class defender at just 20 years old.
The same cannot and will never be said of Jack Rodwell, Richard Wright, Scott Sinclair, Javi Garcia or Maicon. These are stop-gap players at best for an expected title-challenging team and City will have to improve in this department immeasurably to regain their title.
The other main front the title was lost on was tactically. Mancini's constant tinkering and changing of systems and formations hamstrung his own team's chances of building playing relationships and momentum.
This too needs to be fixed for 2012-13 and for these reasons the Italian's job will come under huge pressure in the off-season.
City need to improve in both full-back positions, particularly centre-midfield and out wide where they lack any kind of penetration.
Central midfield is their most important position to fill and it is here that their Champions League bids have failed in the last two seasons. David Silva is a superb player in the final third of the pitch, but he is not a midfield general or dictator in the same sense as Luka Modric or Xabi Alonso. Until City bring in a player of that kind of stature they will struggle to make an impact in Europe.
They will always score goals with the likes of Carlos Tevez, Sergio Aguero and Yaya Toure in the side, but they need to add variation to their play to break down teams who have sussed out their style.
This season they have failed to win 12 games from 31 and have only scored 57 goals. From all 38 matches last term they only failed to win 10 times and scored a whopping 93 goals. This subtle change shows that City are finding it much harder to break down the opposition.
Managers have figured out how City play and their lack of width makes it easier to focus on negating the threat from central areas where Toure and Silva can be so dangerous if given time and space.
In the end City's title bid will come asunder from within as Mancini will chop and change his team and send them out with negative tactics when he should be following his instincts from 2011-12.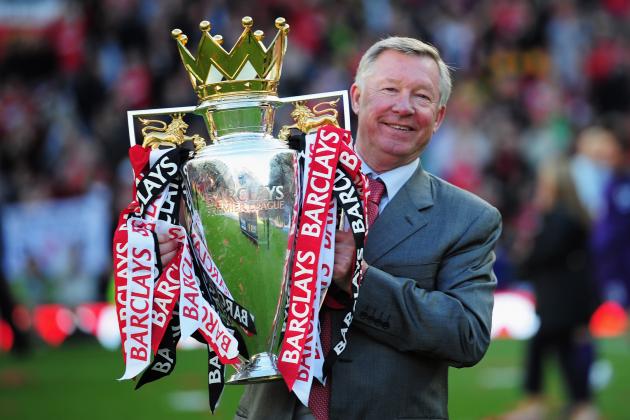 Shaun Botterill/Getty Images

Odds to win EPL: 13-8
United have a fearsome squad. For what it lacks in world class quality it more than makes up in Premiership quantity.
The 2012-13 additions of Shinji Kagawa, Robin van Persie, Alex Buttner and Angelo Henriquez were brilliant this season but will look like masterstrokes in 2013-14.
Three of those additions strengthened an already strong squad, and during the summer Sir Alex Ferguson only really needs to concentrate on the spine of his team in central defence and midfield. If real quality can be added here then they will take some beating to the title.
The advantage United have over their rivals is that they can now afford to spend lavishly on just one or two players. Should Ferguson pick up a player of the likes of Mousa Dembele from Tottenham Hotspur or Kevin Strootman from PSV Eindhoven, then they will become exceptionally strong and instant Champions League contenders.
Central midfield will be where the title will be won and lost this season. Unless Ferguson can find a top quality player they will struggle to hold on to their title. Ryan Giggs and Paul Scholes are peripheral squad figures at best. They are still capable of rolling back the years for single games but the days of them winning Player of the Month awards and dominating the league are long gone.
Similar things can be said of the centre-half position where Rio Ferdinand is a dwindling asset. The injury-riddled Nemanja Vidic is their standout star and needs to return to regular action. If the Serbian defender can return to 30-plus games a season he will be the ideal man to bring Chris Smalling and Phil Jones to the next level of their careers.
Jonny Evans has played well but will struggle to progress from his current level. United should buy a centre-half this summer to replace Ferdinand and Evans in the long term. However, for now both players would be good people to have in the squad.
Ultimately the Red Devils will fire their way to the title because they have such quality up front.
Robin van Persie and Wayne Rooney need no introduction. They are both world-class players and will have the advantage of having played a full season together. Rooney will be nearing the end of his current contract and will try his damnedest to secure a new long-term deal. With this kind of motivation behind him, not to mention the World Cup in Brazil next summer, he will be lethal.
Javier Hernandez and Danny Wellbeck have impressed in the way they keep progressing. But next season will provide a huge hurdle for the duo in the shape of Shinji Kagawa.
The Japanese international will have one season of English football under his belt and is expected to have fully acclimatised to the rough and tumble of the Premier League. His game has stepped backwards since his move from Dortmund but if he can regain even a portion of the form he showed in Germany then Van Persie will have both Kagawa and Rooney playing just behind him, a frightening prospect for anyone.
Going forward United are such a massive threat that if they repair the cracks in midfield and defence they will win the title in 2013-14.
Who do you think will win the EPL in 2014, and who will finish in the top six?
Leave your comments, suggestions and Premier League predictions in the section below!