Selecting the New York Mets' All-Time Dream Team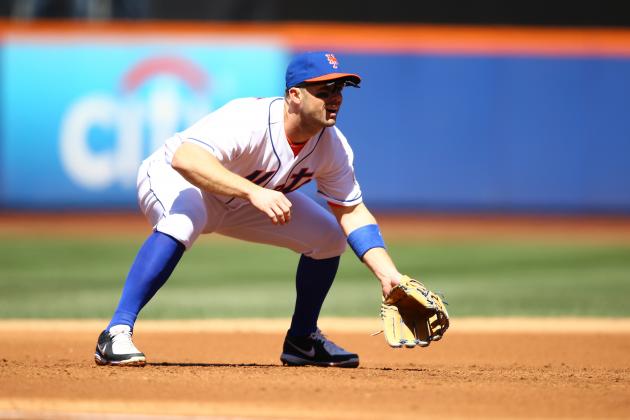 Al Bello/Getty Images

The New York Mets organization has had its share of trials and tribulations since Casey Stengel went to battle with an incompetent roster in 1962. Stengel's Mets finished 40-120 in the team's first season of existence—an embarrassing finish even for an expansion team.
But things turned around quickly for the Metsies in the form of a 1969 World Series victory by the Amazins. Since then, the Mets have brought their most diehard fans on a roller coaster of ugly seasons, miraculous seasons and every type of season in between.
Of course, nothing of the sort would have happened without some of the franchise's best players turning out the way they did. Here we pay homage to those players as we compile a Dream Team for the Mets.
Begin Slideshow

»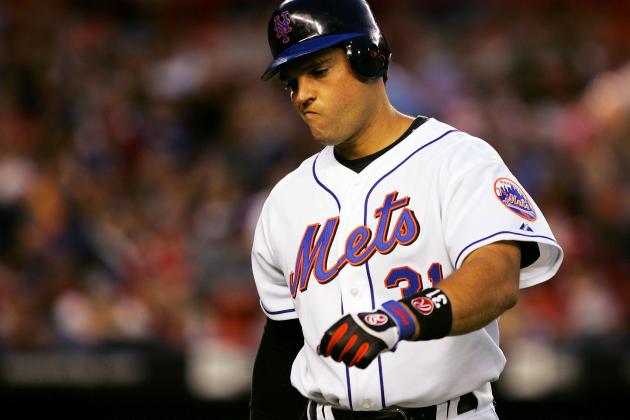 Ezra Shaw/Getty Images

Mike Piazza was spurned by Hall of Fame voters earlier this year, but the best catcher in New York Mets history will be admitted to Cooperstown eventually.
While the choice between Piazza and Gary Carter is a tough one, Piazza's .296 batting average, 220 homers and 655 RBI in eight seasons outweigh Carter's .249 clip, 89 homers, 349 RBI and the added sentimental value of his five-year run in Flushing, Queens. But Piazza had his own big moments—most notably during the first game following September 11, 2001, when he solidified himself in Mets lore.
Carter was "The Kid" and a franchise favorite for varying generations of fans, but it is hard to pick against a catcher who is often tabbed as the best hitter at his position in the history of baseball.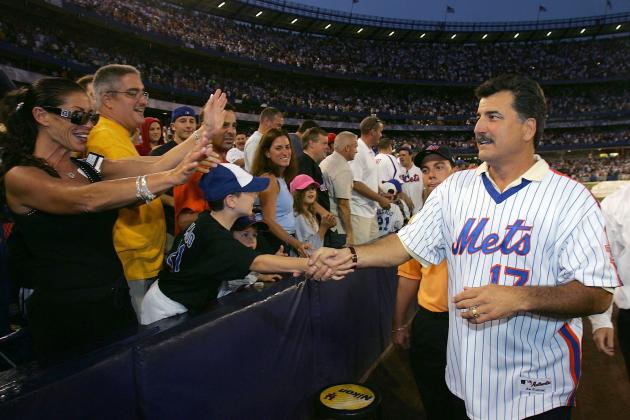 Chris Trotman/Getty Images

Oh, Keith.
Sometimes those are the only two words I can muster when listening to Gary, Keith and Ron run through their usual banter in the broadcast booth. Hernandez is famous for his charisma and quirkiness on television, but he let his performance on the field do the talking for him during his career.
Hernandez is the easiest choice on this list, as his leadership, ability to hit for average and impeccable defense make him the best first baseman in New York Mets history. His string of success from 1984-1987 saw him come away with three All-Star selections, four Gold Gloves, a Silver Slugger and three top-10 finishes in MVP voting.
Keith doesn't contribute on the field anymore, but his presence within the Mets organization is truly a gift.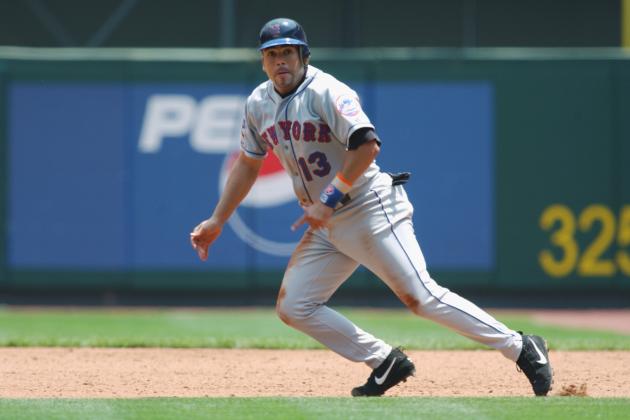 Matthew Stockman/Getty Images

Edgardo Alfonzo was a jack-of-all-trades when he first joined the New York Mets as a 22-year-old. He played third base, shortstop and second base over his first few years, but settled down at second during his (and the Mets') best seasons with the team.
Alfonzo hit .292 through eight seasons with the Mets, but it was his run from 1998-2000 that helped propel the Mets into contention. He averaged 23 homers, 93 RBI, 175 hits and 36 doubles per season and gave the Mets a reprieve from their history of light-hitting second baseman.
The 524 games that Alfonzo played with the Mets don't exactly scream "franchise player," but his numbers blow away that of Wally Backman, Felix Millan and Doug Flynn, the only three Mets to play more games at second base.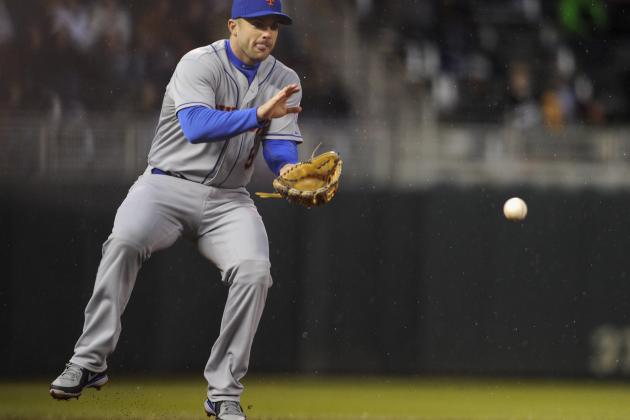 Hannah Foslien/Getty Images

Spoiler alert: David Wright is the only player on this list who is on the 2013 New York Mets. Wright is the consensus best third baseman in Mets history on so many levels. For the last few years, he was the de facto captain of the Mets before officially being recognized as the team's leader in 2013, and we should have known this was coming after his first full season in which he hit 27 homers and drove in 102 runs.
There aren't any other Mets third basemen who can lump themselves in the same category as Wright other than Howard Johnson, but HoJo's average in orange and blue is a full 50 points lower than Wright's.
His six All-Star Games, pair of Silver Slugger and Gold Glove awards and reputation as one of the league's top guys on and off the field make Wright an easy choice.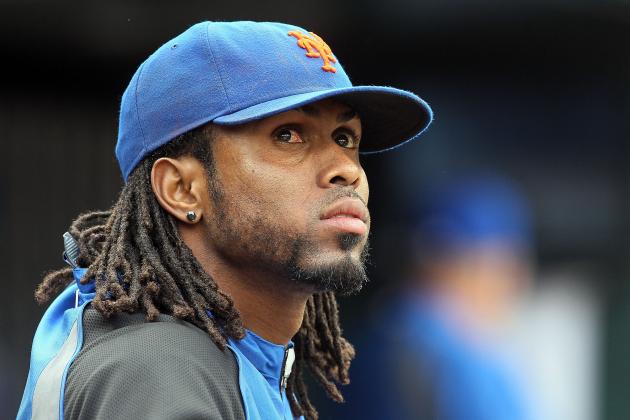 Jim McIsaac/Getty Images

Say what you want about Jose Reyes, but he is unequivocally the best shortstop the New York Mets franchise has ever seen. Complain about the circumstances under which he left, but remember that Reyes truly was a once-in-a-generation player for the Mets.
Following the small sample from his rookie season and his sophomore season that was dampened by injury, Reyes proved to be one of the most electric players in baseball over the next six seasons. From 2005 to 2011, his average season line is as follows: .293 batting average, 94 runs, 11 homers, 13 triples, 28 doubles and 48 stolen bases.
Regrettably, Reyes finished just one game shy of 1,000 with the Mets before he was signed by the Miami Marlins after hitting .337 and winning the batting title in his last game with the Mets.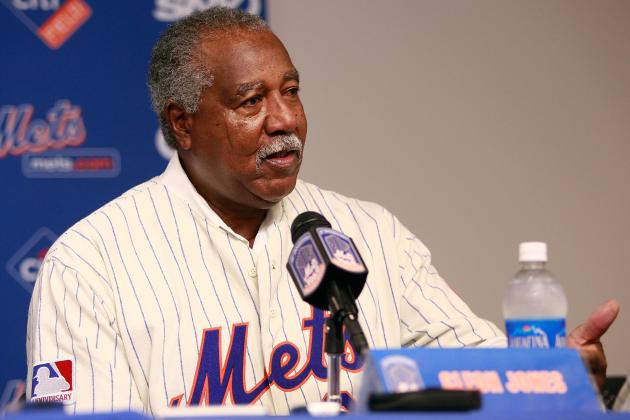 Jared Wickerham/Getty Images

Cleon Jones is the all-time leader in games played in left field for the New York Mets with 800, and one look at his company on the list gives him the nod as the top left fielder in Mets history.
Jones hit .281 in 12 years with the Mets, but needed just one of those seasons to make sure he wouldn't be forgotten by Mets fans.
As the centerpiece of the shoe-polish incident during the 1969 World Series against the Baltimore Orioles, Jones made a name for himself in big games. After hitting .340 in 1969 during the regular season, he mashed in the National League Championship Series against the Atlanta Braves to the tune of a .429 batting average.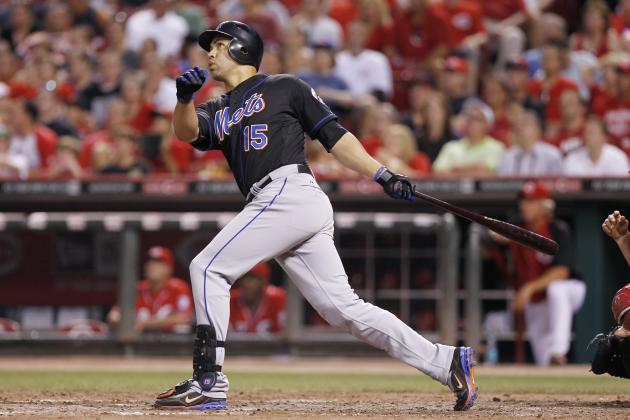 Joe Robbins/Getty Images

Carlos Beltran didn't pull his weight during his inaugural season after signing a seven-year, $119 million contract with the New York Mets. He had trouble getting acclimated to a new environment and accounted for just 16 homers and 78 RBI in 2005, but more than made up for that over the next three seasons.
From 2006-2008, Beltran put together one of the best three-year runs that any Mets player has ever had. His 41 home runs in his second year with the team tied him with Todd Hundley for the single-season record. He scored 127 runs that season, added 38 doubles and finished fourth in the MVP voting while leading the Mets to their first playoff run since the beginning of the decade.
Beltran would never match those numbers with the Mets, but his final line of 60 homers, 224 RBI, 209 runs, 73 doubles, 48 stolen bases and defensive prowess put him in the same category as the next outfielder on this list.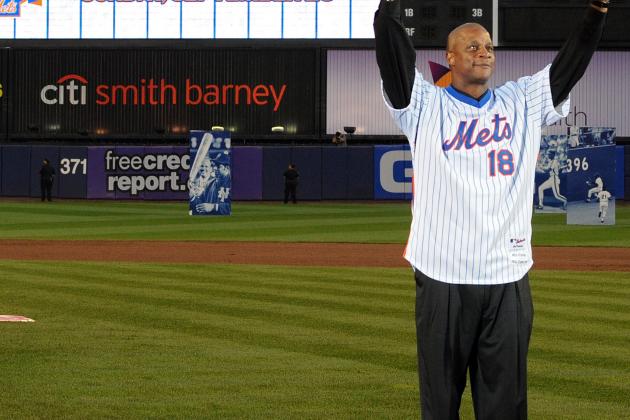 Al Bello/Getty Images

Too many people look at Darryl Strawberry and think of what could have been rather than looking at what was. Straw's full body of work, despite the fact that it was cut short by a multitude of factors, is one of the best a New York Met has ever compiled.
He burst onto the scene in 1983 and did nothing but hit until his final season in New York. He clobbered 252 homers in just eight seasons with the Mets, but contributed with his legs as well. His most impressive feat was registering five consecutive seasons of 20 homers and 20 stolen bases, one of which was a 30-30.
Strawberry won Rookie of the Year in 1983 and was selected to the All-Star team in each of his final seven seasons with the Mets before leaving Flushing to sign a contract with the Los Angeles Dodgers. His career fizzled out after that, but Straw was one of the catalysts on that 1986 World Series team.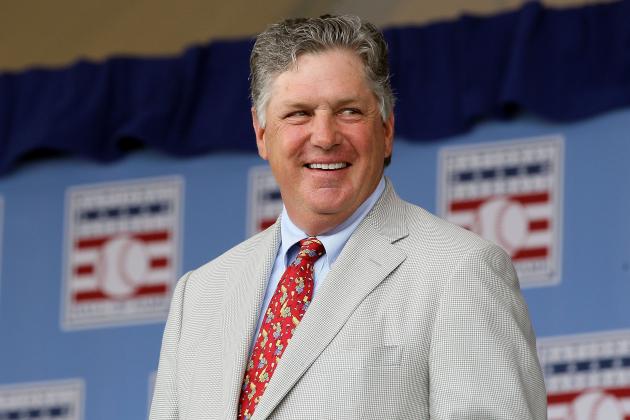 Jim McIsaac/Getty Images

Surprise, surprise—Tom Seaver is the ace of the New York Mets' All-Time Dream Team.
In his 10 full seasons with the Mets, Seaver lit up Major League Baseball every fifth day (and sometimes more often). Tom Terrific was the picture of consistency for a decade straight. He finished with an ERA below 3.00 nine times and crossed the finish line above 3.00 only once. He also won the ERA three out of four seasons from 1970-1973.
Seaver was a workhorse for the Mets. He crossed the 250-innings-pitched threshold in all but one of his seasons in New York and led the league in strikeouts on five occasions.
The California native excelled during a time when pitching was king and has three Cy Young awards to show for his 4,783 innings on the bump.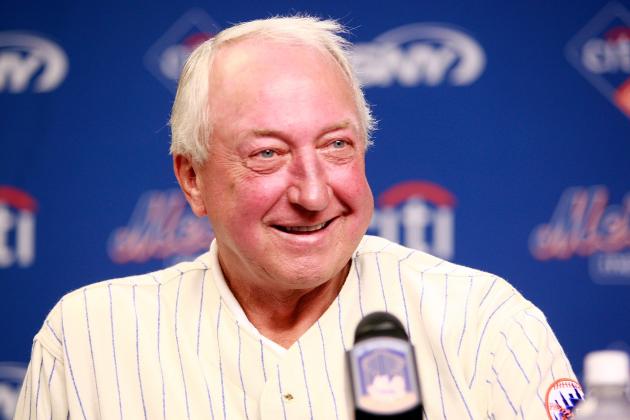 Jared Wickerham/Getty Images

Jerry Koosman slides into the No. 2 starter role for the All-Time New York Mets Dream Team to give the front end of the rotation a righty-lefty punch. Koosman doesn't only get the nod for his left arm, but also because he is second only to Tom Seaver in games started (346), innings pitched (2544.2) and complete games (108) in a Mets uniform.
Koosman was second only to Seaver in terms of his prowess on the mound at Shea Stadium. Of course, his production tailed off in his final two seasons with the Mets, but prior to 1977 and 1978, Koosman went 129-100 with a 2.94 ERA and racked up 25 shutouts over that span.
Unfortunately for Koosman, he lacked some of the flare that Seaver and the next pitcher on this list had, but that didn't keep Mets fans from eagerly awaiting his outings.
Jim McIsaac/Getty Images

Dwight Gooden was definitively the most electrifying pitcher whom the New York Mets have ever employed.
After a first go-around that saw him win Rookie of the Year with a 98 percent share of the first-place vote, Doc solidified himself as the best in the game by going 24-4 with an absurd (and league-leading) 1.53 ERA in 1985. He led the league in wins (24), innings pitched (276.2), strikeouts (268) and complete games (16).
As we saw with so many stars in the 1980s, Gooden fell victim to a life of drug use and went on the downhill right before he was set to enter his prime. Despite his rapid decline back to the mean, Gooden still has the 1986 World Series title to his credit—and two more with the New York Yankees.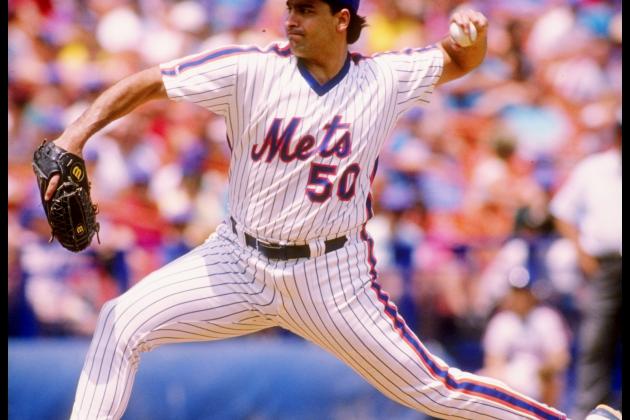 Rick Stewart/Getty Images

Sid Fernandez's career arc sent him on the up-and-up at the perfect time—in 1985, right as the New York Mets became a National League powerhouse.
At just 23 years old, Fernandez posted a 3.52 ERA in his 16-6 1986 campaign. While he did take a back seat to Doc Gooden, Ron Darling and Bobby Ojeda in that World Series season, Fernandez was the perfect guy for the back end of that rotation. His best season came in 1989 when he went 14-5 and finished with a 2.83 ERA in 32 starts, logging a career-high 219.1 innings.
Fernandez' funky sidearm motion made it tough for hitters to see the ball coming out of his hand, which made it significantly harder to make contact with his plus curveball.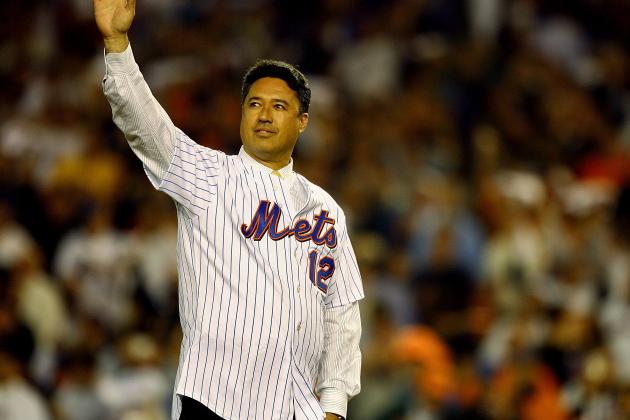 Al Bello/Getty Images

Along with former teammate Keith Hernandez, Ron Darling serves as one of the bookends in the broadcast booth aside Gary Cohen. But, as New York Mets fans know, Darling made his living as a pitcher—and made it well.
Darling won double-digit games in each of his first six full seasons and finished his Mets career with a respectable 3.50 ERA, a 99-70 record and 1,620 innings pitched. His primary shortcoming was his recurring control issues, but he mitigated the problem by molding himself into one of the best fielding pitchers of his generation.
Without exceptional stuff, Darling employed a deep arsenal of pitches, including a curveball, changeup and slider to go with his fastball.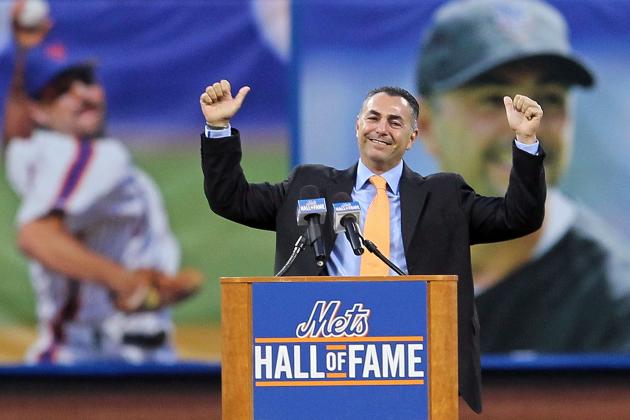 Jim McIsaac/Getty Images

John Franco, the New York Mets' all-time leader in games pitched, rounds out the franchise's Dream Team. In fact, it's not even close. Franco leads Pedro Feliciano by 236 games pitched.
After six seasons with the Cincinnati Reds, Franco came to New York and remained there until he was 43 years old. Over 14 seasons, Franco saved an all-time franchise record 276 games and finished 208 more.
Franco's abilities diminished as age took its toll, but he still managed to finish his Mets career with a 3.10 ERA in 702.2 innings.