Notre Dame Football 2013 NFL Draft Tracker and Analysis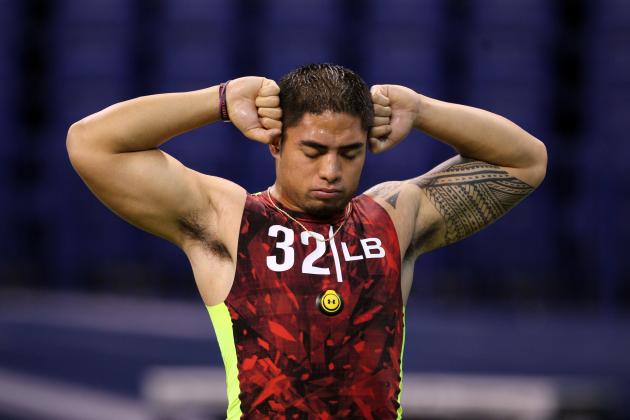 Brian Spurlock-USA TODAY Sports

There is no other college that has produced more NFL players than Notre Dame.
So when the Irish put themselves back in the national spotlight by reaching the national championship last year, you just knew there were going to be many NFL draft prospects available for the 2013 NFL draft.
That is exactly the case, as there are several former Notre Dame players who will be hoping to hear their names called over the next few days. We know guys such as Manti Te'o and Tyler Eifert are going to go quickly, but there is also your fair share of players who have been flying under the radar these last few months.
There is a lot of talent to go around in South Bend, and many NFL teams will eventually end up taking a chance on the former Irish players.
Here is your complete Notre Dame 2013 NFL draft preview.
Note: This slideshow will be updated as each Irish player is selected throughout the NFL draft.
Begin Slideshow

»
Where He Was Selected: First Round - 21 Overall to the Cincinnati Bengals
How about Eifert going before Manti Te'o? This is a solid pick for the Bengals, as he will help take some of the pressure off of wide receiver A.J. Green. More like a wide receiver in a tight ends body, Eifert should have little trouble fitting in and being a contributor from day one.
Height: 6'6"
Weight: 250 pounds
Tyler Eifert could easily be considered the best tight end prospect in this year's draft class.
At 6'6", he has the size and the body control of a wide receiver to make tough catches. While he isn't the most athletic player in the world, he can get downfield in a hurry and is sure handed.
Expect Eifert to be selected within the first two rounds and become a productive player on offense from Day One at the next level.
As you can see in the video, Matt Miller of Bleacher Report believes that Eifert is the next Kyle Rudolph.
Where He Was Selected: Second Round - 38th Overall to the San Diego Chargers
Regardless of what you may think about Te'o, San Diego getting him in the second round is a steal. He is a smart football player who has a knack for making the big play. The Chargers needed help at middle linebacker with the losses of Takeo Spikes and Demorrio Williams, Te'o will prove his worth early on.
Height: 6'1"

Weight: 241 pounds

You can pick on the combine results for Manti Te'o and clown him for the whole girlfriend hoax, but the kid knows how to play football.
A hustle player with terrific instincts, Te'o is one of the smarter players in this class. Sure, he isn't the fastest linebacker in the world, but he does a good job of reacting to the ball and is a solid tackler despite what you saw in the BCS title game against Alabama.
Douglas Jones-USA TODAY Sports

Where He Was Selected: Sixth Round - 175th Overall to the Cleveland Browns
Who would have thought Jamoris Slaughter was going to be the third Notre Dame player selected in the draft? If you are able to overlook his injury issue, he is a solid player that was worth a look in the later rounds. He brings physicality and great instincts, Slaughter can help bolster a young Cleveland secondary and could surprise Browns fans with early playing time.
Height: 5'11"

Weight: 195 pounds
Jamoris Slaughter is another player who suffered a serious injury, having torn his Achilles tendon and missed the majority of last year.
Unlike Kapron Lewis-Moore, scouts don't have much to go off of when trying to break down his game from last year, which will force teams to look at more film from two seasons ago.
It wouldn't be surprising if some NFL team ended up taking a chance on the safety. Slaughter is a physical defender who is also solid in pass coverage.
He has great instincts that allow him to play close to the line and can be effective in run-support as well.
Where He Was Selected: Sixth Round - 199th Overall to the Detroit Lions
Detroit needed to add running back depth behind Reggie Bush and ended up with a steal in Theo Riddick. More than capable of carrying the ball 20 times a game, Riddick could be a nice change of pace to the explosive runner and should have little issues carving out a solid NFL career. Nice late round pick up for the Lions.
Height: 5'10"

Weight: 201 pounds
Notre Dame has a couple of running backs that are flying under the radar and Theo Riddick is one of them.
He was somebody who helped make the Notre Dame offense go last season as a solid between-the-tackles runner and he is an above-average receiver as well.
Riddick isn't the fastest back in this class, but he knows how to find the hole and can make defenders miss in the open field with his quick feet.
Where He Was Selected: Sixth Round - 200th Overall to the Baltimore Ravens
It was a big mystery if Kapron Lewis-Moore would even hear his name called due to recovering from an injury he suffered earlier in the year. When healthy, Lewis-Moore is a strong player who can clog up running lanes, but is also decent at pass rushing as well. He is going into a nice situation in Baltimore and will be given opportunities to ease into playing time.
Height: 6'3"
Weight: 298 pounds
He did tear his ACL just a couple of months ago, which certainly won't help his stock. Even with his health concerns, though, Matt Miller, of Bleacher Report, still considered Lewis-Moore a top-20 defensive tackle on his draft board and thinks he could be a productive player, according to the video.
Lewis-Moore could play in either the 3-technique or 5-technique, and he is extremely strong for somebody who is less than 300 pounds.
He does a good job of using his hands and can be very effective in run support as he sheds blocks nicely.
The big question now has to do with his health.
Where He Was Selected: Seventh Round - 244th Overall to the Atlanta Falcons
Nobody expected Zeke Motta to fall all the way down to the seventh round. With this, Atlanta is getting a solid player at such a cheap price. Motta may never be a full-time starter at the next level, but he does bring physicality and is that player defensive coordinators want to put in the box to help out in run support. There is a place for him in the NFL and going in the last round, the Falcons ended up with a potential steal.
Height: 6'2"
Weight: 213 pounds
Those NFL teams looking for a physical safety who can play close to the line of scrimmage and be effective in run support need look no further than Zeke Motta.
Due to his poor change of direction and lack of overall speed, Motta isn't great in pass coverage, but he is a thumper who can add some physicality to an NFL defense.
I like Motta at the next level and think he will benefit a team due to him flying under the radar.
Where He Was Selected: Undrafted Free Agent
Height: 6'3"

Weight: 303 pounds
Braxston Cave isn't the most athletic player in this class, but he is a smart football player who brings toughness and the ability to create running lanes to the table.
He has shown that he can hold his own in the pass-protection department, but he must improve in that area.
Cave is a player that provides good value in the middle of this draft. He isn't somebody who is going to amaze you when watching him on film, but he has a lot of things that make him a solid center prospect at the next level.
You can see in the video that Matt Miller sees potential for Cave at the center position and expects for him to get drafted in the middle rounds.
Thanks to his technique and ability to thrive in run support, Cave was considered the fifth-best center on Miller's big board.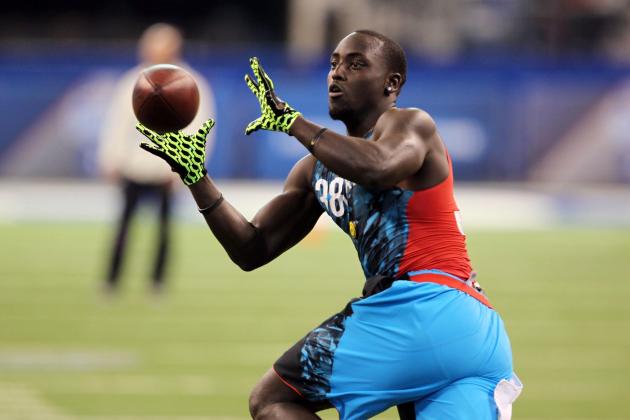 Brian Spurlock-USA TODAY Sports

Where He Was Selected: Undrafted Free Agent
Height: 5'11"

Weight: 213 pounds
Like a few Notre Dame players, Cierre Wood is somebody who provides value due to being slept on leading up to the draft. He has great speed, runs with great patience and even does a nice job of catching the ball as well.
Wood is quick in the open field and has that home-run ability when he gets the ball in his hands.
Ball-security has been an issue, but Wood is somebody who could be given a shot in the later rounds.
Matt Miller had Wood a few notches lower than Riddick on his big board, as the speedy back ranked as the 21st-best player at the position.
With a draft class that isn't exactly deep at the running back position, this isn't exactly a good thing for Wood, who decided to leave school early.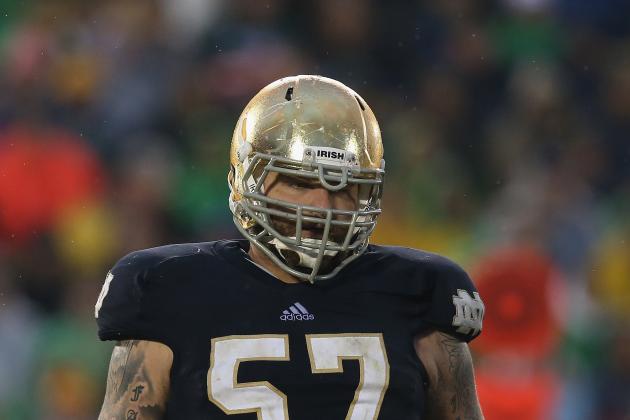 Jonathan Daniel/Getty Images

Where He Was Selected: Undrafted Free Agent
Height: 6'4"

Weight: 294 pounds
Mike Golic Jr. wasn't listed on Matt Miller's big board, but you have to believe he will be considered in the later rounds. After all, he does have great blood lines with his father, Mike Golic carving out an eight-year career in the NFL for various teams.
At the very least, Golic will receive an invite from an NFL team once the draft is over.
He was one of the tougher and more-reliable offensive linemen for Notre Dame over his years there. Golic also has the ability to play at center, which will provide value to any NFL team that is considering taking him in the final rounds.