Red Sox vs. Rays: 3 Up, 3 Down for April 13 and 14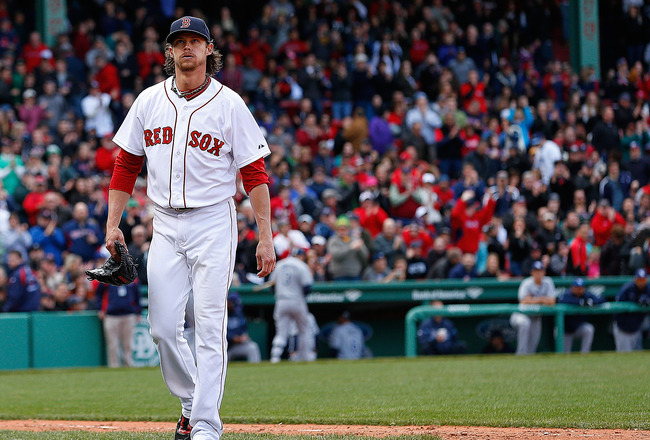 Clay Buchholz led the Red Sox to their second win of the weekend.
Jim Rogash/Getty Images
With two great pitching performances, the Red Sox won both weekend games against the Tampa Bay Rays.
The Red Sox continue to defy skeptics by getting great efforts from their starting pitching, timely hitting and—aside from a few Joel Hanrahan slip-ups—a great bullpen that protects leads.
Here is my Three Up, Three Down for two weekend games against the Rays.
Three Up: Clay Buchholz Shows He Can Be Elite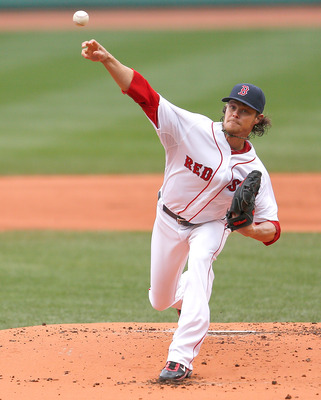 Clay Buchholz nearly recorded his second career no-hitter.
Jim Rogash/Getty Images
Clay Buchholz was already off to a hot start before he nearly no-hit the Tampa Bay Rays on Sunday.
Buchholz seems to have great command of all his pitches. What is even more impressive is that in each of his three starts he has gone seven innings or more.
Durability is a concern, but on Sunday Buchholz showed everyone why he should be viewed as the most talented pitcher on the Red Sox staff.
Three Up: Jon Lester Stays Hot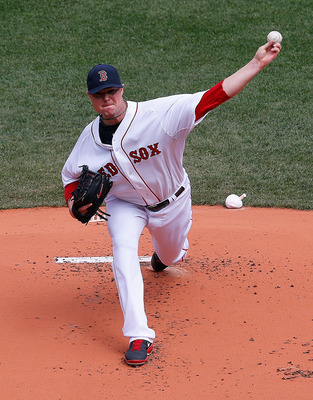 The attention is on Clay Buchholz, but Jon Lester is off to the best start of his career.
Jim Rogash/Getty Images
While Clay Buchholz deserves the attention, Jon Lester continues to thrive early on.
Lester, who is known for getting starting slow, is off to the best three-game start of his career.
In three games, Lester has a 1.42 ERA while striking out 18 batters in 19 innings of work.
If Lester and Buchholz continue to dominate, the Red Sox will fight for a playoff spot.
Three Up: Bullpen Success Continues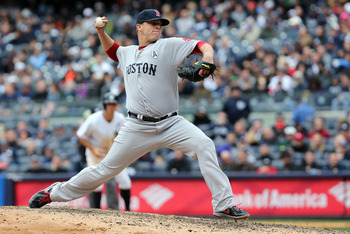 Andrew Bailey is next in line to close.
Anthony Gruppuso-USA TODAY Sport
Even though Joel Hanrahan is struggling, the bullpen as a whole is still a success story.
Saturday they pitched three shutout innings, including one where Koji Uehara cleaned up a mess after Joel Hanrahan walked the first two batters he faced to start the ninth inning of a 1-1 ballgame.
Even with the early-season success, there is room for improvement, as Hanrahan can get his act together, and Franklin Morales and Craig Breslow can add depth and lefty options when they return from the DL.
Three Down: Joel Hanrahan's Hamstring Issue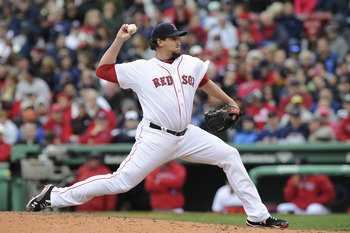 Joel Hanrahan's struggles continue with an added twist.
USA TODAY Sports
No matter how you spin it, Joel Hanrahan has not pitched well in his last three appearances.
Hanrahan, who is apparently battling a hamstring injury, has been wild, left pitches in the heart of the plate and collapsed under the pressure in his second game in Fenway Park.
With Andrew Bailey having great success early on, Hanrahan could lose his closer's role if he doesn't turn things around.
Three Down: Jackie Bradley Jr.'s Time Is Up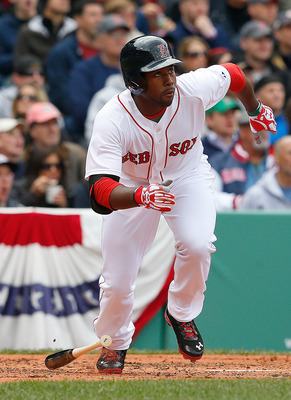 When David Ortiz returns Jackie Bradley Jr. will go to AAA and work on the hole in his swing.
Jim Rogash/Getty Images
This may sound like I am being repetitive, but Jackie Bradley Jr. needs to get sent down to AAA.
The rookie continues to struggle at the plate, and with David Ortiz expected to return by the end of the week, the team needs to clear a spot off the major league roster.
One positive is Bradley has maintained his approach at the plate and continues to look disciplined. However, even though he doesn't seem to be pressing, Bradley isn't getting results.
Three Down: Drew Struggles Early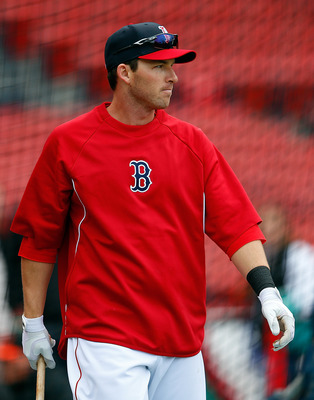 Stephen Drew has done little at the plate.
Jim Rogash/Getty Images
Stephen Drew is fighting an uphill battle after replacing Jose Iglesias, who started off 2013 hitting .450 before being sent down to AAA.
Drew had one good game against New York when he went 1-for-2 with two walks, but overall he is 1-for-13 in his first four games.
It is still early, but even if Drew gets going at the plate, he will struggle to earn the respect of the Fenway Faithful.
Keep Reading

Boston Red Sox: Like this team?