John Simon: Video Highlights for Former Ohio State Defensive End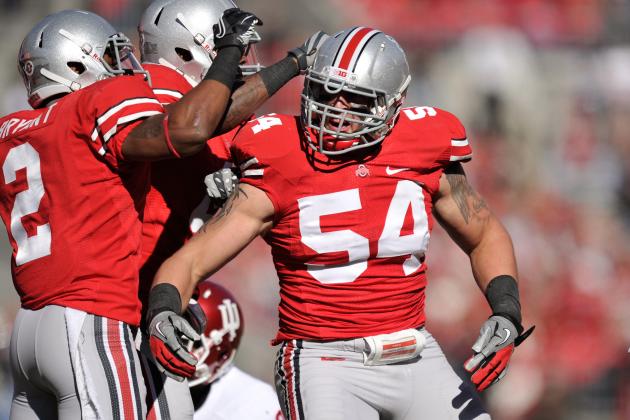 Jamie Sabau/Getty Images

John Simon seems like the ideal fit for the wave of hybrid defensive fronts currently sweeping the NFL. The former Ohio State defensive end should find a home with a team that runs a flexible 3-4.
He has the size to set the edge, rather than anchor it, and boasts solid pass-rush skills. At 6'1" and 257 pounds, he would offer a dangerous combination of strength and leverage in the right scheme.
Here are some of Simon's best highlights from his final two years with the Buckeyes.
Begin Slideshow

»
Simon obliterated Nebraska in 2012. He recorded two sacks and five tackles for a loss. This is the first of his sacks.
It showcases Simon's off-the-snap quickness, sudden power and subtle moves. He uses a swim technique to beat his blocker and finishes the play emphatically.
Simon hammers the quarterback to the floor, beginning an epic performance.
Simon capped his superb day against Nebraska by demonstrating a knack for the big play. He produced a strip-sack to end the game.
Rather than take the inside move that led to his first sack, Simon varies his rush this time. He goes around the outside, dipping under the block of the offensive tackle.
The dip move was a nifty one and showed the advantage of Simon's diminutive stature. While 6'1" isn't the prototypical pro size for an edge-rusher, it does allow Simon to get underneath the reach of blockers.
Against Penn State, Simon proved that his pass rush isn't all about hustle and strength. He demonstrated that he is also capable of a good speed-rush off the edge.
Simon earned his only sack of the game rushing from a four-point stance. That's the same kind of sprinter-like stance Wide 9 defensive ends like Jason Babin and Chris Long use in the NFL.
Simon isn't known for his speed, but this play indicates that his movement skills are somewhat underrated.
What becomes clear after looking at Simon play is that he has an instinct for getting into the backfield. This play from a game against Illinois in 2011 is an excellent example.
Simon instinctively diagnoses a quarterback draw, then sets about destroying it in the backfield. He runs a nice stunt, twisting inside the outside rush of his defensive tackle.
Simon then quickly closes downhill to corral the quarterback and dump him for negative yardage. Smarts, hustle and intensity were all prominent in this destructive play.
Chasing down the modern dual-threat quarterback is no easy thing. However, in 2011 against Wisconsin, Simon proved he is more than up to the task.
He showed he's athletic enough to run down a quarterback as mobile as current Seattle Seahawks starter Russell Wilson. Simon works his way through traffic before redirecting and zeroing in on Wilson.
Despite Wilson's attempts to spin away from trouble, Simon stays set and wraps him up for a sack.
Given the proliferation of option-based schemes in the pros, it won't hurt Simon's draft chances that he can snuff out these plays.
He does it here against Nebraska. Simon isn't fooled by the motion into the backfield or the quarterback's fake handoff.
He simply stays with the ball. Simon quickly comes off the block of the tight end to move down the line and make a stop for a loss.
J.J. Watt has made the swatted pass by a defensive lineman a suddenly attractive stat. Despite his short frame, Simon gets his hands up and can make a play even when he's blocked.
Against Penn State he shows off a nice spin move to get inside and raises his arm to swat a quick pass to the floor.
This is another example of not only Simon's effort, but also his varied range of pass-rush moves and methods of disrupting an offense.
Greg Bartram-USA TODAY Sports
Simon compares favorably to his position coach, Mike Vrabel.
Simon's NFL.com draft profile compares him to New England Patriots rush linebacker Rob Ninkovich. However, Simon's position coach and former Patriots great, Mike Vrabel, is a better comparison.
Like Vrabel, Simon is a defensive end who seems like a natural fit for outside linebacker in a 3-4. He is a more explosive pass-rusher than Ninkovich.
Also like Vrabel, Simon relies on power and hustle to get to the quarterback, but also possesses deceptive quickness and underrated technique.